Boracay Island is undeniably one of the most popular tourist destinations in the Philippines among local and foreign tourists. Located in the Western Visayas Region, Boracay Island is known as one of the best islands in the world due to its powdery white sand beach and crystal clear waters.
Boracay Island is an island resort that boasts different world-class resorts and beach restaurants. Local tourists or even foreign tourists would probably visit the island for relaxation. Nevertheless, the island still has a lot to offer when it comes to different water activities.
The island itself has become the main getaway destination for every traveler wishing to have a perfect vacation. In our case, my high school best friends and I decided to go back to Boracay Island (a 6-hr land travel from Iloilo City), not just to see the beauty of the island itself but also to go on a food trip and try the most exclusive gastronomic delights offered on the island!
Therefore, if you are thinking about going to Boracay Island and are looking for the ideal place to have breakfast while you're on the island, Aplaya Beach Bar and Restaurant is the place to go!
About Aplaya Beach Bar and Restaurant
Aplaya Beach Bar and Restaurant is a front beach bar and restaurant located at Station 1, Boracay. The restaurant offers Italian and Mediterranean cuisine, an all-day Filipino breakfast (that is served until 4 PM), coffee, and other refreshing drinks.
The ultimate goal of the restaurant is to be able to move local entertainment to an international level! Apalaya Beach Bar and Restaurant ensures the best quality taste of food to satisfy everyone's palate! The food is also made by the well-known Chef Paolo Covati, who has worked in Italy, New York, and Shanghai.
Why Visit Aplaya Beach Bar and Restaurant
As you walk on the long stretch of white sand beach on Boracay Island, apparently, there are a lot of front beach restaurants that you can visit. But here are some of the reasons why Aplaya Beach Bar and Restaurant is a must-visit in Boracay.
It's a beach bar and restaurant. 
Obviously, Aplaya Beach Bar is one of the best places to visit if you want to enjoy the beach view while having some great views in Boracay.  Have some breakfast while enjoying the front beach view from the restaurant. 
They offer an excellent breakfast.
During our first day in Boracay, we didn't know exactly where we could have breakfast. The good thing was we came across Aplaya Beach Bar and Restaurant and had our best breakfast in Boracay on our first day.
We were blown away by the cuisine, not to mention how delicious everything we tried was! The croissants are so delicious and perfectly matched with a cappuccino! We also tried beef tapa with rice, a purple smoothie, mango tart, eggs on toast (with avocado flavor), and croissant sandwiches (with mozzarella cheese, tomato, and basil). 
Everything was so good and definitely worth the price. We totally had a great time having breakfast here!
It has an amazing vibe.
Aplaya Beach Bar and Restaurant doesn't just offer great food, it also boasts an amazing vibe. The interiors look very detailed and aesthetically pleasing. Every corner of the restaurant is definitely Instagram-worthy!
If you're looking for the best breakfast spot in Boracay, then you must visit Apalaya Beach Bar and Restaurant! You may also visit the restaurant in the evening to experience the nightlife on the island.
Must Try Food at Aplaya Beach Bar
Given that we were there for breakfast, we concentrated mostly on sampling the restaurant's most popular breakfast dishes from their menu. Here are some of the foods that you should try:
Cappuccino + Croissant: Php 200
Mango Tart: Php 150
Purple Smoothie: Php 350
Beef Tapa (Filipino Breakfast): Php 360
Eggs on toast (Volcano eggs with cherry tomatoes, arugula, and avocado): Php 350
Croissant Sandwich (Mozzarella cheese, tomatoes, basil): Php 340
Frequently Asked Questions
What's the menu?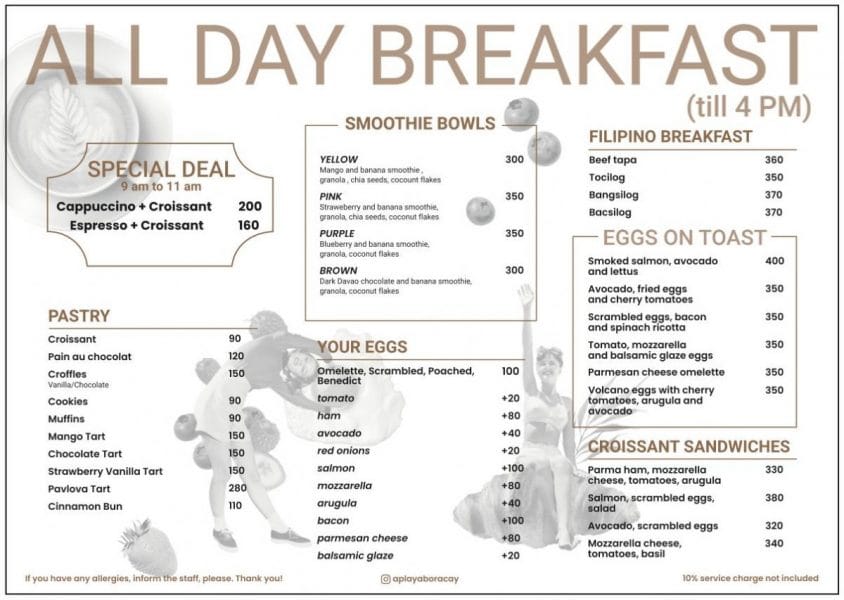 Where is Aplaya Beach Bar and Restaurant located?
They are located at 380 White Beach, Station 1, Balabag, Boracay. The restaurant is near Muse Hotel and Rich Indian Food Restaurant.
What are their working hours?
They are open from 8 AM until 1:30 AM, daily. 
Do they deliver?
Yes! They accept food deliveries via Mr.Swift. You may contact them at 0949 398 2331.
Location
Aplaya Beach Bar and Restaurant
380 White Beach, Station 1, Boracay, Philippines
Opening Hours
 8 AM – 01:30 AM, daily
Contact
Facebook: Aplaya Beach Bar Boracay
Instagram: @aplayaboracay
Telephone: (036) 288 2851
Latest Posts:
Read Next:
A travel blogger in the Philippines and a K-pop enthusiast, Ara Patria (The Adventuress) pursues her passion and love for traveling. She's been blogging for years, where she writes about her own travel experiences and promotes the wonders of the Philippines. Not only does she promote the beauty of her country, but she also focuses on promoting sustainable tourism. She dreams of traveling the world and inspiring other people through her own written works and captured moments with her camera.
The Adventuress is a travel blogger with a purpose. She aims to inspire other people through her personal experiences, stories, and lenses. Outside her blogging world, she is an education, an SEO specialist, and TEFL/TESOL certified.
Join her adventures!