If there is something I love visiting to aside from beaches and mountains; that is the church. It always makes me feel amazed every time I get to see an old church or a historical church. It reminds me of the bittersweet part of the nation and makes me realize how the place changes over a period of time. So, here's my quick guide to Caleruega Church in Batangas! Have you ever been there?
Batangas is known for pansit lomi, beaches, and other attractive tourist destinations. Apart from that, the city is also famous for its historical churches where many Filipinos visit during Visita Iglesia or Holy Week.
About Caleruega Church
This is a 3-hour-away drive from Manila, Batangas is very accessible to visit by private cars or even by public transportation.
Caleruega was named after the town of Spain; Caleruega. It is said to be that this is where St. Dominic De Guzman was born; he was the father of the Order of Preachers. Located in Nasugbu Batangas, it is a well-known pilgrimage site in the city. Many tourists love to visit the place due to its solemnity that place offers. Although the location of the church is quite difficult to reach due to its elevated road and it is still being constructed.
This church is also a very popular destination for weddings and receptions; and it is also open for retreats and recreations, team building camps, prayer and renewal workshops, art, music, liturgy, and care for creative workshops. It isn't just a pilgrimage site but there are a lot of things to do and see here. The place is also good for some recreational activities. In fact, Caleruega Church is considered one of the best churches located in Batangas and the best church for wedding ceremonies in Tagaytay. (The church is actually near Tagaytay.)
What to expect
Great scenic views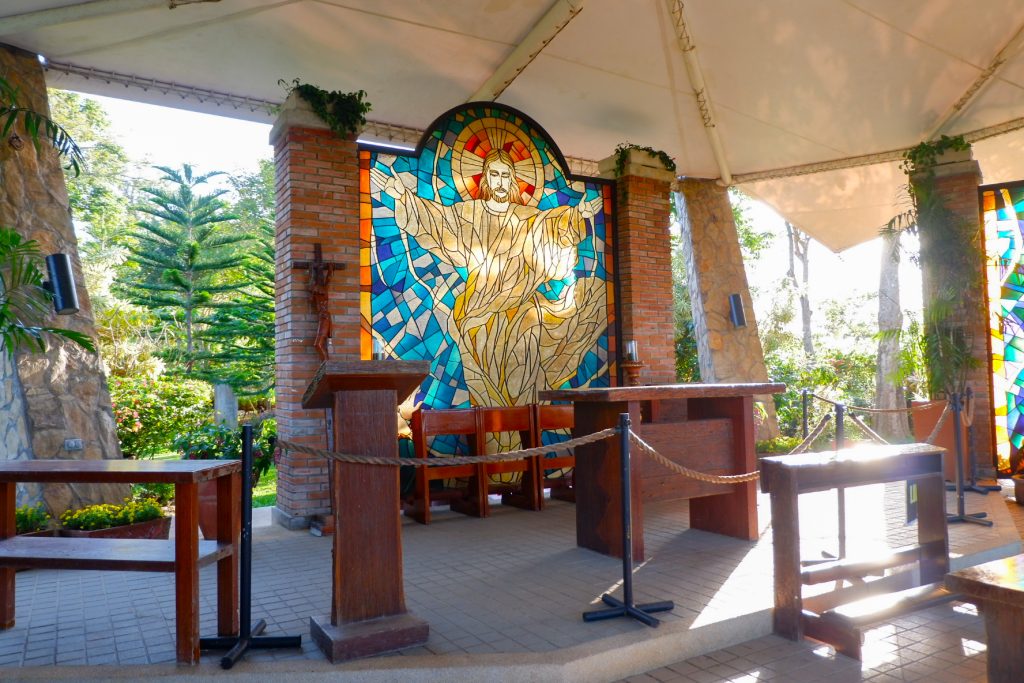 You will also feel closer to nature because the place is located at the top of the hill of Nasugbu with an overlooking view of the mountains, rice fields, and the sunset!
Flora & Fauna
Different beautiful flowers, plants, and trees can be seen all over the area. It has a wide area and you need to go there early to enjoy the entire place! In addition, there is a pond where you can see tons of fish.
The Architecture
The architectural design of the church looks simple yet attractive. You will love the plain color of it; and as you enter the church, you will notice that its interior is as simple as its exterior design. Despite this, you wouldd definitely feel the silence and solitude inside.
Things to see
Here are some of the things that you can see while roaming around the church. The area where Caleruega Church is built is huge that's why there are so many things to see and do here. Here are the following:
Plaza de Aza's open space and roof deck
Tuktok and its charming gazebos
Garden's Cafe's refreshing delights
The plant nursery's seedlings for sale
Lettuce greenhouse's freshest greens
Shop of Delight for Caleruega mementos
Japanese Garden
Cenaculum (Refectory)
Kampo Restrooms
Transfiguration Chapel
Tent Chapel of Transfiguration
Fountain Compass
The Dominican's grand stairway
St. Dominic's Point
Manaoag Drive Via Crucis
Our Lady of the Holy Rosary
"Thy Will be Done" Sculpture
Koi Pond and its walkways
Hanging Bridge and Kampo Arriba
Kampo Terraces and Amphitheater
Worm Farm/compost production
Things to do
If you do not have any idea what to do, they actually offer different kinds of religious and other exciting activities.
Retreats and Recollections
Leadership and team-building camps
Prayer and renewal workshops
Marriage and family encounters
Weddings and receptions
Art, music, liturgy, and Care for Creation workshops
Halls and Accommodations
Veritas Hall 200-seat capacity
Gazebo 70-seat capacity
Catalina Hall 90-bed (double-deck) dormitory
Tomasino Hall 80-bed (double deck) dormitory
Pahingalayan – hermitage cottage with kitchen
Twin-occupancy cottages 18 units
Quad-occupancy cottages 16 units
Family cottages 15-person unit; 8-person unit
Kampo Arriba- outdoor gatherings & campsite
Tuktok Hall 30-seat conference venue
Plaza de Aza – an open-air roof deck for big gatherings
Side trip after visiting the church
After visiting the church, you can drop by at the Mt. Batulao Viewing Deck, you can find it along the road. It's free. Just inform the owner that you want to take some pictures at the place. The sunset here is so beautiful where you can take a lot of good pictures.
Location
Batulao Nasugbu, Batangas
Operating Hours
8:00 AM to 5:00PM
DAILY
Entrance Fee
PHP 30
Contact
Email: caleruega_philippines@yahoo.com
Mobile: +639212709890; +639218304426
How to get there?
From Manila, take a bus bound for Nasugbu, Batangas.
Just inform the driver to drop you off at Batulao or Hillcrest.
Once you arrive at Hillcrest or Evercrest, take a tricycle and tell the driver that you are going to Caleruega Church.
Latest Posts:
Read Next:
A half-travel blogger in the Philippines (based in Cavite) and a half-K-pop enthusiast, Ara Patria (The Adventuress) pursues her passion and love for traveling. She's been blogging for years, where she writes about her own travel experiences and promotes the wonders of the Philippines. Not only does she promote the beauty of her country, but she also focuses on promoting sustainable tourism. She dreams to travel the world and inspire other people through her own written works and captured moments with her camera.
The Adventuress is a travel blogger with a purpose. She aims to inspire other people through her personal experiences, stories, and lenses. Outside her blogging world, she is an English teacher, an SEO specialist, and TEFL/TESOL certified.
Join her adventures!