Cebu and Bohol are among the top destinations in the Philippines. These two popular islands are located in the Central Visayas region. Certainly, many local and foreign tourists have wanted to wander around the two island provinces due to their incredible beauty. Each island shows off world-class attractions that everybody is wishing to visit! Therefore, I wrote this blog to help guide you to Cebu and Bohol. This travel guide is all about Cebu Bohol DIY itinerary; which I listed the best places to visit and where to stay on the islands.
Introducing Cebu and Bohol
Cebu and Bohol are located in the Central Visayas region. The center of the region is Cebu City which is also considered the largest city. Known as the second-largest metropolitan area in the Philippines, Cebu City has become the main center of business hubs and education in the Visayas region. Meanwhile, Bohol is home to world-renowned "Chocolate Hills" and "tarsiers". Bohol is a first-class island province in the Central Visayas Region. It is also popular for its historical churches, impressive caves, and world-class beach resorts.
In terms of infrastructure, Cebu is obviously more developed than Bohol Island. But it is an undeniable fact that Cebu and Bohol are known for having clear turquoise water. That's definitely they are one of the best spots for diving and snorkeling!
How to get to Cebu & Bohol?
Cebu Pacific, Philippine Airlines, and AirAsia offer direct flights from Manila to Cebu or Bohol. It's either you arrive at Mactan Cebu International Airport or Panglao International Airport. If you choose to fly directly to Bohol Island, you will arrive at Bohol-Panglao International Airport. For those who are not aware yet, the old airport in Tagbilaran is already closed.
How to get to Cebu from Bohol?
There are actually two ports where you can take a ferry to get to Cebu from Bohol. You can either embark from Tagbilaran or Tubigon port. But you have to take note that most of the ferries operate in Tagbilaran city which is an hour away from Panglao Island.
Oceanjet and Supercat provide ferry trips from Bohol to Cebu or vice-versa. You can take any of them from the Tagbilaran port or Tubigon port. Travel time takes around 2 hours. From Bohol, you will arrive at Cebu International Port 1.
How to get to Bohol from Cebu?
If you are heading to Bohol Island from Cebu, you can just take a ferry either from Oceanjet or Supercat. Ferries come from Cebu International Port 1 as well.
Sample Itinerary
This is our sample Cebu Bohol DIY itinerary which is good for 4 days and 3 nights. Note that my friends and I really didn't have much time to visit all the places around the islands. I considered which I think the best and the most important places to visit in a short period of time.
You might consider following the itinerary below:
Day 1: Panglao, Bohol Island
Arrive at Panglao International Airport
Check-in to our hostel
Alona Beach
Tips & Reminders:
Once you get out of Panglao International Airport, there are so many grab or taxi drivers offering their services. If you are traveling on a budget, you can just wait for the yellow cab. It will take you to the town proper of Panglao.
Alona beach is truly crowded. The beach area is becoming more commercialized. You can still walk along the beach and try out some restaurants out there. But if you don't feel like seeing too many people, you may go to Dumaluan Beach Resort instead. It is pretty much quieter and less crowded than Alona beach. You just need to pay Php 50 for the entrance fee.
You can rent a single motorcycle for only Php 300/day. Make sure you have a driver's license. I think most of the accommodations are offering rental motorbikes and tour packages. You can just ask for assistance.
Day 2: Countryside Tour Bohol to Cebu Island
Chocolate Hills
Tarsier Conservation Center
Bilar Man-made Forest
Baclayon Church
Head to Cebu Island. We arrived in Cebu around 6 PM. So we just roamed around SM Cebu and walk along the Colon street.
For the countryside tour, get up early to catch the early bus trip from Tagbilaran to Chocolate Hills. From Panglao, ride a tricycle and ask the driver to drop you off at the bus terminal.
But if you want to get a package tour for the countryside tour, you may refer to my Bohol travel guide.
Tips & Reminders:
If you rent a tricycle, you may ask the tour guide to visit the nearest places first from Tagbilaran then Chocolate Hills could be your last stop. From Chocolate Hills, you can ride a tricycle to the market and ride a van to Tubigon port.
Tubigon port is just an hour away from the market. You may ride a ferry there heading to Cebu Island. Anyway, this is just an option if you don't want to go back to the city proper anymore.
Day 3: Bantayan Island, Cebu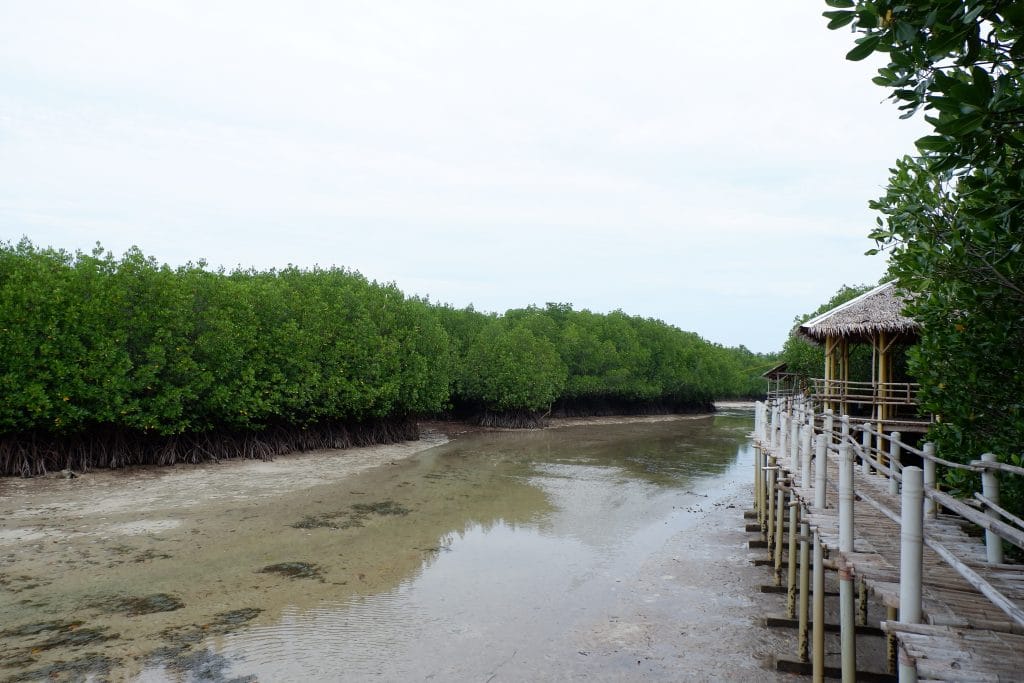 Although we only had limited time, we decided to visit Bantayan island just for a day. Yes! That's possible! You may refer to this complete travel guide to Bantay Island.
After visiting Bantayan Island, we decided to stay on Mactan Island. We tried to stay in one of the best resort which is the Palmbeach Resort. The resort has a perfect beach view. We really had a good morning after waking up to this scenic view of the calm sea of Mactan Island.
Palmbeach Resort is just 20-30 min away from the airport.
For Bantayan Island Tour, you may contact:
Kuya Benjie– 09207917051 (SMART), 09664512136 (GLOBE)
Land Tour + Island Hopping
Php 1,500 for 4 pax
Day 4: Cebu City
We visited the top attractions in the city for the entire day. Our flight back to Manila was at night.
Back to Manila
To check the top tourist attractions in Cebu city, you may refer to this blog post.
Where to stay in Panglao?
There are so many hotels, resorts, and inns to choose from around Panglao Island. But if you are looking for some cheaper ones, I would highly suggest the following below:
Zai Bamboo Tourist Inn: Each room is a nipa-hut style, it has a small balcony and it is a shared bathroom. One night accommodation costs around Php 700 for 2 pax. It is 3 min away from Alona beach via tricycle.
Bohol Coco Farm Backpackers: This hotel costs around Php 400/pax per night.
Casa Nova Garden: You may also consider staying in this nipa hut-style accommodation. The room costs around Php 300/pax per night.
Where to stay in Cebu?
Palmbeach Resort: Although this is quite far from the city, it is best to stay here if you want to relax for a while before going around the city.
Cebu Guest Inn: Room rate is around Php 650 per night which is a private room. But they also provide a dormitory type room that costs around Php 250/night.
Robe's Pension House: This is where I stayed when I first visited Cebu. One of the best inns to stay in because its location is very close to tourist spots. Room rates start at Php 700 which is a standard room. What you will love about the room is it spacious and clean. The staff is accommodating as well.
Cebu and Bohol are relatively close to each other that is why it is easy to visit both islands at the same time. There are so many attractions to visit on each island.
From its pristine white-sand beaches to magical, stunning mountain views, and beautiful cascading waterfalls. In addition, you can also get to witness one of the most historical festivals in the Philippines on one of each island. Every island is incomparably beautiful that makes you not miss out visiting any of them.
Did this Cebu Bohol DIY itinerary help you?
Latest Posts:
Read Next:
A half-travel blogger in the Philippines (based in Cavite) and a half-K-pop enthusiast, Ara Patria (The Adventuress) pursues her passion and love for traveling. She's been blogging for years, where she writes about her own travel experiences and promotes the wonders of the Philippines. Not only does she promote the beauty of her country, but she also focuses on promoting sustainable tourism. She dreams to travel the world and inspire other people through her own written works and captured moments with her camera.
The Adventuress is a travel blogger with a purpose. She aims to inspire other people through her personal experiences, stories, and lenses. Outside her blogging world, she is an English teacher, an SEO specialist, and TEFL/TESOL certified.
Join her adventures!