Home to one of the most picturesque spots in the Philippines, Coron is part of northern Palawan, where you can get to see the beautiful rock formations, dip into the world-class wreck diving spots, swim in its cleanest lakes and turquoise seawater, walk on its white-sand beaches, and many more. Coron is the third-largest island in the Calamian Islands in northern Palawan in the Philippines. It is a separate group of islands from the main Palawan island.
It is often compared to El Nido, but Coron has its unique charm to attract local and foreign tourists! It has a lot to offer. Not to mention its most stunning photographed spots that you can only see in Coron! No wonder it is everyone's dream destination in the Philippines! So if you are considering visiting this island soon, here's a comprehensive travel guide to Coron, Palawan with a sample itinerary and expenses.
Updated Coron Travel Requirements and Guidelines
Coron tourism is now again open for tourists. Thus, there are some requirements that you need to present to enter the island. Here are the following travel requirements for your trip:
Approved S-Pass Travel Coordination Permit
ID card
Vaccination Card
Confirmed hotel and tour (DOT accredited)
Roundtrip tickets
On the other hand, unvaccinated and partially tourists must present a negative RT-PCR test result valid within 48 hours before arrival.
How to get to Coron, Palawan?
If you plan to visit Coron soon, there are two ways to get there. It's either by plane or via ferry. If you are taking a plane, their main airport is Busuanga Airport, less than an hour away from the town. Meanwhile, if you opt to travel by ferry, their boats are routed to their main pier, the Uson Island Public Pier.
By Flights
Taking a plane is the easiest and fastest way to get to Busuanga Airport. Major local airlines such as Cebu Pacific, Philippine Airlines, and Skyjet offer and operate daily trips to Coron from Manila and other parts of the Philippines.
Cebu Pacific usually offers promo flights to Coron. But that would still depend on which season you are heading to and where you are coming from. In our case, my friend and I got a chance to book a roundtrip ticket for less than a thousand pesos! If you have already decided to fly to the beautiful island of Coron, here are some of the details that you need to know when you get there via plane.
From Manila: To those who are coming from Manila, going to the island is convenient. Taking a flight to Busuanga will only take you approximately an hour.
From Cebu: Local airline companies also offer direct flights from Cebu to Busuanga airport. From Mactan International Airport, travel takes around an hour and a half to Busuanga. You can either book a flight via Philippine Airlines or Cebu Pacific. Take note that Skyjet only offers flights from Manila.
From Clark: If you are coming from Clark International Airport, there are also direct flights to Coron and it is also convenient to fly from here. Some people from Manila even book a flight here because it sometimes has cheaper direct flights to Coron. 1 hour is the average travel time from Clark International Airport to Busuanga Airport.
By Ferry
If you want to have a more adventurous trip, you can also take a ferry heading to Uson Island Public Pier. Taking a ferry might not be the fastest way to get to the island but it could certainly save you some bucks. Taking a ferry is the cheapest way to get to the island especially if you have difficulty finding more affordable flights. On the other hand, the ferry routes are mostly limited to the following locations such as Manila, Puerto Princesa, and El Nido.
From Manila: You have two options to choose from when taking a ferry to Coron. You can either sail with 2go Travel which offers weekly trips. The Manila to Coron ferry (and vice versa) departs every Friday at 1:00 PM and every Sunday at 4:00 PM. Depending on its offered promos, seats, and seasons, the typical cost of taking a 2go ferry is around Php 1000+ (it can be lowered than that). 2go Travel has different beds to select depending on your preferences and budget. 11-13 hours is the approximate travel time from Manila to Uson Island Public Pier.
From Puerto Princesa: You can take 2go Travel bound for Uson Island Public Pier with an approximate travel time of 16 hours. The ferry usually leaves Wednesday and Saturday and arrives the next day.
From El Nido: If you are going from El Nido, you can book a ride to Coron and vice versa via Montenegro Shipping Lines which cuts the travel time to 3-4 hours. They offer daily trips from 6:00 AM but schedules are subject to change. Regular rates are around Php 1760.
Coron Tour Packages
The list below is the most common tour packages you can get on the island. This gives you an idea of which type of package you would love to avail once you get there. These are the usual tours that local tour guides can offer you.
Tour A
Kayangan Lake
Twin Peaks
CYC Beach
Coral Garden
Quin Reef
Green Lagoon
Tour B
Barracuda Lake
Twin Lagoon
Coral Garden
Skeleton Wreck
White Sand Beach
Super Ultimate Tour C
Kayangan Lake
Twin Lagoon
Siete Picados / Twin Peaks
White Sand Beach
Skeleton Wreck
Barracuda Lake (Option to Add + Php 200)
Reefs and Wrecks Tour D
Pass Island
Lusong Coral Garden
East Tangat Wreck
Lusong Gun Boat & Shipwreck
Culion Island Escapade Tour E
Malcapuya Island
Ditaytayan Sandbar
Coco Beach
Busuanga Wildlife Safari Tour F
Calauit Safari
Busuanga Town
Buluang Fish Pond / Palapat Beach
Conception Falls
Malbato Church
Black Island (Option to add)
Coron Town Tour
Mt. Tapyas
Church
Lualhati Park
Cashew Store
Souvenir Shop
Maquinit Hot Spring
Here are some of the photos taken during our tour: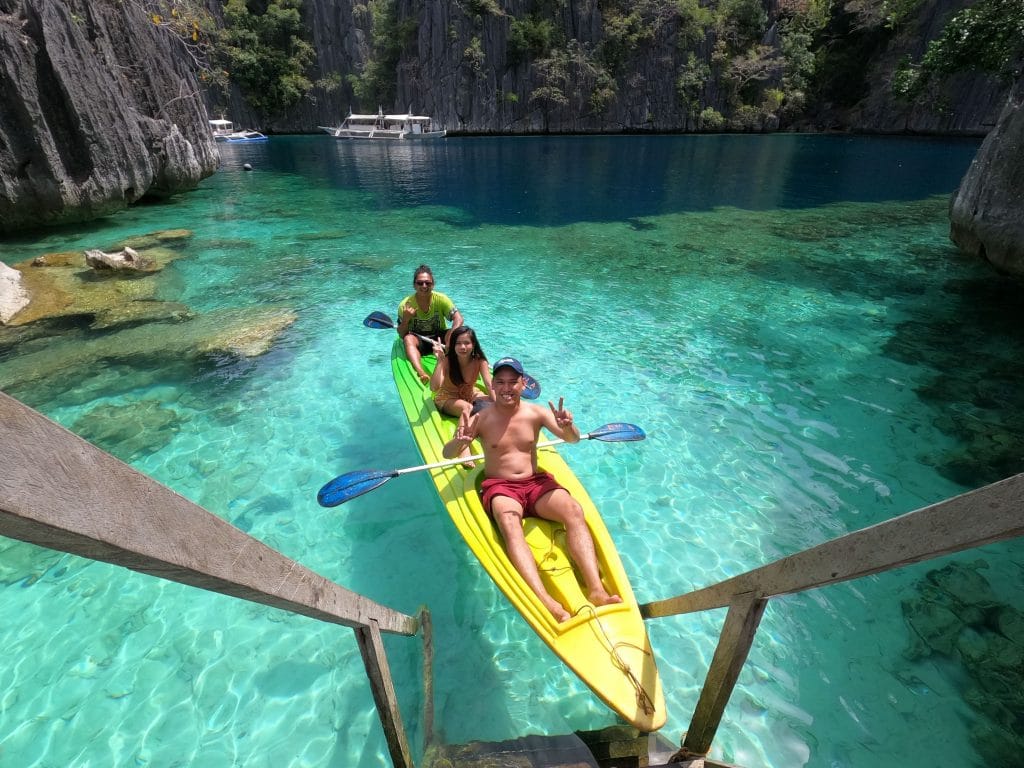 Getting around the island
The town of Coron is very small and is very accessible to travel around the place. With that, there are some ways to get around the town. Not that it is only accessible, but it is also very affordable for tourists to use public transportation on the island. Either walk around, take a motorcycle, or tricycle, or get a travel agency to guide you throughout your trip or stay on the island.
By tricycle: This is the main public transportation on the island. It is cheap that you can visit every town spot without breaking a bank! Based on our experience, from the park heading to Mt. Tapyas, we only paid around Php 20 each! Tricycles are around the area so it is convenient to charter one whenever you need to!
By motorcycle: If you know how to drive a motorcycle, you can rent it from local accommodations offering rental services. You can go anywhere you want if you have your own vehicle, so you may opt to rent a motorcycle and explore more undiscovered places in town! This is a better option if you want to save more, or tour around at your own pace.
By foot: The cheapest way to go around the town. There are a lot of local stores, cafes, restaurants, and even souvenir shops everywhere. It is possible to visit them one by foot if you are ready for a long walk. Explore like a local! Everything is mostly likely walkable in the town.
Tour packages: Availing tour packages is also a common option when visiting the island. Whether joiners or private tours, getting a package tour is also recommended, especially if you are island hopping. If you are on a tight budget, it will cost less to join a package tour. But if you prefer to have some privacy and have the right budget for your trip, you can opt to book a private package tour.
Where to stay in Coron?
When you have finally arrived downtown, the first thing that you would look for is accommodation. There are a lot of selections of hotels, hostels, and mid-range stay-ins where you can stay during your trip around the island. So here is a list of some of the accommodations where to stay in Coron.
Budget-friendly Hostels
If you are looking for some budget-friendly accommodations in Coron, you might want to check out the following:
Luis Bay Travellers Lodge
Jims Castle Inn
Sanctuaria Treehouses
Mario's Travellers Inn
Purple HomeStay
Coron Backpackers Inn
Haven 1916 Bed and Breakfast
High-end Accommodations
If you have so much budget for your trip and want to experience a luxurious stay on the island, you might consider the following accommodations.
SunValley Tourist Inn
Skylodge Resort Philippines
Bluewave Hotel
Sunlight Guest Hotel Coron
Balinsasayaw Resort
There are a lot more, these are some of the recommendations that I can give you. If you are curious about where we stayed during our trip, we stayed in Luis Bay Travellers Lodge which is part of our Coron tour package.
Where to Eat?
Here are some of the restaurants that you can try during your stay on the island.
Santino's Grill
Trattoria Altrove
EPIC Cafe
Poco Deli
Inihaw Project
Note: I'll have a comprehensive guide on where to stay and where to stay in Coron soon!
Top Fun Things to do in Coron, Palawan
Of course, your trip to Coron all goes down to enjoy and do all the fun! To give you an idea about what you can do during your stay on the island, here is a list of some of the fun activities you can expect from your trip!
Go trekking at Mt. Tapyas.
If you want to get a panoramic view of Coron, don't hesitate to trek Mt. Tapyas. This is a beginner-friendly mountain and you need 720 steps to hike the mountain! It may sound tricky, but a giant cross and an amazing view of Coron await you from the summit!
Swim in Maquinit Hot Spring.
This is one of my personal favorites! If you want to feel more relaxed, you can head over to Maquinit Hot Spring and pamper yourself in the spring itself. It is a saltwater spring with a beautiful view of the ocean. Mangrove trees also surround the area. The best time to visit here is after the hike from Mt. Tapyas.
Go island hopping.
This will probably be the highlight of your trip. You will go island hopping during most of your trip to Coron. Here, you can get to discover the stunning rock formations and lagoons, see the undeniably clear waters of the ocean, experience the fine and white sand of every beach, be amazed by the wreck ships underwater, and try the best island foods.
Explore downtown.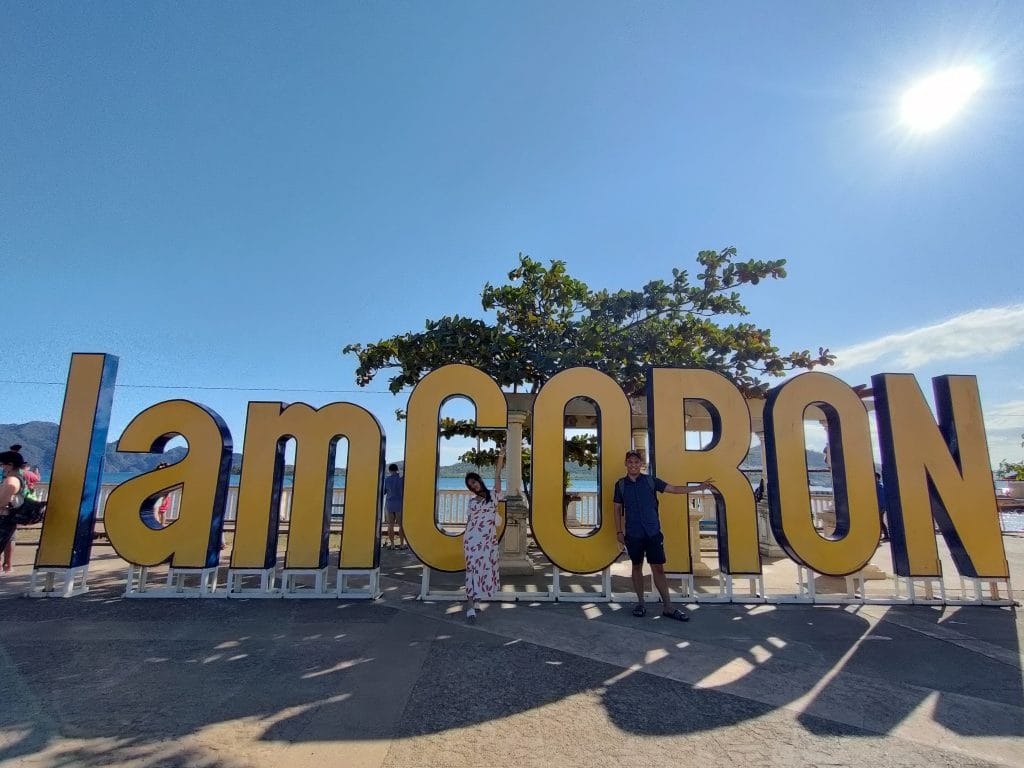 There are a lot of things to do in town. As stated earlier, there are a lot of restaurants, cafes, and souvenir shops that you can visit around the town. Try their local foods as much as you can. Don't forget to buy souvenirs too for your loved ones. Meet the locals. Talk to them. Also, if you are missing fast food, a McDonald's is available for you. Personally, one of my favorite places in town is the view from Lualhati Park. It is just a small park, nothing special, but I love the view from the harbor. My friends and I personally loved taking lots of pictures here.
Try some water activities.
If you're up for some water adventures, then you can try some water activities such as scuba diving, freediving, and snorkeling. Coron is considered one of the best diving spots in the Philippines. So it is also best to explore underwater if you have an extra budget to spare for diving. But going snorkeling would be good enough especially if you are on a tight budget.
Visit Calauit Safari Park and interact with the animals.
Calauit Safari Park is not located in the town of Coron. Still, you may also want to consider visiting this place if you desire some more adventures and wish to interact with the giraffes and zebras. This must be a part of your bucket list!
Unfortunately, my friend and I couldn't visit the place due to limited tours (the travel restrictions had just been lifted during that time). But at least, there are still some reasons to come back!
Sample Coron Itinerary for 5D4N
If you are also planning to stay on the island for 5 days and 4 nights, here's an example itinerary for you!
Day 1: City Tour
Mt. Tapyas
Maquinit Hot Spring
Lualhati Park
Day 2: Coron Island Tour B
Twin Lagoon
Reef Garden
Banol Beach
Skeleton Wreck
Barracuda Lake
Day 3: Coron Island Tour A
Green Lagoon
CYC Beach
Sunset Beach
Kayangan Lake
Barracuda Lake (add Php 200)
Day 4: Free Time (Rest Day)
Explore the town
Hike Mt. Tapyas
Day 5: Back to MNL
Frequently Asked Questions
How many days should I stay in Coron?
If you are traveling to Coron for the first time, 5 days and 4 nights are the most ideal days to enjoy your trip fully. However, if you don't have much time to spend, 4 days and 3 nights would be enough for you to enjoy the island's beauty.
My friend and I booked a flight for 5 days and 4 nights in our case. If you have enough time and budget, this is an ideal itinerary for you! We were able to explore the town for 1 day, go island hopping for 2 days, and one day rest while the remaining was our time to go back to Manila.
What is the best month to visit Coron?
The best months to visit Coron are during March, April, and May since this is the hottest season in the country. But on average, the island is hot all year round. The rainiest months are July and September. You may also visit in November, December, January, and February.
How much is the budget for Coron, Palawan?
It depends on how you are going to travel around the island. You have two options, either you join a group tour or you avail of the private tour. If you are a solo traveler, it will be much cheaper to avail a joiners tour. But if you are traveling with a big group, a private tour is also possible. In our case, we had spent at least Php 10,000 for 5 days and 4 nights of our stay.
Is Coron safe?
It is safe in Coron and even if you take out your luxurious stuff while walking around the town, you won't feel threatened. The locals on the island are very kind and approachable to tourists. So no need to worry about your safety when you are in Coron.
Is El Nido or Coron better?
El Nido and Coron are often compared, but both islands are worth visiting! They both are a must-visit! El Nido may offer the best beaches and lagoons, but Coron offers island tours and better diving and snorkeling experiences.
Are there ATMs in Coron?
Yes, there are some available ATMs on the island but they are difficult to find within the town proper. But there are ATMs at the Busuanga airport.
Heading to Coron, Palawan soon?
Coron is indeed one of the most beautiful islands in the Philippines. A must-visit island paradise in the Philippines. If any case you have already decided to visit Coron, Palawan, just follow this sample itinerary and everything will be much easier for you!
Who to contact?
For your reference, you may contact the following:
TripidoTravel: (Michael Yao) 09175285680 / 09163490597
iKenTravel and Tours: (Ken Vicente) 09499926657
Steven Travel and Tours: (Stevien Camposano) 09167133709
For more travel tips and guides in the Philippines, follow this travel blog now!
Latest Posts
Read Next
A half-travel blogger in the Philippines (based in Cavite) and a half-K-pop enthusiast, Ara Patria (The Adventuress) pursues her passion and love for traveling. She's been blogging for years, where she writes about her own travel experiences and promotes the wonders of the Philippines. Not only does she promote the beauty of her country, but she also focuses on promoting sustainable tourism. She dreams to travel the world and inspire other people through her own written works and captured moments with her camera.
The Adventuress is a travel blogger with a purpose. She aims to inspire other people through her personal experiences, stories, and lenses. Outside her blogging world, she is an English teacher, an SEO specialist, and TEFL/TESOL certified.
Join her adventures!