Have you ever thought of changing your hairstyle? Have you been thinking about dying your hair into a new one? Good news Southies – especially to those who are living in Cavite, Cre8 Salon is finally in Cavite. Located at SM City Rosario, Cavite, you can now say goodbye to your frizzy, dry, and dull hair!
About Cre8 Salon
Cre8 Salon is a hair and beauty salon owned by a Filipino family. According to the owner, Cre8 salon has its significant definition to them and for the customers. Cre8 salon is a place where you can create your own happiness. It is a place where you can have some relaxation for yourself.
We can't deny the fact that we sometimes get stressed at work, get pressured at school, and even get frustrated in life. These things make us forget our value. Sometimes, we need to take a break.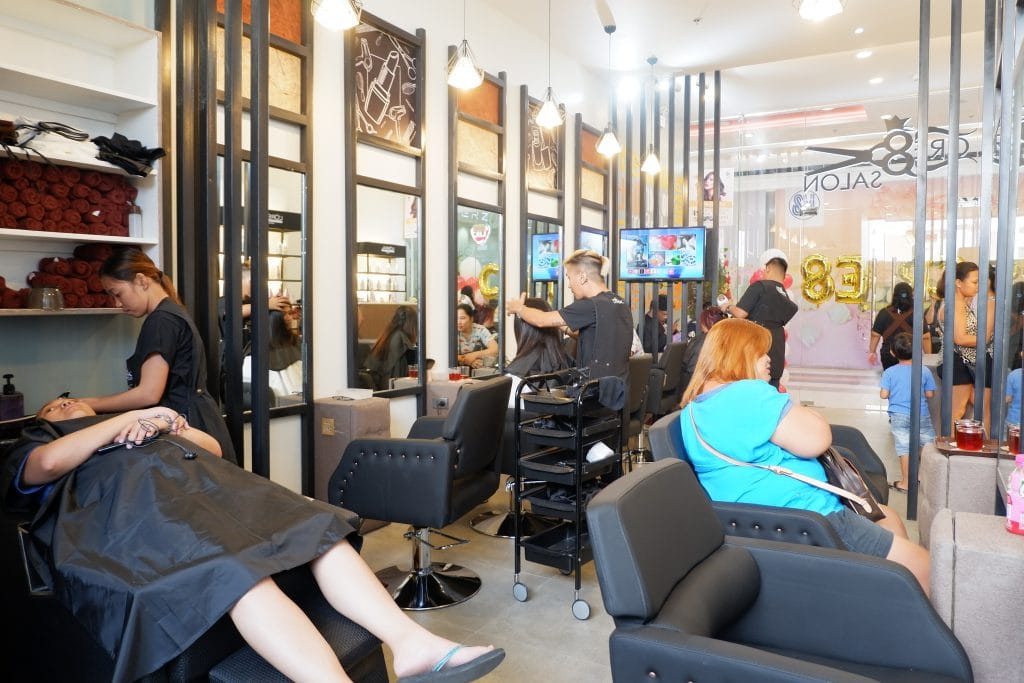 We need to beautify ourselves. In that way, when we look beautiful, it makes us feel better. Doesn't it? This is actually the purpose of Cre8 salon. It is to create happiness for a customer by giving a satisfying service! In addition, you don't need to pay a thousand bucks in order to beautify yourself.
Before I Discover Cre8 Salon
These days, I have been thinking about changing my hairstyle. It has been two years since I got my hair colored. As years pass by, my hair is growing unhealthily. It is getting drier and frizzier.
But I don't actually like going to a salon anymore because I have had a bad experience before. Being said that, I have become kind of picky when choosing a salon. In addition, I always care about the cost of the service. I have to make sure that the service I get is always worth paying for.
Good thing I have found and heard that there is a newly opened salon at SM Rosario, Cavite which is the Cre8 salon. I got really curious and had to check it out. Out of curiosity, I went there right away and tried their service. I noticed that the services that they offer are very cheap. Although I was not really sure if it's worth it. (Let's see!)
During the Treatment
I have tried their Hair Color and Luxliss Keratin Treatment. After that, I also tried their Orly Manicure Service.
I would like to commend the hairdresser who handled me during the treatment process. The hairdresser was very professional and friendly at the same time. He seemed to be really good at his work. He knows what he is doing. Before getting the treatment done, he checked the condition hair and checked everything right for my hair treatment. He also helped me choose the right hair color for me.
I truly enjoyed the whole process of my treatment. I really felt comfortable because the staff were so nice and accommodating. It was really nice to talk to them. I felt the happiness that Cre8 salon gives to customers.
Ultimately, I was really amazed by the result of my treatment! It was so good! I fell in love with my new hairstyle. Seriously. It was done perfectly!
I couldn't contain my happiness after seeing the result.
After the Treatment
The staff will give some advice such as the things that you should and shouldn't do after the treatment. There is a piece of paper that tells you everything that you have to do after the treatment. Its purpose is to make the treatment last longer. I think it is helpful. I adore how the staff takes care of the customers like me!
If you are looking for a trusted salon, Cre8 salon is definitely what you are looking for!
Latest Posts:
Read Next:
A half-travel blogger in the Philippines (based in Cavite) and a half-K-pop enthusiast, Ara Patria (The Adventuress) pursues her passion and love for traveling. She's been blogging for years, where she writes about her own travel experiences and promotes the wonders of the Philippines. Not only does she promote the beauty of her country, but she also focuses on promoting sustainable tourism. She dreams to travel the world and inspire other people through her own written works and captured moments with her camera.
The Adventuress is a travel blogger with a purpose. She aims to inspire other people through her personal experiences, stories, and lenses. Outside her blogging world, she is an English teacher, an SEO specialist, and TEFL/TESOL certified.
Join her adventures!