Set in a tranquil setting, it awaits you a warm and relaxing place to escape and chill: Farm Hills Garden Tagaytay. Located in the town of Silang, Cavite, boasts a serene setting and lush greeneries, Farm Hills Garden is one of the best spots to eat out and go staycation! One good thing about this is it is just a few minutes away from Tagaytay. If you are looking for a less crowded and underrated spot to visit in Cavite, this place is for you!
About Farm Hills Garden
Farm Hills Garden is one of the wedding venues in Tagaytay. It is a garden venue for weddings, private parties, and corporate events, etc. Apart from that, Farm Hills also offers bed & breakfast accommodations and a one-of-a-kind dining experience at their restaurant.
What to Expect
Location
It is easily accessible in Tagaytay. In fact, it is near some of the best spots in the city of Tagaytay! There are a lot of wonderful places to see near Farm Hills Garden. Aside from that, you will get amazed by the pine trees that are aligned by routing the garden. Once you reach the place, you would notice how peaceful the place is! You wouldn't hear any distracting noise around the area.
Restaurant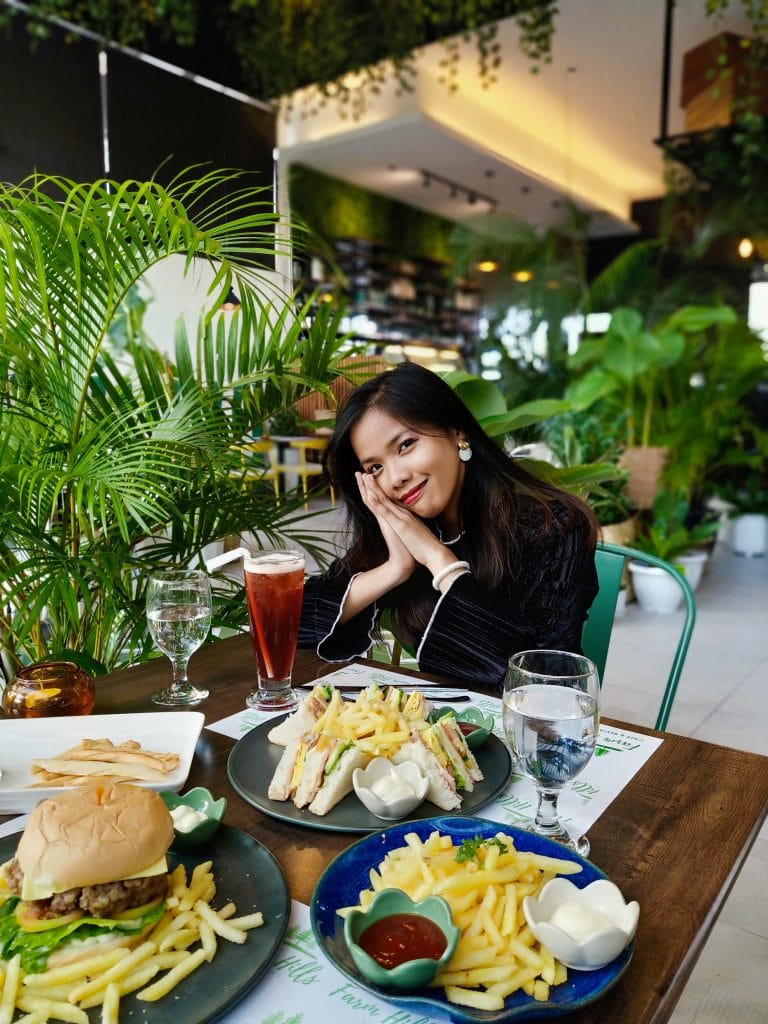 They provide such a lovely restaurant filled with different types of plants. The restaurant has totally a great ambiance which makes you feel warm and comfortable. In addition, the music playing inside the restaurant perfectly matches the atmosphere of the place itself! It makes the place cozier and its interior is totally beautiful. You will definitely enjoy staying here for long hours. Also, don't forget to try some of their mouthwatering cuisines at its reasonable price!
My friend and I really had a great time spending at Farm Hills Garden's restaurant. Moreover, every corner of the place is instagrammable. I could say that the food we ordered was worth its price. The staff are very accommodating, too! We really want to go back here, again. We are so satisfied with their overall service.
The Pool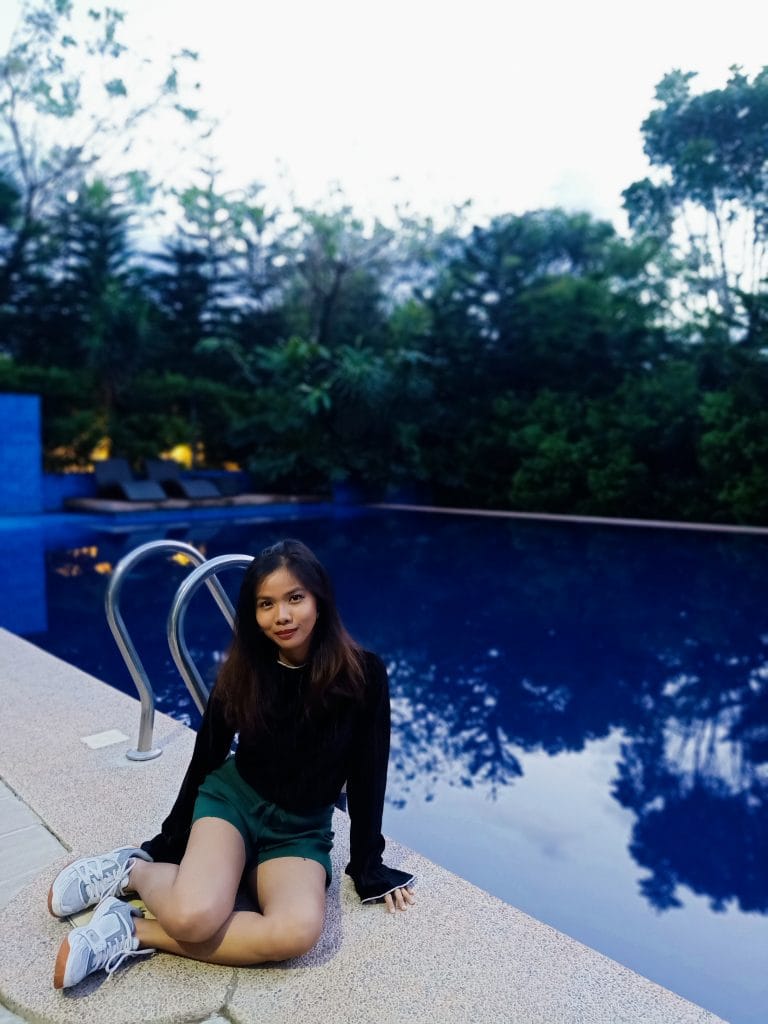 As you dine in, the swimming pool is just outside the restaurant. It can be seen from the inside. The pool is just simple yet seems to be inviting! I really loved how it looks like. It looks really relaxing. I think you can spend the whole day chilling in their pool area.
Unfortunately, my friend and I didn't get a chance to swim since we only dined-in at their restaurant.
Bed & Breakfast
Farm Hills offers bed & breakfast accommodation. If you are looking for a place to go staycation in Cavite, you can check into one of their rooms. Although I didn't have an opportunity to see their rooms, I can assure you that Farm Hills Garden is one of the best perfect getaway places!
Events Place
I didn't really get to see their events place that much since it's exclusive. But this is the view from the restaurant. It is a private conference hall which has a similiar interior design with the restaurant! It seems to be fancy, too!
Foods to try
As I mentioned above, the foods that they offer are totally amazing and worth the price! They actually have different varieties of food such as the appetizer, soup, salad, sandwich, burger, pizza, and pasta. Moreover, they have meals for breakfast, main course, and different types of Filipino cuisines.
In our case, we ordered the farm hills burger, double-decker sandwich, fries, and some drinks such as brewed peach and grape iced tea. To be honest, I didn't really expect them to have huge food servings! We couldn't even finish them all. Nonetheless, we really had a great time having our ordered foods!
Farmhills Burger
Double Decker Sandwich
Room Rates
Standard Room (Php 5,500)
27 sqm floor area
Good for 2 persons
With free complimentary breakfast for two persons
Deluxe Room (Php 6,500)
37 sqm floor area with pocket garden
Good for 2 pax
With free complimentary breakfast for 2 pax
Family Room (Php 8,500)
50 sqm floor area with loft
Good for 4- pax
With free complimentary breakfast for 4 pax
Family Suite (Php 11,000)
50 sqm floor area with second floor
Good for 6-8 pax
With free complimentary breakfast for 6 pax
Please note that rates are subject to change.
Contact
Location: Farm Hills Garden, Brgy. Ulat, Silang Cavite
Mobile: 0915-071-0244 /0927-944-4480 / 0927-685-7282
Email: @farmhillsgarden@gmail.com
How to get there?
It isn't that difficult to visit Farm Hills Garden. Just take a bus heading to Tagaytay or Nasugbu. Then, drop off at the Olivarez Terminal. From Olivarez terminal, ride a trike to Farm Hills Garden. Or, if you want to save more, you can take an alternative route. Ride a jeepney to Tagaytay City Market and then a tricycle to Farm Hills Garden.
Latest Posts:
A travel blogger in the Philippines and a K-pop enthusiast, Ara Patria (The Adventuress) pursues her passion and love for traveling. She's been blogging for years, where she writes about her own travel experiences and promotes the wonders of the Philippines. Not only does she promote the beauty of her country, but she also focuses on promoting sustainable tourism. She dreams of traveling the world and inspiring other people through her own written works and captured moments with her camera.
The Adventuress is a travel blogger with a purpose. She aims to inspire other people through her personal experiences, stories, and lenses. Outside her blogging world, she is an education, an SEO specialist, and TEFL/TESOL certified.
Join her adventures!