Are you planning to visit Palawan soon? If yes, this is an ideal place for you especially if you consider staying longer in Puerto Princesa than in El Nido. Hillside Resort Palawan was first established in 1995. Once you go there you will soon realize why the resort's name is Hillside. It's actually because it is on the side of a hill. It makes sense, doesn't it?

Things to know about Hillside Resort
The Staff
Upon checking in, the staff will approach and greet you right away. They seem to be hospitable. Everything that you need or ask for from, they will try to provide it as much as they can. Also, they have so much care for their guests. Whenever you have concerns, they will respond to your queries in a friendly way.
It feels like you are only talking to your friends because they behave in a welcoming way. They do have amazing customer service! Besides that, you will feel like they are always ready to assist you!
The Room
For our next stop, the room. The room is well-kept which has two beds, a television, a refrigerator, a cabinet, and a dresser. It looks wide and inviting at the same time. We loved staying in our room for most of our stay.
The bed has a soft quilt and enough cleaned pillows which will definitely make you feel relaxed. The dresser is very useful, the mirror is big enough. Also, it's nice to check the cupboards with lots of hanger clothes. There are also towels and soaps provided for you! They could give everything that you need during your stay at the resort.
The Restroom
With the restroom, it is spotless and odorless which seems to be great! You won't have any problem with using it anymore. The amenities of the room are all impressive. They all look fascinating. But, the air conditioner during our stay seemed not to be working well. That's why we requested a fan from them.
The Veranda
Once you go out of your room, there is a balcony which also serves as the hallway for every room of the resort. You can enjoy staying at the veranda in the morning while having a sip of coffee. By the way, there are only eight rooms along the hallway and three other rooms on the lower part of the resort.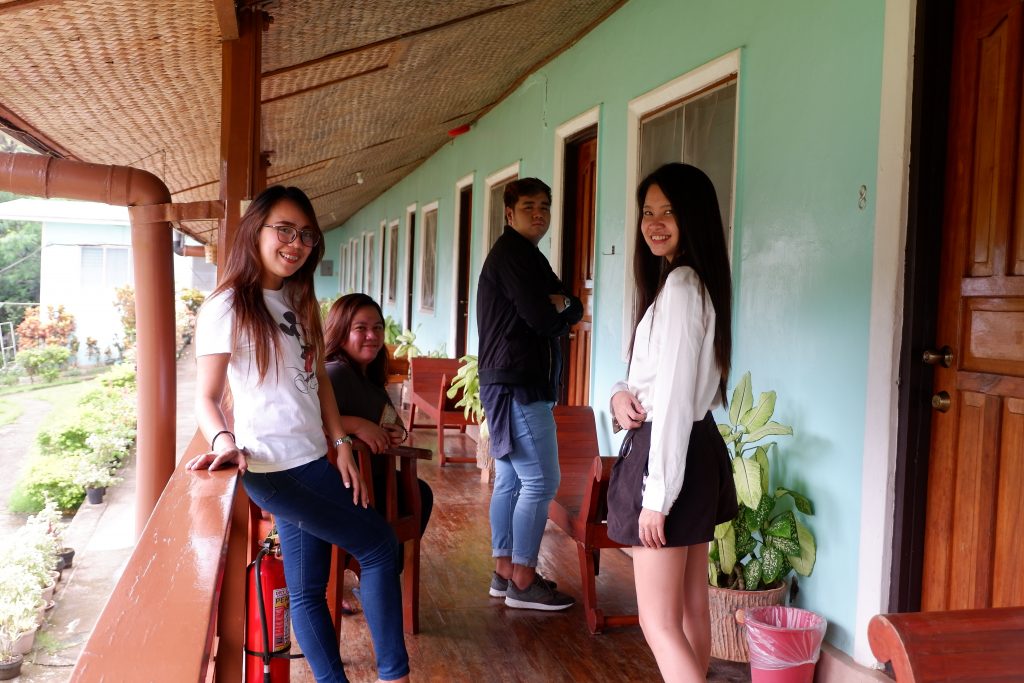 The Surroundings
As you look around the resort, you may notice the three other rooms facing the veranda. These three rooms' exterior is quite different from others. It is in a nipa hut style. Its interior is the same as the other eight rooms. In addition, the owner told me that they only provide these three rooms for the students.
They also have a restaurant facing the swimming pool that has one slide. The swimming pool is vast and clear. By the way, you can go swimming and eat at their restaurant from 6 pm until 9 pm. Besides that, the restaurant is open to grand events or special celebrations.
They provide wifi connection but the connection isn't that good enough to consume. With that, you can't do anything but to immerse yourself in this place. You will be able to focus on your friends or loved ones while staying here!
It's definitely worth staying at Hillside Resort! This is one of the best places to stay when in Puerto Princesa! This is a perfect place to disconnect from social media and reconnect with ourselves!
Room Rates
| | |
| --- | --- |
| Standard Room (2pax) | Php 1,400 |
| Deluxe Room (2pax) | Php 1,700 |
| Quad Sharing Room (4pax) | Php 2,000 |
| Deluxe Quad Room (4pax) | Php 2,300 |
| Deluxe Quad Room (4pax) | Php 2,300 |
| Family Suite (4pax) | Php3,000 |
| Cottage (6pax) | Php 2,700 |
| Extra Person | Php 450 |
Inclusions
Plated Breakfast
Roundtrip Airport Transfer
Use of the pool
Flat-screen TV w/ Cignal Satellite
Wifi Connection
Hot and Cold Shower
Fully Air-conditioned Room
Drop off only to Robinsons Mall
Personal Refrigerators in Deluxe and Suite Rooms
Children 7 years old below are free of charge in the room, but breakfast is not included.
Location
Sandiwa, Puerto Princesa City, Puerto Princesa, Philippines 5303
Contact
Facebook: Hillside Resort Palawan
Email: hillsideresort@yahoo.com.ph
Latest Posts:
Read Next:
A half-travel blogger in the Philippines (based in Cavite) and a half-K-pop enthusiast, Ara Patria (The Adventuress) pursues her passion and love for traveling. She's been blogging for years, where she writes about her own travel experiences and promotes the wonders of the Philippines. Not only does she promote the beauty of her country, but she also focuses on promoting sustainable tourism. She dreams to travel the world and inspire other people through her own written works and captured moments with her camera.
The Adventuress is a travel blogger with a purpose. She aims to inspire other people through her personal experiences, stories, and lenses. Outside her blogging world, she is an English teacher, an SEO specialist, and TEFL/TESOL certified.
Join her adventures!