This blog highlights my travel to Isla Verde Batangas. With that, I will share with you my sample Isla Verde itinerary including travel guide and sample budget and expenses.
About Isla Verde
Located between the islands of Luzon in Batangas and Mindoro, Isla Verde (Verde Island) is the "Center of the Center of Marine Biodiversity" in the World. (In fact, you can go on a side trip to Puerto Galera after visiting Isla Verde). In this article, I will be sharing with you this travel guide to Isla Verde, Batangas!
The island may seem to be ordinary, its beauty lies beneath the blue waters of the ocean. No one can ever imagine how rich in marine life the island is. From witnessing the clear waters to pristine beaches. More to that, it is about experiencing the white sand to diving down to the deep ocean. On top of that, seeing the majestic underwater treasures. I can definitely say that the island is truly remarkable and a must-see place.
The moment I  heard about Isla Verde, I already fell in love with it for the first time. So I decided to visit the island in order to discover the beauty of it by myself! Before it was shown to the public, Isla Verde has been one of the off the beaten paths that you can visit in the city of Batangas.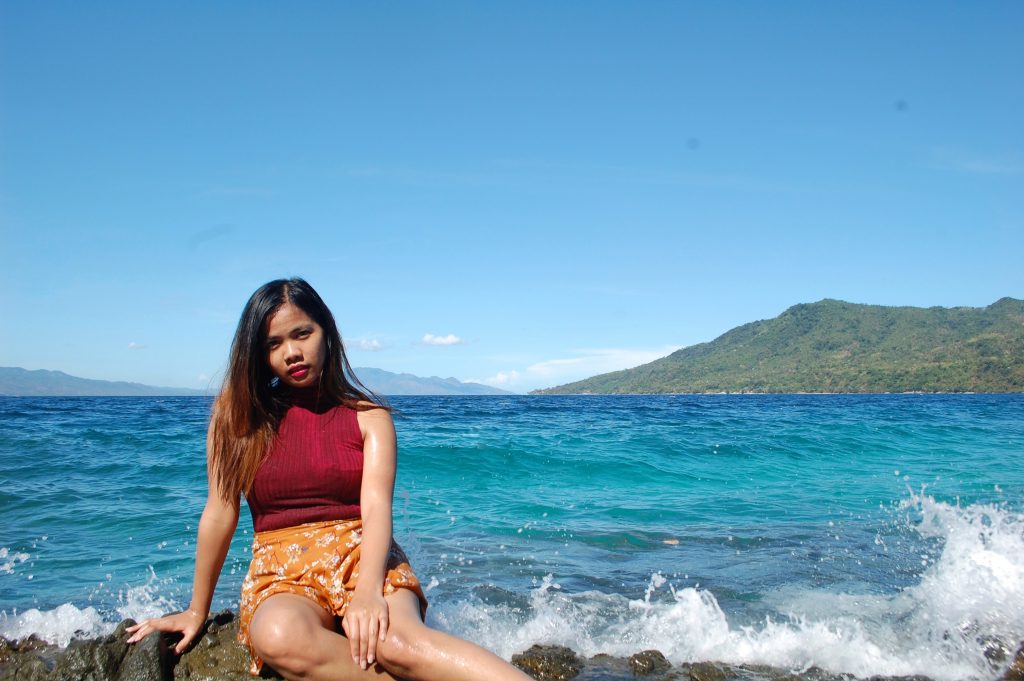 Isla Verde Itinerary (Sample)
I'm telling you, it's not that difficult to get to the island. You can do it on your own!) 
04:00 AM 
My friends and I decided to meet up at 4 AM in Buendia LRT Station since the bus terminal is just right beside the LRT station. We took the Jam Liner Bus going to Batangas City. This bus will directly drop you off to Batangas City Terminal.
05:00 AM 
The bus left at exactly 5 in the morning and I was really surprised that it only took 1.5 hours to get to the Grand Terminal. We arrived around 6:30 AM.
06:30 AM
From the Grand Terminal, we took the jeepney going to BAYAN. Just tell the driver to drop you off to Bayan. Once you get there, you'll see the public market where you can buy some food that you can bring to Isla Verde.
I highly recommend bringing your own food since the food on the island is quite expensive. Particularly if you are on a tight budget, better to bring your own food and water.
07:00 AM
It only took 30 minutes to get to BAYAN. Then, we rode another jeepney going to Tabangao Port that only took around 30 minutes to get there.
07:30 AM
We arrived at Tabangao port around 7:30 am and it's quite early so we still had time to buy some food to bring to the island. We also had breakfast at the island since we hadn't had breakfast yet.
08:45 AM 
Before we rode in the boat, we still had to ride in a small boat that would take to the boat going to Verde Island. The boatmen asked us to pay PHP 40. We didn't have any idea that we only had to pay PHP 5 for it till the locals told us.
TAKE NOTE: Just pay PHP 5 for that small boat.
09:45 AM 
We've finally arrived at Isla Verde!!!! It took an hour to get to the island. But while we're on the way, I was able to enjoy the view. I got the chance to see the big statue of Mama Mary on a highland. The locals said that the statue is actually built at the church located in Pagkilatan, Batangas.
We chose to stay at Mahabang Buhangin (one of the barrios on the island) and went to stay in Ate Jekjek's house which is located just right in front of the beach!
The view was totally amazing! I felt so pleased! The people living in the house were very accommodating, friendly and hospitable. I love the fact that they made us feel welcome. We had good times together even just for a day. We both shared a lot of good stories with each other.
10:00 AM – 02:00 PM 
We took a rest and slept for hours. Even though it was hot, we still had a good sleep because of the relaxing sound of the waves of the deep blue sea.
02:00 PM
We woke up and prepared for our lunch.
03:00 PM 
We walked along the shore, enjoyed nature, felt the white sand of the beach and took a lot of pictures.
The rock formation looked beautiful. So we took the opportunity to take photos there! Of course, with our best and most powerful stance!
04:00 PM-06:00 PM
After getting exhausted from strolling, we decided to stay in front of our house and enjoyed the view of the blue waters of the ocean. Then, we went swimming and had some snacks.
06:00 PM
We took a bath.
07:00 PM-08:00 PM
Had dinner. We cooked our own food.
08:00 PM-09:00 PM
We stayed on the beach and lied on the sand. I utterly had fun gazing out at the water. I also loved the tranquility of the place. It's pressure-free. It felt like I got distance from my everyday problems.
09:30 PM 
Lights off.
02:00 AM 
We had to get up early this morning. Because the public boat going back to Tabangao Port leaves at 03:00 AM.
03:00 AM
Depart to Tabangao Port.
06:00 AM 
It took three hours to get back to the port because our boat had to pick up the other passengers from other barrios of the island. Our trip was way too long!
06:30 AM
Go back to the main proper.
07:00 AM 
Go back to the terminal.
07:30 
Back to Manila
Breakdown of Expenses 
| | |
| --- | --- |
| Jam Liner Bus going to Batangas Terminal | Php 157 x 2 =Php 314 |
| Jeepney  going to Bayan  | PHP 12 x 2 = PHP 24 |
| Jeepney going to Tabangao Port | Php 15 x 2 = PHP 30 |
| Small Boat | PHP 40/3    = PHP 13 |
| Boat going to Isla Verde       | PHP 120 x 2 = PHP 240 |
| Accommodation | PHP 300 per pax |
| Use of utensils and gas stove | Php 300/3 (good for sharing) |
| Water for bathing (1 big gallon)    | PHP 150/3 (good for sharing) |
| Total Expenses | PHP 1,076 (back & forth) |
Tips & Reminders
As much as possible, you arrive before 9 AM at Tabangao port because the boat going to Isla Verde leaves by 9 AM.
Just give the boatmen Php 5 for the small boat ride. We didn't have any idea at first; the boatmen asked us to pay them Php 40 but the locals told us that we should've just given them Php 5.
Buy all your stuff before going to the island to save money.
The electricity on the island is very limited. The power only runs from 6 PM until 9:30 PM. So you have to make sure that all your devices/gadgets are fully charged before you get to the island.
Bonfire is NOT permitted anymore.
Don't expect too much on the beach, I was very thrilled visiting the island. There is a lot of trash along the seashore. It's totally saddening that there are REALLY some travelers that are NOT responsible and don't care about nature. I seriously despise them.
If you are on a tight budget and prefer taking the public boat going back to Tabangao port, you need to wake up before 3 AM because the public boat leaves at 3 AM.
PLEASE DO NOT LEAVE YOUR TRASH EVERYWHERE. JUST LEAVE FOOTPRINTS AND TAKE ONLY MEMORIES.
I hope Isla Verde will get better and people will be more responsible in taking care of our nature. Visiting a place is beyond taking pictures. It's about how to take the opportunity to know and feel the value of nature.
Did this Isla Verde itinerary help you?
Latest Posts:
Read Next:
A half-travel blogger in the Philippines (based in Cavite) and a half-K-pop enthusiast, Ara Patria (The Adventuress) pursues her passion and love for traveling. She's been blogging for years, where she writes about her own travel experiences and promotes the wonders of the Philippines. Not only does she promote the beauty of her country, but she also focuses on promoting sustainable tourism. She dreams to travel the world and inspire other people through her own written works and captured moments with her camera.
The Adventuress is a travel blogger with a purpose. She aims to inspire other people through her personal experiences, stories, and lenses. Outside her blogging world, she is an English teacher, an SEO specialist, and TEFL/TESOL certified.
Join her adventures!