Experience the Philippines in just two hours! This newest attraction in the Metro, Lakbay Museo, lets you travel around the country. Worry no more, no need to spend too much time and money on visiting the Philippine archipelago. This museum showcases the Philippine culture and arts, and the beauty of our Motherland!
As technology gets more advanced, people tend to become busier with their lives on social media – the non-stop posts and updates on different social media platforms. People tend to be keen on what is a trend. With that being said, we become more focused on media and technology that sometimes makes us forget who we are and where really are from.
About Lakbay Museo
Lakbay Museo is a museum that focuses on reviving the Philippine culture and tradition that is gradually losing. Located on the ground floor of S Maison at Conrad Hotel, Lakbay Museo showcases various cultures and traditions, a popular attraction, and various cuisines from the different regions of the Philippines.
Lakbay Museo is a museum that is certainly a good place at any age. Whether you are a kid or an adult, it doesn't matter! It is a place to learn more about Philippine culture or to regain your knowledge about it. Lakbay Museo has a different approach from other museums. It is by educating people on the history of the Philippines! Museum-goers will get to learn fun facts and more knowledge in the most interactive way as possible.
The museum was actually built in order to raise awareness regarding preserving Philippine history, culture, and tradition. Most of the structures are made from various recycled materials such as rubber and plastic.
What's inside Lakbay Museo?
You will definitely fall in love as you get inside the place. You will first get to see the jeepney, the plane, and the vinta. Vinta is a type of boat that comes from Mindanao. These three types of transport symbolize how people travel around the Philippines. If you are more of an adventurous person, you can take the plane. With that, you can slide down to start your journey inside Lakbay Museo. For photo ops, you may choose the jeepney or the vinta. Then, you will receive 12 chips from the staff. You can use them in buying some Filipino food inside the museum.
Lakbay Museo boasts 11 popular Philippine tourist destinations all the way from Luzon to the Visayas, to Mindanao! Have a glimpse of the different life-sized replicas of the most well-known destinations and cuisines. Filled with vibrant colors and portals that are IG-worthy, this place is surely a must-visit! It is more than a place for the gram! Surely an educational place that tells you the story about the Philippines!
Things to see and do inside the Museum
The Public Market which highlights different types of Filipino foods and delicacies.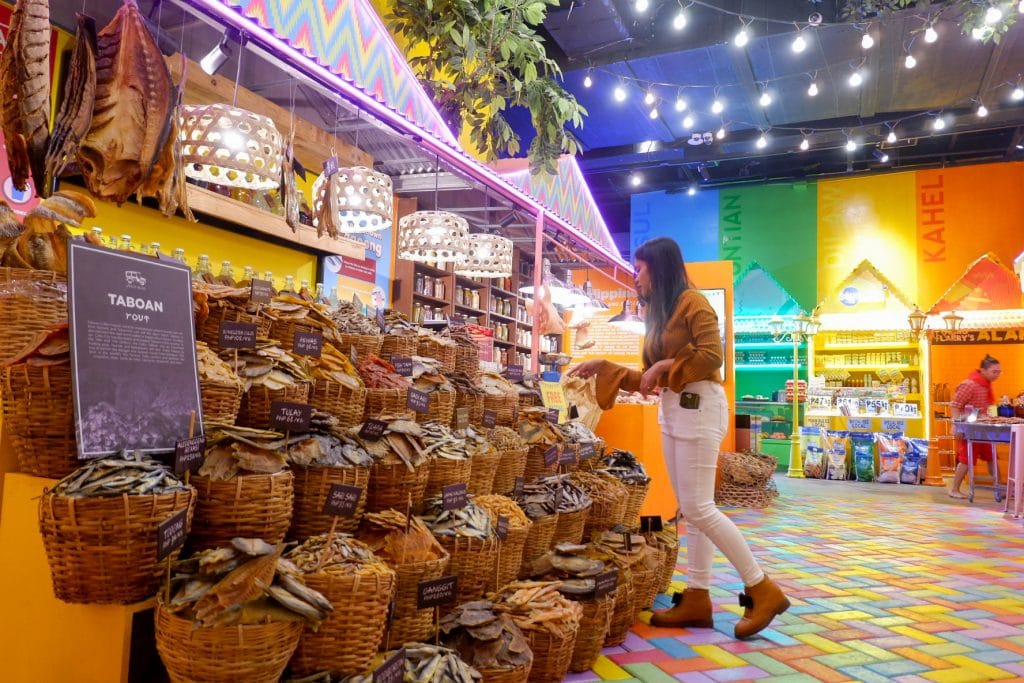 Region 1
In this portal, you will discover various foods that originally come from Region 1 – The Ilocos Region such as Empanada, Longganisa, etc. More to that, you can also get to know how people from the Ilocos Region make pots on their own.
Region 2
Get a glimpse of the life-sized Ivatan house replica. The Ivatan house originally comes from Batanes. Worry no more! Experience the culture of the region by trying on their traditional costumes.
Region 3
Barasoain Church is located in the town of Malolos, Bulacan. Certainly one of the most historical churches in the Philippines. The church tells us how devoted Filipinos are. It also shows how we value Christianity and other religions in the country.
Region 4
Festivals from different regions also highlight how rich the Philippines is what it has to offer!
Pahiyas Festival is an annual colorful celebration in Quezon. Aside from that, you can see the two life-sized morions that originated from Marinduque. Morions are soldiers that you can see during the Moriones Festival.
Region 5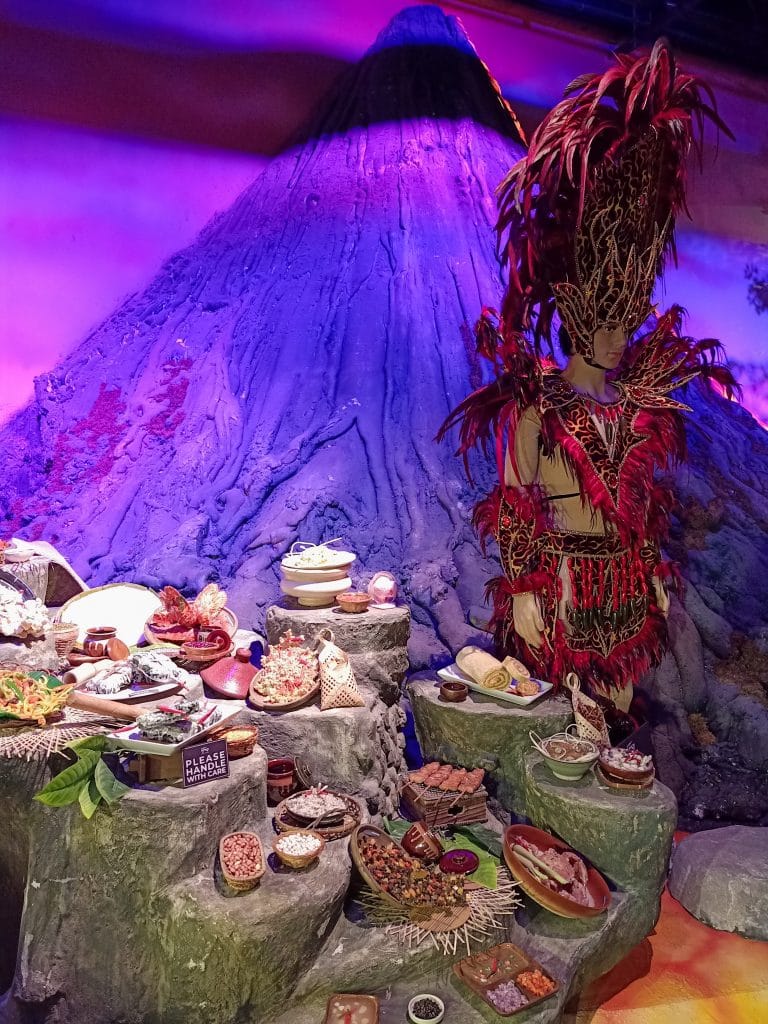 You can get to see the replica of the Mayon Volcano beside the replica of Casagwa Ruins. In addition, you can get inside a tunnel behind the volcano. From the inside, you can see lots of chilis (Bicolanos love to eat spicy food). This is where you can also do that famous "Lava Walk".
Other things to see in Lakbay Museo
In the Cordillera Area Region, you can witness the Panagbenga Festival. It is an annual flower festival celebration in Baguio. Of course, there is a portal of synthetic rice. This shows that the Philippines is one of the biggest rice producers in the world! Not to mention that Filipinos can't go on a day without rice! Also, get to know more about the various types of coffee from the different regions in the country.
Then, you should also see the replica of the Magellan's cross from Cebu!
More to that, there is a portal that highlights how rich the Philippines in regard to marine biodiversity. It also raises awareness about how we must really protect our ocean and the environment.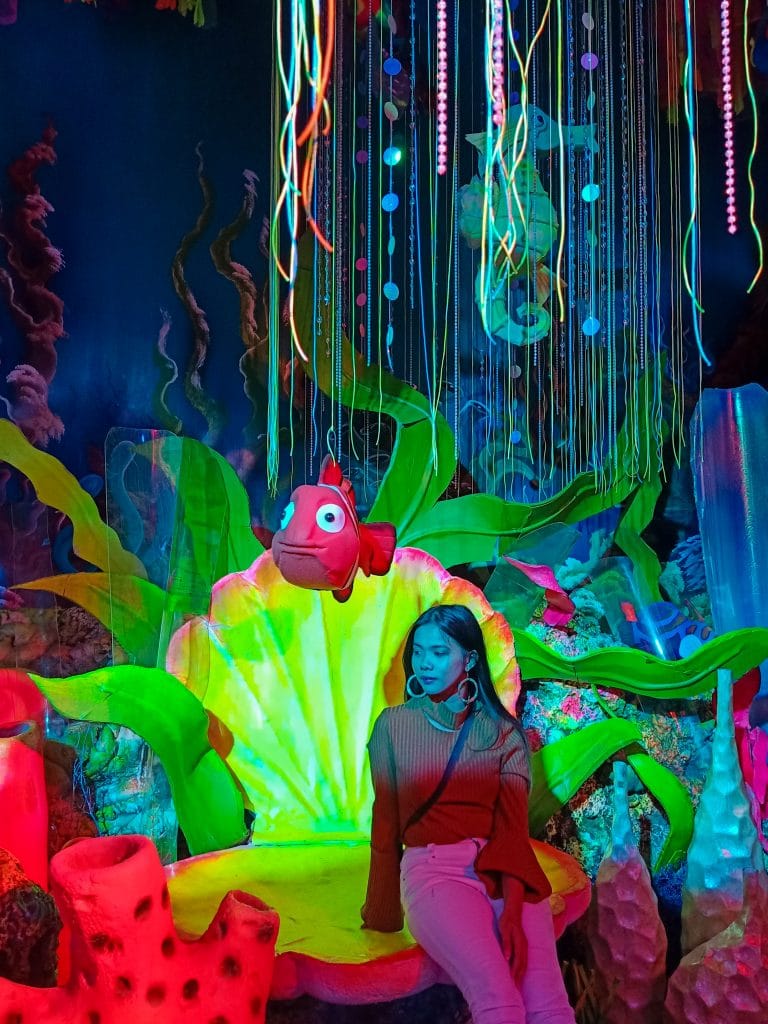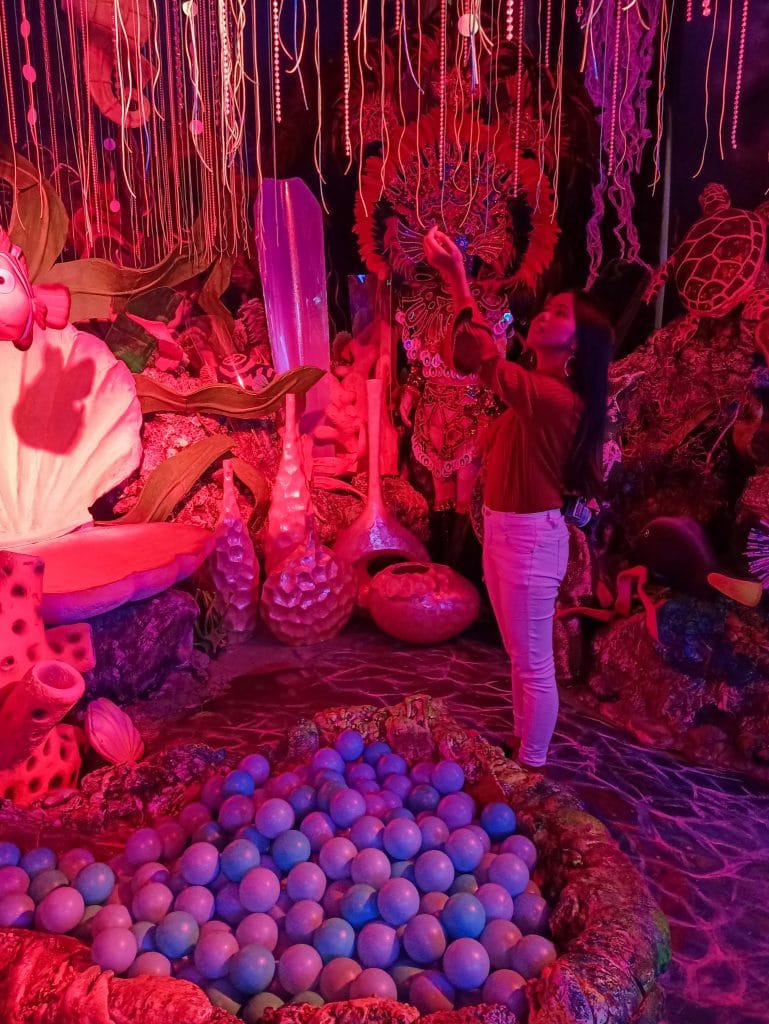 One of the best parts, when you explore around the museum, is you can have the experience of playing traditional instruments from Mindanao. In fact, this is what I enjoyed the most. You can also learn about traditional weaving which is a big part of the Mindanaoan culture.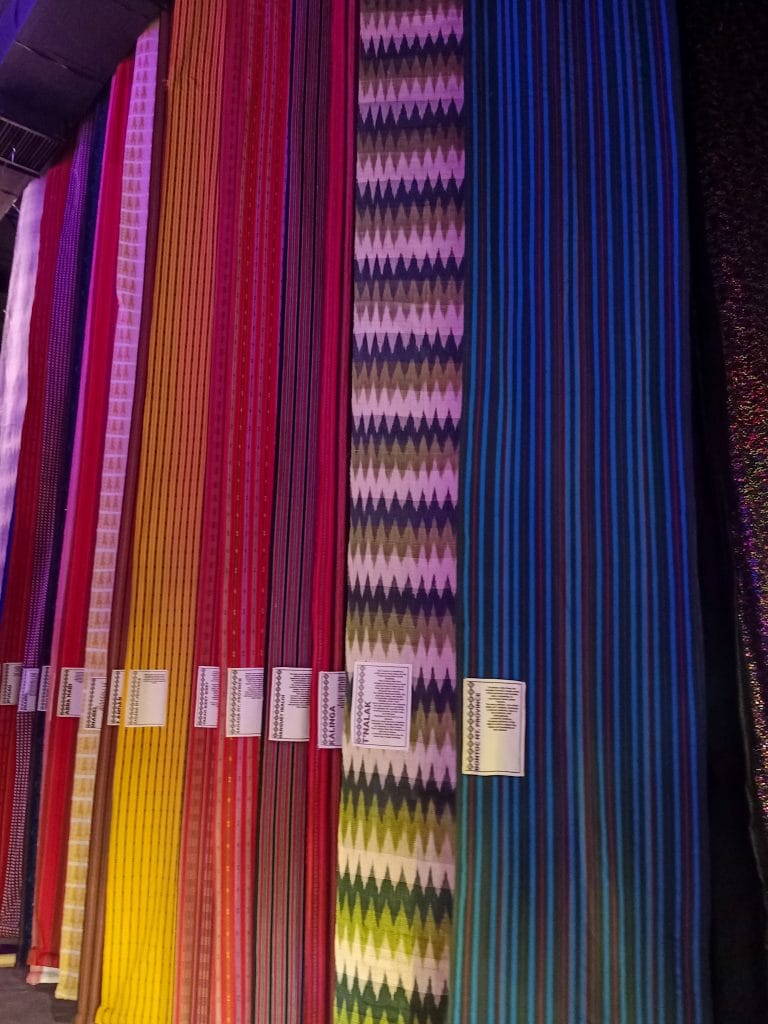 Tara na, Lakbay tayo! Lakbay Museo opens on July 12 at S Maison, Conrad, Mall of Asia Complex.
Rates
ONLINE RATE: 699 PHP
WALK-IN RATE: 799 PHP
Operating Hours
10:00 AM-10:00 PM, daily
Contact
Website: www.lakbaymuseo.ph
Facebook: https://www.facebook.com/lakbaymuseoph/
Instagram: https://www.instagram.com/lakbaymuseoph/
Telephone: (02)2531069
Email: kumusta@lakbaymuseoph.ph
Latest Posts:
Read Next:
A half-travel blogger in the Philippines (based in Cavite) and a half-K-pop enthusiast, Ara Patria (The Adventuress) pursues her passion and love for traveling. She's been blogging for years, where she writes about her own travel experiences and promotes the wonders of the Philippines. Not only does she promote the beauty of her country, but she also focuses on promoting sustainable tourism. She dreams to travel the world and inspire other people through her own written works and captured moments with her camera.
The Adventuress is a travel blogger with a purpose. She aims to inspire other people through her personal experiences, stories, and lenses. Outside her blogging world, she is an English teacher, an SEO specialist, and TEFL/TESOL certified.
Join her adventures!