Boracay is not just an island for water activities, partying, and sunsets. I must say that the island is also a great place to try new cuisines. Boracay Island is indeed the best place for your greatest food experiences. 
With a wide selection of cafes and restaurants, you can definitely get to try different amazing cuisines, whether they are local or international. 
On the last day of our stay on the island, we were so fortunate to come across this restaurant nearby our accommodations. We got a chance to try new dishes, and it was something that I don't usually have whenever I eat out. 
Meze Wrap is a Mediterranean restaurant in Boracay that my friends and I visited on our last day. The funny thing was we were talking about the definition of "meze wrap" or the meaning behind it. So we concluded that it meant "masarap" (delicious) because the restaurant's name actually sounds like that. But when we asked the staff, there was actually a deeper meaning behind it. (haha!) 
But to be honest, when we got to try their kebab and other foods that they served us, everything was delicious! That justifies the name itself. (haha) 
So if you are fond of kebabs or other Mediterranean dishes, this is definitely the best place for you! 
About Meze Wrap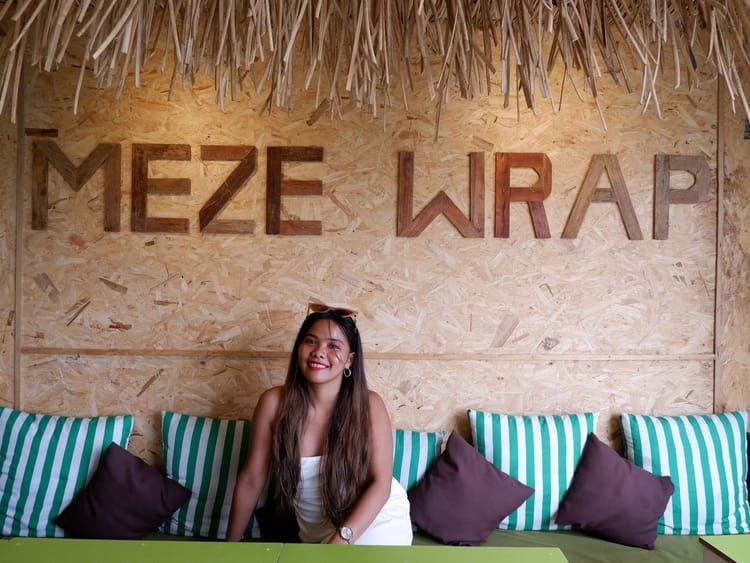 Meze Wrap is a Mediterranean restaurant or a Turkish-inspired restaurant in Boracay. The restaurant's name was derived from the term "meze" or "'mezze," which is a Mediterranean, Turkish, or Middle-Eastern term for small plates that can be appetizers, side dishes, sauces, or a combination of all of the above.   
Things You'll Love About Meze Wrap
They have a wide selection of Mediterranean dishes. 
As you order and see their menu, you'll get to see a wide range of different Mediterranean and Turkish dishes. Everything looks so good that it makes you want to try it all. 
To be honest, I am not really into Mediterranean dishes, but being adventurous, I challenged myself to try them. But dang, I was so surprised at how good they are. I didn't really expect it at all. I really enjoyed having their food, and it was all worth trying. 
It offers great ambiance and Instagrammable spots. 
You might have thought that Meze Wrap is a good restaurant in Boracay, which has three floors. We dined on the third floor, and the ambiance was great, as were the views from the outdoors. 
The third floor is much more spacious, and every corner is Instagram-worthy! I love how simple it yet looks so inviting. 
It both offers and promotes a healthy diet. 
If you are a vegetarian or into a healthy diet, this is the perfect place for you. Since the Mediterranean diet offers a lot of health benefits, Meze Wrap offers some healthy and bountiful dishes for you. 
Must-try Foods 
Kalamar Platter

Beef Kebab

Meze Trays

Beef Mozzarella Kebab

Chicken Kebab

Meze Fries

Hummus Flatbread
Location
Main Road, Barangay Balabag (near BPI D'mall), Boracay
Operating Hours
11:00 AM to 9:00 PM, daily
Contact
Facebook: Meze Wrap
Instagram: @mezewrap