Mount Timbak is the 3rd highest mountain in Luzon and the 9th highest peak in the Philippines. Mt. Timbak lies in the town of Atok, Benguet. It is 2-2.5 hours drive away from Baguio City.
Despite being the third highest mountain in Luzon, it isn't difficult to reach the summit of Mt. Timbak. In fact, it is the easiest trail amongst the ten highest mountains in the country.
Why Mount Timbak is an easy trail?
You might wonder why it is the ninth highest peak in the Philippines. It is due to the fact that Mount Timbak has 2,717+MASL elevation. It is possible to reach the summit without getting exhausted. Due to its cemented road part, you can go up by vehicle reaching Timbak Elementary School. From school, you can take the easy trail to the summit for 15 minutes.
We decided to stay in Ate Josie's house which is located on Mt. Timbak, (yes, there are houses built atop near the summit). We stayed there from the afternoon to catch the sunset until the next day morning to witness the sunrise. Unfortunately, we couldn't watch the sunset due to very cold weather. In spite of that, we were able to see the sea of clouds! It was really amazing!
Then, the next day, we had to wake up around 4:30 am to prepare for the trekking. The mountain is surrounded by vegetable fields, different kinds of plants and flowers. Expect a very cold climate during the trek.
The Summit
As you reach the summit, you will be facing Mt. Pulag (known as the highest peak in Luzon), Mt. Tabayoc, and Mt. Ugo.
In spite of the very cold temperature, you will be rewarded with a spectacular view of the sunrise. There's also a view of the sea of clouds as well as the overlooking view of Halsema highway.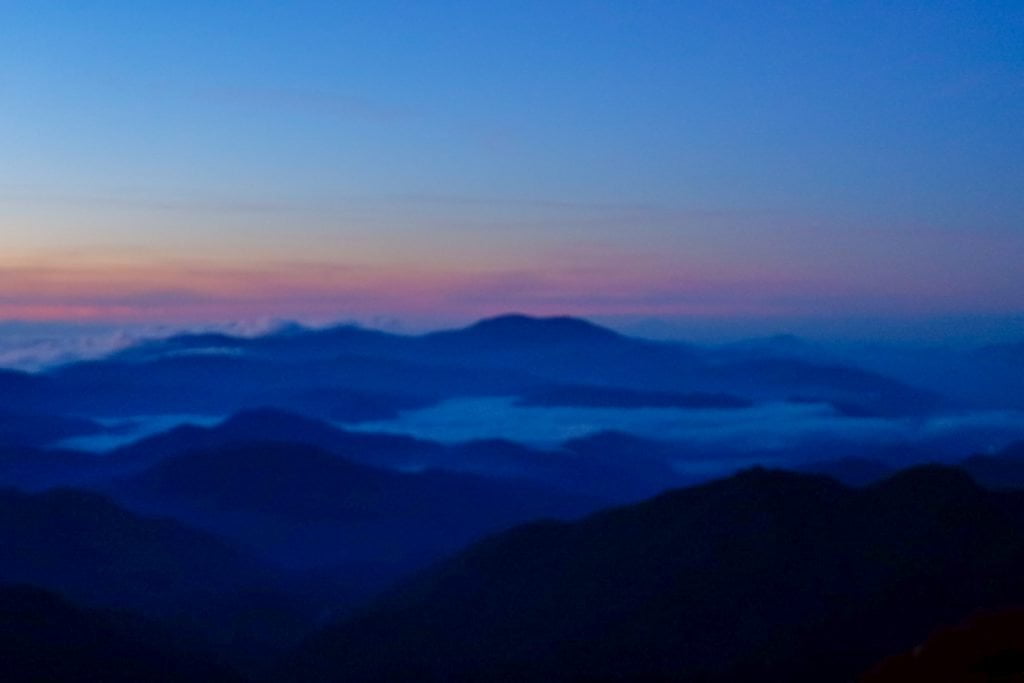 On the summit, it offers an undeniably breathtaking view. The warmth of the sun's rays as it rises, the cool breeze that touches the warmth of your skin, and the spiritual connection that you get from nature. It makes you appreciate more how amazing God's creation is.
I personally love going to the beach than climbing up the mountain. Little did I know; its beauty that awaits from atop can leave me speechless. I want to do this again!
Things to consider in Mount Timbak
1. Refrain from stepping on vegetable fields or plants during trekking.
2. Make sure to bring thicker clothes because it's really cold on the mountain.
3. Leave no trace. Don't throw any trash around the area.
4. Respect the locals as well as the place.
5. Appreciate the beauty of nature.
Where to stay in Mount Timbak?
As I mentioned above, there are some locals living atop near the summit. One of them is Ate Josie which was recommended by our tour guide.
If you plan on staying in her place overnight; rates are provided below:
LIVING ROOM STAY = PHP 200 per head
BEDROOM STAY = PHP 350 per head
CAMPING TENT = PHP 100 per head
It's possible to bring your own food and cook it in her place or you can ask Ate Josie to cook food for you.
How to get there?
Option 1
1. From Baguio City, head to Dangwa terminal and take a bus bound for Sagada or Bontoc.
2. Alight at KM 55 and inform the driver that you'll go to Mt. Timbak.
3. From KM 55, you may start trekking till you reach the summit.
Option 2
If you are planning to tour around Atok and visit their popular destinations, you can get a tour guide and have a package tour that includes Mt. Timbak in your itinerary. (This is what we did since we loved to see other sites of Atok)
1. From Baguio City, head to Dangwa terminal and take a bus or van bound for Sagada or Bontoc.
2. Drop off at Sayangan Municipal Hall.
3. Register at their Brgy. Hall and get a guide.
4. Choose the tour that includes Mt. Timbak. It costs Php 1600 which is already good for groups of travelers/visitors.
5. Go camping in Mt. Timbak and catch the sunset and the sunrise!
Contact Person
Ate Josie (for Mt. Timbac homestay)
Mobile: 09207478558
Latest Posts:
Read Next:
A half-travel blogger in the Philippines (based in Cavite) and a half-K-pop enthusiast, Ara Patria (The Adventuress) pursues her passion and love for traveling. She's been blogging for years, where she writes about her own travel experiences and promotes the wonders of the Philippines. Not only does she promote the beauty of her country, but she also focuses on promoting sustainable tourism. She dreams to travel the world and inspire other people through her own written works and captured moments with her camera.
The Adventuress is a travel blogger with a purpose. She aims to inspire other people through her personal experiences, stories, and lenses. Outside her blogging world, she is an English teacher, an SEO specialist, and TEFL/TESOL certified.
Join her adventures!