If you are looking for something different, Oh My Chicken offers you the best Taiwanese chicken and milk tea ever! Do they match in taste? Why not? Seriously, chicken and milk tea are so good to be true. They are such a perfect combination! Didn't expect them to be so good together!
About Oh My Chicken
OH MY CHICKEN is a Taiwanese chicken franchise – one of the best stores that sell chicken and milk tea in Taiwan. Furthermore, the ingredients that they use directly come from Taiwan.
They serve steak and squid in a unique way. Moreover, they also serve squid.
The steak and the chicken come in five different flavors such as gravy, macha mayo, strawberry mayo, honey mayo, and spicy honey sauce.
Fortunately, OH MY CHICKEN has now a branch in some parts of Metro Manila. It mainly serves Taiwanese street food like chicken pops. In addition, they also have milk tea and fruit tea at a very reasonable price!
What to Try at Oh My Chicken
Oh My Chicken Popcorn
These chicken popcorn are so cute. They are like small pieces of chicken nuggets! We actually ordered the original flavor and the barbecue flavor as well.
Then, we chose the gravy, honey mayo, and honey spicy sauce for the dip! The crispiness of the chicken pops is so appetizing! The original flavor perfectly matches the gravy and the honey spicy sauce! It was so delicious that I couldn't even stop eating it!
Meanwhile, the barbecue flavor perfectly matches the honey mayo. Although the sauce is all good and this is my most favorite combination! I really fell for it! I seriously enjoyed every bit of it.
Oh My Chicken Steak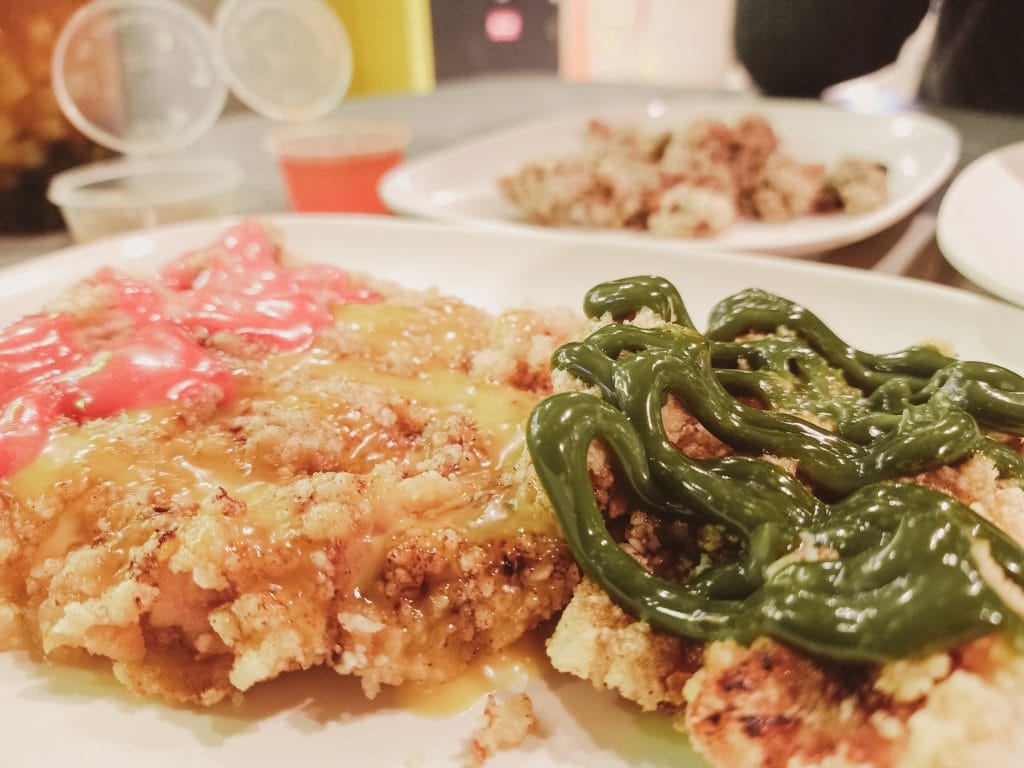 The steak was cooked well. It was neither too tender nor too hard to eat. Also, there are three flavors on the top of the steak. It has strawberry, matcha mayo, and honey mayo flavors! The steak looks so colorful. But it is not just about the appearance that matters, what's more important is the taste! Well, it is worth it!
Oh My Fresh Squid
I also the squid that they serve! The fact that it is as not as expensive what other restaurants serve – it is also perfect for every dip that Oh My Chicken has!
But I could personally say that the squid tastes best with the spicy sauce! In addition, it is also as crunchy as the chicken pops!
For the drinks
In terms of milk tea, they serve different flavors of milk tea! But according to the staff, its best seller is the Black Sugar Fresh Milk! So, I had to try that one!
Black Sugar Fresh Milk
Black Sugar Fresh Milk tastes really good! Its tapioca pearls are cooked well. They are easy to chew and the milk tea itself doesn't taste too sweet. I love it! No wonder why this is one of their best sellers!
Double Burst Passion Tea
We also had Double Burst Passion Tea. This is a fruit tea. Frankly speaking, I usually prefer fruit tea than milk tea. I must say, Double Burst Passion Tea is my top favorite among the fruit teas I have tried! Its appearance might kind of strange, but this is totally delicious! I can't get enough of it!
Mango Yakult
Have you ever heard of Mango Yakult? My friend and I got curious about this so we also tried this one! We never tried this yet! This kind of flavor is new to us!
Surprisingly, we didn't regret ordering Mango Yakult because it also tastes good! It's a must-try!
OH MY CHICKEN is definitely one of the best hangout places to go to Manila! Moreover, it is also a to-go food so you can have also had it with you even when on the road. Plus, it's super budget-friendly! In fact, their foods don't go over Php 200! Isn't it great!
Operating Hours
10am to 9pm
Location
Inside Laperal Youniversity Suites, Recto Avenue, Sampaloc, Manila
Foodhub, Alvarado St. (In front of Chang Kai Shiek College Gate 3, Manila)
MOA Areana
Latest Posts:
Read Next:
A half-travel blogger in the Philippines (based in Cavite) and a half-K-pop enthusiast, Ara Patria (The Adventuress) pursues her passion and love for traveling. She's been blogging for years, where she writes about her own travel experiences and promotes the wonders of the Philippines. Not only does she promote the beauty of her country, but she also focuses on promoting sustainable tourism. She dreams to travel the world and inspire other people through her own written works and captured moments with her camera.
The Adventuress is a travel blogger with a purpose. She aims to inspire other people through her personal experiences, stories, and lenses. Outside her blogging world, she is an English teacher, an SEO specialist, and TEFL/TESOL certified.
Join her adventures!