I have been traveling around the Philippines since 2015. With that, I have seen and visited the different islands all over the country's provinces. Every island I visited has its charm and beauty, but Onok Island seems different from others. This island is so stunning that it makes you emotional once you get here. Everything about this island is enchanting. The turquoise ocean water, fine white sandbar, and the vast ocean rich in healthy corals and amazing sea creatures. Not to mention those giant clams that you can get to see through freediving or snorkeling.
If you consider visiting Balabac, Palawan soon, make sure Onok Island is part of your itinerary. I must say, this could be the highlight of your island hopping tours in Balabac!
Travel Guidelines & Requirements (as of 2022)
Although Balabac is now open for tourists, there are still travel guidelines and requirements that you need to follow. In this case, here are some of the documents that you need to showcase at the airport from Manila.
A negative result of Antigen (accomplished within the last 48 hours before arrival in Palawan)
Vaccination card
Approved S-Pass from the local government of Balabac
Returned flight tickets
About Onok Island
Onok Island (formerly known as Roughton Island), is a part of the Balabac Group of Islands. The island is found on the Southwestern edge of the Sulu Sea and is near the maritime boundary of the Philippines and Malaysia. Despite that, the island is open to the public! A local politician privately owns the island.
The island has indeed a jaw-dropping view which makes it the most popular island among the islands of Balabac, Palawan. The island boasts wide-ranging shallow turquoise waters, a powdery sandbar, wild sea turtles, and colorful coral reefs.
My Experience in visiting Onok Island
As mentioned above, I have been to many islands across the country, and I must say that Onok Island is one of the most beautiful islands I have ever seen. Onok Island is simply stunning. When we set foot on this island, I got so excited that I couldn't even explain the feeling. This made me realize how fortunate I am to be here on this island. Indeed, The Philippines has a lot to offer. Onok Island is a world-class beauty. From its pristine white sand to its crystal, its Insta-worthy boardwalk, and its world-class underwater view with a wide range of marine creatures.
We spent hours going to the island, but it was all worth it! It's quite sad because we only had to stay here for hours. I'm hoping to come back here soon!
Things to do on the island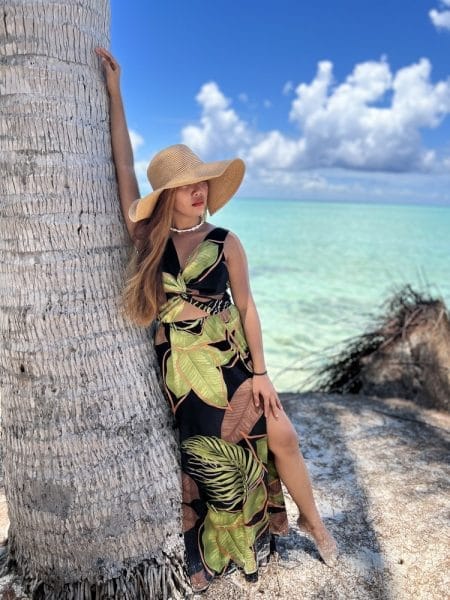 There are a lot of things to do once you visit Onok Island. Here are some common fun things to do when you are on the island.
Go snorkeling or freediving.
Balabac Group of Islands has something a lot to offer regarding underwater scenery. If you want to see more of the beauty of Onok Island, exploring underwater might be a good thing for you. Make sure to take up the opportunity to go snorkeling or freediving! There are so many things to see underwater!
See the giant clams underwater.
As I mention, there are so many things to explore and see underwater. One best example would be the giant clams. Dive into the seawater and see these beautiful giant clams!
Experience great kinds of seafood.
Based on our experience, this is where we had our lunch. Our tour guide prepared our lunch with various scrumptious plates of seafood. Imagine having the best seafood while you are on a paradise island? That's the best feeling ever!
Take lots of pictures.
Your visit to Balabac is not complete without taking photographs. Whether it is the nature view, ocean view, or you, everything around here is undeniably stunning! Don't forget to bring and wear your best outfit!
Swim in the sea.
Suppose you are not into freediving or snorkeling, no worries! You can dip in the shallow part of the seawater. Other than that, you can walk under the beautiful boardwalk of the island.
Things to Bring on the Island
Sunblock
Bring a dry bag.
Extra batteries or power bank.
Snorkeling set and fins.
Camera
Your best OOTD for the trip
FAQs
How long should you stay on Onok Island?
If you are getting a package tour, you can get a chance to stay on the island for a day. But if you wish to stay overnight, you need to pay another fee, which is a bit more expensive. You may ask your tour guide about arranging your overnight stay on Onok Island in advance.
Is there a signal on Onok Island?
Expect that there will be no signal once you get to the island. Since there's no signal on the island, you can get to enjoy the entire Onok Island fully. That being said, it is the perfect time to disconnect from the real world.
Can I stay overnight on the island?
Yes. It is possible to stay overnight on Onuk Island. However, staying on Onuk Island would cost you more, and it is not included in the package tour you availed from your contacted tour guide.
Where to book your Balabac Island Hopping Tours?
You may book your Balabac Island Hopping Tours through Kamp Malaya, organized by Kuya Motet Sanson. You may contact them through their Facebook page.
How to get to Balabac, Palawan?
There is no direct flight heading to the islands of Balabac. With that, you must book a flight bound for Puerto Princesa. Then, from Puerto Princesa City, your contact tour guide will pick you up from where you are staying in the city. It takes about 5-6 hours to head to the Buliluyan Port from the city. Once you arrive at the port, that's the start of your Balabac Island Hopping Tours! You may book a flight to Puerto Princesa via Philippine Airlines, Cebu Pacific, and AirAsia, as they offer flights daily.

Balabac Island is surely one of the most stunning places to visit, not just in Palawan but also in the Philippines! So if you are planning to visit the island soon, you must check out my detailed Balabac travel guide on my website!
Latest Posts
Read Next