As I opened the door and entered the place, I already knew that this was going to be an ideal spot for me. I loved how the Rest Tea Place Cafe had a quirky, captivating and relaxing aura. I knew that was a perfect place to chill and catch up with your friends on a rainy, frigid night.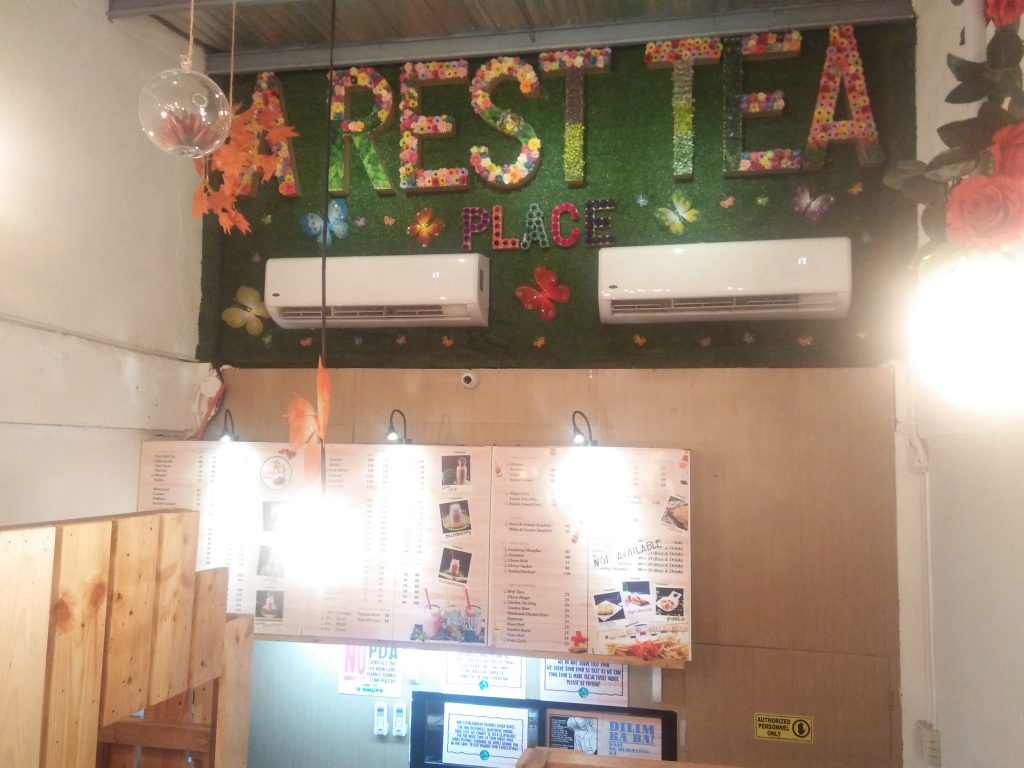 My Overall Experience
Never have I experienced spending time in a cafe as if you own the place itself! Most cafes' interior designs are very common. But it varies depending on the ambiance, the choice of music, and its menu. Hence, the cafe that I have recently visited was quite different from others.
The cafe isn't as big as others but I love its own uniqueness. It isn't just a cafe where you can see tables and chairs in the area, but you'll certainly feel that you aren't in other places.
It feels like home. How could that be possible? The seating arrangements are quite extraordinary which you can certainly have your own place to stay. It looks clean inside the pub and the first thing that you need to do as you enter the cafe is to take off your shoes, of course in order to maintain the cleanliness. It's not a problem anyway because there will be a shoe rack provided for your shoes.
What to Expect
The Ambiance
One of the things that you will like about the place is its ambiance which gives you total peace of mind. It is not as loud as other places despite the noise coming from other customers. I think it is due to the fact that you have your own space and that you will not notice others eating or even mind them talking for hours.
There is definitely space for each and every one. it feels like you are seated inside a capsule or a container that only you and your company matter. You might want to stay a bit longer; however, the maximum hours of stay is just for 2 hours.
The Food
When it comes to food, it's totally affordable yet scrumptious. The food that they serve will surely satisfy your cravings. Though their servings aren't good enough for sharing. In our case, we ordered fries, breadsticks, cheese sticks, egg salad sandwiches, pasta, and some drinks such as milk tea and fruit tea. One good thing about ordering their food is they serve it quickly. You don't really have to wait for too long.
Things to do inside Rest Tea Place Cafe
The cafe also provides board games like jenga and playing cards such as UNO. I'm not sure about their choice of music, I'm afraid that the choice of music really suits the place itself. I hope they can play better songs that the customers will more enjoyable.
By the way, they don't have a WI-FI connection which I find pretty good. In that way, people can focus more and have a good connection with each other. The Rest Tea Place Cafe is one of the good places to chill out with your friends or loved ones!
Location
2nd Floor Millenium Commercial Building, E. Aguinaldo Highway, Palico III, City of Imus, Cavite
Opening Hours
2 PM – 11 PM
Latest Posts:
Read Next:
A half-travel blogger in the Philippines (based in Cavite) and a half-K-pop enthusiast, Ara Patria (The Adventuress) pursues her passion and love for traveling. She's been blogging for years, where she writes about her own travel experiences and promotes the wonders of the Philippines. Not only does she promote the beauty of her country, but she also focuses on promoting sustainable tourism. She dreams to travel the world and inspire other people through her own written works and captured moments with her camera.
The Adventuress is a travel blogger with a purpose. She aims to inspire other people through her personal experiences, stories, and lenses. Outside her blogging world, she is an English teacher, an SEO specialist, and TEFL/TESOL certified.
Join her adventures!