Rubys Place former Casa Del Sol is a farmhouse located in Amadeo, Cavite where is known as the coffee capital of the Philippines. Are you feeling due to the hustle and bustle of city life? Do you want to get away from it in the meantime? Then, this is one of the best places to unwind. Rubys Place is a boho-themed staycation in Cavite that you should probably visit!
This is actually my second time visiting this place because my first visit was only to eat at their rustic bohemian style restaurant. Yes! They also have a restaurant that offers good and affordable food.
This time, I got a chance to stay in one of their villas. Their villa can accommodate 2-4 persons. But aside from that, they also have house accommodation which is definitely suitable for big groups. It is actually good for 20 people.
Upon reaching the villa, you need to get down the restaurant first then you will see the villa on your left side going straight along with its spacious garden.
What to expect from Rubys Place?
The Villa
The villa has its own space outside with a small table and chairs which  I personally think, is a good place to sip a cup of coffee or some refreshment in the morning.
The exterior design of the villa looks simple. It shows the simplicity of it through its wooden glass door yet shows how classy it is. You can also see some tiny animal statues like frogs in front of the door. As soon as I saw the door, I wanted to open it and enter the room right away!
What's inside the villa?
The moment I entered the villa, I really got amazed by how romantically beautiful the room is! It looks so attractive with everything that you see inside. The room is also in a bohemian style like their restaurant.
Its interior design is great in rustic decor. There are some plants in some corner of the room. The king-sized wooden bed is really comforting. There are a television, a small dining table, and some chairs. You will also see a small shelf with some books and board games. The room is spacious and it feels like home. I love the way they conceptualize the rustic design by wooden and furry textures, including the earthy-colored cushions, the rug, and soft blankets.
In addition, the bedroom itself adjoins the bathroom which is quite big. It has a bathtub inside surrounded by green plants. It is perfectly clean and good at the same time.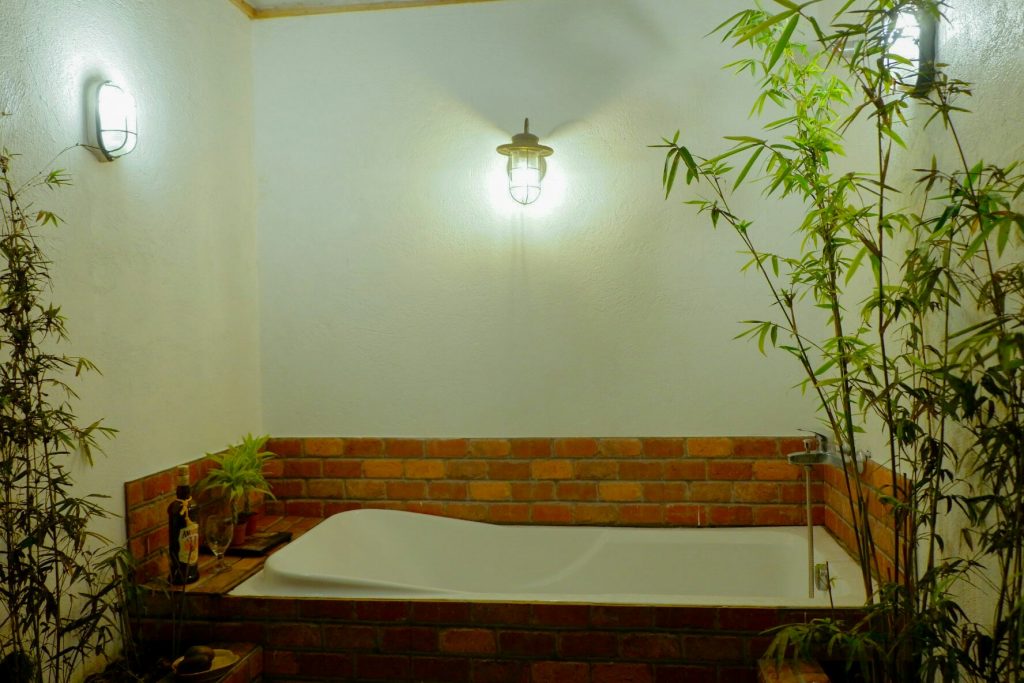 We really had fun staying in the villa. I could say that this is one of the most adorable boho-themed staycations in Cavite. We really enjoyed playing the entire night and watching random movies on TV!! This is truly a perfect place for family bonding and relaxation. Its design really makes the ambiance more relaxing! I'd love to come back if I got a chance again! This is seriously a perfect place to be! Although the villa seemed perfect, we still had some issues but were able to manage with the help of the staff!
Areas of Improvement
We got some problems with the water supply and the air-conditioner as well. But it was pretty well managed by the accommodating staff. On the other hand, I hope they can do something about it for the improvement of the villa. The staff is really approachable and they serve a good breakfast, too! You will surely enjoy staying in this place as it feels like one day isn't enough to stay here.
By the way, the place is quite far from establishments and not really accessible if you're just going to commute yet it is not impossible to get here.
Location
3083 Halang-Dagatan Road, Purok 6, Brgy. Halang, Amadeo, Cavite
Contact
Facebook: Rubys Place
Check-in Time
2:00 PM
Check-out Time
11: 00 AM (the next day)
How to get to Rubys Place?
From Manila
Take a bus bound for Tagaytay.
Then, drop off at Silang Premier Mall.
Lastly, ride a tricycle and tell the driver to take you to Brgy Halang, Casa Del Sol.
From Tagaytay
Firstly, go to Mahogany Intersection near NBI Office.
Secondly, take a tricycle or jeepney and drop off at Banay Banay Alfamart.
Then, from Alfamart, take a tricycle again and tell the driver to drop you off at Casa Del Sol Halang, or Rubys Place.
Latest Posts:
Read Next:
A half-travel blogger in the Philippines (based in Cavite) and a half-K-pop enthusiast, Ara Patria (The Adventuress) pursues her passion and love for traveling. She's been blogging for years, where she writes about her own travel experiences and promotes the wonders of the Philippines. Not only does she promote the beauty of her country, but she also focuses on promoting sustainable tourism. She dreams to travel the world and inspire other people through her own written works and captured moments with her camera.
The Adventuress is a travel blogger with a purpose. She aims to inspire other people through her personal experiences, stories, and lenses. Outside her blogging world, she is an English teacher, an SEO specialist, and TEFL/TESOL certified.
Join her adventures!