Located in the Western Visayas region, Boracay Island is known as one of the best islands in the Philippines. On the other hand, as my friends and I visited for the second time around, we realized that Boracay is not just an island paradise; it is a haven for foodies like us.
After discovering the best seafood restaurant in Boracay (at least for us), we headed out to Salsa Fusion Restaurant for dinner on our first day on the island. We were so excited by the fact that we were about to try out some new dishes again, and this time it was not Asian food!
If you're looking for the best fusion restaurant of Mexican and Spanish cuisines with a Filipino twist in Boracay, I highly recommend Salsa Fusion Restaurant. Find out why it is one of our best restaurants on Boracay Island.
About Salsa Fusion Restaurant
In Boracay, the Salsa Fusion Restaurant serves Mexican and Spanish dishes with a Filipino twist. It is one of the best fusion restaurants in Boracay.
Located at the Serene La Playa Hotel in Station 1, the restaurant doesn't just serve some foreign cuisines with a twist; it also boasts homemade cuisines that you could only taste at the restaurant.
What to Expect from Salsa Fusion Restaurant in Boracay
It offers a unique dining experience.
In our experience, we really had a great time dining at Salsa Fusion Restaurant. We were able to get a chance to try some of their best fusion cuisines, I could personally say that visiting the restaurant was definitely worth it.
It has a vibrant ambiance.
My friends and I didn't just enjoy the food, but also the vibrant ambiance that it offered. We visited the restaurant for dinner, and we truly loved the entire place due to its good lighting and very cool atmosphere. It felt good to be here while enjoying conversations with friends.
They have very accommodating staff.
The staff is very friendly and approachable. We had a lot of questions for their staff because we were curious about their cuisines. And surprisingly, they tried to accommodate us as much as they could.
Must-try foods at Salsa Fusion Restaurant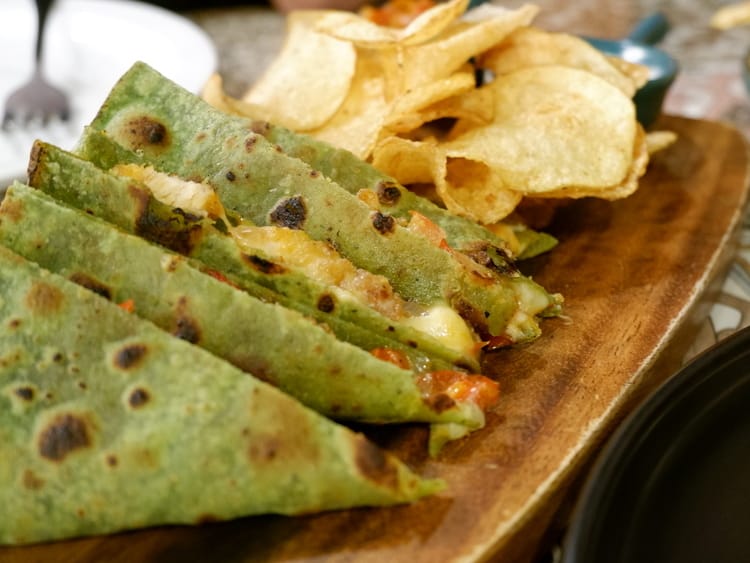 If you're planning to visit the restaurant, here are some of the foods that you must try:
Porchetta Bagnet
Quesadilla Verde
Salted Egg and Sponge Cake Dessert
One thing you'll love about Salsa Fusion Restaurant is that they serve quite huge portions, which are good for at least 2 people (but that would still depend on your order).
So if you want to try something new and make the most of your dining experience in Boracay, visit Salsa Fusion Restaurant.
Location
G/F La Serene La Playa, Station 1, Boracay Island
Opening Hours
12 NN to 10 PM, daily
Contact
Facebook: Salsa Fusion Boracay
Instagram: @salsafusionboracay
Latest Posts
Read Next
A half-travel blogger in the Philippines (based in Cavite) and a half-K-pop enthusiast, Ara Patria (The Adventuress) pursues her passion and love for traveling. She's been blogging for years, where she writes about her own travel experiences and promotes the wonders of the Philippines. Not only does she promote the beauty of her country, but she also focuses on promoting sustainable tourism. She dreams to travel the world and inspire other people through her own written works and captured moments with her camera.
The Adventuress is a travel blogger with a purpose. She aims to inspire other people through her personal experiences, stories, and lenses. Outside her blogging world, she is an English teacher, an SEO specialist, and TEFL/TESOL certified.
Join her adventures!