SAMGYUPSALAMAT is one of the most popular Korean restaurants in the Philippines which started operating in 2012. It has a lot of branches all over the country due to its high popularity. It offers UNLIMITED KOREAN BBQ that has 10 kinds of MEAT with side dishes.
It's either pork or beef covered with lettuce dipped in sauce, or commonly known as "samgyupsal" is becoming really a hit in the Philippines. This Korean cuisine has been popular over the years since the Hallyu Wave became well known in the country.
The number of Korean restaurants being established in the Philippines has skyrocketed. It seems like you can see a Korean restaurant everywhere you go.
Why Samgyupsalamat?
They serve the best meat! There are varieties of meat to choose from the menu. In fact, there are ten kinds of meat that you can eat in total.
Each kind has its own category. The marinated one and the normal one. Its either pork or beef depending on your choice.
In addition, each sauce that they provide perfectly matches the taste of the meat.
They also have variations of side dishes with big servings which can also add up to fully satisfy your Korean food cravings!
Best Time to Visit Samgyupsalamat
The best to dine out at Samgyupsalamat is during weekdays, especially around lunchtime. But if you don't really have much time; eating out in the evening doesn't matter at all. Just expect a quite long queue due and long waiting time due to the huge number of people visiting the restaurant.
Kinds of Meat in Samgyupsalamat
They have ten kinds of meat to choose from the menu; 5 kinds of pork and 5 kinds of beef. You can get to eat marinated and non-marinated meat at the same time. In addition to that, you can have it with samjang (korean sauce), gravy, and cheese!
It's best when you dip the marinated meat in samjang or gravy while the non-marinated ones taste best with cheese!!!
Ways to Eat Samgyupsal
The common way to eat samgyupsal is when you grill the meat first, put it on the lettuce, and dip it in samjang.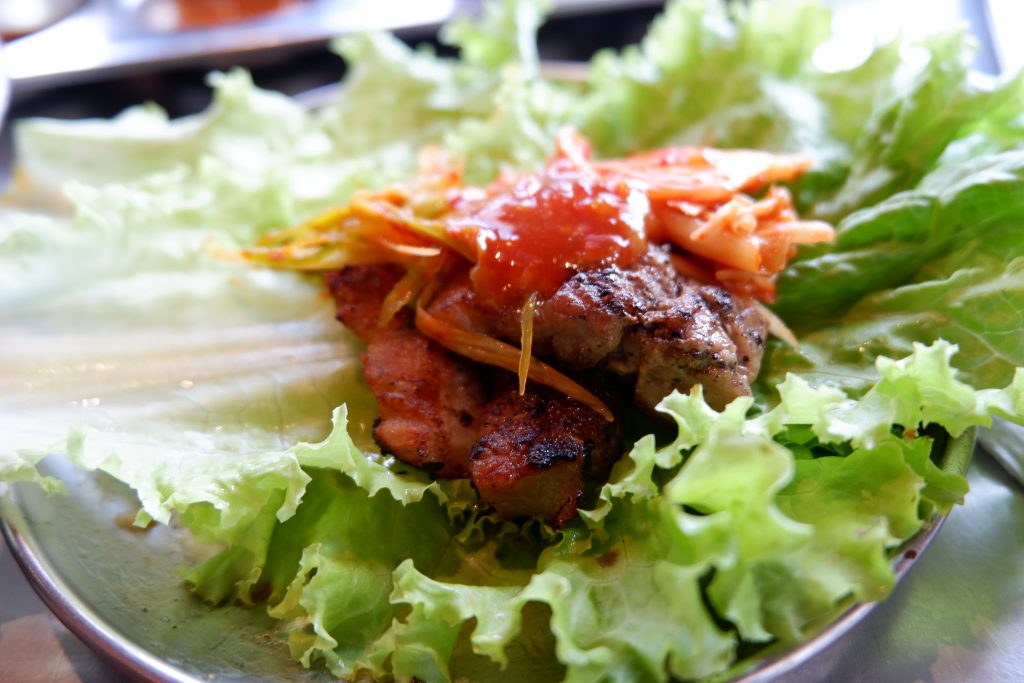 But there is another way to eat it. Other than meat, you can also put kimchi on lettuce. If you want to, you may cook the kimchi first together with meat! I guarantee you that it tastes delicious!!!!
Its meat consists of:
Dae- Jae
Bul-Jib
Yangnyum Daepae
Gochujang samgyup
Yangnyum Moksal
Beef Samgyup
Yangnyum beef
Boolgogi
Gochujang Beef
BUT THERE'S MORE!!! They also offer their newest menu!!!
The Cheese Samgyupsal
New special samgyupsal wrapped with grilled cheese
CHEESE FONDUE (UNLIMITED)
Good for dae-pase samgyup, buljib samgyup, beef samgyup
Unlimited free ice-tea
It was my first time to dine out at this restaurant and the moment I bit on the meat, I got really amazed by the fact that it tasted really good!!! Seriously, this is one of the best samgyupsal I've tasted. I'm not overreacting because it is definitely true. Every meal that is served tastes really delicious. It will give you a satisfying feeling and make you crave for more! The meat and side dishes are totally delectable!
Unlike other Korean restaurants, Samgyupsalamat serves meat one at a time to avoid leftovers which I really agree on that good idea. They provide excellent service. The staff are always willing to assist you.
The place is big enough to accommodate lots of people. There is a television that plays Korean music videos of K-POP groups. In addition to that, I love how the area is being well-ventilated.
Overall, I'm truly satisfied with the food, service, and price. Everything in this place is so good. I will surely come back here!!!
PRICE LIST
Unlimited 1 ( 5 Kinds of Pork with different side dish)
11:00am – 3:00pm =Php 399.00
3:00pm – 2:00am = Php 499.00
Unlimited 2 ( 10 Kinds of Pork, Beef with different side dish)
11:00am – 3:00pm = Php 499.00
3:00pm – 2:00am = Php 449.00
LOCATION
Samgyupsalamat – C&C BF Homes Branch
(0966) 684 5528
02 6213591