Have you ever wondered about how a cruise ship looks like? Or have you ever dreamed of going on a cruise ship? How about visiting Shiphaus in Bohol?
About Shiphaus Bohol
Shiphaus is owned by a successful mariner, Capt. Gaudencio Dumapias located in Poblacion Norte, Batuan, Bohol. Some of us can't afford to go on a cruise ship for vacation due to the fact that it costs an arm and a leg. Even I, myself, have been dreaming of going on a cruise ship and always wanted to know what it feels like to be there.
Fortunately, while I was traveling around Bohol; I discovered this attractive house that is designed by the ship. At first, I didn't have any idea about it until my tour guide told me so. In fact, this wasn't even included in my itinerary. But when I accidentally saw this ship-house like, it really caught my attention so I decided to drop by here.
It's impossible for you not to see this ship vessel-house like because the exterior itself is undeniably attractive. If you are on your way to Tarsier Sanctuary; you'll see it on your left. But if you are going to Chocolate Hills, it's on your right. As you enter the place, you will be amazed by how attractive it is. The staff will approach you as soon as they see you. They are all dressed as a mariner. One of the staff will ask you to wear a uniform. Aside from that, she/he will tour you around the entire place and take pictures of you. All of them are actually nice. I also like how they take good pictures of you.
From the entrance, you'll see a set of marine uniform on your left. The Shiphaus Bohol consists of three floors.
Things to see inside
First Floor
Boarding Ticket
( This is where you can wear seaman's uniform)
Rostrum
Steering Wheel
Ship's Bar
Introducing your Captain on Board
Mess Hall
Galley
Chief Cook's Cabin
Captain's Cabin ( Open for check-in )
Second Floor
Captain's Article
Cabins for check-in
Captain's collections
Gangway
Pilot's Cabin
Simulator
Front deck ( International Code Flags )
Mooring Line
Third Floor
View deck
The third floor serves as the roof deck.
Imagine, you are traveling on a luxurious cruise ship like this while wandering and appreciating the beauty of the vast ocean. There are some musical instruments being displayed in the area. As you arrive here, the staff will give you coffee or some refreshment for free.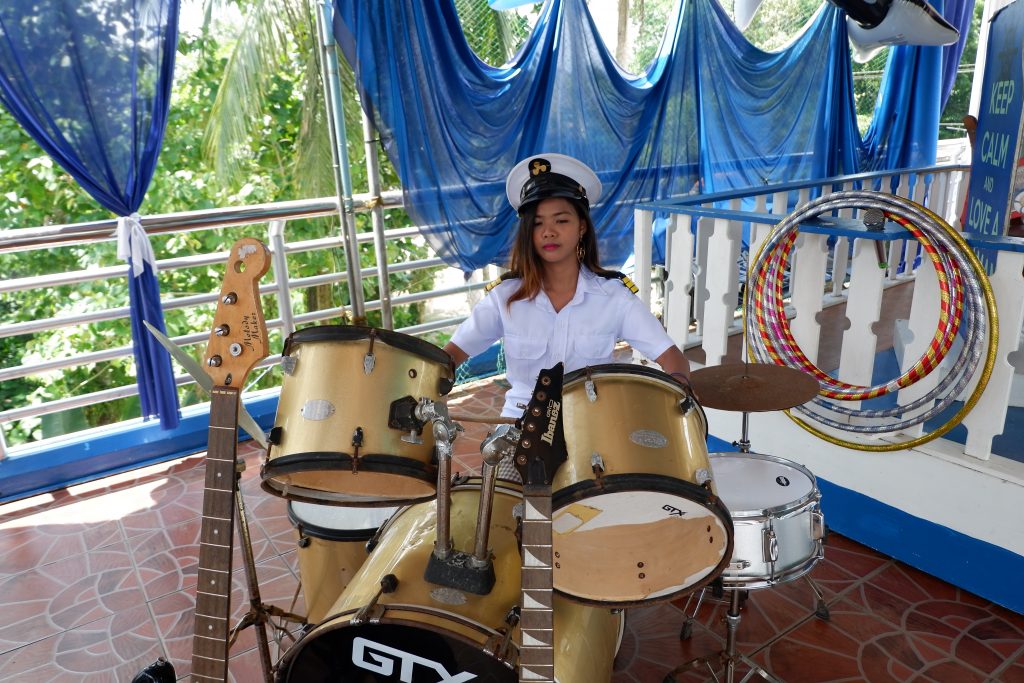 That's already included in your PHP 50 entrance fee. Isn't it cool?
I really love everything about this place. There's nothing much more to see here but it seems to be very interesting and you'll get an idea of what is like inside a shipping vessel. In addition to that, you can be a seafarer for a day! The fact that it is affordable and not that difficult to find in Bohol, why not visit here? This is a perfect spot for your Instagram feed!
Location
Poblacion Norte, Batuan, Bohol
Operating Hours
8 AM – 6 PM
Entrance Fee
PHP 50
Contact
Facebook: Shiphaus Bohol
Latest Posts:
Read Next:
A half-travel blogger in the Philippines (based in Cavite) and a half-K-pop enthusiast, Ara Patria (The Adventuress) pursues her passion and love for traveling. She's been blogging for years, where she writes about her own travel experiences and promotes the wonders of the Philippines. Not only does she promote the beauty of her country, but she also focuses on promoting sustainable tourism. She dreams to travel the world and inspire other people through her own written works and captured moments with her camera.
The Adventuress is a travel blogger with a purpose. She aims to inspire other people through her personal experiences, stories, and lenses. Outside her blogging world, she is an English teacher, an SEO specialist, and TEFL/TESOL certified.
Join her adventures!