Do you ever feel like exploring the ocean, but you hesitate to do so because you think it costs too much? Good news! I have discovered a new resort which lets you go scuba diving or even free diving at a cheaper price. Summer Cruise is a beachfront resort and a diving spot located in San Luis, Batangas that is just 2-3 hours away from the city. You do not need to spend thousands of bucks just to try some of the exhilarating water activities such as scuba diving! But take note, this place is not just for water sports enthusiasts; it is also best for people who just want to chill out all day.
Things to Love about Summer Cruise
It is definitely the perfect place to be when you want to de-stress from the hustle and bustle of city life. There are times that I get to stare blankly at the ocean. The ocean breeze, the warm sunlight, the serenity of the place – ahhhh! I could say that I totally fell in love with the place. As the sun sets off, it showcases such a magnificent view! Indeed, Summer Cruise is one of the best spots to watch the romantic sunset! You will certainly appreciate more the beauty of God's creation.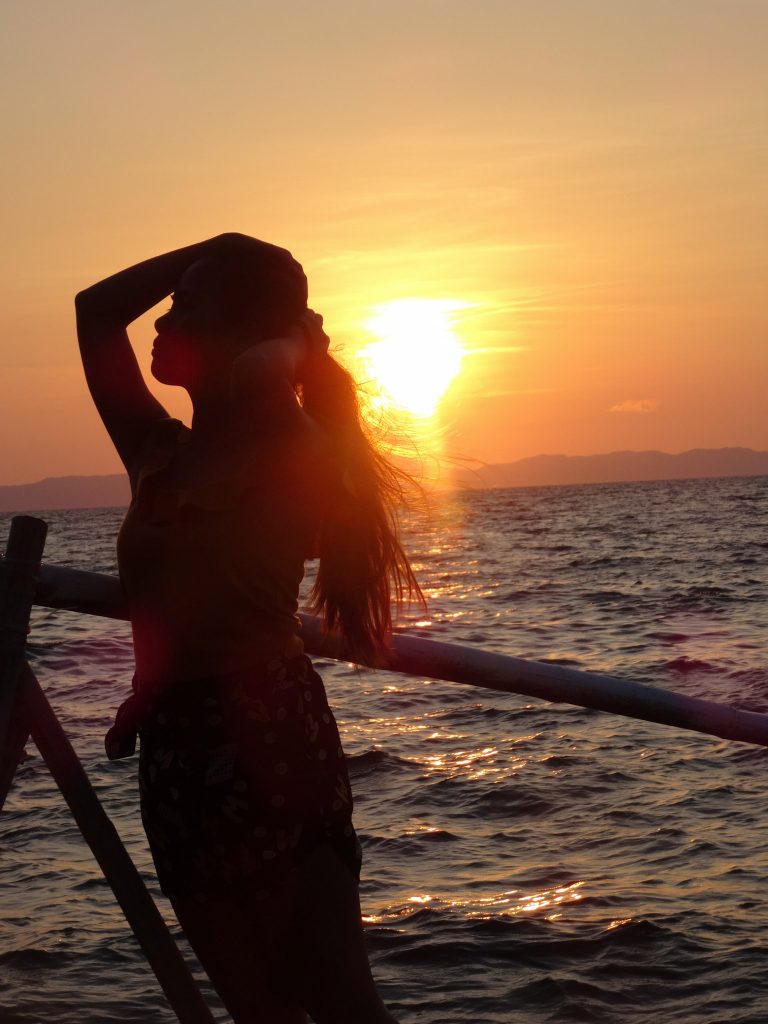 In addition, it is quite cool at night. The breeze that is coming from the ocean makes the ambiance more relaxing. Nothing beats the feeling of doing nothing while looking at the ocean view. How ecstatic! Surely this is one of the best spots to get away from your worries.
Learn Freediving and Scuba diving in Summer Cruise
San Luis is another diving spot in Batangas and Summer Cruise offers you to learn freediving and scuba diving at a very reasonable price. All the scuba instructors are certified divers so you do not need to worry about your safety. Plus, every scuba diving learner will have their own scuba instructor. In my personal experience, the staff is so accommodating and friendly. You will not just learn but you will also enjoy it! It is definitely a one-time memorable experience!
If you are interested in freediving, Kai (the son's owner of the resort) will personally teach you how to do it. Whether you are a swimmer or a non-swimmer, you can do any of these activities.
Other activities
Go snorkeling (bring your own mask and snorkels, or you can also rent for Php 150.00)
Play table tennis for free.
Enjoy the amazing sunset.
Go stargazing.
Go fishing.
My Overall Experience
My one-night stay here was a blast! I enjoyed every minute of my stay here. I could say that I have found my new comfy place and that is Summer Cruise! This is the place where I would consider going back because of its utter serenity that it offers. Actually, it wasn't my first time going scuba diving. I did it for the first time in Davao.
Despite doing it for the second time around, I still had the same feeling I had felt when the first time I did it. The magnificence of the ocean did not fail to impress me. In fact, I got even more fascinated by the vast and the beauty of it! I am personally not a swimmer, but I am drawn into the depth of the ocean.
Exploring the ocean
The ocean could be terrifying for me, but its mystery makes me want it to explore more. It is utterly awe-inspiring. Whenever I go underwater, I feel so small which makes me realize that there is something more under the ocean. More to that, it is a big part of our daily lives that needs to be taken care of. It needs love and care from humans. The ocean has a life as well and we are part of it!
The ocean can be both calm and terrifying at the same time, but it never stops my desire to explore it underneath. Moreover, its depth of beauty never fails to soothe my soul. Its mystery and darkness never fail to make me leap in excitement!
If you haven't gone underwater yet, you are missing the half point of your life. As I mentioned above, the ocean is vast and there is so much more to see from it! You should try scuba diving or free diving once. Doing it in Summer Cruise would be your best option.
Tips & Reminder
Make sure to book your accommodation first most especially on the weekends. Summer Cruise is starting to become a popular diving spot in San Luis, Batangas.
The resort offers food services. But if you are on a tight budget, you can bring your own cooked or raw food. If you want to cook in their kitchen, every person has to pay Php 50.
You can only stay in the lounge area and make some noise until 9 PM only.
Tent Accommodation:
Sunday to Friday – Php 350 / head
Saturday night – Php 500 / head
(Inclusive of entrance fee, mattress, and pillow)
Sunday to Friday – Php 985 for two persons
Saturday – Php 1,700 for two persons
Check-in:
2 pm
Check-out:
10 am
(Breakfast not included)
How to get to Summer Cruise?
From Alabang Starmall, LRT Buendia, or Cubao, take a DLTB or JAM Transit with LEMERY Tambo Exit Sign. Then, get off at Xentro Mall or at the terminal. From Xentro mall, just ride a tricycle to Parking A of Summer Cruise – Barangay Balite.
Boat Transfers: Php 50 / way – Parking to/from Summer Cruise.
Should you want to save more, you can just walk to Summer Cruise from Parking A. From Parking A, just walk straight and once you see the chapel, turn left and just follow the path that leads you to the resort.
Rates
Freediving Lessons
Weekdays – Php 980.00
Weekends – Php 1,195.00
Inclusive of gear and equipment with Dive Master
Scuba Diving Lesson
Inclusive of gear, equipment, divemaster, and wetsuit
Php 1,399.00 – Monday to Friday
Php 1,699.00 – Saturday to Sunday
Location
Balete, San Luis, Batangas
Contact Person
0915 198 0246
Latest Posts:
Read Next:
A half-travel blogger in the Philippines (based in Cavite) and a half-K-pop enthusiast, Ara Patria (The Adventuress) pursues her passion and love for traveling. She's been blogging for years, where she writes about her own travel experiences and promotes the wonders of the Philippines. Not only does she promote the beauty of her country, but she also focuses on promoting sustainable tourism. She dreams to travel the world and inspire other people through her own written works and captured moments with her camera.
The Adventuress is a travel blogger with a purpose. She aims to inspire other people through her personal experiences, stories, and lenses. Outside her blogging world, she is an English teacher, an SEO specialist, and TEFL/TESOL certified.
Join her adventures!