Nestled on top of the Sierra Madre mountains surrounded by its freshwater man-made lake, this glamping site in Laguna offers a quintessential camping site with luxury tiny cube houses and camping tents! If you are looking for a glamourous camping site near the metro, then you are in luck. The Bloc Campsite in Laguna is the perfect place for your adventure and nature quest.
About The Bloc Campsite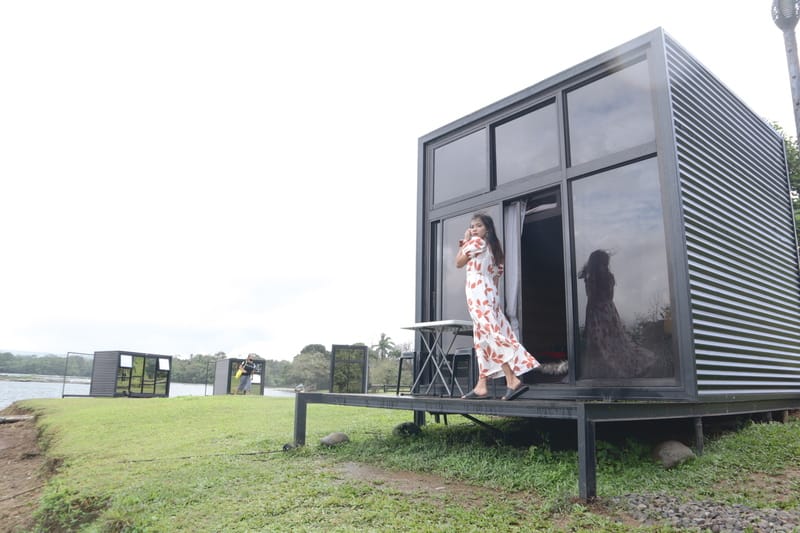 The Bloc Campsite is a glamorous camping site situated in the town of Cavinti in Laguna. 4-5 hours away from Manila, this place is one of the best places to be most especially if you want to get closer to nature. This camping site in Laguna boasts a work-from-home setup and stunning views of the mountains and the lake.
This place would definitely give a moment to alleviate stress and peace of mind. If you are searching for a new experience and a place to escape, The Bloc Campsite has a lot to offer!
Things to Do at The Bloc Campsite
Stay at the tiny cube house.
This camping site in Laguna features luxury tiny cube houses that have their sofa beds, fans, air-conditioner, and a deck. You will definitely feel right at home in this cute tiny cube house during your stay here. Not to mention that it puts the glamour in glamping. You will certainly love staying in their cozy, T-houses.
Go Netflix and Chill inside the T-House.
If you prefer staying in one of their T-houses, you can bring your own laptop and watch your favorite series while you chill inside their tiny house.
Swim in the manmade lake.
The property is just nearby the lake and one of the most enjoyable things that you can do here is to swim in the lake. Whether you can swim in the morning or have an afternoon dip in the lake, it doesn't matter. Just make sure to wear your life vest for safety purposes.
Sleep in the camping tent.
If you are more into camping, The Bloc Campsite provides camping tents for campers. If you want to have the coolest camping experience ever, you can consider sleeping in their excellent camping tents.
Enjoy while you work.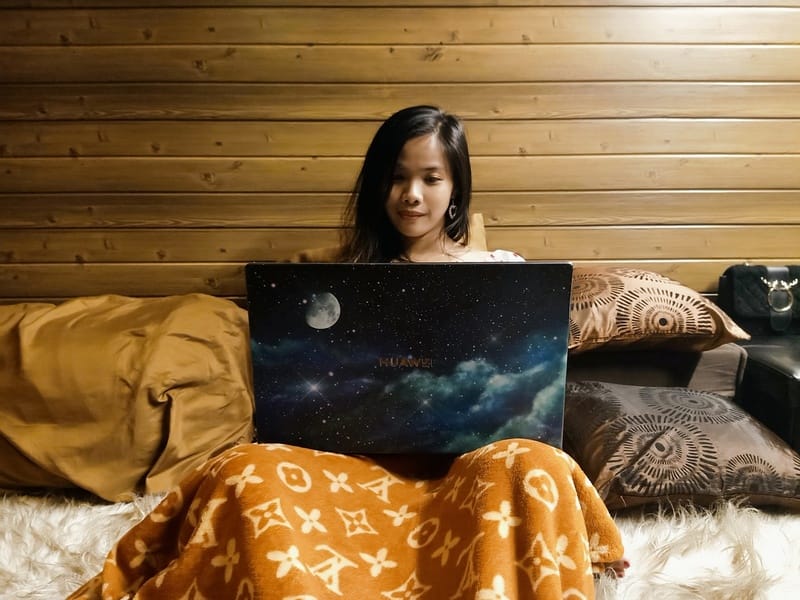 As I mentioned above, this camping site doesn't just let you experience glamourous camping, but also a work-from-home setup experience. If you are aiming to rest and relax yet can't just leave your work, this is an ideal place for you.
Try other water sports activities.
Apart from swimming, you may also try other water sports activities that they offer such as kayaking. If you are into kayaking, it is also possible to do it at The Bloc Campsite! You may have fun looking around the mountain views and the lake while going kayaking with your company.
Have a romantic dinner by the lake.
If you are visiting with your loved ones, you can request the staff to set up a romantic dinner date for your loved one. But take note that you need to pay an extra charge for this kind of service. Make your night extra special by having a romantic dinner by the lake.
Enjoy bonfire at night.
The staff can set up a bonfire at night for the guests especially if you wish to. You can have your own marshmallows or whatever food that you grill on fire.
Why Visit The Bloc Campsite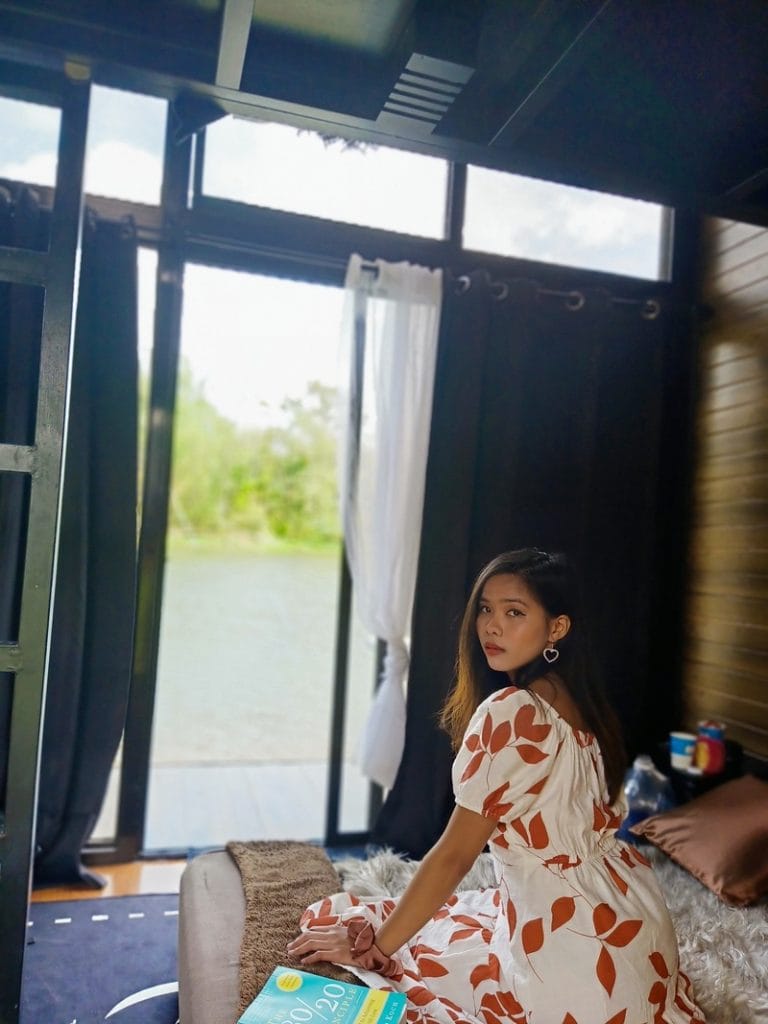 The best camping site near the metro.
Why not? I believe this place offers you the best glamorous camping experience ever. Not to mention that you don't really have to go that far most especially if you are coming from the metro. Imagine waking up in the morning with picturesque nature views.
Find serene at the campsite.
I guarantee that you will find peace in this place. Personally, this is one of the best places that made me feel utterly relaxed! With the deafening sound of nature; can only mostly hear the insects' noise during the night.
Experience can go workcation.
If you want to have a different and one-of-a-kind experience this time, you can go on a staycation while working at the same time at The Bloc Campsite. I think I have already mentioned many times that they provide a work-from-home setup.
Interact with their accommodating staff.
You don't have to worry about their services. Most of the staff whom we met here are so friendly and very accommodating. Everything you ask or need, they are always available to respond in a nice way.
Frequently Asked Questions
How long is the travel time to the campsite?
Based on our experience, since my friends and I are from Cavite, it took us around 4 hours to get there. Cavinti, Laguna is actually a bit far so expect the long hours of travel.
Can we bring food?
Yes, you are allowed to bring your own food, but you have to take note that you can't eat inside the T-houses. You may also order food from them if you can't bring your own food with you.
Is there a cooking area in the campsite?
The Bloc Campsite provides a cooking area and grilling area for those who want to cook their own food. However, if you don't feel like cooking, you can ask the staff to cook for you instead. But expect to pay an additional charge for this service.
Is there an available private restroom in each T-houses?
This is a camping site so they only provide a common restrooms for their guests.
How is the signal at the camp site?
Based on my experience, they have a very good connection at the campsite. I personally use SMART for data, and I really didn't have any problem with it while I was working. This place is really ideal for a work-from-home setup.
How to book?
You can directly send them a message on their Facebook page, or you may book an accommodation via Airbnb.
How to get there?
From PITX, ride a bus going to Sta. Cruz, Laguna. Then when you arrive at the Sta Cruz Bus terminal, take a tricycle and ask the driver to drop you at Bloc Camp, Brgy. Bukal, Cavinti, Laguna.
Location
Passion Cove Estate, Bukal Cansuso Road, Brgy Bukal, Cavinti, Laguna
Latest Posts