I have been hearing a lot of good things about Davao City. Most of the people talk about how beautiful this island is. I didn't know much about Davao before until it had become the talk of the town. One day I researched it and I totally fell in love with it. So I opted to book a flight to Davao and see it myself what this city province has to offer. As you read this blog, you will know some of the things to do in Davao City especially if it is your first time visiting the city.
Known as the "Durian Capital of the Philippines" and home to the Philippine Eagle and Mount Apo, the highest mountain the country, Davao City is surely a place that you shouldn't miss out on visiting when in Mindanao.
When you talk about the name "Rodrigo Duterte", the current President of the Philippines as of 2019, everybody knows that he comes from Davao City. He was a mayor in the city for more than two decades. Many people loved how the former mayor governed the city. In addition, you would hear or have already heard good things about Davao. Not to mention it is a progressive city and known for being the cleanest city. In addition, Davao City was recognized as one of the safest cities in the country and Southeast Asia.
Things to do in Davao City
Go Sky Cycling at Eden Nature Park.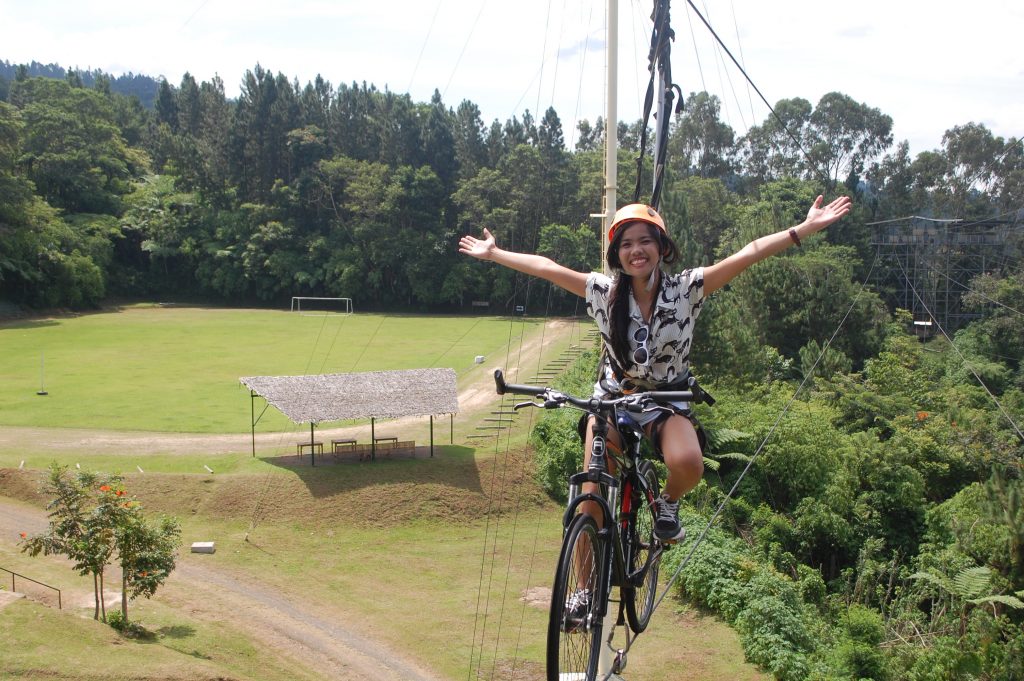 Eden Nature Park is a home to over a thousand pine trees. It is 1-2 hours (depending on the traffic) drive from the city.
If you are an adventure-junkie, you should go and try sky cycling here! SkyCycle is one of the most exciting activities to do at Eden Nature Park. You get to experience to ride a bike on a wire. Also, enjoy the beautiful mountain scenery from above.
Aside from that, you can do other activities like sky swing, horseback riding, fishing, etc. Or if you don't feel like doing any of these things, you can just walk around the park and feel the nature.
The main reason I visit the park is to try sky cycling. At first, I got a little nervous but it wasn't that scary at all. It was totally fun and indeed a memorable experience for me!
Operating Hours:
8:30 AM – 5 PM
Enjoy the city view at Jack's Ridge.
Jack's Ridge offers the best view of the city. It is a mountainous area which is just 20-30 minutes away from the city. The best time to go here is at night to witness the view of the city lights. There is also a restaurant in the area.
Go Island Hopping on Talicud Island
Your trip to Davao would not be complete without visiting the virgin islands of the province such as Samal Island and Talicud Island.
Spend the entire day on Talicud Island and have fun doing some water sports activities. You can ride a jet ski, go parasailing, go scuba diving, and go sub wing. I did not regret splurging on these activities because it was all worth it!
The most favorite thing I have done was scuba diving. It was actually my first-time scuba diving and exploring the ocean. It made me struck by how majestic the underwater ocean is! Indeed an amazing sight to behold! The underwater ocean is so mesmerizing. The coral reefs look so healthy and colorful. Moreover, the sea is rich in diverse aquatic species.
From Sta. Ana Wharf, you need to take a speed boat to Samal or Talicud Island. The two islands are just 15 minutes away from the wharf.
Go roam around at People's Park
If you have nothing else to do, you can just chill and relax at People's Park. You don't need to pay for anything when you go here. The park is so clean and you may witness some pigeons flying around the area. Although there's nothing much to do here. Still, this is a nice place to visit.
Play with the pigeons at Rizal Park
If you want to play more with the pigeons, you visit Rizal Park. You feed them with bird food. More to that, along Rizal Park, you can also see the San Pedro Cathedral and the City Hall.
Buy pasalubong or souvenirs along Temple Street.
Davao is the main producer of durian in the Philippines. You can buy durian at the market located along Temple Street. There are also other fruits and other local delicacies from the market. In addition, just walk along the street and you may find Pasalubong Center where you can buy some souvenirs.
Go shopping at the Night Market
You can buy cheaper products at the night market in the city. In my case, I was able to buy shoes at an affordable price but they were still in good condition!
Watch the Kadawayan Festival
Witness the Kadawayan Festival in Davao city. The locals annually hold the event every month of August. Get to know more about the culture and tradition in Davao by attending the Kawayan Festival. (This is one thing that I'd love to do once I go back here!)
Whether you want to go for adventures, visit sun-and-beach destinations, or just want to relax, Davao City might be the perfect place for you.
Where to stay in Davao City?
The Black and White Hub. I booked our accommodation from Airbnb. You can sign up here.
Have you been to Davao City? What's your favorite thing to do in the city?
Latest Posts:
Read Next:
A half-travel blogger in the Philippines (based in Cavite) and a half-K-pop enthusiast, Ara Patria (The Adventuress) pursues her passion and love for traveling. She's been blogging for years, where she writes about her own travel experiences and promotes the wonders of the Philippines. Not only does she promote the beauty of her country, but she also focuses on promoting sustainable tourism. She dreams to travel the world and inspire other people through her own written works and captured moments with her camera.
The Adventuress is a travel blogger with a purpose. She aims to inspire other people through her personal experiences, stories, and lenses. Outside her blogging world, she is an English teacher, an SEO specialist, and TEFL/TESOL certified.
Join her adventures!