How much do you know about Lake Sebu, South Cotabato? Have you ever heard of this place? This small town is located in the central part of Mindanao – South Cotabato. In this blog, you will get to know more about this town as well as some of the fascinating things that you can do in this town.
If there is one place that you want to immerse yourself in culture or somewhere that can take you back in time, it is definitely the best place you are looking for. Is Lake Sebu, South Cotabato part of your bucket list? Why shouldn't it be? In fact, it needs more recognition from local and foreign tourists!
About Lake Sebu, South Cotabato
Located in the province of South Cotabato; a part of SOCCSKSARGEN, the municipality of Lake Sebu is home to T'boli indigenous people and UBO tribes. A town that is rich in natural resources – from fresh lakes to breathtaking mountain ranges, to tropical rainforests, to divine waterfalls, and its unique culture and heritage.
According to the Department of Tourism, this town is one of the prime eco-tourism destinations in the Philippines, most specifically in Mindanao. Not only that, it is dubbed a cultural landscape in Mindanao recognized by UNESCO.
How to get to Lake Sebu?
From Manila
There is no way that you can get straight to Lake Sebu, South Cotabato. The first thing that you need to do is to book a flight to General Santos City or Cotabato City through Cebu Pacific or Philippine Airlines. There are daily trips from Manila to GenSan or Cotabato via these airlines.
From GenSan to Lake Sebu:
If you are coming from General Santos City, make sure to get to Bulaong Terminal. From there, there is a van heading directly to Lake Sebu. Take note that direct vans at Bulaong terminal are only until 4 PM. If you fail to catch the last trip, you need to take 2 vans.
If you fail to catch the last trip, take a van bound for Marvel. From Marvel, ride another van. Travel time is around 2 hours from GenSan.
From Cotabato City to Lake Sebu
From Cotabato City, take a van heading to Isulan Terminal. Then, take another van bound for Surallah. From Surallah, ride a van again to Lake Sebu.
Things to Do in Lake Sebu
There are so many things to do in this town! You might ever think that staying here in one day wouldn't be enough for you. Here are some of the things that you can do on "The Land of the Dreamweavers."
Visit the Lang Dulay Weaving Center
The Lang Dulay Weaving Center is the home of the finest woven T'nalak cloth. This is where you can witness how the dream weavers produce the most colorful traditional clothing in the Philippines. According to the weaver whom we talked with, there are 32 steps on making this traditional clothing.
More to that, the 6-meter T'nalak cloth takes about 3 to 4 months to produce. Their traditional colors are black, red, and the original color of the alpaca leaves. Kenalum is a type of plant which is the source of black dye for the T'nalak. Meanwhile, Loko is the source of red dye for T'nalak. Apart from these colors, they also use other colors such as orange (which comes from Achuete) and maroon (which comes from the Guava plant).
Go ziplining and chase the Seven Waterfalls
Get a glimpse of the seven waterfalls located only in this town. Namely, as Hikong Alo (passage), Hikong Bente (immeasurable), Hikong B'Lebel (coil/zigzag), Hikong Lowig (booth), Hikong Ukol (wild flower), Hikong K'Fo-I (short), and Hikong Tonok (soil) – you can get to see these amazing seven waterfalls when you go ziplining! What's good? It is possible to trek and get closer to the first and second waterfalls. Going ziplining is a must-try; not to mention that this is the highest zipline in Southeast Asia measured 200 meters above the ground, 740 meters first ride, and 420 meters second ride.
Visit the three lakes
There are three lakes that you can visit in this town namely Lake Sebu, Lake Soloton, and Lake Lahit. Lake Sebu is the biggest, Lake Soloton is the deepest one, while Lake Lahit is known as the smallest lake among the three lakes.
Catch the sunrise at Lake Sebu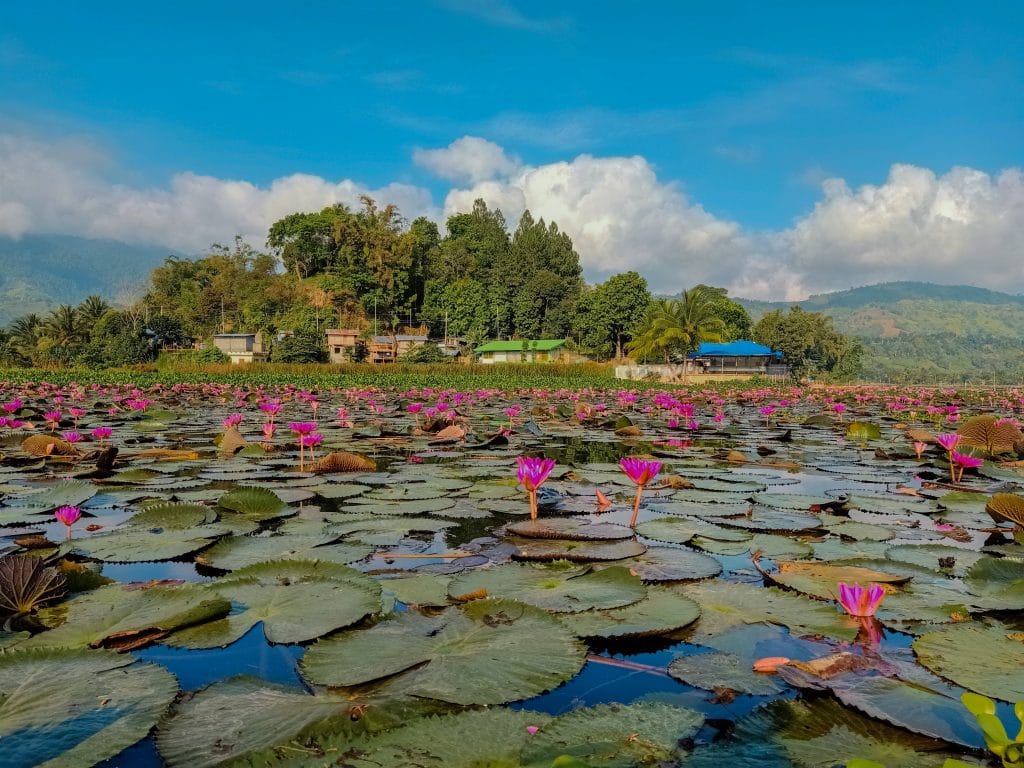 This is one of the best things that you can do in town. Make sure not to pass up on the opportunity of catching the sunrise at the lake. Why? You can get to witness the blooming lotus flowers! Take the most beautiful shot ever at this lake while riding on a small, wooden canoe. In addition, you can watch the lotus flowers bloom from 5 AM to 9 AM.
Try on the T'boli's traditional costume
One of the most beautiful Philippine traditional costumes I have ever seen. This is one thing that you would probably enjoy the most when you are here. Renting the T'boli's traditional costume is very affordable. You can even rent it for a day!
Feel the T'boli culture by wearing their own traditional costume. It's best when you try it on while riding on a canoe at the lake, with the lotus flowers as your backdrop!
Visit the T'boli Museum
If you want to know more about the culture and tradition of the T'boli tribe, then you must visit the T'boli museum. With that, you can get a chance to see and touch some of the ancient musical instruments and even the other indigenous items of the T'boli tribe.
Sepaka River
To reach the Sepaka River, you need to trek for about 15-20 minutes. It sounds a bit challenging but the trek rewards you a cold, crystal clear river which is definitely good for swimming! You may also bring some food with you if you want to go on a picnic. Just leave no trash!
Divine Mercy Shrine
Divine Mercy Shrine is a holy place good for meditation. If you are looking for another place to relax, then get over here. The view from the shrine showcases the beautiful mountain ranges and rainforests of South Cotabato.
Go caving or spelunking
If you crave for more adventurous activity, you can go spelunking at a thousand-year-old cave located in Lake Sebu.
Blend in with the locals
One of the most respectful locals are from Lake Sebu. They are very welcoming and they would even make you feel at home. You don't have to worry about talking with them! This makes you want to stay more in the town.
Why Visit Lake Sebu, South Cotabato?
Safety.
Whenever my family, friends, and others ask me if it is safe to travel to Mindanao, I never hesitate to say YES. YES. It is generally safe to travel to Mindanao! But it doesn't mean that you do not need to be cautious anymore.
Low-cost travel.
You might want to bet on me if I say that this is one of the cheapest places to visit in the Philippines. It is a fact. Imagine staying in a comfortable place for only Php 100 per night? Have a taste of the local food that doesn't cost a hundred bucks at all? Getting around the town without even getting broke?! How amazing is that? You must visit this place for you to see it! You don't need to bring too much when you go to this place.
People are kind.
As I mentioned earlier, the locals from South Cotabato are very respectful. You will definitely feel at home in this little town of South Cotabato.
Far away from stress.
The life here is so simple that it makes you even wonder about settling down here in the future. Everything is at peace, most especially at night. Not to mention the fact that you get closer to nature. You tend to forget everything about your hectic life in the city.
Feels like you're in a different timezone.
When you are in South Cotabato, it feels like you are out of this world. It feels so refreshing to visit this unfamiliar place for the first time. Experiencing T'boli's culture is such an eye-opener. You get to widen your perspective about life. It feels like getting connected with the ancient times by immersing yourself in the indigenous people.
New learnings.
One of the best parts of traveling to a new place is that you get to learn new things. You get to experience things you have never done or seen before. Everything that you get to observe here is totally energizing. It makes you feel so excited that you crave more discoveries.
Where to stay?
SLT – T'boli Homestay
Contact: 09354569359
Address: Lambanig Poblacion
Sunrise Garden Lake Resort
Contact: 09364169344
Address: Sitio Outlet, Barangay Lake Seloton
Evelandia Lake Vista
Contact: 09055707306
Address: Brgy. Takunel
Punta Isla Lake Resort
Contact: 09052895134
Address: Brgy. Poblacion, Sitio Tuko-fol
Tolento Lodge Resort
Address: 9518 Lake Sebu
Mountain Log
Contact: mountainlogresort@yahoo.com
Address: Purok Pag-asa, Surallah
Tourism / Lemobung Lodge
Contact: 09177140836 / 09207416527
Address: Pag-asa, Poblacion
Dolores Lake Resort
Contact: 09178302330
Address: Sitio Tukofol
Mountain Lake Eco Resort
Contact: 09189622209
Address: Barangay Bacdulong
Garden by the Lake
Contact: 09207229736
Address: 3 Fingers Bacdolong
Merl Garden
Contact: 09162791277
Address: Brgy. Lahit
Monte Cielo
Address: Pagasa Area
Contact Person / Tour Guide :
Kuya Jeoffrey – 09972712003
Kuya Jobert – 09058746323
Whether you wish to experience the magnificent culture of the T'boli indigenous people of South Cotabato, try some of the exciting adventures, or embrace and witness the hidden wonders of the town of Lake Sebu, your visit to this town will never get to waste. This small town in South Cotabato has a lot of things to offer that you might have never imagined.
Did this Lake Sebu travel guide help you?
Latest Posts:
Read Next:
A half-travel blogger in the Philippines (based in Cavite) and a half-K-pop enthusiast, Ara Patria (The Adventuress) pursues her passion and love for traveling. She's been blogging for years, where she writes about her own travel experiences and promotes the wonders of the Philippines. Not only does she promote the beauty of her country, but she also focuses on promoting sustainable tourism. She dreams to travel the world and inspire other people through her own written works and captured moments with her camera.
The Adventuress is a travel blogger with a purpose. She aims to inspire other people through her personal experiences, stories, and lenses. Outside her blogging world, she is an English teacher, an SEO specialist, and TEFL/TESOL certified.
Join her adventures!