"I'm going to Siquior!!" I told my friends out of nowhere while we were staying in a cafe. I believe that traveling to this mysterious island seems exciting. Also, getting around the island is easy even for solo travelers like me!
"WHAT?", "Who are you going there with?" My friends asked as they were surprised that I was going somewhere dangerous. "ALONE," I responded.
"Are you sure?! It's known for witchcraft and sorcery. Aren't you afraid? That place is full of environmental spirits and such mythical creatures." They fired me back.
I laughed at them and responded nothing. Well, I couldn't say anything against them because what they said was true. In fact, I've heard so many strange things about Siquijor, but I'm sure that I could prove them wrong. Guess what? I made it to Siquijor Island alone!
About Siquijor Island
Siquijor Island is truly known for witchcraft, sorcery, and mythical creatures. The funny thing is, little did they know how majestic this island is. I can say that this is one of the hidden gems in the Philippines that is surely worth visiting!
Siquijor Island is the third smallest island in the Philippines. It is in the Central Visayas region. In spite of that, it doesn't change the fact that this magical island has a lot of beautiful places to visit! Historically speaking, this island used to be called Isla De Fuego or "Island of Fire" by the Spaniards during the Spanish era.
A year before my flight to Dumaguete, I planned to conquer the Central Visayas region. I decided to visit Dumaguete, Siquior, and Bohol Island. Actually, I also wanted to visit Cebu but due to unfortunate events, I didn't make it. I am quite used to traveling around Luzon since I am very much familiar with the places. But this time around, it would be my first time traveling to the Visayas alone. Stoked, but quite scared at the same time.

How to get to Siquijor Island?
Via Dumaguete
Unfortunately, there is no direct flight from Manila to Siquijor. The nearest to get to the island is from Dumaguete. It only takes around 1 hour and 30 min via ordinary ferry. For fast craft, it only takes about 45 min. If you are on a tight budget, I recommend you take the Montenegro Ferry which only costs Php140 (as of this writing) per head. But if you want to arrive in Siquijor right away, you can take Ocean Jet (fast craft) which costs Php 250 per head. Don't forget to pay the terminal fee! It's around Php 25.
Via Bohol
There's only one thing to get to the island from Bohol, it is by taking a ferry. Oceanjet is a ferry company that offers daily trips from Bohol to Siquijor. Please be mindful that there is only one trip available per day. You can take the ferry from the Tagbilaran port at 10:20 and arrive at Larena Pier in Siquijor around 11:40. You can book your tickets via Bookaway.
My misadventures of going to Siquijor Island
On the day I landed in Dumaguete, I decided to visit Siquijor first. So, when I got to the port, it was around 6:30 AM. However, the second trip for Montenegro Ferry was already fully booked. Yet, I didn't want to take the 10:30 AM trip so I had to go back to the port on the second day.
Make sure you are there as early as possible. If you plan to catch the first trip, be there before 5:00 in the morning. I arrived at Dumaguete Port before 7 AM. I decided to buy a ferry ticket to go there. Finally! I was going to Siquijor. I was on cloud nine. Oh! I took the second trip by the way.
It was actually around 9 in the morning when the ferry was finally approaching the coast. Thus, I couldn't contain my feelings. At last, I was setting foot on one of the beautiful islands of the Visayas archipelago.
A few minutes later, the ferry finally reached the coast and I was about to get off. Upon reaching the Siquijor port, I noticed the clear waters surrounding the area. As other people say, the port is one of the cleanest ports which is proven to be true! Furthermore, it is indeed the cleanest! Additionally, you can visit most of its famous tourist attractions in a day or two. Yes. It is absolutely possible. In my case, I didn't have much time so I only stayed in Siquijor for one day.
Getting around the island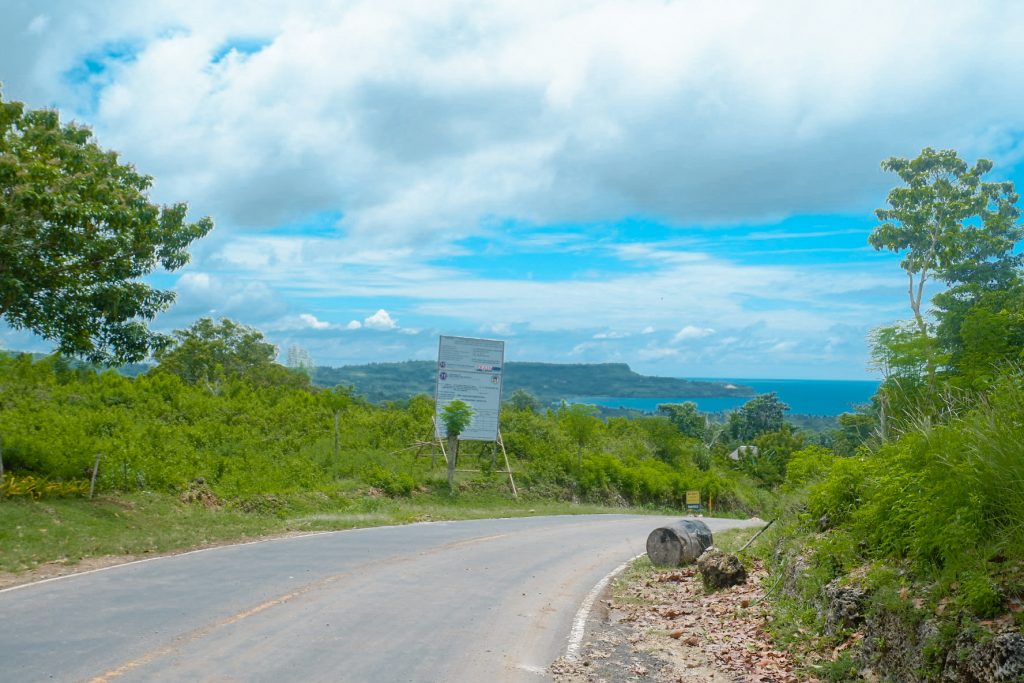 Again, it isn't that difficult to get around the island. There are a lot of options to choose from. In fact, you can take a tricycle, van, cab, or motorcycle. Of course, if you are traveling as a group, you may consider getting a van, cab, or tricycle. Ideally, if you are traveling solo or duo, you may want to rent a motorcycle or tricycle. However, I can't drive a motorcycle yet so I chose to hire a tricycle driver instead. In that case, I paid Php 900 including the entrance fees.
Places to Visit in Siquijor
Listed down are some of the best places to visit in Siquijor for one day! Most of them are free to visit!
Welcome to Siquijor
This signage is one of the trademarks of the island. Once you land at the port, you can go straight to this area. You can directly see this signage once you get out of the port. Actually, it is just right in front of Saint Francis De Assisi Church.
Saint Francis De Assisi Church
Prominently known as "Siquijor Church" which is just a few meters away from the port.
I Love Siquijor Sign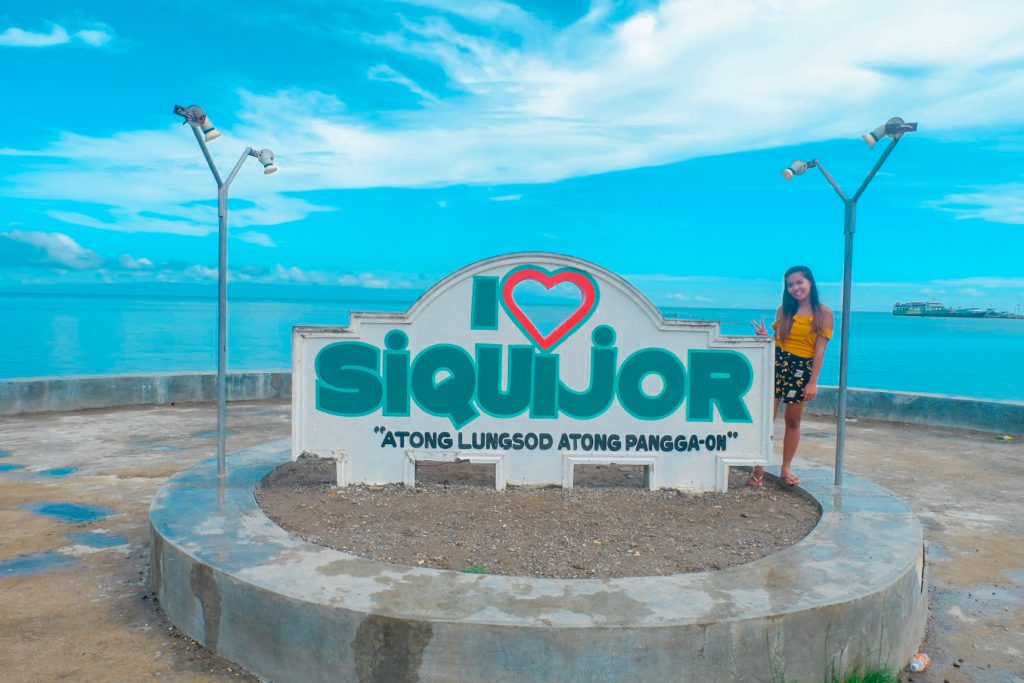 Another signage that you can see while you are on the way to Paliton Beach. Nothing much more to see here aside from the panoramic view of the turquoise ocean.
Paliton Beach
This has been one of the most popular beaches in Siquijor. It is a white sand beach that is full of palm trees swaying near the shore under the white clouds and blue skies. Imagine walking under the palm trees on the white beach and also feeling the gentle breeze of the water. What a perfect beach setting, isn't it?
Enchanted Old Balete Tree
This Balete tree is the oldest and biggest tree on the island of Siquijor. Also, it is a mysterious 400-year-old tree. There is a small pond connecting to the tree where you can go to a fish spa for free.
San Isidro Old Church
A Roman Catholic church is considered the oldest church in Siquijor. It is commonly known as the Lazi Church. More to that, you can see the San Isidro Convent right in front of it.
San Isidro Convent
San Isidro Convent is the largest convent in the Philippines. During the Spanish colonial era, the convent had established. Not to mention, it showcases collections of important church relics and paraphernalia.
Cambugahay Falls
This has been the most popular tourist spot on the island which is well known for Tarzan swings. The swings are actually the highlight of this place. That's why a lot of tourists want to try this kind of activity. By the way, for only Php 20, you can plunge unlimited into the clear blue waters of the falls. In addition, if you do not know how to swim like me, you can rent a vest which costs around Php 100.
Man-made Forest
There is nothing much more interesting here. Actually, this is the passageway to Salagdoong Beach. Besides, it is such an amazing view to go to the beach.
Salagdoong Beach Resort
Salagdoong Beach Resort is the best for diving. If you go to the diving area, you will witness a captivating view of the sea. I wish I could dive into the deep blue seawater. It's very beautiful. In reality, I just hope that the facilities will be kept maintained.
Hapitanan Cafe and Restaurant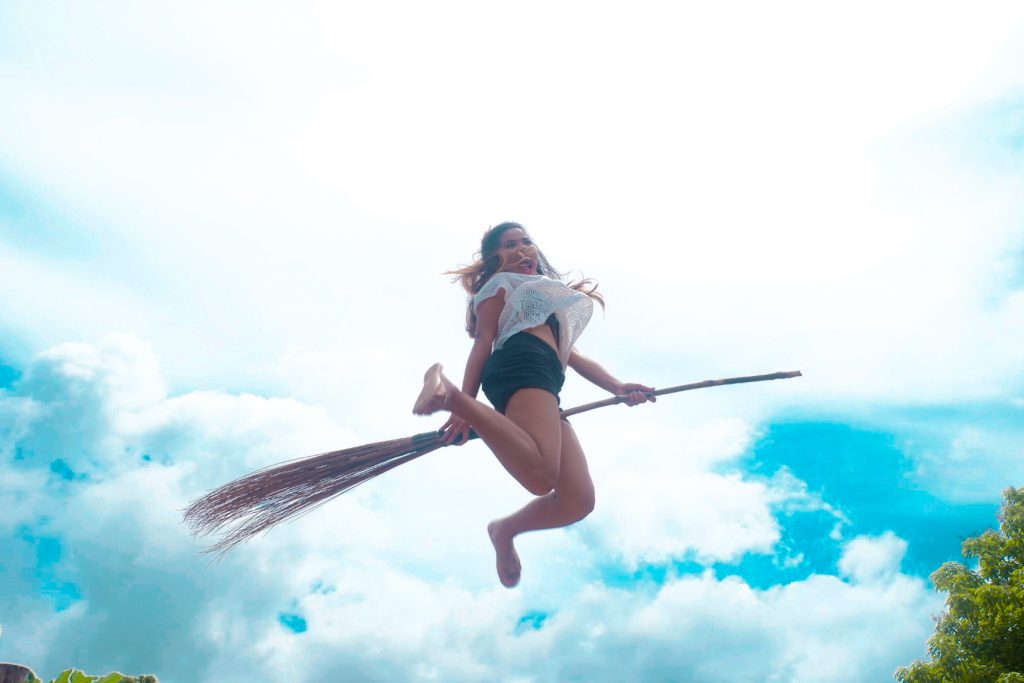 This cafe is famous for its jump shots while riding a broomstick. In like manner, it is so fun because it feels so real and it makes you look like a witch!
Other Places to Visit
Kapilay Spring Park
Cang Isok House
Pan De Bisaya
Smile Talingting
Guiwanon Spring Park
Once you get to know more about it, you will forget all about those stories of mysteries and dark arts. More to that, the island is truly bewitching! Every part of it is magical. Also, it feels so right to be in a place where you can unwind and get close to nature. The enchanting beauty of Siquijor Island will definitely leave you speechless.
Where to stay?
Here are some of the places where you can stay overnight or for days when on Siquijor Island.
Glamping Siquijor
Location: Solangon, San Juan
Price Range: Php 2000 ++ per night
JJ's Backpackers Village
Location: Solangon, San Juan
Price Range: Php 800 ++ per night
Treasure Island Resort
Location: Siquijor Circumferential Road, San Juan
Price Range: Php 730 ++
Blue Wave Inn
Location: Dumanhog, Siquijor
Price Range: Php 800 ++
Infinity Heights Resort
Location: Pili, Siquijor Island
Price Range: Php 2200 ++
Toris Backpackers Paradise
Location: Dumanhog, Siquijor
Price Range: Php 1600 ++
White Villas Resort
Location: Siquijor Circumferential Road, San Juan
Price Range: Php 3200 ++
Coco Grove Beach Resort
Location: Tubod, San Juan
Price Range: Php 3600 ++
Lazi Beach Club
Location: Lazi, Siquijor
Price Range: Php 800 ++
Hanna's Place
Location: Solangon San Juan Circumferential Road, San Juan
Price Range: Php 800 ++
See-Kee-Hor Cafe and Hostel
Location: Purok Caimito Brgy. Tambisan, San Juan
Price Range: Php 300 ++
Golden Sunset Inn
Location: Lala-o, San Juan,
Price Range: Php 1100 ++
Recommended Tour Guide
Raul Padayhag Gom-os
Mobile: 09355965465
You may also reach him via his personal Facebook account.
Did this travel guide help you? I hope it helps you give an idea about traveling to Siquijor Island.
Latest Posts:
Read Next:
A travel blogger in the Philippines and a K-pop enthusiast, Ara Patria (The Adventuress) pursues her passion and love for traveling. She's been blogging for years, where she writes about her own travel experiences and promotes the wonders of the Philippines. Not only does she promote the beauty of her country, but she also focuses on promoting sustainable tourism. She dreams of traveling the world and inspiring other people through her own written works and captured moments with her camera.
The Adventuress is a travel blogger with a purpose. She aims to inspire other people through her personal experiences, stories, and lenses. Outside her blogging world, she is an education, an SEO specialist, and TEFL/TESOL certified.
Join her adventures!