COVID Advisory: Please always wear your mask and face shield when going out. Observe social distancing. Sanitize with alcohol.
When we hear the word "city," one thing comes to mind – "stressful." With this populated, congested place that we all know and usually face and experience, who would have first thought this could be an ideal place to chill out? However, despite all the negativity associated with the word "city," there are still many things to look forward to visiting and staying in this modernized, developed place!
Being in the city is not always about congestion, pollution, and all the negative stuff you have been hearing from anybody. Being in the city has a lot to offer, and you can do a lot of things here! From being in 5-star Michelin restaurants to luxurious hotels, Instagrammable cafes, huge malls, and such. But apart from these things, my friends and I have recently discovered this UNWND Lux Hostel in Makati. We have found this place as a place where you can chill and unwind in a luxurious hostel. Imagine experiencing luxury in a hostel? Because, why not? For sure, this is going to be one of the most favorite chilling spots in Makati and the entire metro!
About UNWND Lux Hostel
UNWND Lux Hostel is a luxurious hostel located in Poblacion, Makati. It is not just your typical hostel where you check-in, stay and sleep. It offers unique local experiences and ensures you a memorable stay and a relaxing experience! Also, the hostel has a restaurant, a deck bar with a jacuzzi providing a city view day and night! A perfect spot to unwind after a long day of stressful work! Not to mention that this property boasts a chilling atmosphere at any time of the day.
Things to Expect During Your Stay
Guests are required to wear face masks in public areas.
Every place is sanitized, and staff are wearing face masks in public areas.
They provide hand sanitizer.
The entire area of the hostel is regularly sanitized.
Safety kits are provided to every guest.
Things to See
My friends and I have stayed here for three days and two nights! During our stay, we were to enjoy the hostel's amenities that it offers! Here are the following:
The Lobby
Once you enter the hostel, this takes you to the lobby right away. Its lobby area looks aesthetically pleasing, which makes it more vibrant and appealing to the guests! You would also notice an Insta-worthy mini cafe and a minibar in the lobby area! I personally loved the lobby's ambiance, and this is actually where we had our lunch during our 2nd stay. When you get to visit here, its lobby area will catch your attention!
Gym Area
The hostel has its mini-gym area located on the roof deck! If you are fond of working out, especially in the morning, you can visit the gym area and work out here!
The Sauna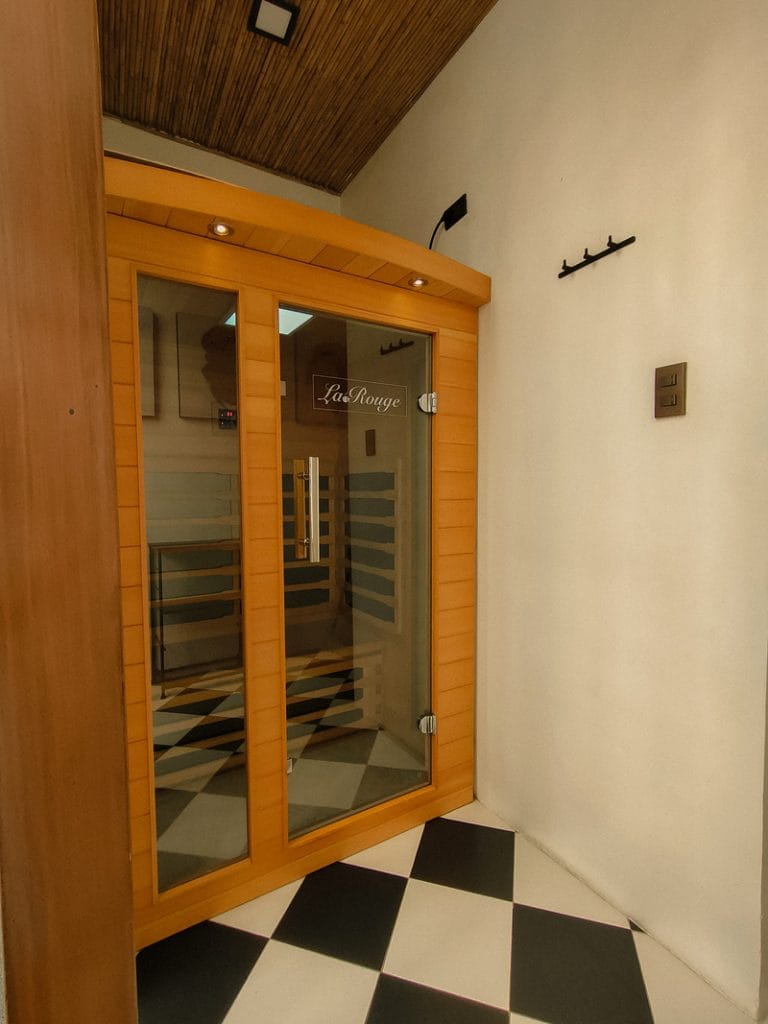 They have a mini sauna room which is also located on the roof deck. This is also one of the amenities that you can use during your stay. I believe the sauna room is good for two persons only.
The Mini Bar Area
The mini bar is just so cute and filled with boho-style furniture! They have two minibars; one is on the ground floor while the other is on the roof deck! It's perfect for your Friday night sessions! But if you want to have more space, you may also visit WYP (What's Your Poison) near the hostel.
The Outdoor Jacuzzi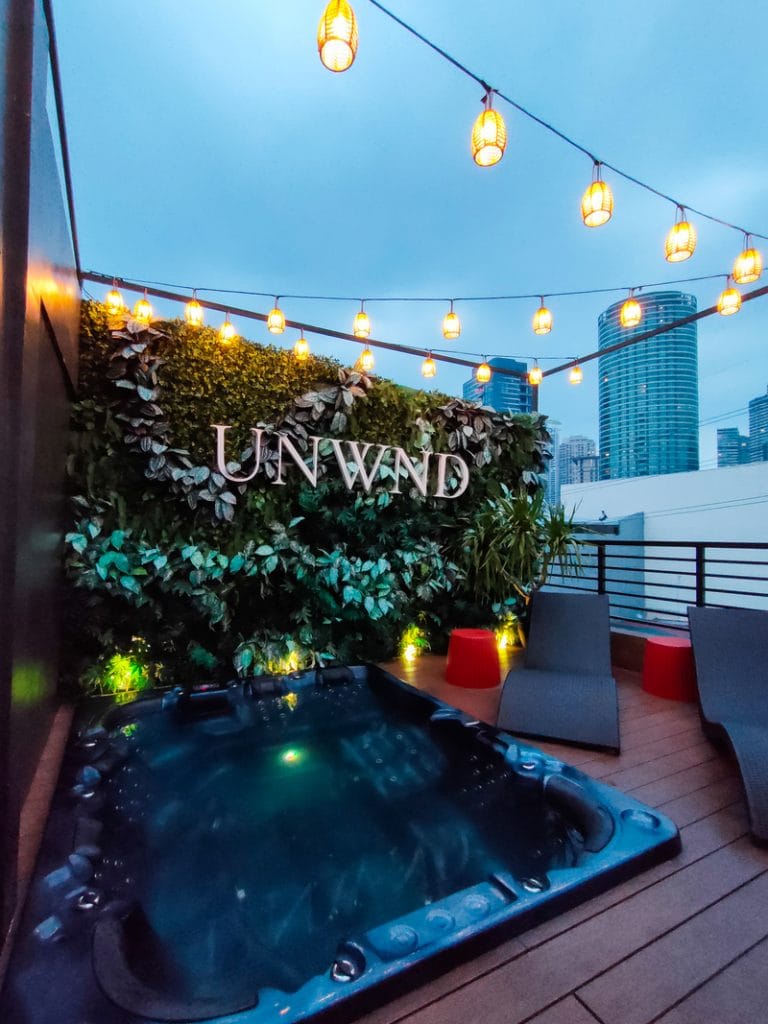 Also located on the roof deck, this is one of our favorite spots in the hostel! You can have fun here at any time of the day – dipping yourself in a jacuzzi while observing the nice view of the city. Guests can use the outdoor jacuzzi for an hour per group. Just make sure to book your time slot for the use of the jacuzzi.
Roof Deck
As mentioned above, most of the amenities that you can enjoy are on the roof deck area. This is where you can completely chill out whether you are alone or with friends! In addition to that, you can also play different kinds of board games during the daytime!
The Gallery
The hostel has its gallery, which you can see along the hallway of each floor of the rooms – starting from the second floor. If you are into arts and interested in buying some paintings or artworks, you may ask the staff to assist you! Each painting is for sale and made by our local artists in the Philippines!
Fun Things to Do
As I have said, Unwind Lux Hostel is not just the typical hostel that you can find in the metro. There are a lot of fun things to do here while spending your days here. Here are some of the things that my friends and I did during our stay to give you an idea.
Swim in the jacuzzi. 
Soak yourself in a jacuzzi while you get your body massaged! A perfect way to cool down and unwind while enjoying the sunlight and the city view during the day. Meanwhile, relaxing in a jacuzzi at night can also be memorable. Its stunning city night lights, cool temperature, and soothing music make the entire atmosphere so relaxing. What an ideal night to spend on!
Have breakfast on the roof deck.
The accommodation comes with a free breakfast. You can either have it in your room or at the cafe on the ground floor or even on the roof deck. My friends and I chose to dine in at the roof deck every morning because it offers us such a peaceful view! Not to mention the scrumptious and bountiful breakfast that the hostel provides!
Experience the simple nightlife.
Since they got a minibar, you can spend the night here enjoying your favorite drink and snacks! Its music, amazing food, and accommodating staff make your stay more fun! We totally had fun spending our Friday night at the hostel. We had fun singing with the DJ and having our drinks and food!
Relax in the sauna. 
Since saunas have some good health benefits, you can have a relaxing day at the hostel when you get to try their sauna.
Dine-in at their cafe.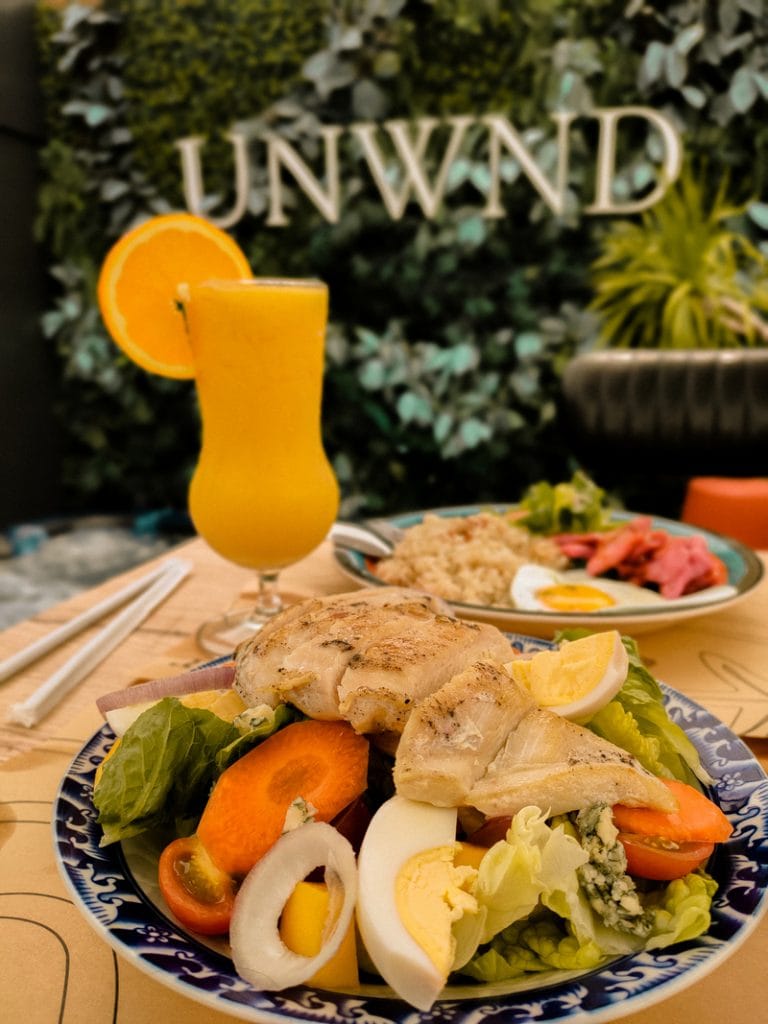 Their cafe is on the ground floor, which is in the lobby area. If you want to have another spot to chill, you may spend your time at their mini cafe!
The Accommodations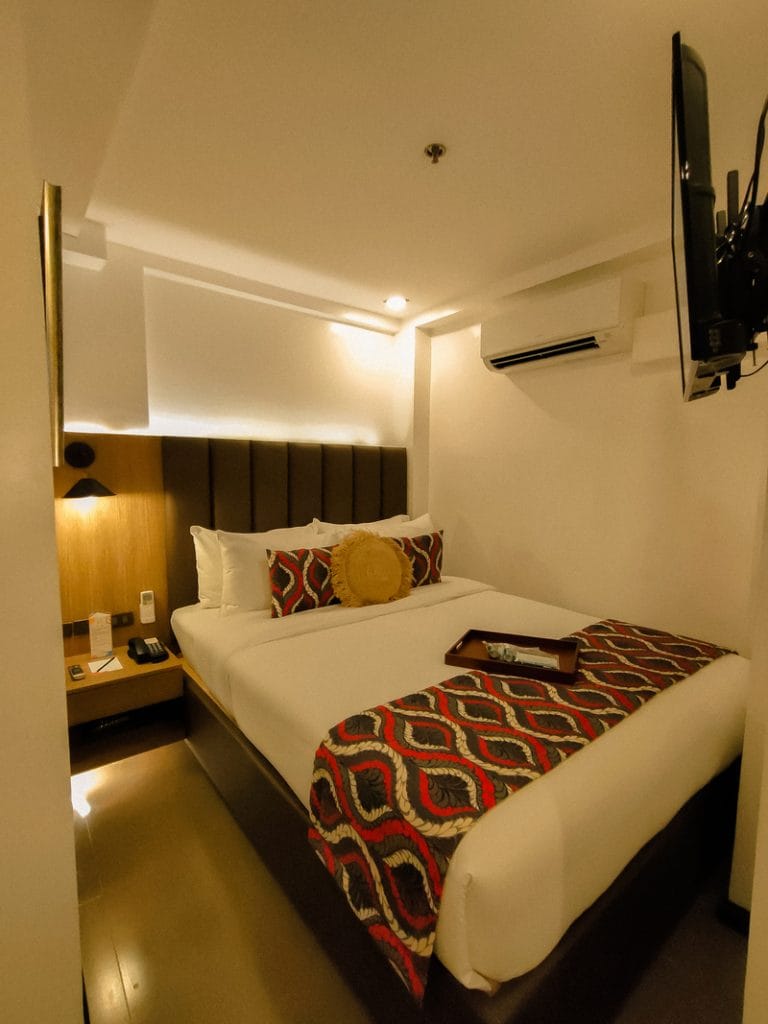 The hostel is good for couples, families, and barkada groups! Since it's a hostel, they also offer rooms that are good for backpackers! (But since it is still pandemic, I think they are not offering this kind of service yet!)
If you are wondering what their room categories are, here are the following options to choose from:
| | |
| --- | --- |
| Room Category | Published Rates |
| Luxury Room | PHP 7500 |
| Triple Room | PHP 7300 |
| Double Room | PHP 6300 |
| Twin Room | PHP 6300 |
| 6 Bed Shared | PHP 11600 |
| 6 Bed Private | PHP 11700 |
| 8 Bed Private | PHP 15000 |
Take Note:
Extra-person costs PHP 1800. 
Room rates inclusive of breakfast. 
They have promos every month! Watch out for their social media platforms for more updates!
Since we were four, we stayed in an eight-bed private room consisting of 8 bunk beds! It comes with an air-conditioner, a shower room, a restroom, a mini table, two chairs, and a mini sink.
Why Visit UNWND Lux Hostel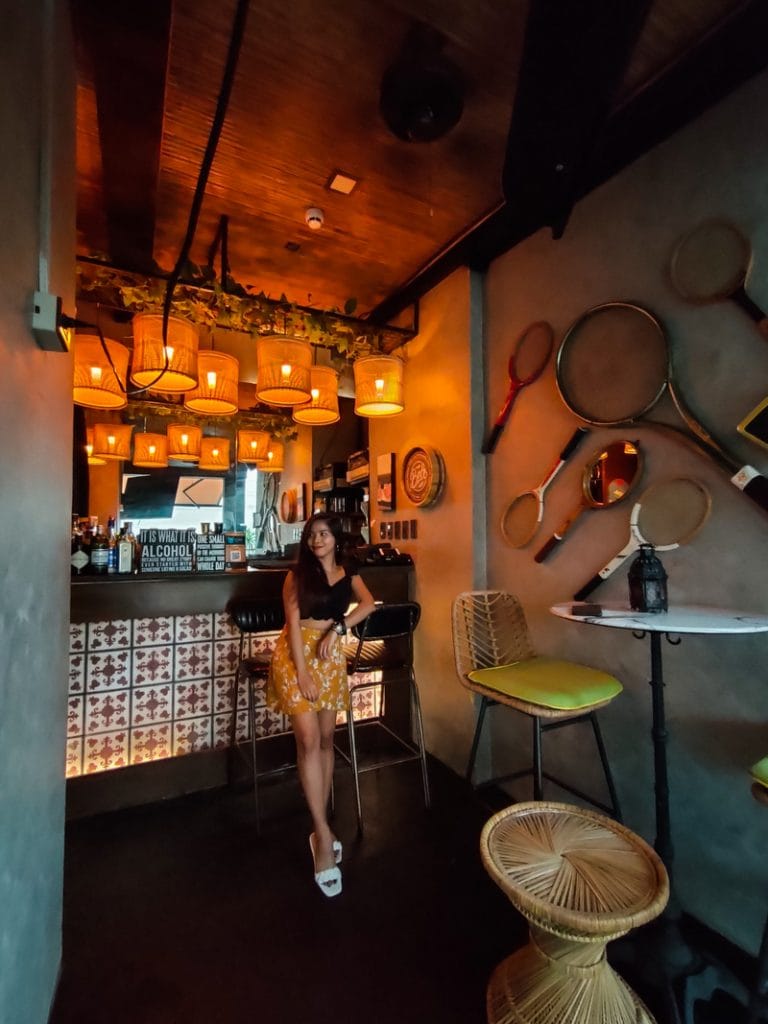 Accommodating and Friendly Staff
Everyone was so nice and very accommodating to us. They assisted us during our stay at the hostel! The staff had made sure that our stay would be very comfortable! We had a comfortable stay, but it was even more memorable for us!
Amazing and Reasonable Food
One of the things we totally loved during our stay here was the FOOD! Yes. We loved every food that they had been served to us. The food here is amazing and reasonable. They got huge servings and a nice presentation.
An Ideal Go-To Place to Unwind
Why escape from the hustling and bustling city life? This hostel is going to be one of your favorite places to stay while in the city! Instagrammable spots everywhere, amazing food, friendly people, and cozy rooms! No need to go further to take a break!
Frequently Asked Questions
Does UNWND have a restaurant on-site?
Yes. The hostel features an on-site restaurant for your dining convenience. Also, they got a mini bar for your nighttime sessions! You may also visit their bar & restaurant, which is nearby the hostel, WYP.
Can I park a car at UNWND?
If you are taking a car with you, you can park it on the streets. Unwnd Lux Hostel doesn't have its own parking lot for the guests! You can self-park your car near the hostel.
What is there to do at UNWND?
There are a lot of fun things to do during your stay at the hostel. You can swim in their jacuzzi, relax in their sauna room, work out at their gym, and many more!
What kind of breakfast is served?
The hostel serves a la carte breakfast. It is free when you check-in at the hostel!
What time is check-in and check-out at Unwnd Lux Hostel?
Guests can start checking in at 02:00 PM. But if you wish to check in earlier, it is possible to request an early check-in during booking, subject to availability. However, expect that those guests checking in before the designated schedule may be asked to pay an additional fee.
Location
5396 General Luna, Poblacion, Makati City
Contact
Email Address: reservations@unwndluxhostel.com
Phone Number: +639175138998
Website: https://www.unwndluxhostel.com/
Facebook Page: https://www.facebook.com/unwndluxhostel/
Instagram: https://www.instagram.com/unwndluxhostels/
Latest Posts
Read Next
A half-travel blogger in the Philippines (based in Cavite) and a half-K-pop enthusiast, Ara Patria (The Adventuress) pursues her passion and love for traveling. She's been blogging for years, where she writes about her own travel experiences and promotes the wonders of the Philippines. Not only does she promote the beauty of her country, but she also focuses on promoting sustainable tourism. She dreams to travel the world and inspire other people through her own written works and captured moments with her camera.
The Adventuress is a travel blogger with a purpose. She aims to inspire other people through her personal experiences, stories, and lenses. Outside her blogging world, she is an English teacher, an SEO specialist, and TEFL/TESOL certified.
Join her adventures!