In this blog, I am going to share some information about this lodge which appeared to be one of the cutest accommodations in Siargao. I would love to share with you a budget-friendly AirBnB that my friends and I discovered; that is Yay Lodge. If you are visiting Siargao soon, this could be your option to stay when visiting the island of Siargao.
About Yay Lodge
Yay Lodge is located on Tourism Road which is in between General Luna and the popular surfing spot, Cloud 9. It is a type of accommodation which is not as huge as others, yet one of the most adorable accommodations to find in Siargao! In addition, if you are a budget traveler, this lodge is the best place for you!
Things to love about Yay Lodge
As I mentioned above, Yay Lodge is one of the most affordable accommodations in Siargao. However, you might worry about the services that it offers. Therefore, I have listed down the things that you will love about this lodge.
Cute nipa hut style rooms.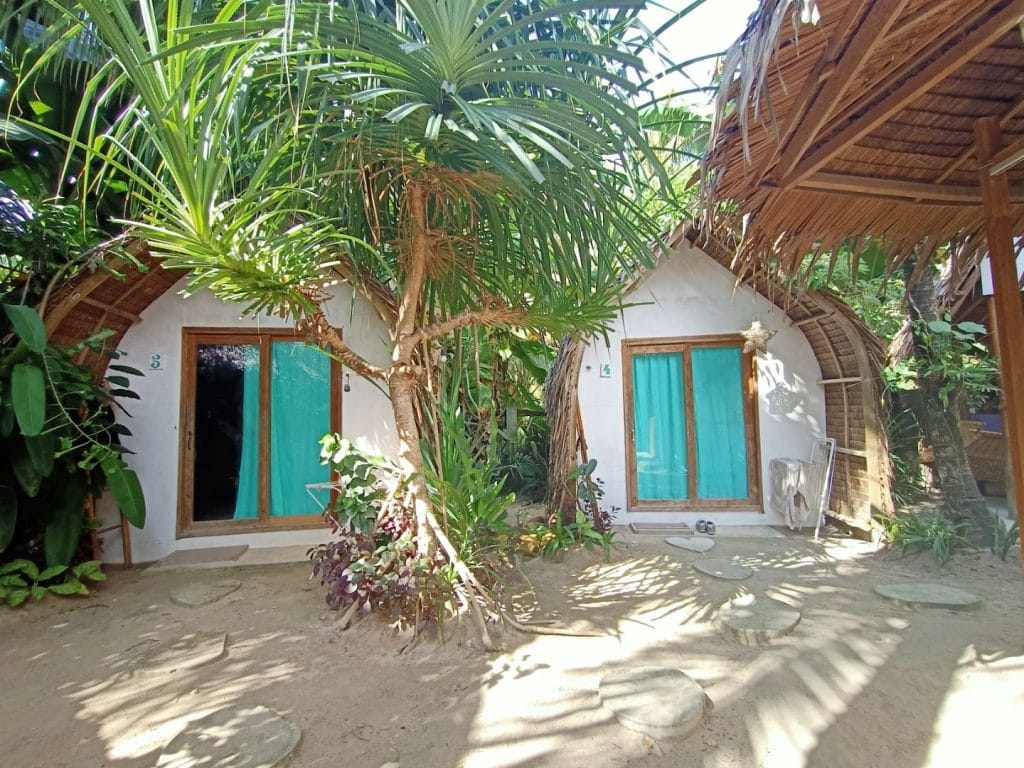 When you check-in to Yay Lodge, you will notice that most of their rooms are in nipa hut style. There are three private rooms that come with a private bathroom. Each exterior design is so cute. You might even find yourself taking pictures in front of it. Aside from that, there is a standard double room with a shared bathroom and a two-bedroom apartment.
In our case, my friends and I opted to stay in one of their private rooms. There is only one huge bed in that room so we asked for an extra bed. But actually, the room is just big enough for two persons. The room comes with an air-conditioner, a huge mattress, a bathroom, and a ceiling fan. More to that, it had got complete bath amenities. The room is simple and good enough to stay for overnight or days.
The relaxing ambiance.
One of the things that we look for accommodation is the cozy atmosphere that it has. Certainly, you would feel comfortable while staying in this place. It is so peaceful that you would even hear birds chirping especially in the morning. It feels so relaxing that it even feels like home. You find peace from this place especially after doing some draining activities on the island. You can definitely find serenity in this resort. This is one of the best places to unwind after a long day.
Yay Lodge's mini-kitchen.
The place offers a mini kitchen for guests. It is possible to cook your own food here. They have got cooking facilities that you can use for free. Also, they also have free water for guests. It is good to use their mini-kitchen especially if you are not planning to splurge on food.
Its accessibility.
The lodge is very accessible. It is just 10 minutes away from Cloud 9 by motorcycle. It is also near the town of General Luna where eateries, bars, souvenir stores are found. In addition, Yay Lodge is just a walking distance from some restaurants like Mama's Grill. Mama's Grill is actually one of the most recommended restaurants in Siargao.
However, you may find it a little difficult to drive along the road heading back and forth to the lodge. It is because it has a rough road. It also gets muddy, especially on rainy days. But one thing is for sure, it is safe to stay in this lodge even until the very late night.
It is an insta-worthy tropical hideaway.
This place is truly a perfect hideaway on Siargao island. I have mentioned many times that this is one of the cutest Airbnbs I have been to up to date! It looks simple yet charming. They have a small garden which makes the place even look more beautiful.
My thoughts on staying at Yay Lodge
Yay Lodge is one of the best places to stay in Siargao. It is cheap and truly worth the price. I enjoyed everything about this place. In addition, the staff really accommodated us well. We were lucky to talk with the owner. He was so friendly and welcomed us warmly in his place. I would surely love to stay here again when I come back to Siargao!
Where to book?
Have you booked your accommodation in Siargao? If you are considering staying in this lodge, you may book your accommodation through Airbnb.
Check-in and Check-out Time
Check-in: 12 NN onwards
Check-out: 10 AM
Location
Pang Pang, General Luna, Surigao Del Norte, Philippines
Latest Posts:
Read Next:
A half-travel blogger in the Philippines (based in Cavite) and a half-K-pop enthusiast, Ara Patria (The Adventuress) pursues her passion and love for traveling. She's been blogging for years, where she writes about her own travel experiences and promotes the wonders of the Philippines. Not only does she promote the beauty of her country, but she also focuses on promoting sustainable tourism. She dreams to travel the world and inspire other people through her own written works and captured moments with her camera.
The Adventuress is a travel blogger with a purpose. She aims to inspire other people through her personal experiences, stories, and lenses. Outside her blogging world, she is an English teacher, an SEO specialist, and TEFL/TESOL certified.
Join her adventures!