This blog highlights my sample itinerary to Bantayan Island, Cebu, Philippines! One of the best islands in Cebu!
If you are wondering what this travel guide is all about – it is going to be about Bantayan Island. So where is this island located? It is in the northwest part of Cebu. This blog includes a sample budget travel guide to the island. If you are planning to visit the island of Bantayan Island soon, this sample itinerary is certainly ideally made for you. As you read on this blog, you will get to know more about the island and the things you can do on this island all throughout this travel guide.
Understanding Bantayan Island
Situated on the west of the northern end of Cebu Island, Bantayan Island is an island in the Visayan Sea. It lies close to the geographical center of the Philippine archipelago.
Bantayan Island is one of the biggest islands of Cebu. It is divided into three municipalities such as Bantayan, Madridejos, and Santa Fe. This island showcases white-sand beaches, crystal clear water, and a chilling atmosphere. Not to mention those friendly locals that you get to talk with. Surely, Bantayan Island is a perfect getaway for everyone who craves utter peace and serenity. The island is the best place to go soul-searching.
How to get to Bantayan Island?
There are so many ways to get to Bantayan Island. Here are some of the following:
From Cebu Mactan International Airport
BY BUS: From Mactan International Airport, ride a cab or a taxi that will take you to North Bus Terminal. Then, from North Bus Terminal, take a bus headed to Hagnaya Port. Travel time is around 3-4 hours. From Hagnaya port, catch the ferry going to Sta. Fe Bantayan Island. It takes 1 hour to get to Bantayan Island from the port.
Top places to visit
I visited Bantayan Island with friends for the first time. Due to the limited amount of time that we had in Cebu, we only had a chance to stay on Bantayan Island for a day. Despite that, we still had time to visit some of the popular spots around the island.
Yes. It is possible to visit the island in just one day. This applies to people who don't have much time in Cebu (well probably like us). yet want to see the beauty of the island. You can still see a lot of things and have some fun while on the island.
Obo-Ob Mangrove Eco-Park
Probably one of the most-wanted visited places on the island. Ob-ob Mangrove Eco-Park shows off mangroves and illustrates how they play an important role in our environment.
The place is so relaxing and refreshing at the same time. You can spend an hour or two here. As you enter the eco-park, the friendly staff will welcome you warmly. Before you can get around the eco-park, you need to pay the entrance fee first. Then, the staff will offer you to use a hat for free while on tour.
Then, you will notice a long bamboo pathway bridge which is surrounded by mangrove trees. As you walk around, you will surely feel the serenity of the place. It is just so peaceful. I couldn't say anything about this place. Nothing but peaceful. You would hear the birds chirping around the area. The place is so refreshing. Unfortunately, it was early in the morning when we got there so it was low tide. I've seen on the internet that it looks more beautiful during high tide. Nevertheless, the entire surrounding was totally clean. Not only that, but you can also get to learn more about the different kinds of mangroves in the Philippines.
The place is not just about relaxation and photographs, it is also a place to educate tourists about mangroves and the importance of them. Mangroves are vital to our environment and the marine ecosystem. If they were no mangroves, it would be difficult for us to have fish and swim in the seawater. Ob-ob Mangrove Eco Park teaches us how essential mangroves are in our everyday living.
Entrance Fee
Adults: Php 50
Students and Children: Php 20
Kayaking: Php 150
Boating: Php 350
Note: The price is subject to change.
The Ruins
Located in Sta. Fe, The Ruins is also a famous tourist spot. The Ruins is an unfinished structure that many people visit due to its pleasing appearance. It seems like an IG-worthy spot to see on Bantayan Island!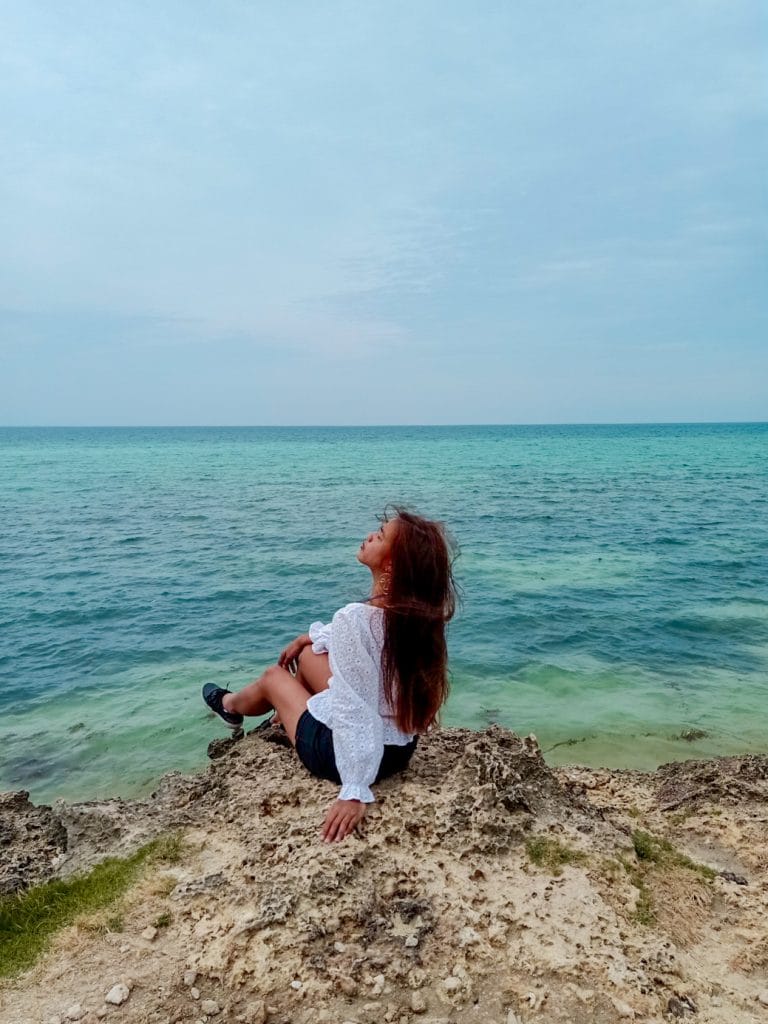 One more thing, this place is also a cliff diving spot. With that, everyone can go cliff diving here for free! But if you don't feel like going cliff diving, you can swim in the sea instead.
Ogtong Cave
Ogtong Cave can be visited at Ogtong Cave Resort. Definitely one of the natural wonders of Bantayan Island. It an underground cave. It has turquoise crystal-clear water nestled in natural limestone rocks. The water is clean and cool.
You can dip yourself in the clear waters of the cave. However, that's the only thing that you can do. You can't go swimming here because the water is too shallow. But according to the staff whom I spoke with, the water gets deeper during high tide.
Entrance Fee
Php 200.00 per pax (if day tour only)
Kota Beach Resort
Located in Sta. Fe, it is a front beach resort that offers cheap accommodation. It has white fine sand and a good beach view. The resort has become more popular due to the successful film named "Camp Sawi".
Take note: If you are just going to visit there for a day and to take photographs, be aware that you can't put down anything around the resort unless you have booked your accommodation here.
Virgin Island
One of the best islands I have visited so far. The seawater is so clean. A perfect spot to go snorkeling! The island was not crowded when we visited. Moreover, the white sand is fine. Take note that there is no nightlife on the island. Absolutely the best place to destress and get away from the crowd.
This was the last stop of our tour and we spent hours here. We enjoyed swimming in the shallow crystal waters of the sea. In addition, there is a cliff diving spot and it's free. But in our case, we didn't try it. Virgin Island is a must-visit on Bantayan Island. Personally, this is my most favorite place that we visited! Indeed a paradise island!
Entrance Fee
Php 200 per pax / plus Php 100 for additional pax
Things to do
Go swimming
Whether you stay in a resort or not, you can surely enjoy swimming on the island. Don't forget to wear your best swim attire and put on your sunscreen to protect your skin from the sun.
Cliff Diving
While my friends and I were touring around the island, I found some good spots where you can go cliff diving. If you are into water activities like cliff diving, you may do it on Virgin Island and at The Ruins.
Go snorkeling
Bantayan Island offers amazing, clear waters of the ocean so you will surely love snorkeling here! The best place to go snorkeling is on Virgin Island.
Go on a food trip
Cebu offers the best delicacies everywhere and you may try some of them when in Bantayan. More to that, you can have some fresh seafood which can only be found on the island.
Do photo-ops
One of the best places I've visited on the island is The Ruins. As I mentioned above, every corner of that place is instagrammable. You may take lots of pictures around that tourist place.
Talk with the locals
The locals of Bantayan are friendly and very accommodating. My friends and I grabbed the opportunity to communicate with them and I really got impressed by how welcoming they are to the tourists.
Go skydiving
This has been one of the greatest dreams! If you are the type of person who loves doing some crazy, thrilling adventures like sky diving, you can try skydive in Cebu! Don't ever miss out on taking the opportunity to do it on the beautiful island of Bantayan! In my case, I failed to do it since I was traveling on a budget, but this is one thing that I would really love to do in the future!
Go biking
You can also go biking around the island and feel the presence of nature! Bike rentals are available around the area.
Tips & Reminders
In order to avoid the heavy traffic, you must depart Cebu City for a round trip day tour in Bantayan Island. You can depart the city by 1 AM-2 AM so that you will arrive on the island around 6 AM to7 AM. The last trip of the ferry from Bantayan Island to Cebu is 6 PM.
I believe it would be better to visit Ob-ob Mangrove Forest in the afternoon. The place looks better during high tide.
If you are on a tight budget, you can buy food outside Ob-ob Mangrove's restaurant. There is a small canteen in front of it which sells cheaper food.
Before visiting The Ruins, make sure that you are wearing your best suit! Every corner of this place is definitely instagrammable! There is really nothing much to see here, but this place offers spectacular views of the ocean!
You may bring your own food with you when going to Virgin island because the food is expensive there. Also, you may bring your own tent to the island.
Don't forget to bring sunscreen!
Where to stay on Bantayan Island?
If you are planning to stay on the island for days, I listed down some of the resorts and accommodations in Bantayan. You may book your accommodation in Agoda.
Coucou Bar Hotel & Restaurant
Location: Batobalonos Street, Poblacion Santa Fe, Bantayan Island, 6047, Cebu, Santa Fe, Cebu
Bantayan Island Nature Park and Resort
Location: Sitio Kalubian, Island Bantayan Island 6052 Cebu, Bantayan, Cebu
Amihan Seaside Inn
Location: Villaceran St, Santa Fe, 6047 Cebu
Sunshine Bantayan Garden Resort
Location: Batiancila Street, Barangay Pooc, Santa Fe, Cebu
Kota Beach Resort
Location: F. Duarte St, Santa Fe, Cebu
Ogtong Cave Resort
Location: Santa Fe (Bantayan) – Hagnaya, Santa Fe, Cebu
Kandugyap House by the Sea
Location: Santa Fe, Cebu
Sta. Fe Beach Club
Location: Santa Fe, 6045 Cebu
Bantayan Cottages
Location: F. Roska Street, Santa Fe, 6047 Cebu
St. Bernard Beach Resort
Location: Okoy, Sta. Fe, Cebu
My Overall Experience
It was my first time to visit Bantayan Island and I could absolutely say that this place is such a paradise. This place is worth traveling to for hours. The place is simply amazing. The locals are friendly and they would always smile at you. They are also helpful! For those who are planning to visit Bantayan Island, a day tour will not satisfy your wanderlust because of the island's abundance of beauty. But if you don't really have much time like us, you can still explore Bantayan Island for a day. I hope to go back soon! If you are looking for a place to chill when in Cebu, Bantayan Island is a must-visit!
Traveling to Mactan Island as well?
Recommended Tour Guide
For Bantayan Island Tour, you may contact:
Kuya Benjie
Mobile: 09207917051 (SMART), 09664512136 (GLOBE)
Fees & Expenses
| | |
| --- | --- |
| Land Tour + Island Hopping | Php 1,500 for 4 pax |
| North Bus Terminal to Hagnaya Port | Php 154 (Ordinary Bus) *vice versa |
| Hagnaya Port to Bantayan Island | Php 185 *vice versa |
| Environmental Fee | Php 30 |
Please take note that the price is subject to change.
Schedule of ferries
Here is the sample schedule of ferries from Hagnaya to Sta. Fe or vice versa. For more information, you may check out this link.
| | |
| --- | --- |
| Hagnaya to Sta. Fe | Sta. Fe to Hagnayan |
| 04:00 AM | 06:00 AM |
| 07:00 AM | 08:30 AM |
| 08:00 AM | 10:30 AM |
| 10:00 AM | 12:30 PM |
| 12:30 PM | 02:30 PM |
| 02:30 PM | 04:30 PM |
| 04:30 PM | 06:30 PM |
Sample Itinerary for Bantayan Island
Please note that we only traveled to Bantayan Island for a day so I can only provide you a sample itinerary when visiting the island. But if you want to maximize your time, you can stay on the island overnight or for more days. You can visit other underrated and undiscovered places around the island.
Day Tour
| | |
| --- | --- |
| 04:00 AM | Travel from Cebu Bus Terminal to Hagnaya Port |
| 06:00 AM | Arrive at Hagnaya Port |
| 07:00 AM | Depart from Hagnaya Port |
| 08:00 AM | Arrive at Bantayan Island |
| 08:00 AM- 12:00 PM | Land Tour (Mangrove Forest, Ogtong Cave Resort, The Ruins, etc) |
| 12:00 AM-03:00 PM | Island Hopping (Virgin Island) |
| 03:00 PM- 04:30 PM | Prepare for departure |
| 04:30 PM | Depart from Bantayan Island to Hagnaya Port |
| 05:30 PM | Arrive in Hagnaya Port / Travel back to Cebu City |
I hope this travel guide to Bantayan Island helps you a lot!
Latest Posts:
Read Next:
A half-travel blogger in the Philippines (based in Cavite) and a half-K-pop enthusiast, Ara Patria (The Adventuress) pursues her passion and love for traveling. She's been blogging for years, where she writes about her own travel experiences and promotes the wonders of the Philippines. Not only does she promote the beauty of her country, but she also focuses on promoting sustainable tourism. She dreams to travel the world and inspire other people through her own written works and captured moments with her camera.
The Adventuress is a travel blogger with a purpose. She aims to inspire other people through her personal experiences, stories, and lenses. Outside her blogging world, she is an English teacher, an SEO specialist, and TEFL/TESOL certified.
Join her adventures!