Pattaya, Thailand, is a 2-hour ride from the bustling city of Bangkok. Known for its beautiful beaches, lively nightlife, and a wide array of entertainment and cultural attractions, Pattaya is one of the most popular destinations in Thailand. Not to mention that it is just near Bangkok. 
Although it's my second time visiting Thailand, it was my first time visiting Pattaya. Even before arriving in Thailand, Pattaya was on my first list! I've always known that this city has a lot to offer to every traveler. Thus, I decided to stay in Pattaya for 3 days and 2 nights! Since I came from volunteering in Vietnam, I just wanted to chill and relax for the first few days of my arrival in Thailand. That being said, I needed to find the best place where I could just chill and relax during the entire stay in Pattaya and I wanted to make sure that my accommodation would be a beachfront hotel! Eventually, I ended up staying at the Hard Rock Hotel Pattaya for 3 days and 2 nights. 
Thus, if you're traveling to Pattaya, Thailand, soon, you must consider staying at the Hard Rock Hotel. In this blog post, find out how I spent my 3 days and 2 nights in this 4-star hotel and why it's a must-visit! 
How to Get to the Hard Rock Hotel Pattaya? 
From Suvarnabhumi International Airport 
By van: The local van takes about 3 hours from Mochit New Van Terminal to Pannipa Pattaya Tour. Once you arrive in Pattaya, you can take a Baht bus (or Songthaew) to the Hard Rock Hotel. 
By bus: From Makkasan station (Bangkok Airport Rail Link) to Central Festival Pattaya Beach, it takes approximately 3 hours and a half. Once you arrive at Central Festival Pattaya Beach, you can take a Baht bus to the Hard Rock Hotel or walk around 800 meters (9 minutes) to the hotel. 
From Sukhumvit, Bangkok 
By bus: Go to Ekkamai bus terminal station, and then take the "Reung Reung" bus. The bus ticket costs around THB 130. The travel time is approximately 2 hours and the bus will drop you off at the North Pattaya Station. Then, you can take a cab or grab to the Hard Rock Hotel from the North Pattaya Station. 
By limousine: Another way to get to Hard Rock Hotel Pattaya is by booking their transfers with SK Limousine, a limousine company that has a service office at the hotel itself. 
About Hard Rock Hotel Pattaya 
Hard Rock Hotel Pattaya is a four-star hotel that offers world-class services such as family-friendly activities, worldwide dining, and stunning views of the Gulf of Thailand. Located in Central Pattaya, Hard Rock Hotel Pattaya is a beachfront accommodation that is within walking distance of local markets and nearby other must-visit tourist spots in Pattaya. 
This Pattaya resort features 2,000 square meters of free-form swimming pool with a beach-sand pool and private cabanas, Hard Rock Roxity Kids Club, Rock Spa, Body Rock Fitness, and Rock Shop. 
Featured Amenities of the Hard Rock Hotel Pattaya
24-Hour Rockin' Response Service
Beach Swimming Pool and Cabanas
Kids Pool
High-Speed Wi-Fi
Rock Spa & Salon
Rock Royalty Level
Rock Shop
24-Hour Room Service
Hard Rock Roxity Kids Club
Body Rock Fitness Center
Rock Om In-Room Yoga
Sleep Like a Rock: Luxury Bedding and Towels
Rock Spa Bath Amenities
Things to Do at Hard Rock Hotel Pattaya 
Swim at their beach swimming pool. 
Hard Rock Hotel Pattaya provides a huge beach swimming pool that can be accessed from 7 a.m. to 8 p.m. daily. It's a huge, nice pool that resonates with their own unique signature "rock 'n roll" vibe! In addition to that, they have a very nice pool bar where you can chill and drink at the same time while in the pool. 
Go to the spa at the Rock Spa & Salon.
One of the most amazing things I did at the Hard Rock Hotel during my entire stay was try the spa at their Rock Spa and Salon. It was my first time experiencing Thai massage, and I was glad that I did it at the Hard Rock Hotel. 
The spa has a very relaxing vibe and the staff is very welcoming. Make sure not to miss getting a spa massage at Rock Spa & Salon! It's definitely worth trying! 
Dine in and watch the sunset at Hard Rock Cafe. 
On my first day at the Hard Rock Hotel Pattaya, I decided to have dinner at the Hard Rock Cafe. It was a peaceful evening on a Monday night, yet Hard Rock Cafe Pattaya offers a very chill vibe. I definitely had the best dinner on my first day in Pattaya, not to mention the great food and the best sunset view that the cafe offers! 
If you're looking for a place to chill and watch the sunset, there's no need to leave the hotel. You can just stay and dine in at Hard Rock Cafe while listening to their live band singing some great music. It's totally one for the books! 
Get fit at Body Rock Fitness Center. 
If you're into fitness, you don't have to worry about it, as Hard Rock Hotel Pattaya provides a nice, huge gym that offers a good overlooking view of the pool itself! 
Experience the free Memorabilia Tour. 
Hard Rock Hotel & Cafe Pattaya introduces its first-ever Hard Rock Memorabilia Tour! As you go through the hotel and experience the Memorabilia Tour, you'll come across clothing, instruments, photographs, and other amazing items from several legendary artists that the hotel features! 
It''s free and you'll learn about different legendary artists and get to witness some of their personal stuff being displayed around the hotel. 
Have a 'rocking' day in your own space. 
I think what sets Hard Rock Hotel Pattaya apart from other hotels and accommodations in Pattaya, Thailand, is that they offer a unique program to their guests. This program is called "Sound of Stay". It's a kind of program that they offer to their guests, wherein they can rent a guitar and play it in their room. Or, if you don't feel like playing an instrument, you may also rent a Crosley turntable with a collection of iconic records chosen by Hard Rock Hotel. 
To learn more about it, you can check out the "Sound of Your Stay" program on their website!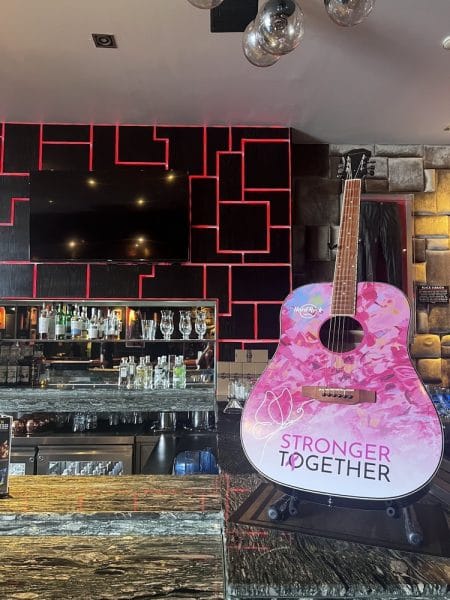 Reasons Why You Must Stay at the Hard Rock Hotel Pattaya
Spacious and clean room. 
Based on my experience, I definitely loved how spacious my room was! In addition, the room was so clean and I got everything that I needed in my room. Not to mention the fact that I got the best view of the ocean from my room. I didn't really mind staying in my room the entire day. 
Excellent customer service. 
Upon arriving at the hotel, you'll be welcomed by the staff with their warmest and friendliest smiles ever! Their hospitality is top-tier! Everyone is so friendly and accommodating. 
Even when I was traveling alone, I didn't feel lonely because everyone was so friendly to me and they even helped me with some stuff like taking photos of me in the pool or anywhere around the area. I felt like I was never traveling alone! 
It's worth the price. 
Hard Rock Hotel Pattaya is a four-star hotel, so it might be a bit more pricey than any other accommodations or hotels in Pattaya. But if you want to make the most of your stay in the city, you must definitely consider staying at the Hard Rock Hotel! The hospitality of the staff, the coziness of the place, the food from the cafe and their restaurant, and everything about the hotel are worth paying for. 
Based on my experience, you get more than what you pay for! 
Very strategic location. 
Hard Rock Hotel Pattaya is a beachfront accommodation that is also within walking distance of most of the tourist spots. It's near insta-worthy cafes and restaurants, malls, massage spas, the famous Walking Street, and other tourist spots in Pattaya, Thailand! 
They serve a purpose. 
One thing I was amazed by the hotel is that they have an annual "Pinktober" fundraising campaign for breast cancer patients. This campaign runs for the whole month of October in support of "Breast Awareness Month". Isn't it amazing?!
With stylish rooms, world-class dining, and a host of amenities, including the famous Hard Rock Cafe, this resort is a haven for music lovers and even for simple travelers (like me). Whether you're traveling solo or with friends or family, Hard Rock Hotel Pattaya is the ideal destination for you, especially if you're seeking a blend of entertainment, relaxation, and luxury on the vibrant shores of Pattaya Beach.
More Photos From Hard Rock Hotel Pattaya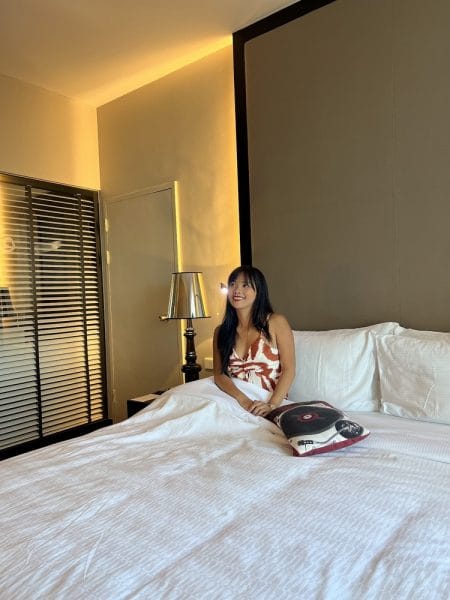 Check-in and Check-Out Time
Check-in: 2 PM 
Check out: 12NN
Location
429 Moo 9, Pattaya Beach Road, Pattaya, Thailand, Chon Buri
Contact
Facebook: Hard Rock Hotel Pattaya
Phone: +66 38 428 755
Email address: rooms.pattaya@hardrockhotels.net
Website: hardrockhotels.com/pattaya/ 
A travel blogger in the Philippines and a K-pop enthusiast, Ara Patria (The Adventuress) pursues her passion and love for traveling. She's been blogging for years, where she writes about her own travel experiences and promotes the wonders of the Philippines. Not only does she promote the beauty of her country, but she also focuses on promoting sustainable tourism. She dreams of traveling the world and inspiring other people through her own written works and captured moments with her camera.
The Adventuress is a travel blogger with a purpose. She aims to inspire other people through her personal experiences, stories, and lenses. Outside her blogging world, she is an education, an SEO specialist, and TEFL/TESOL certified.
Join her adventures!