With all the fuss that has been going on around us; the pandemic, staying too long at home that makes us feel anxious, the uncertainty, and the work that's giving us a lot of stress and pressure in life, we deserve a break!
Taking a break is something that we shouldn't sleep on. It is something that makes us feel rewarded and helps us regain strength and refocus on what we are currently engaged with.
Although it is advisable to just stay home during this pandemic, I believe that Laguna isn't that too far from the metro. So if in any case that we get a chance to take a break, then it is time for you to do it and visit this amazing camping site in Laguna called the Farm T-House that we have just discovered recently.
About Farm T-House
Farm T-House is not just a camping site but this is actually a farm staycation that has a work-from-home setup. It is considered a nature-adventure farm staycation camping site. Located in the town of Cavinti, Laguna, this farm staycation place is totally an ideal place for solo adventurers, couples, small groups, family groups, etc.
One of its main concepts is to promote a work-from-anywhere while enjoying the view of nature and experiencing life on the farm with a one-lifetime experience of animal interaction. Farm T-House will give you a new perspective on how you can enjoy working while having fun without comprising productivity, creativity, and focus.
What To Do on The Farm?
It has a very rustic farm setting.
Obviously, the Farm T-House is not a luxury resort hotel because its main concept to provide accommodations while you are in a farm setting. You get to experience life on the farm and get to see how it feels like to be surrounded by farm animals. Not to mention the relaxing view of nature after waking up in the morning and listening to the hum of insects (instead of hearing the buzz of vehicles in the metro) before going to bed at night.
Have an interaction with farm animals.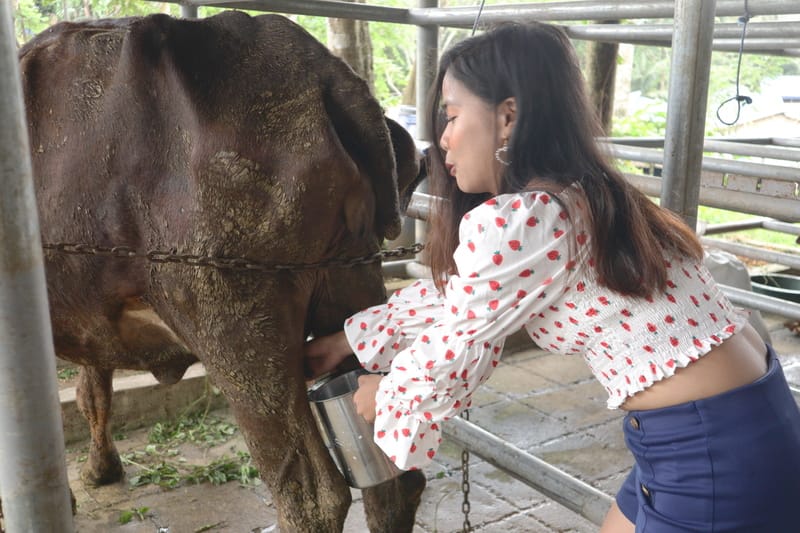 This is definitely a lifetime experience! You don't just get to see these adorable farm animals, but you can also get to interact with them. The Farm T-House offers different exciting farm activities (like animal feeding, milking cows, and taking selfies with animals) where you can have a chance to get closer to the animals.
Fresh farm food and drinks.
To have a full farm experience, you can check out their menu and see what types of food and drinks they have to offer. In our case, since we brought so much food with us, we only tried their very own fresh milk and even its flavored fresh milk. No worries, it won't cost you that much!
Things To Expect
The accommodation.
Farm T-House basically includes a sofa-bed with a sheet cover or a mattress and a couple of pillows. It is also a container-styled room with a fan and a power outlet for gadgets. Take note that the room is only ideal for charging.
The location.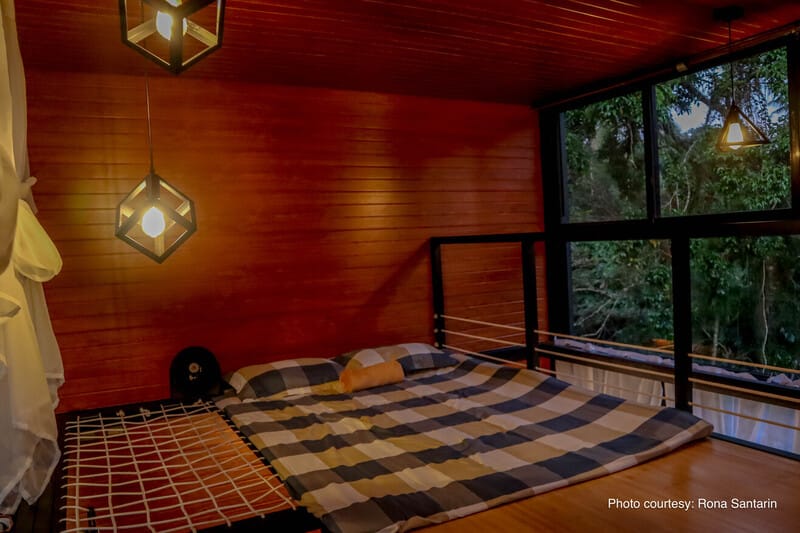 Farm T-House is located in Cavinti, Laguna. It is 4 hours away from Manila via private or public transport. Its location is really far and kind of difficult to reach. It is highly recommended to visit this place via private car. On another note, you will never regret going to this place despite the long hours and the hustle of travel.
Cooking Area.
Farm T-House provides a cooking or kitchen area and a grilling area. They also provide a fridge for your frozen food and drinks or for any food that you want to store inside the fridge. There is also some cooking equipment already provided for your cooking needs. Just don't forget to bring your own charcoal if you are planning to grill.
Activities Offered at Farm T-House
Farm Tour
Animal Feeding
Milking Cows
Taking a selfie with Animals
Complimentary Bonfire (7 PM-8 PM only)
Reminders & Tips
Barefoot zone.
The Farm T-House implements a barefoot zone for every room that they provide to guests. That means to say that shoes, sandals, slippers are strictly not allowed inside to maintain cleanliness and sanitation in the room.
No Smoking
Smoking inside your accommodation is strictly prohibited. You can only do it outside or at the designated smoking area. You may ask their staff for assistance.
Observe claygo.
They want every guest to clean up their own trash and encourage to bring their own plastic bags. This policy is a strict suggestion of the local Tourism Office. Failure to do so will incur a fee.
No eating inside.
You are not allowed to eat or drink (except water) inside the accommodation unit.
Frequently Asked Questions
What to bring at the Farm T-House?
Since Farm T-House is a camping site, you can bring some camping gear and stuff like LED flashlights, extra folding camping chairs, ice coolers, (rain) jackets, utensils, portable stuff like camping stoves, etc. Any camping equipment that can make you feel more comfortable at Farm T-House.
You can also bring these things such as tables & chairs, and coolers. For more comfort, bring extra blankets and pillow, towels, toothbrushes, and toiletries.
For the bornfire setup, you may also want to bring food like marshmallows, grahams, or hotdogs!
Is it possible to cook on the farm?
One good thing that you will love about this place is that they have a space for cooking. They provide a small kitchen for you to cook your own food. In addition, there is a fridge provided so it is possible for you to store your food there like frozen foods and even some drinks. Take note that cooking inside the room is strictly prohibited.
Does Farm T-House offer free food?
Farm T-House does not offer any free food. But they can take orders from and cook them for you. They actually mainly serve food that is fresh from the farm.
Can we bring or drink liquors during our stay?
Indeed! Farm T-House allows guests to bring or liquors on the site. Just drink responsibly.
Is there a private bathroom for each room?
No. There are only two common bathrooms for all the guests staying at the Farm T-House.
How much is the corkage fee?
There is no corkage fee. You can bring any food and drinks as much as you want without any fee.
Are pets allowed?
Yes. Pets are allowed on the site. However, there is an additional fee of Php 500/pet per overnight.
Is Wi-Fi available at the camp site?
Wi-Fi is available at the camp site. However, the connection is quite unstable based on our experience.
How is the signal at the camp site?
The signal is pretty good at the camp site. But I highly suggest you taking off from social media during your stay for a perfect relaxation. Remember, this is a camping site. It's the best place to detox from social media.
How to get there?
Personally, reaching this place via commute is not highly advisable. The easiest way is to find the FARM-T-HOUSE or FarmShare Prime at Waze or at Google Maps.
Check-in & Check-out Time
Standard Check-in Time: 3 PM
Standard Check-out Time: 12NN
Late Check-out: P500/hour
Early Check-in & Late Check-out = P500/hour
Location
FarmShare Prime Brgy. Duhat, Cavinti, Laguna
Latest Posts
Read Next
A travel blogger in the Philippines and a K-pop enthusiast, Ara Patria (The Adventuress) pursues her passion and love for traveling. She's been blogging for years, where she writes about her own travel experiences and promotes the wonders of the Philippines. Not only does she promote the beauty of her country, but she also focuses on promoting sustainable tourism. She dreams of traveling the world and inspiring other people through her own written works and captured moments with her camera.
The Adventuress is a travel blogger with a purpose. She aims to inspire other people through her personal experiences, stories, and lenses. Outside her blogging world, she is an education, an SEO specialist, and TEFL/TESOL certified.
Join her adventures!