Laresio Lakeside Resort is a lake resort located in the heart of Los Banos, Laguna. I have been to this resort many times with my friends and this place has always been one of my summer getaway destinations! As an adventurer, it always excites me to do a lot of things that challenge me in any way and this resort is one of my most favorite places to go whenever I crave adventures! Nothing excites me more than adventures.
Why visit Laresio Lakeside Resort?
It is a good place for big gatherings and events.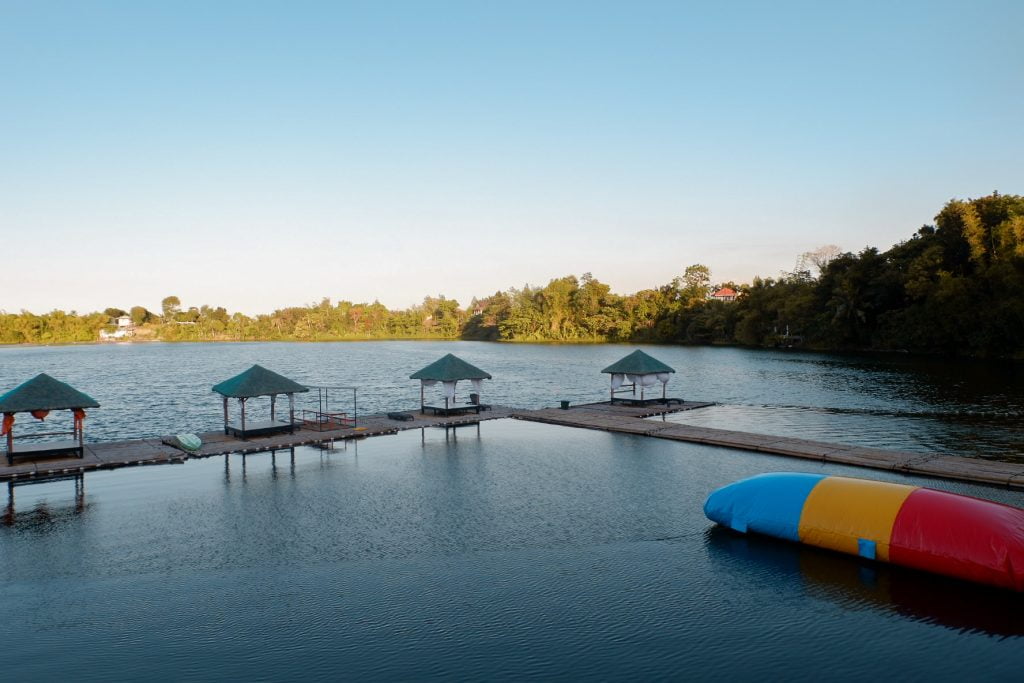 If you are looking for a place to hold special events like team buildings, company outings, retreat, birthday celebration, Laresio Lakeside Resort is highly recommended! Why? It has such a big venue providing the things that you need for your event.
In addition, you will surely never get bored staying in this place because it has a lot of things to offer. You can go karaoke, go swimming, play sports like basketball and many more! From dry activities to wet activities, everything that you see here will make you feel excited.
It satisfies your inner adrenaline junkie.
Been stuck in your daily grind for quite a long time? Do things don't excite you anymore? Then, it's time for you to take a break! This is definitely one of the best places to satisfy your inner adrenaline junkie! With all the thrilling activities that it offers, these will surely get your heart pounding and make your life more exhilarating!
When life gets dull and your daily routine makes you feel nothing at all, this resort is the best place to make yourself feel alive again! Make sure to try all the activities that they have!
A place of relaxation.
If you are not ready to do those adrenaline activities yet, it doesn't matter! Laresio Lakeside Resort is not only a place for adrenaline junkies, but it is also a place for people who want to relax! This is surely a place for you to relax. You can stay at the resort even without doing anything. In fact, even if you stay in your room the entire day will never make you feel bored.
There are still many things to do inside your room. For instance, you can play different board games, go karaoke, or watch movies on Netflix. Yes! You will never run out of options to do in the resort! Moreover, they have nice accommodation! Should you want to go to a massage spa, you can do that as well in the resort!
Package rates are reasonable enough.
Laresio Lakeside Resort offers various packages to choose from depending on your preference. Actually, their packages are divided into two parts in which they have day tour and night tour packages.
If you are planning to stay for 1 day only and want to try all the activities that they have, it is definitely possible! For night tour packages, it is apparently for people who want to go overnight. Additionally, there is a music band that you can enjoy watching every Saturday night! Each package can be purchased at a very reasonable price!
Very accommodating staff.
This is one of the reasons why this resort is worth visiting! All the people working in the resort are friendly and very approachable. In fact, they are always there to help you whenever you need them. Furthermore, even when you have questions, they will always respond to you in a nice way!
It offers great scenic views.
The resort doesn't only offer different kinds of activities. As a matter of fact, it also boasts its great scenic views that it has! You can just sit all day while looking at the calm waters of the lake and getting the breath of fresh air.
Also, you can enjoy looking at the great views of the entire area. It doesn't necessarily mean that you have to do all the fun activities here. In other words, it is still up to you whether you want to sit or want to relax! But, why not do both?
This is your ultimate playground!
Laresio Lakeside Resort is certainly the ultimate playground for everybody! Whether you are young or old, you can still get to play and do whatever you want at the resort! What's so amazing is that they have provided an area for children where they can go cliff diving, not in an extreme way. Adults can play around here, too! This is a place for everybody. A place where you can spend time with your loved ones.
It is close to the metro.
There is no need for you to go further to beat the summer heat because the resort is just located in the city of Los Banos, Laguna which is just two hours away from Manila. No need for long drive hours!
About the Accommodation
My friends and I chose to stay in the Chill Room. The room is huge enough to accommodate a big group of people. In fact, the room can accommodate 15 up to 20 persons. It has a movie projector. More to that, you can use it for a movie marathon and karaoke.
The Chill Room feels like home and it is very comfortable to stay inside. Additionally, there are a lot of board games provided. In that case, you won't run out of the idea of what you should next when you get bored. More to that, there is a hot spring pool next to the room! How amazing!
Changes in Laresio Lakeside Resort
I visited the resort a year ago and now, I came back for another adventure and another blog review. I have noticed some changes they made for the resort. They added some exciting activities! They have added Archery, Beach Volleyball, Floating Basketball, and Glamping! All of these are included in their Supreme Package!
What are you waiting for? Pack your bags now and make the most of your summer at Laresio Lakeside Resort & Spa!
Things to do in the resort
The Pool Park – includes wet wall climbing, vine swing, tight rope crossing, pedal boat, paddleboard.
Outdoor Movie Viewing Every Night
Saturday Night Show
Cliff Diving
Slip n' Fly
Sly n' Fly 2.0
Jump n' Fly (Blob)
Vine Swing
Climb n' Jump
Balsa Rafting
Camp Q – includes Beach Volleyball, Floating Basketball, Glamping
Kayak
Archery
Wall Climbing
Rappeling
Land Zipline
With the use of lockers (bring your own padlock)
Contact
For package and accommodate rates, you may contact the following:
FACEBOOK: Laresio Lakeside Resort
WEBSITE: www.laresio.com.ph
EMAIL ADDRESS: reservations@laresio.com
How to get there?
First, from Manila, take a bus going to Sta. Cruz, Laguna.
Next, tell the driver to drop you off at Bagong Kalsada. The landmark would be the 7-11 store.
Then, ride a tricycle and tell the driver to take you to the resort.
From Alabang, take a bus going to Sta. Cruz, Laguna.
Tell the driver to drop you off at Bagong Kalsada. The landmark would be the 7-11 store.
Lastly, ride a tricycle and tell the driver to take you to Laresio.
Latest Posts:
Related Posts: