If you have any plans on visiting Panay Island soon, then this blog is for you! This blog highlights some of the underrated places to visit when in Panay Island , an island that is located in the region of Western Visayas.
Western Visayas is one of my favorite regions in the country. It is difficult to explain but there is something about this place that makes me want to visit here often. Well, I have just been to this region twice, but I always consider going back here – everything in this place mesmerizes me. Low-cost transport, low crime rate, very accommodating people, the unfiltered spots to visit, its amazing food, and there is actually too many to mention this beautiful region located in the Visayan Island.
I have been missing this place so I wrote another travel blog and I would love to share with you the hidden beauty of the Western Visayas Region, most especially the island of Panay. As you read on this blog, I listed down some of the off-the-beaten destinations that you can visit around Panay Island apart from visiting the infamous Boracay Island, or trying out the Kawa Bath in Tibiao, Antique, or sneaking out at the Molo Mansion in Iloilo City.
Understanding Panay Island
Panay Island is located in the Western Visayas region or Region VI in the Philippines. Western Visayas region is no doubt one of the biggest islands of the country. It is a place where you can mostly uncover the best white-sand beaches, find out the unexplored hidden spots, meet the most accomodating locals ever, and try some of the best local foods that can never be found anywhere. More to that, this is also where you can immerse yourself in the rich culture of the island. Panay is an island and a group of islands in the Western Visayas and is composed of 4 provinces: Aklan, Antique, Iloilo, and Capiz.
How to get to Panay Island?
Panay Island has got four airports. In fact, there are two international airports that can be found on Panay Island. These international airports are in Iloilo and Kalibo. Meanwhile, the other two airports are only operating for domestic. They are in Roxas and Caticlan. Kalibo airport would probably be the most popular one since this is the gateway to Boracay island.
Getting around Panay Island
It is really easy to get around Panay Island. Roads are linked to each island which leads to all amazing spots on the entire island. It is convenient to hop on one island to another since it is very convenient and possible to do it via land travel.
Either you take a bus, van, taxi, jeepney, or tricycle, you can easily transfer from one town to another town. But you have to take note that taxis are only available in Iloilo City. In terms of hopping from one island to another, you may perhaps need to ride a small boat (bangka); most especially if you are considering going to Panay's some neighboring islands that are also part of the Western Visayas region.
Interesting Places to See
There are so many interesting places to visit around Panay Island. Whether it is a historical site, a white-sand beach, an off-the-beaten-path destination, or a place that is yet to be discovered. So here are some of the places to visit when touring around the island.
Gigantes Island, Iloilo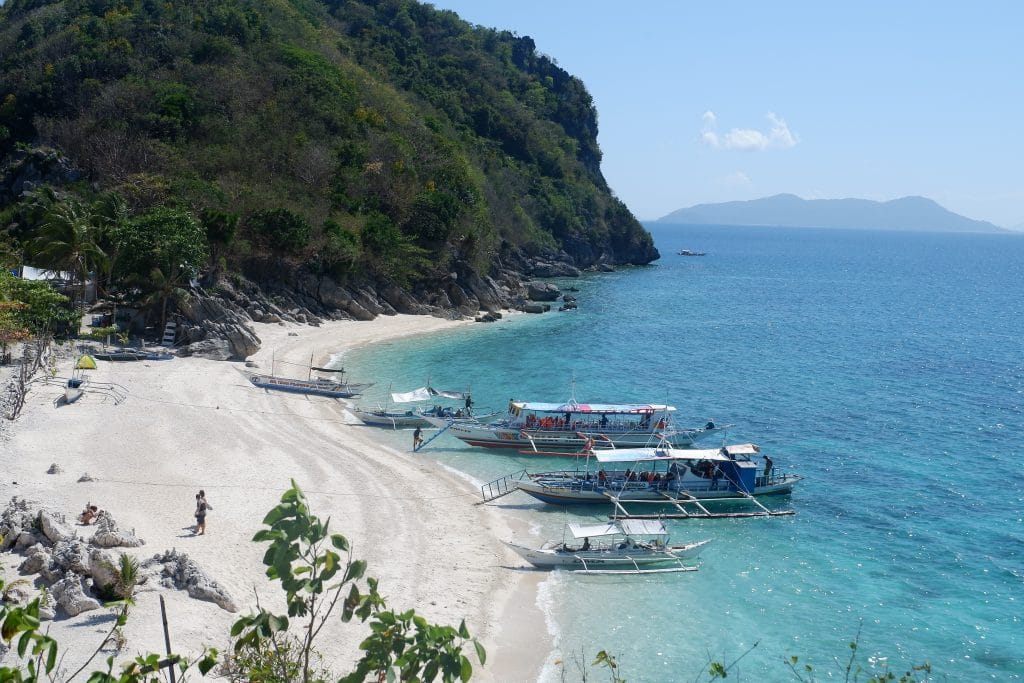 Although Gigantes Island or Isla de Gigantes is becoming a popular destination in Panay, (thanks to the use of social media platform) still, this island is less crowded than Boracay. Situated in the municipality of Carles, Iloilo; composing of ten islands divided into two big islands: Gigantes Sur and Gigantes Norte. But actually, Gigantes Sur is the most-visited island since this is the most accessible.
Each island showcases the most photographed scenes that would definitely make you fall for the place. Its turquoise blue water, interesting rock formations, fine sand (even as fine as Boracay Island's), not to mention the freshest and the most delicious scallops only on Gigantes Island. Everything in this place looks so magical.
The Miagao Church, Iloilo
Iloilo is no doubt rich in historical cultures and even old churches. Make sure to visit one of the best Baroque Romanesque Churches in the Philippines, Miagao Church. Located in the town of Miagao in Iloilo, Miagao Church is a Roman Catholic church is one of UNESCO's World Heritage Sites. Moreover, its one-of-a-kind architectural design makes the church really stand out and popular in the city among local and foreign tourists. Not to mention the history that it tells every tourist that never fades for over the years.
If going on pilgrimage is in the field of your interest, then Miagao Church must be part of your bucketlist when touring around the island of Panay. You may also see other historical churches around Iloilo City.
Garin Farm, Iloilo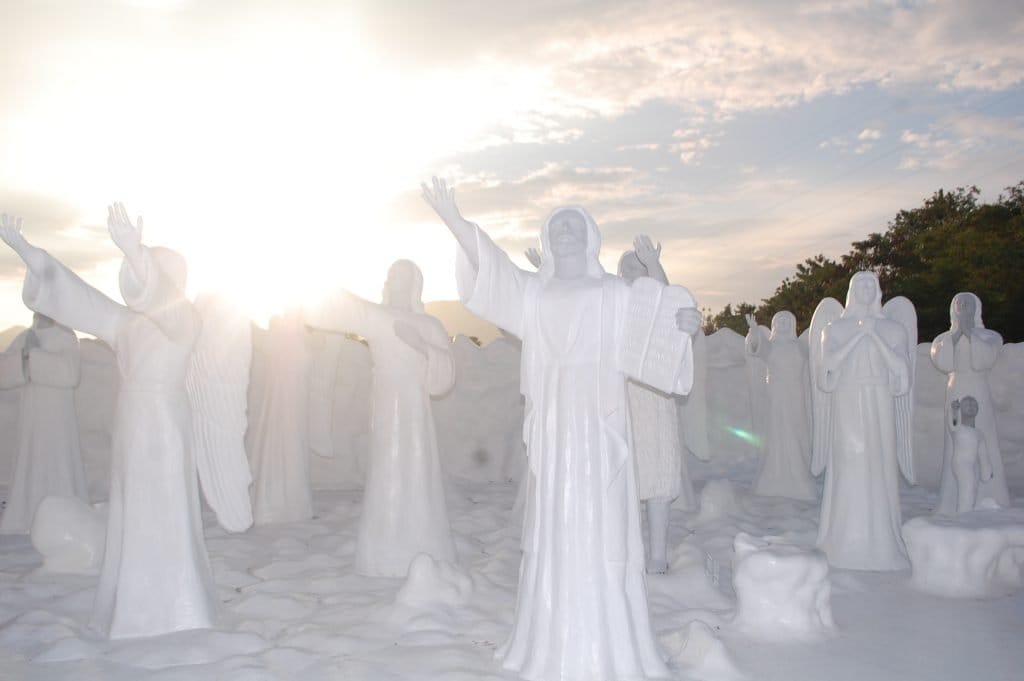 Have you thought once of how it feels like in heaven? I believe everyone does. Most of us are curious about what is like up above in heaven. We totally can't deny the fact that we sometimes contemplate about how that place looks like. But there is a resort that will give you an opportunity to be in a heaven-like place.
Situated in the town of San Joaquin, Garin Farm Resort is also a pilgrimage site in the city of Iloilo. Although it is becoming a more popular tourist attraction, I believe many people are still not familiar with this place. As you enter the farm, you will see a lot of farm animals, plants, and trees around the area. Then as you walk further, a staircase is noticeable which would lead you to the heaven attraction – a stairway to heaven.
Either you take you the 456-step staircase or the golf cart going up to the heaven site. Once you reach the top, you will be rewarded by the beautiful overlooking view of the town of San Joaquin. More to that, it is actually an open area above so the clouds are visible up in the sky. The entire is also colored in white and even the statues of the saints that are on display. You won't only enjoy the place, but it feels like you are in the afterlife. This pilgrimage site is would definitely take you to another level of getting reconnected with God.
Mararison Island, Antique
See the unspoiled beauty of Mararision Island located in the town of Culasi. Culasi is a town in Antique which is 4-5 hours from Iloilo City. Hidden by spectacular mountain ranges, Mararison Island (or also known as Malalison Island) is a beach destination that is 15 minutes away from the town of Culasi. The island boasts a long stretched of the white sand bar and a stunning view of the rolling hills. Its rolling hills are kind of similar to Batanes Island's rolling hills which in fact Mararison Island is often called "Batanes of Western Visayas." In addition, you will get a chance to meet a lot of amazing locals here!
Get to see the beauty of the entire island by trekking the hills. The trekking can be done for an hour or depending on your pace. More to that, you will see some pitcher plants – one of the endangered species. Take note that you need to have a tour guide to trek the hill.
Blue Lagoon & Malumpati Eco Cold Spring
For adventure seekers, go water river tubing at Malumpati Eco Cold Spring in Antique. You may experience to go tubing in one of the cleanest rivers in the Philippines – Bugang River or also known as the Blue Lagoon.
Other than island hopping or going on a city tour, witnessing the clear waters of the blue lagoon and diving into the cold spring of Pandan, Antique would be one of the best things to do when traveling around Panay Island.
Antique Rice Terraces
If you haven't seen yet the Banaue Rice Terraces of in Ifugao, you can see Panay Island's rice terraces instead. Witness the beauty of the terraces located in the town of Valderrama. Discover the hidden wonders of the rice terraces in Antique. The greeneries – the green valleys of the town, and its natural beauty would definitely entice you, make you feel so relaxed, help you get away from stress!
Baybay Beach, Capiz
Situated in the city of Roxas in Capiz, Baybay beach is definitely one of the must-see destinations around Panay Island. It is just not a beach destination, but it is also a food hub in the city. There are a lot of restaurants built along the road which are obviously nearby the shore.
The Seafood Capital of the Philippines – Capiz is where you can have the freshest kinds of seafood in Panay Island! Imagine having some great food in a restaurant with a great of the sea. Fresh seafood, the breeze of the calm seawater, the soft waves – you can experience all of this as you dine in at one of the restaurants at Baybay beach. Doesn't that feel good?! You can even walk along the shore while waiting for your order.
The Sta. Monica Church, Capiz
Built in 1774, the Sta. Monica Church is located in Panay, Capiz. This is one of the places that you must see when in Capiz. Considered as the national cultural treasure, Sta. Monica church is one of the oldest churches in Panay Island.
Its timeless beauty is unquestionable. In addition to that, this is where you can see the biggest bell (also known as Dakong Lingganay in the country. Not to mention that it is measured by 7 feet in diameter, 5 feet in height, and weighs 10.4 tons or 23,000 pounds – no doubt that the Sta. Monica's bell is considered the biggest bell not just in the Philippines, but also in Asia.
The Ruins of Alcatraz, Capiz
Have you ever heard of the Ruins of Alcatraz? It resembles a setting in one of the famous movies, "Maze Runner". If you take a look at the ruins, it is kind of similar to the abandoned, infamous island jail located in San Francisco Bay in the USA.
When you visit The Ruins of Alcatraz, it would definitely take you back in time and the place itself will give an ancient vibe which you would surely enjoy it. In addition, you can take a lot of instragrammable photos in this place. One more thing that you need to know about this ruins is, it is used to be a resort but due to a huge typhoon, it got destroyed and was abandoned by the owners.
Hinugtan Beach, Aklan
Located in Buruanga, Aklan, Hinugtuan Beach is a boat ride away from Boracay. If you want to get away from crowded places like Boracay Island, or just want to escape from the crowd, then you can head over to Hinugtuan Beach. It might not as popular as Boracay Island, but Hinugtuan Beach also boasts a white-sand beach and sapphire blue seawater. Moreover, since the place hasn't been packed yet with many tourists. the beach is surely still well-preserved as it becomes an ideal place for water sports activities.
Bakhawan Eco-park and Research Centre, Aklan
Apart from visiting the islands of Aklan, you can also visit The Bakhawan Forest. Upon arriving at the Kalibo airport, you can head straight to Bakhawan Eco-park since this is just a 10-minute drive from the airport. Bakhawan Eco-park and Research Center is said to be one of the most successful mangrove reforestation projects in Southeast Asia. In addition, its view is quite similar to the mangrove forest in Bantayan Island, Cebu. If you want to see a more refreshing view, you may want to visit this site as well!
Hacienda Maria, Aklan
Another adventure awaits in the island of Panay. Located in the town of Buruanga, there is a waterfall that is worth visiting! Hacienda Maria is one of the most thrilling adventures that you can do when you are in Aklan.
If you are craving more adventures, then this place suits you. You need to hike two kilometers up a steep mountain. Then, you need to walk a few more kilometers in order to reach the area. It seems a bit challenging but it rewards you with a stunning view of the waterfall and the pleasing sound of it.
Is Western Visayas part of your bucket list? These are just some of the places to visit when traveling around Panay Island. Make sure to include these places when traveling around the island.
Latest Posts:
Read Next: