WELCOME TO CENTRAL MINDANAO TRAVEL GUIDE! If you are planning to travel around Central Mindanao anytime soon, this travel guide is perfect for you. This travel guide highlights the best places to visit in Central Mindanao or SOCCSKSARGEN!
SOCCSKSARGEN – located in Mindanao is far by one of the cheapest tourist destinations in the Philippines that I have recently visited. There's a cherry on top of SOCCSKSARGEN or The Central Mindanao; it is totally cheap to travel here!
Affordable and Safe – are two words that travelers would love to hear about a place they're visiting. If it is affordable to reach a certain tourist destination, who wouldn't dare to check out the beauty of that place? Safety. This is one of the most important things that travelers consider when visiting a particular destination.
The Central Mindanao (Region XII)
The Central Mindanao is an administrative region in the Philippines, designated as Region XII. This region is now more commonly known as SOCCSKSARGEN. SOCCSKSARGEN centers on its four provinces and one of its cities namely called South Cotabato, Cotabato, Sultan Kudarat, Sarangani, and General Santos City.
Surrounded by vast forests, high mountains, wonderful lakes, and majestic waterfalls, the region is surely one of the best places to visit in the country. An underrated region that deserves to get more recognition from local and foreign tourists.
Best Places to visit in SOCCSKSARGEN (Central Mindanao)
Listed down are the must-see attractions in the region. These are the best places that you should see when traveling around Central Mindanao.
Seven Waterfalls, South Cotabato
There is something so special about the province of South Cotabato – a wide range of rainforests, freshest tilapia from its lake, unique culture and traditions, and breathtaking, hidden waterfalls scattered in the wild.
Situated in Lake Sebu; a well-known town in South Cotabato boasts the natural wonders of the seven waterfalls that can only be seen in the province itself. Namely as Hikong Alo (Passage), Hikong Bente (Immeasurable), Hikong B'lebel (Zigzag or Coil), Hikong Lowig (Booth), Hikong Ukol (Wildflower), Hikong K-fo-i (Short), and Hikong Tonok (Soil).
The first 2 waterfalls – Hikong Alo and Hikong Bente, the only falls that are accessible to the public. Meanwhile, you can only see the other five waterfalls by ziplining. Get an adrenaline rush as you ride the 180-meter high zip line, known as the highest and longest zipline in Southeast Asia! This is a one-of-a-kind experience that shouldn't be missed, isn't it?
The view from above would definitely make you speechless! (That actually happened to me.)
The Grand Mosque, Cotabato
The Grand Mosque or also known as The Sultan Hassal Bolkiah Masjid is one of the mosques that you can visit in Cotabato. Dubbed as the largest mosque in the Philippines, The Grand Mosque can accommodate 15,000 people. Funded by the Sultan of Brunei, this mosque actually cost around Php300 million. Make sure to wear proper attire when entering the mosque.
No Entrance Fee.
Asik-Asik Falls, North Cotabato
Asik-Asik Falls is one of the most popular destinations in SOCCSKSARGEN. Your trip wouldn't be complete without visiting these majestic falls situated in the province of Cotabato. This is quite far from the city yet surely worth visiting! Fall in love with the 140-meter wide curtain-like spring falls and appreciate God's masterpiece! It feels like you don't want to leave this place anymore.
Lotus Flower, Lake Sebu
This is definitely one for the books. You shouldn't miss out on visiting the beauty of the lotus flowers in Lake Sebu! Wear a traditional costume and take a lot of instagrammable photos while taking a wooden boat. Catch the lotus flower blooming in the morning from 5 AM-8 AM. The lotus flower viewing is only until 10 AM. There's no entrance fee. All you need is to rent a boat (which usually costs around Php 200 per ride) and a good camera!!
Lang Dulay Weaving Center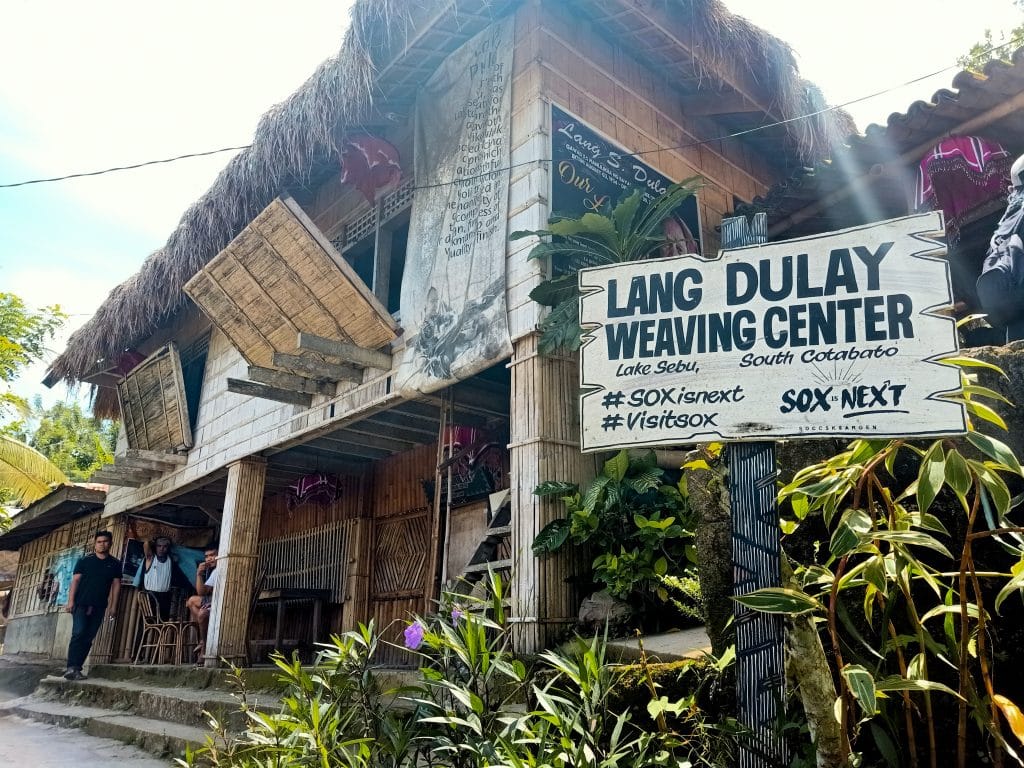 Named after the Lang Dulay, a Filipino traditional weaver (the National Living Treasures Awardee), this weaving center was built in order to preserve the culture and traditions of the Tboli people (indigenous people in South Cotabato) and to preserve the art of weaving in the region and the Philippines.
Lang Dulay Weaving Center has become one of the top tourist attractions in South Cotabato. If you want to have a deeper knowledge about the Philippine culture, then this place must be in your bucket list! You may watch and learn a lot of things about weaving from Lang Dulay's family!
No Entrance Fee. Donations will do.
Lake Holon
For adventure seekers and outdoor enthusiasts, visiting Lake Holon is the best thing that you can do when in South Cotabato. This is one of the Tboli tribe's hidden gems that is something to be very proud of!
Lake Holon is 1,341 meters above sea level it takes about 3-4 hours to reach the lake. Please know that you need to contact the Tourism Office before visiting Lake Holon. They highly encourage tourists to book in advance because they limit the number of guests visiting per day.
New La Union, Sarangani Eco Park
If you are up for another new adventure, you may visit Sarangani Eco Park. Sarangani is just two hours away from General Santos City. Quench your thirst for an adrenaline rush by trying out one of the thrilling activities in the province. You can go white water tubing in the clear waters of the Pangi River. Ride on the improvised rubber tube and experience the 1.6-kilometer ride over the water. No need to worry about this activity. In addition, it is totally safe. You will have a guide until it is done.
No Entrance Fee.
For the tubing activity, its cost depends on the distance.
1.6 KM = Php 130; 2.1 KM = Php 200, 4.1 KM = Php 300 (As of writing)
General Santos Fish Port Complex
GenSan is the biggest importer of tuna. This is where you can get a sight of the biggest tuna in the country. To be able to see it, you need to get to the port from 8 AM to 10 AM. Make sure to visit the Tuna Capital of the Philippines to learn more about fisheries and aquaculture.
No Entrance Fee.
The Pink Mosque
The Pink Mosque is located in the town of Datu Saudi Ampatuan in the province of Maguindanao. Maguindanao is part of BARMM and obviously not part of Central Mindanao. But geographically speaking, the province of Maguindanao is situated in the central part of Mindanao; boarded by Cotabato and Sultan Kudarat. So if you are traveling around Central Mindanao, you can also visit the Pink Mosque to tick off another bucket list! Note that this is the only pink mosque that you can find in the Philippines!
No Entrance Fee.
Best Things to do in Central Mindanao
Chase the waterfalls.
Visit the mosques.
Get to know more about the indigenous people and tribes in the country and learn about their ways of living.
Witness the breathtaking view of the lake.
Try the highest zipline in Southeast Asia.
Go on a food trip.
Visit the Capital Tuna of the Philippines.
Taste the freshest seafood in the region.
Hike Lake Holon and go camping.
Whether you are trying to escape from reality, get away from hustle and bustle of life, or have an open mind about the unknown culture, traveling around Central Mindanao provides the best experience that you could ever have!
Among the places mentioned above, what do you think is the best place to visit in Central Mindanao? I hope this travel guide to Central Mindanao helps!
Latest Posts:
Read Next:
A half-travel blogger in the Philippines (based in Cavite) and a half-K-pop enthusiast, Ara Patria (The Adventuress) pursues her passion and love for traveling. She's been blogging for years, where she writes about her own travel experiences and promotes the wonders of the Philippines. Not only does she promote the beauty of her country, but she also focuses on promoting sustainable tourism. She dreams to travel the world and inspire other people through her own written works and captured moments with her camera.
The Adventuress is a travel blogger with a purpose. She aims to inspire other people through her personal experiences, stories, and lenses. Outside her blogging world, she is an English teacher, an SEO specialist, and TEFL/TESOL certified.
Join her adventures!