Have you ever heard of SOCCSKSARGEN? Perhaps some of you might have already been there, or it is your first time hearing about this place! Home of the T'boli tribe, SOCCSKSARGEN is a region in the Philippines located in Mindanao. The region is definitely culturally diverse – that has an authentic culture.
If you want to learn more about the indigenous culture and traditions, the well-preserved tribes of the Philippines, discover the unexplored areas, and taste different local foods; then you must put SOX on your bucket list! So, if you are planning to travel around Central Mindanao, then just read this article.
Understanding SOCCSKSARGEN: Central Mindanao
SOCCSKSARGEN or SOX stands for four provinces and one city; South Cotabato (SOC), Cotabato(C), Sultan Kudarat(SK), Sarangani(SAR), and General Santos(GEN). Formerly known as Central Mindanao, SOCCSKSARGEN is a region of the Philippines – designated as Region 12.
How to get to Central Mindanao?
From Manila: There are two gateways to SOCCSKSARGEN. Either you book a flight to General Santos City or Cotabato City through Cebu Pacific or Philippine Airlines. The flight takes about two hours.
In our case, our entry point is General Santos City while our exit point is Cotabato. But you can also do it either way.
UPDATED COVID-19 TRAVEL REQUIREMENTS AND GUIDELINES (as of 2022!)
FULLY VACCINATED INDIVIDUALS
Valid ID
SPASS Permit
Vaxx Card or Vaxx Certificate
TAPAT QR Code, if bound for General Santos City
UNVACCINATED AND PARTIALLY VACCINATED INDIVIDUALS
Valid ID
Negative RT-PCR Test Result from any DOH-accredited laboratories taken within seventy-two (72) hours prior to arrival
SPASS Permit
TAPAT QR Code, if bound for General Santos City
Take note that this applies if your entry point is in General Santos City.
SOCCSKSARGEN & Maguindanao Sample Itinerary
Day 1: General Santos City, Sarangani
We didn't really have much time to travel around the city of General Santos so we did white water tubing in Sarangani. White water tubing at Eco Park is one of the most thrilling activities to do in Sarangani!
Arrival at General Santos City Airport
From the airport to terminal going to Sarangani
New La Union, Sarangani Eco Park
Go White Water Tubing at the Eco Park
Head back to General Santos City
How to get to Sarangani from Gensan City?
From General Santos, take a van heading to Maitum Ablog Terminal. Travel time is for about 2 hours. Then. from Maitum proper, ride habal-habal or tricycle to New La Union.
Please take note that you need to get back to General Santos City before 4 PM because the last trip van for Lake Sebu is only until 4 PM.
How to get to Lake Sebu from Gensan City?
From GenSan, ride a trike to Bulaong Terminal. Then ride a direct van bound to Lake Sebu.
But if you failed to catch the 4PM last trip, you can take a van heading to Marvel (Php 90/1 hour travel time). Then, ride another van to Lake Sebu (Php 80/1 hour travel).
Day 2: Lake Sebu, South Cotabato
I could say that this is the highlight of our trip. Lake Sebu is just a small town in South Cotabato yet it has a lot of things to offer! In fact, there are a lot of things to do here and interesting places to visit here in Lake Sebu!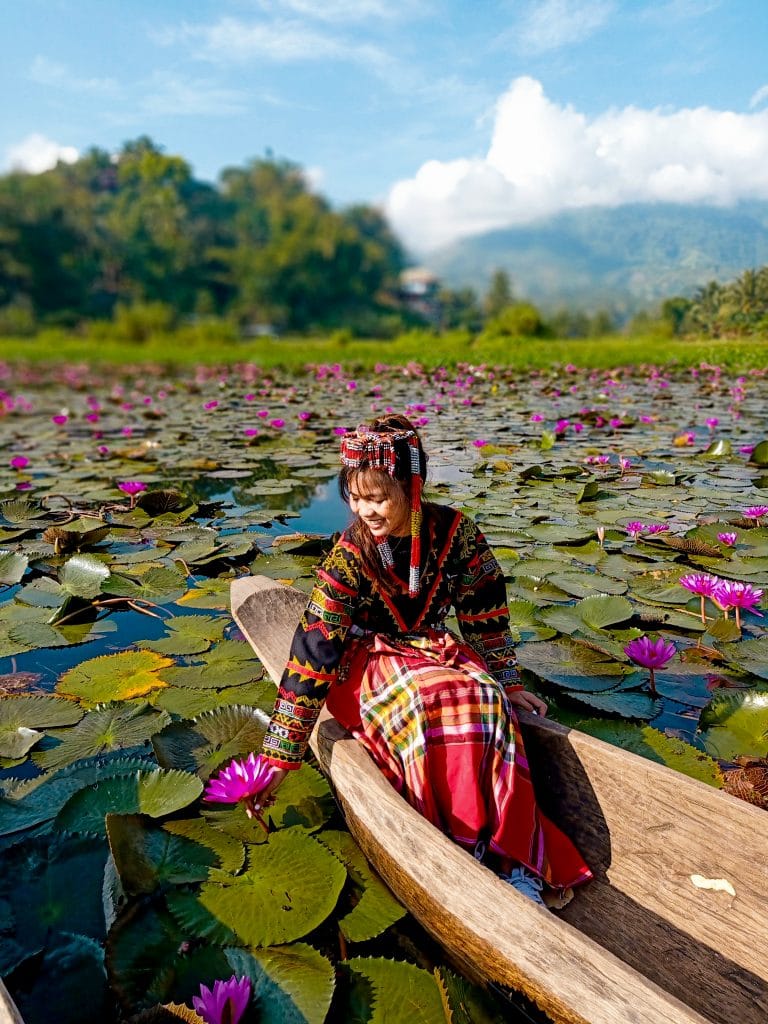 Lotus Flower
Lang Dulay Weaving Center
I Love Lake Sebu Signage
Seven Waterfalls
Divine Mercy
Sepaka River
Evalandia
Day 3: Maguindanao
Personally, there is nothing really much to see in Maguindanao, but make sure to visit the capitol and the Pink Mosque! These are surely one of the unique spots to see in Maguindanao!
Sultan Kudarat Capitol
Pink Mosque, Maguindanao
Pink Mosque to Cotabato City
How to get to Sultan Kudarat from Lake Sebu?
From Lake Sebu terminal, ride a van bound to Surallah terminal. Travel time is about 45 minutes. Then, from Surallah terminal, ride another van bound to Isulan terminal; this is another 45 minutes ride. Once you arrive at the Isulan terminal, just walk ahead to the capitol.
How to get to Pink Mosque from Sultan Kudarat?
From Isulan terminal, ride a husky bus. You can ride a husky bus heading to Cotabato. Just tell the driver to drop you off at Sinsuat. Travel time is about an hour. Once you arrive at Sinsuat, just walk ahead to the Pink Mosque.
Day 4: North Cotabato
Cotabato City
Asik-asik Falls, North Cotabato (Whole Day)
I am 100% certain that Asik-asik falls is truly one of the most majestic waterfalls in the Philippines!
How to get to Cotabato City from Pink Mosque?
From Sinsuat, just ride a husky bus bound to Cotabato City. Travel time is around 2 hours and 30 minutes.
How to get to Asik-asik Falls from Cotabato City?
From Cotabato City, ride a tricycle and head to the bus terminal. Then, ride a bus to Libungan Public Market. Travel time is about 1 hour. There are habal-habal drivers that offer a ride to Asik Asik Falls. The travel time from Libungan market to the falls is about 1 hour.
Day 5: Back to Manila
Sample Budget & Expenses
DAY 1
| | |
| --- | --- |
| Taxi from Gensan Airport to Ablob Terminal | Php 130/3 pax |
| Van from Ablob Terminal to Sarangani | Php 130/3 pax |
| Water Tubing Activity in Sarangani | Php 200/person |
| Trike from the market to the Eco Park | Php 150/3 pax back & forth |
| Van from Sarangani to GenSan Terminal to Lake Sebu | Php 130/pax |
| SLT Homestay | Php 350/night |
DAY 2
T'boli Costume Rental Fee
Php 200
7 Waterfalls Zipline Fee
Php 300/pax weekdays;
Php 350/pax weekends
Picture for the zip line
Php 400/3 pax
Souvenirs
Php 200
Lake Sebu Tour Guide Fee
Php 750/2 pax
Tourism Lodge
Php 100/night
DAY 3
| | |
| --- | --- |
| Lake Sebu to Surallah | Php 40/pax |
| Surallah to Isullah | Php 50/pax |
| Isullah to Pink Mosque | Php 72/pax |
| Pink Mosque to Cotabato City | Php 50/pax |
| Trike to Hostel | Php 100/pax |
| Hostel | Php 250/night |
DAY 4
| | |
| --- | --- |
| Tricycle to the bus terminal | Php 10/pax |
| Bus from Cotabato City to Libungan Market | Php 72/pax |
| Libungan Market to Asik-asik Falls Tour Guide Fee | Php 700/2 pax |
| Van to Cotabato City | Php 70/pax |
| Hostel | Php 250/night |
DAY 5
| | |
| --- | --- |
| Cab to Cotabato Airport | Php 8/pax |
| Tricycle | Php 10/pax |
Please note that food is not included in the list. The estimated budget would be around Php 5000-Php 6000 which is good for 5 days.
Where to stay in SOCCSKSARGEN?
Lake Sebu, South Cotabato
SLT Homestay: This homestay is one of the most recommended accommodations when staying in Lake Sebu. It is a plainly nipa hut style accommodation. They provide a huge room which is good for sharing. Restrooms are good for sharing, too. In addition, you can rent their traditional costumes which can be used for the entire day.
Rate: Php 350/night with breakfast
Tourism Lodge: This is one of the homestays in Lake Sebu. Obviously much cheaper than SLT homestay. The rooms they offer are also good for sharing. The good thing is, it has its own restroom. In addition, they have free unlimited water. The staff is very accommodating.
Rate: Php 100/php w/o food (Make sure you bring food with you when you check-in here because there are no nearby stores around the area.
Cotabato City
Double Decker Inn
Address: Jose Lim Sr. Street cor, Makakua Street
Pension Rafael
Address: San Isidro Street, Cotabato City
Cotabato Diamond Hotel
Address: Makakua corner Jose Lim Sr. Streets
Azaleas Pension House
Address: Sinsuat Avenue
Must-try cheap eats
Taste the local food of South Cotabato. There's a lot of tilapia in the province. With that, they've got a lot of different types of dishes made of tilapia fish. Chicharong Tilapia is a must-try!
You must also try the local delicacy "pastil" in Cotabato. It is a rice dish wrapped in leaves with sauteed chicken strips.
Tips & Reminders
Try to catch the earliest flight in order to maximize your schedule especially if you are traveling around for 5 days.
Direct vans from GenSan to Lake Sebu are only until 4 PM. Make sure to arrive at the terminal before the last trip schedule.
Checkpoints are everywhere. But there's no need to worry about anything. It is relatively safe to go around SOX. Although I can't be a hundred percent sure in some parts of Maguindanao. So stay vigilant.
Once you arrive in Sinsuat, a lot of tricycle drivers will offer to take you to the Pink Mosque. (Makukulit sila, actually.) But you do not really need to ride a tricycle since it is just a walking distance.
Make sure to wear decent clothes when visiting mosques. Learn to respect others' cultures.
Bring a lot of cash. To be honest, it is quite difficult to find ATMs most especially in Lake Sebu. Unless you are in Cotabato City.
Wear comfortable clothes when heading to Asik-Asik Falls. You are going to climb up and down the 376-stone steps to the falls. Put sunscreen to protect the skin.
You can bring food with you to Asik-Asik Falls. But please leave no trash. Protect nature.
In order to experience more the place's culture and tradition, one of the best things to do is trying its traditional costumes.
The best time to visit and see the lotus flowers is as early as 5 AM.
Recommended Tour Guides
Lake Sebu, South Cotabato
Kuya Jeoffrey – 09972712003
Kuya Jobert – 09058746323
Asik-asik Falls, North Cotabato
Kuya Dodong- 09480262262
Kuya Nik- 09265093179
SOCCSKSARGEN must be your next travel destination. I believe that this is one of the most underrated places in the Philippines, yet it shows off the other unique side beauty of the country. This place will definitely take you to such an unimaginable place that is filled with a rich history.
Did this SOCCSKSARGEN travel guide help you?
Latest Posts:
Read Next:
A half-travel blogger in the Philippines (based in Cavite) and a half-K-pop enthusiast, Ara Patria (The Adventuress) pursues her passion and love for traveling. She's been blogging for years, where she writes about her own travel experiences and promotes the wonders of the Philippines. Not only does she promote the beauty of her country, but she also focuses on promoting sustainable tourism. She dreams to travel the world and inspire other people through her own written works and captured moments with her camera.
The Adventuress is a travel blogger with a purpose. She aims to inspire other people through her personal experiences, stories, and lenses. Outside her blogging world, she is an English teacher, an SEO specialist, and TEFL/TESOL certified.
Join her adventures!