WELCOME TO GIGANTES ISLAND TRAVEL GUIDE! Have you ever heard of Gigantes Island or Isla de Gigantes? Doesn't it sound familiar? If you haven't heard of it, this is one of the most beautiful islands in the Western Visayas region.
About Gigantes Island
Gigantes Island should be on your bucket list! It is also called Isla de Gigantes. A must-see island that you shouldn't miss out when in Iloilo. Composed of ten islands and separated into two main big islands. Gigantes Sur (South) and Gigantes Norte (North) are the main big islands.
Isla de Gigantes is part of the municipality of Carles, Iloilo which is 2 hours and 30 minutes away from the city. As of now, according to our tour guide, they are focusing on having tours on Gigantes Sur. It is because Gigantes Norte is not quite accessible at the moment. Yet, he told us that they are starting to make plans on how they can improve tourism for the entire island.
Why? It is to give more opportunities to all the locals living in both Gigantes Sur and Gigantes Norte.
How to get to Gigantes Island (Isla de Gigantes)
From Iloilo City to Gigantes Island
Go to Tagbak Terminal. From there, take a bus or van that has signboard Carles and it will immediately drop you off in Bancal Port.
Fare: (As of this writing)
Iloilo City – Carles Php 220
From Antique to Gigantes Island
If you will be coming from Antique, going back to Iloilo City is not suggested. Coming from Roxas City will be the easiest route as it only takes 2 hours to get to Carles.
From Antique, you need to take three rides. There is no direct route of public commute going to Carles from Antique. Ride a van going to Kalibo and drop off the terminal.
Then, ride a van again via Capiz and drop off the terminal. Finally, take a van or bus going to Carles.
Fare:
Antique – Kalibo Php 140
Kalibo – Roxas Php 140
Roxas to Kalibo Php 140
From Roxas City to Gigantes Island
From Roxas Integrated Transport Terminal, take a Ceres bus from Roxas to Balasan. Drop off to Gaisano Balasan then get a trike headed to Bancal port. There's no direct route of public commute going to Carles when you're coming from Roxas City.
Fare:
Roxas – Estancia Php 70
Estancia – Bancal Port via tricycle Php 100
Then, from Bancal Port, you need to ride a pump boat which will take you to the island. It takes about an hour and a half to reach the island.
Places to see in Gigantes Island
Tankee Lagoon
It is a natural saltwater lagoon has a little reminiscent of a lagoon in El Nido, Palawan. The hidden pool has rock formations surrounding it which makes the place so magical. You can go swimming in the shallow waters of the lagoon. More to that, this place is famous for cliff diving. You might also see some monkeys around the area.
Little Boracay
Named after Boracay, this small island refers to as "Little Boracay". It has very fine white sand and turquoise clear water. As you reach the island, you will fall in love with its natural beauty and you may also agree that it is like Boracay. Well, except for the fact that it is less crowded than Boracay.

You might also notice a big rock on the island that our tour guides call it "gorilla rock". The funny truth about it is as you take a look closer to it, it has a resemblance of the gorilla's face. Although, I see it like a dog, haha!
Antonia Beach
Our third stop. Antonia Beach is an owned private island resort. I am amazed to see how the locals preserve the island. It has a long white-sand beach with some coconut trees. You can have lunch here and go snorkeling as well. You have to pay for Php 50 when you rent snorkeling gear. The water is crystal clear and even if you go swimming in the shallow part, you will already get to see some kinds of fish.
Bantigue Sandbar
Bantigue Sandbar is where you can go for lunch before finishing your island hopping. There are so many kinds of seafood to choose from. You can also view the other islands from the sandbar. That will serve as your backdrop when you take pictures and you will definitely love it!
Cabugao Gamay Island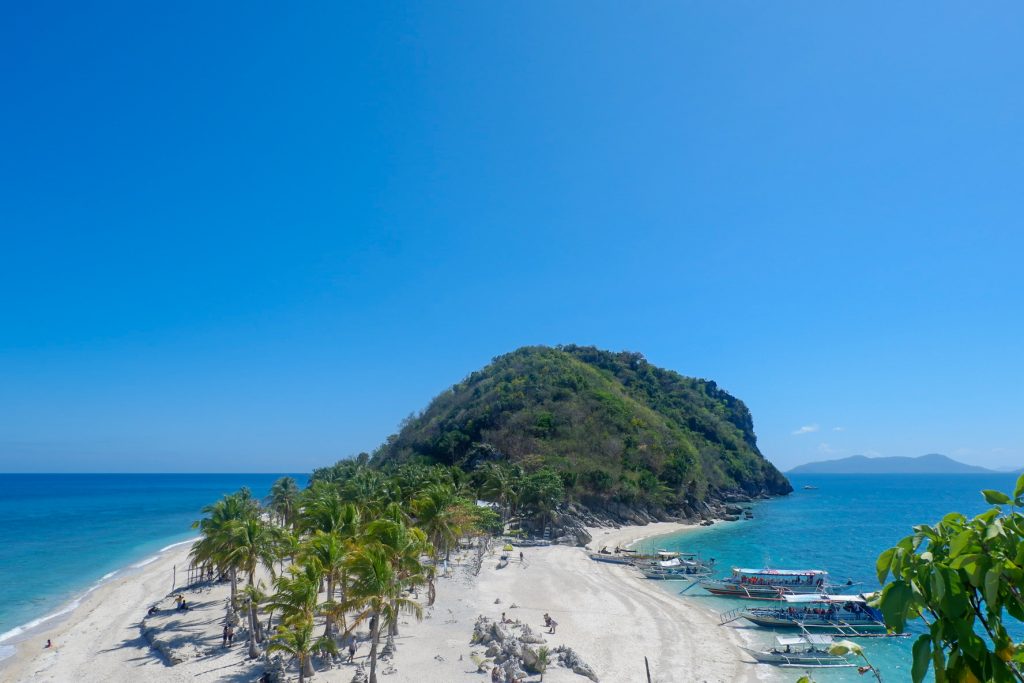 This is the most popular island among the islands of Isla de Gigantes. Also, the most picturesque of all. There is a viewing deck in which you see the bird's eye view of the island.
The sand is as fine as the sand of Little Boracay. The entire island is clean and very beautiful! You will definitely love how peaceful it is!
The Scallops Capital of the Philippines
Known as the "Scallops Capital of the Philippines", Isla de Gigantes is rich in scallops! Scallops on the island are the best! They taste delicious! I ate so much rice because of the scallops.
This seafood is addicting. What I love about it is it doesn't smell that bad. Unlike other kinds of seafood and it is not something that you won't get tired of eating! Grabe talaga. Sobrang saraaaaaaaaaaaaaap! Beside to that, scallops can be one of the reasons why you would want to go back to Gigantes Island.
Island Hopping Packages: Where to book?
You may book your tour with Las Islas Travel and Tours. They offer day tour for island hopping at Isla de Gigantes for only Php 999!!! It is very cheap and you don't need to pay for other extra charges. Traveling solo is not a problem because the staff is very accommodating, friendly, and a good photographer!!!

Gigantes Island is not as popular as other beaches or islands yet, this place is worth to visit! Everything is picture-perfect and you will definitely get to fall in love with the island! I'm telling you, one day is not enough to see the beauty of it! Indeed a hidden gem in the Philippines!
Did this Gigantes Island travel guide help you?
Updated as of June 17, 2020.
Latest Posts:
Read Next:
A half-travel blogger in the Philippines (based in Cavite) and a half-K-pop enthusiast, Ara Patria (The Adventuress) pursues her passion and love for traveling. She's been blogging for years, where she writes about her own travel experiences and promotes the wonders of the Philippines. Not only does she promote the beauty of her country, but she also focuses on promoting sustainable tourism. She dreams to travel the world and inspire other people through her own written works and captured moments with her camera.
The Adventuress is a travel blogger with a purpose. She aims to inspire other people through her personal experiences, stories, and lenses. Outside her blogging world, she is an English teacher, an SEO specialist, and TEFL/TESOL certified.
Join her adventures!