Have you ever been to Cebu Island? Surely, Cebu Island is one of the top tourist destinations among local and foreign tourists. I have been to Cebu Island four years ago. I could say that I really fell for this place. The first time I went here, I told myself that I would go back to this place one day. This year, I decided to visit Cebu together with my friends. We stayed at Palmbeach Resort & Spa located on Mactan Island. It is definitely way more different than my first visit because it is my first to be on Mactan Island!
There are too many resorts to choose from when you consider staying around Mactan Island. Mactan Island is just 20-30 minutes away from the airport which is much more convenient for most of the tourists. One of the resorts to stay at is the Palmbeach Resort & Spa. I have never been to Mactan Island yet so I wonder why not stay at one of the resorts there in order to experience the beauty of the island.
About Palmbeach Resort & Spa
PalmBeach Resort & Spa is a small boutique resort located in Mactan Cebu. It has been running for 8 years now which has over 50 spacious rooms with good-quality, modern facilities around the area.
In addition, Palm Beach Resort & Spa offers a stunning view of the sea, relaxing scenery, and peaceful ambiance. Indeed one of the best places to stay at when in Mactan Island, Cebu.
Things to Expect
Palmbeach Resort & Spa has surely a lot to offer. There are so many things to do at the resort. From the room to the swimming pool, all the way down to the lobby area, you will never get bored of staying at this resort.
My friends and I only stayed overnight at the resort. We wanted to stay more for days because an overnight stay was surely not enough for us. Thus, we really enjoyed our stay here. But we only had a day to stay in Cebu since we needed to go back to Manila. Anyway, I listed down some of the things that you can expect from when you stay at Palmbeach Resort.
Stay overnight at one of each accommodation.
The resort has three different types of rooms to stay in. Each room has its own almost the same features. It has a standard room, deluxe room, and suite room.
In our case, we opted to stay in a deluxe room. Our room was on the third floor of the resort. The moment we entered the room, we instantly loved it! It is spacious and it actually looks like an apartment type. You can find a kitchenette, a private bathroom, a minibar, a small living room, a dresser, and a veranda.
There was so much space inside the room. We didn't have any problem with putting our stuff. The entire room looked so clean. Even the bathroom looked neat and smelled good.
What you will really love about the room is, you can stay here all day long. There is a cable TV and fast Wi-Fi connection if you don't feel like going out of your room. Moreover, there is a minibar that you can use when you want to chill and drink with your family or friends. It is comfortable inside. The air-conditioned is working perfectly fine so it is really cool inside the room. The amenities are good enough as well.
As I mentioned above, there is a veranda where you can stay to catch the sunrise or the sunset. Although it seems impossible to fully catch them since the deluxe room is not facing the front beach.
Dip yourself in the swimming pool.
Definitely one of the best things to do at the resort! There are two swimming pools in the area and one Jacuzzi. Each pool offers a nice beach view! Apart from that, the other swimming pool is actually elevated so the sea view from above seemingly looks much better. Also, they look really nice at night!
My friends and I had so much fun swimming in the morning and even at night. The scenery was totally beautiful. In the morning, you could hear the humming of the birds flying around the area. The breeze that's coming from the ocean was relaxing. It was amazing! At night, you could feel the cool breeze which would make you want to stay more in the pool.
But if you don't want to go swimming anymore, you can just stay at the poolside and witness God's beautiful creation.
Have a morning feast at Sunrise Restaurant.
Palmbeach Resort & Spa has its own restaurant. If you are staying at the resort, they offer free breakfast at the Sunrise Restaurant.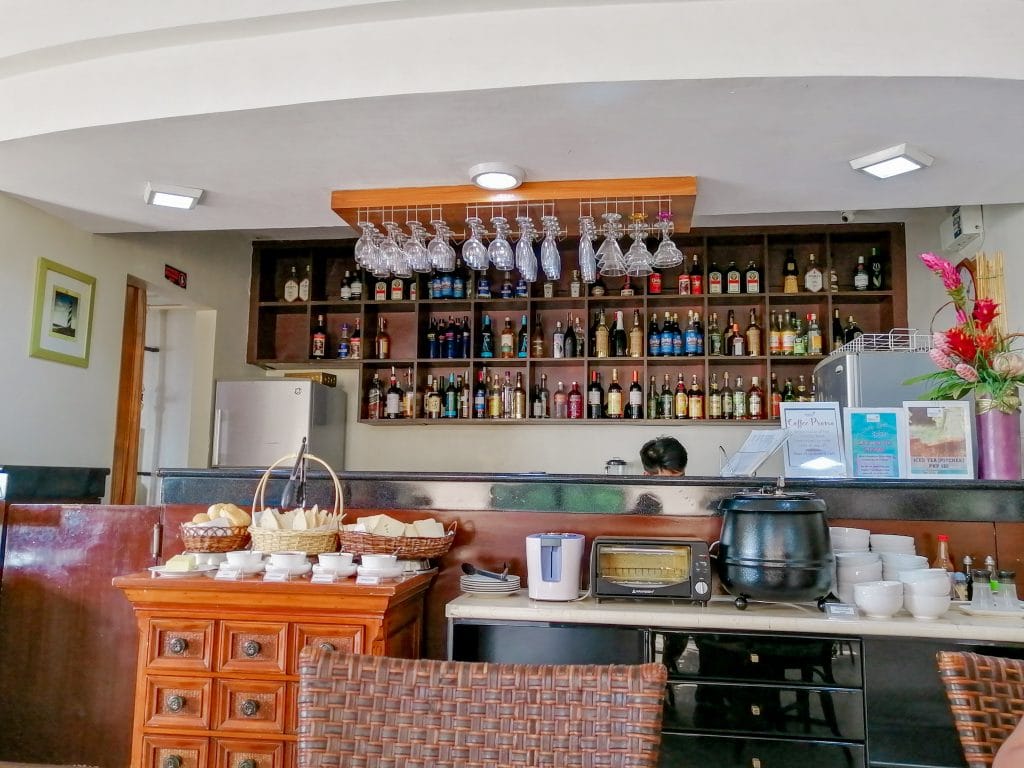 The restaurant provides a lot of good and delicious food in the morning. As a matter of fact, they provide a buffet-style breakfast. With that, there are so many foods that you can choose from each of the tables.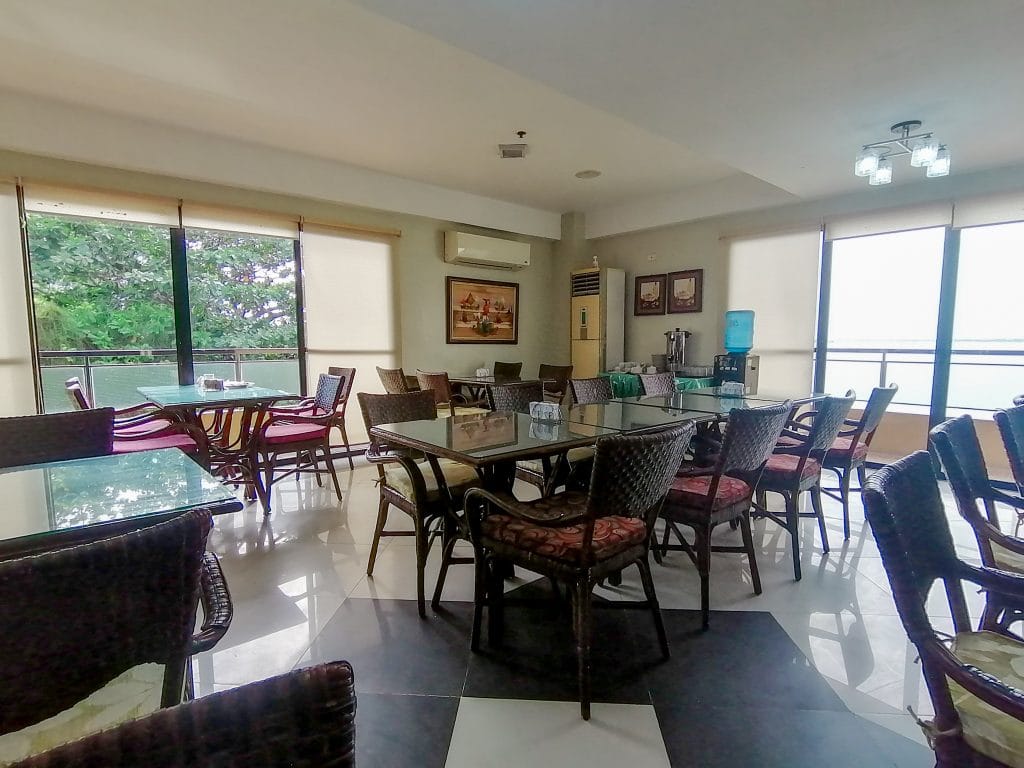 You can have the American breakfast style or the Filipino breakfast style. Either way, everything tastes so good! You can start your breakfast from 7 AM to 10 AM. In addition, you can watch TV while enjoying your meals.
Play in the lobby.
To be honest, I really didn't expect Palmbeach Resort & Spa to be so interactive. I am amazed by the fact that their lobby doesn't just serve as a waiting area. In fact, I have noticed that there are so many things to do here! The resort's lobby is huge enough to see a mini library, a piano, a children's playroom, a dart room, a chapel, and a massage room.
Seriously, you will never run out of ideas on what you can do at the resort during your stay at Palmbeach Resort & Spa. If you are tired of staying in your room or swimming at the pool, you can definitely have some fun and play in the lobby!
Go scuba diving and do other water activities.
Didn't I mention that Palmbeach Resort & Spa offers water activities that you can try during your stay here? You can go scuba diving, island hopping, parasailing aside from swimming at the resort.
If you hope to see more the beauty of Mactan Island, Cebu, then you should not miss a chance of trying any of those activities that I mentioned! Cebu Island is popular for its white-sand beaches and luxury beach resorts. But apart from that, Cebu Island is also well-known for its rich marine biodiversity!
You don't need to worry about its safety, all their scuba instructors are PADI certified!
Chill at the massage room.
After a long tiring day, you may opt to have a body massage at their own massage spa.
My thoughts on staying at Palmbeach Resort & Spa
Palm Beach Resort & Spa has a perfect beach view, relaxing ambiance, and overall – very accommodating staff! If I could go back to Cebu once again, I would never have any second thought on staying at this resort again! The resort shows off more than your expectations. Whether you want to explore underneath the ocean or you just want to chill out by the sea or pool, this resort is surely a worth place to visit when in Cebu!
Types of Room
Standard Room
ROOM RATE:
Php 6,000 net per night
KEY FEATURES:
Good for 2 persons
1 queen bed
Toilet and shower room
Air-conditioning unit
Cable television
Minibar
Electric kettle
Safety box
Wi-fi internet
Breakfast for 2 persons
Deluxe Room
ROOM RATE:
Php 8,000 net per night
KEY FEATURES:
Good for 2 persons
1 queen bed or 2 single beds
Toilet and shower room
Air-conditioning unit
Cable television
Minibar
Kitchenette
Electric kettle
Safety box
Wi-fi internet
Breakfast for 2 persons
Suite Room
ROOM RATE:
Php 10,000 net per night
KEY FEATURES:
Good for 4 persons
2 bedrooms with a queen bed
2 bathrooms
Air-conditioning unit
Cable television
Minibar
Kitchenette
Living Room
Dining Area
Electric kettle
Safety box
Wi-fi internet
Breakfast for 4 persons
Facilities
Two swimming pools and One elevated pool
Kiddie's Pool
Jacuzzi
Clubhouse/Function room
Massage Spa
Restaurant (Sunrise Café)
Gift Shop
Children's Playroom
Dive Shop
Game Room
Mini Library
Chapel
Concierge
Wi-Fi
Generator
Basement Parking
Elevator
Room for Person with Disability (PWD)
Services
24-hour Security
Airport Transfer Service
Massage services
Laundry service
16-hour Room service
24-hour Front Desk services
Scuba Diving
Island Hopping
Para Sailing
Water sports (i.e. jet ski, banana boat, etc.)
City Tours
Resort Policies
Check-in time: 2:00 pm
Check-out time: 12:00 noon
Early Check-in or Late Check-out Policy: These shall be subject to availability and shall be subject to an additional charge.
Child Policy: A maximum of one child 11 years old or below using an existing bed is free of charge in a room.
Extra Person Policy: Extra bed with breakfast may be requested for a fee of Php 1,500.00 during regular periods. The rate shall vary during peak periods. Only one extra bed is allowed in Deluxe Rooms and Suite Rooms. No extra beds are allowed in Standard Rooms.
Day Use
Day Trips are from 8:00 am to 6:00 pm at the Resort. Guests can enjoy the use of facilities such as the swimming pools, Jacuzzi, beach frontage, cottages, and children's playroom.
Free entrance for children 5 years old and below exclusive of lunch.
Weekday Rates
With set lunch – Php750/person
Without set lunch – Php600/person
Weekend Rates:
With set lunch – Php850/person
Without set lunch – Php700/person
Inclusive of entrance fee, welcome drinks, and use of facilities. Rates will vary during holidays and peak periods.
Corkage fee for food and drinks that you bring inside the resort premises will be charged.
Guests can avail of day-use rooms for an extra charge.
Location
Punta Engaño, Mactan Island, Lapu Lapu City, Cebu
Contact
Mobile: +639255864805, +6332 4951213
Telephone: 4951214, 4951215
Email: cebupalmbeach@yahoo.com
Latest Posts:
Read Next:
A half-travel blogger in the Philippines (based in Cavite) and a half-K-pop enthusiast, Ara Patria (The Adventuress) pursues her passion and love for traveling. She's been blogging for years, where she writes about her own travel experiences and promotes the wonders of the Philippines. Not only does she promote the beauty of her country, but she also focuses on promoting sustainable tourism. She dreams to travel the world and inspire other people through her own written works and captured moments with her camera.
The Adventuress is a travel blogger with a purpose. She aims to inspire other people through her personal experiences, stories, and lenses. Outside her blogging world, she is an English teacher, an SEO specialist, and TEFL/TESOL certified.
Join her adventures!