This blog highlights a DIY travel guide to Camiguin Island; things you need to know about Camiguin such as the places to go and visit, a sample itinerary, and some must-try local foods on the island.
Among the 7,641 islands in the Philippines, which island would you like to visit next? If you haven't thought of visiting Camiguin Island yet, you might have changed your mind once you get to know more about the island. Camiguin Island is one of the most beautiful islands in the Philippines. Or I must say, this is a must-visit underrated island? If it is not on your bucket list yet, you should start considering it now. Personally, I have been to Camiguin twice. The first time I visited the island was in 2015! I never regretted visiting this place. From then I knew that I would go back to this place again one day.
This year 2019, I got a chance to visit Camiguin Island again together with the Tourism Promotions Board, my co-bloggers, and co-vloggers. I was invited to cover Camiguin's annual "Lanzones Festival." We stayed on the island for 4 days and 3 nights. I would really love to thank the Tourism Promotions Board for having me on this trip! This is definitely one of my best trips ever.
Ways to get to Camiguin Island
So far, only Skyjet offers a direct flight to Camiguin from Manila. Skyjet has recently launched direct flights from Manila to Camiguin this May 2019. Apart from that, there are other ways to get to Camiguin. You can fly to Cagayan De Oro or Butuan City from Manila via Cebu Pacific or Philippine Airlines. But if you are coming from Cebu, it is also possible to get to Camiguin Island.
Via Cagayan De Oro
You may take a shuttle bound for the Agora market from the Laguindingan International Airport. From the Agora market, you can take a bus or van that will take you to Balingoan port. From the port, take a ferry heading to Camiguin Island. It takes about 2 hours to get to Benoni port in Camiguin from Balingoan port.
Via Butuan City
From Butuan International Airport, take a shuttle that will take you to Butuan City Integrated Bus Terminal. Then, ride a bus bound for Cagayan De Oro. Tell the conductor to drop you off at Balingoan port. You may inform them that you are heading to Camiguin. From Balingoan Port, take a ferry departing to Camiguin Island.
Via Cebu
You may fly with Cebgo or Philippine Airlines to get to Camiguin from Cebu. Travel time is around 1 hour.
Best time to visit Camiguin Island
You may visit Camiguin Island anytime you want. But the best time to visit the island is actually in the month of October. This is when Camiguinons celebrate their annual Lanzones Festival. You should try to experience one of the unique and colorful festivals in the Philippines. Moreover, get to taste the sweetest lanzones in the country.
Getting around Camiguin Island
Camiguin Island is the second smallest island in the Philippines. It is absolutely easy to get around the island. In fact, it is even possible to travel the island within a day or two. I actually did that the first time I visited Camiguin. But if you want to explore and discover more of the stunning beauty of Camiguin Island, 4 days would be the maximum ideal days of stay on the island. Anyway, here are some ways on how you can get around the island.
Habal-habal (motorcycle)
Are you traveling solo or two? Renting a habal-habal is highly suggested! This will help you save time and money. You may rent it at an affordable price.
Multi-cab
If you are traveling in a group, then this is an option for you. It is as cheap as the habal-habal.
Van
If you want to make your trip to Camiguin more comfortable, you may also rent a van. Surely, this is much faster and more convenient. But of course this is optional if you are traveling in a group.
Top Places to Visit in Camiguin
Camiguin Island may be small, yet it boasts a lot of breathtaking views and beautiful attractions. Its size will never define the beauty that Camiguin has to offer! Listed down below are the top places to visit around the island.
Mantigue Island
One of the best islands that you must visit when in Camiguin! This island has a white powdery sand beach, turquoise clear seawater, and a restful forest park.
An array of fun activities can be done on the island. You can go beach bumming, diving, snorkeling, or even go for greenery by visiting its small forest park. Can't swim? No worries! You can also ride a glass boat if you want to see some sea creatures underwater. Mantigue Island is one of the clearest waters I have seen among the islands that I visited in the country.
White Island
White Island is no doubt the most popular attractions in Camiguin. It is a long white sandbar facing the Mt. Hibok Hibok. It has fine white sand and clear waters as well.
The best time to visit White Island is early in the morning. Also, it is better to go here during weekdays to avoid the crowd. In our case, we visited the island on a Sunday morning after the festival. As expected, there were too many people on the island during that day.
Sunken Cemetery
The Sunken Cemetery used to be a graveyard above the sea. Due to the volcanic eruption in 1980, it was ruined and now called "The Sunken Cemetery". You may see a big cross in the middle of the sea. The white big cross symbolizes the event that happened in the past. It also serves as the sign to commemorate the dead that sank when Mt. Vulcan erupted. Moreover, they say that this place is one of the best diving spots in Camiguin!
I could still remember that time when how I felt amazed by its own unique history which I firstly heard on television, the feeling I had the moment I first got here – it's amazing how I still got the same feelings the second time I came back to this place!
The Old Volcano
If you are a Roman Catholic, this is where you can go during the Holy Week. It serves as a pilgrimage site where you can spot the Stations of the Cross. In addition, you can also see the breathtaking view of Mt. Vulcan's crater. Mt. Vulcan is actually one of the volcanoes surrounding the island of Camiguin.
Old Church Ruins
The Old Church Ruins used to be a well-structured church way back years ago. But it was also destroyed when a volcanic eruption happened in 1871. Despite that, you will notice how the old church was beautifully formed by the eruption. You might even not imagine that it was ruined! What a beautiful destruction indeed!
The Ardent Hot Spring
You can go for relaxation at Ardent Hot Spring. Its spring offers warm water that is coming from the mountain.
Sto. Nino Cold Spring
Did I say cold spring? Literally this spring offers the coldest water ever! You would absolutely enjoy swimming here. One thing you will love about this resort is its entrance fee is very affordable.
Tuasan Falls
There is no need to hike up a mountain just to reach this waterfall. This may not be as grand as other waterfalls, but you will surely appreciate its own beauty. You may bring your own food and eat near the waterfalls but please make sure to observe cleanliness. We'd never want to harm our environment, right?
Soda Spring
This is definitely one of the most unusual springs in the Philippines. The spring contains soda water that's coming directly from the volcano. As a matter of fact, you can drink soda water in which the locals say it is good for the body and skin!
Katibawasan Falls
Apart from visiting Tuasan Falls, you may also visit this grand waterfall in Camiguin. Unfortunately, we didn't get to visit it because we didn't have much time left. In that case, there are still more reasons to visit this island.
Mt. Timpoong-Hibok Hibok Natural Monument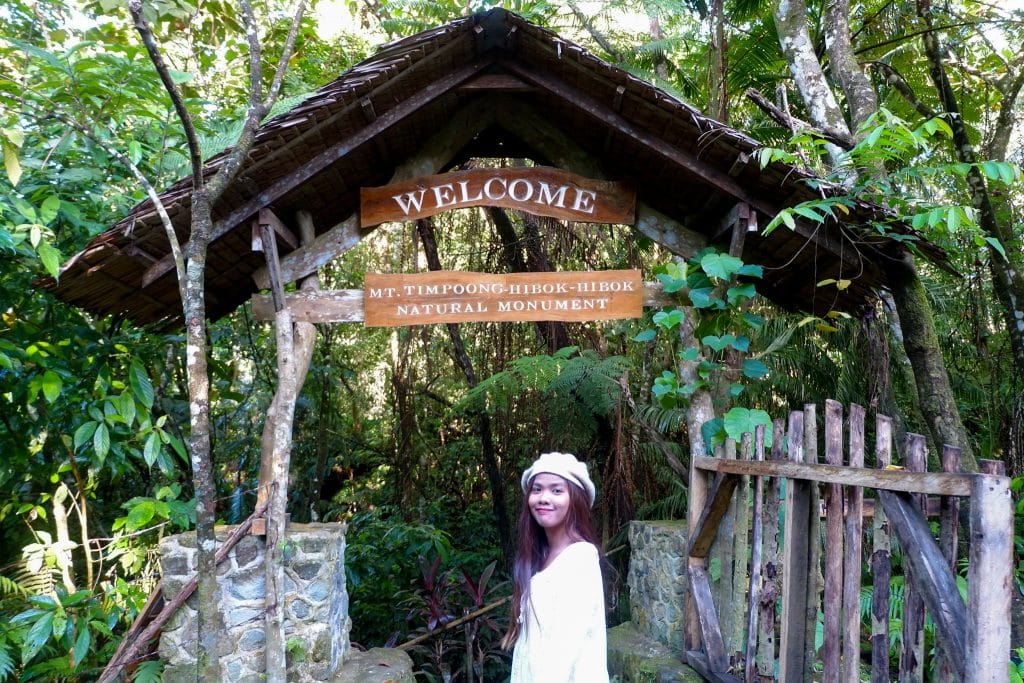 Declared as an ASEAN Heritage Park, this is a rainforest that you can visit in Camiguin. The park offers a variety of flora and fauna. In addition, you can go here for bird watching. Hey, it also showcases the best view of Mt. Hibok Hibok! This is one of the best places to immerse yourself in nature and can be one of the most exciting activities to do on the island.
Where to stay in Camiguin?
Camiguin Highland Resort: This resort is located uphill and has an overlooking view of the sea. It is a three-story building that features a swimming pool, a bar, a lounge area, a gift shop, and a garden. It also offers a variety of fun activities such as horseback riding, snorkeling, scuba diving, outdoor camping, and many more.
Nouveau Resort: This is a resort located in Mambajao that offers a restaurant, an outdoor swimming pool, a bar, and a garden. It has a room service with a Free Wifi connection and a free parking as well.
YSLA Beach Camp and Eco Resort: This resort offers room service with a sun terrace and free Wi-Fi connection. It has also an outdoor pool where you can swim. In addition, there is no need for you to eat out since they got their own restaurant.
Bintana Sa Paraiso: I could say that this is one of the most stunning resorts on the island. With an overlooking view of the ocean, an infinity pool, this 5-star resort is surely one of a kind!
Where to eat in Camiguin?
J&A Fishpen: This is a fishing restaurant that serves fresh seafood and other Filipino foods.
La Dolce Vita: They serve authentic Italian cuisine. This restaurant is located just right in front of the Camiguin airport.
Guerrera Restaurant: This is an Asian restaurant. It serves Vietnamese, Indian, Thai cuisines, etc.
Northern Lights Restaurant: This is a restaurant that is also a good place to dine in especially during dinner. They mostly serve a variety of Filipino cuisines.
La Isla Cocina: If you are up for some Mexican or Spanish taste and craving for something new, you can head over to this restaurant!
A Sample Guide & Itinerary
Writted down belows is the sample itinerary for and DIY travel guide to Camiguin Island. You may also follow this itinerary if you are staying on the island for four days as well.
Point of Entry – Manila to Cebu to Camiguin
Day 1
| | |
| --- | --- |
| 11:10 AM | ETA Manila Camiguin |
| 01:00 PM | Check-in at Camiguin Highland Resort |
| 02:30 PM | Mobile to Bura Soda Spring |
| 03:00 PM | ETA Bura Soda Spring, Activities: Swimming and Picnic |
| 03:45 PM | Go to Sto. Nino Cold Spring |
| 04:00 PM | ETA Sto. Nino Cold Spring, Activities: Swimming and Picnic |
| 04:45 PM | Mobile to Gui-ob Church Ruins, Exploration |
| 05:20 PM | Go to Sunken Cemetery, Experience Sunset at the area |
| 11:30 PM | Lunch |
| 05:45 PM | Mobile Back to Hotel |
| 06:20 PM | Arrival at the Hotel, Freshen Up |
| 07:30 PM | Dinner |
| 09:00 PM | Back to Hotel, Rest Over Night |
Day 2
06:00 AM
Breakfast
07:00 AM
Mobile to Mambajao Town Center, Camiguin Lanzones Festival Street Dancing Competition
07:30 AM
Street Dancing
12:00 NN
Lunch
01:00 PM
Lanzones Festival Tableau Competition
04:00 PM
Join Lanzones Fruit Eat all you can (FREE)
05:00 PM
Mobile back to the hotel, Freshen Up
06:30 PM
Dinner
09:00 PM
Back to Hotel
Rest Over Night
Day 3
| | |
| --- | --- |
| 06:00 AM | Assembly Time for White Island |
| 06:30 AM | Mobile to Brgy. Yumbing – Jump off point for the White Island |
| 07:00 AM | ETA White Island. Activities: Swimming, snorkeling, diving, picnic |
| 09:00 AM | Back to Hotel, Freshen Up |
| 09:30 AM | Breakfast at the Hotel |
| 11:00 AM | Mobile to Katibawasan Falls |
| 11:30 AM | Katibawasan Falls: Swimming and Picnic |
| 1:30 PM | Lunch |
| 03:30 PM | Mobile to Daang Volcan Walkway for Pasalubong Shopping |
| 04:45 PM | Back to Hotel, Rest |
| 06:30 PM | Dinner |
| 0 8:30 PM | Rest Over Night |
Day 4
| | |
| --- | --- |
| 05:00 AM | Visit Mt. Timpoong-Hibok Hibok Natural Monument for Bird watching |
| 07:00 AM | Back to the hotel |
| 08:00 AM | Breakfast, Pack-up |
| 09:00 AM | Mobile to Airport |
| 11:45 AM | ETD Camiguin-Manila |
Note: This is just a sample itinerary which is good for 4 days and 3 nights to give you an idea. I hope this travel guide to Camiguin really helps with your future travel!
Did this DIY Camiguin travel guide help you?
Latest Posts:
Read Next: