From its rolling hills to beautiful green landscapes, gigantic waves gently crashing the shore, clear blue skies and relaxing ambiance, and friendly locals. For these reasons, it is no wonder why Batanes island is everyone's dream travel destination.
About Batanes Island
Batanes is located in the northernmost part of the Philippines. It is also dubbed as the smallest island province of the country.
Batanes is composed of 11 islands, with only three inhabited (Batan, Itbayat, and Sabtang). Meanwhile, the other islets of Batanes such as Dinem, Siayan, A'li, Ditarem, Misanga, Mavudis, Adekey, and Vuhus are uninhabited. The provincial capital of Batanes is Basco. It is located on the island of Batan.
How to get to Batanes?
From Manila: Philippine Airlines, Cebu Pacific, and Skyjet offer daily flights to Batanes.
From Clark: Philippine Airlines offer flights twice a day to Batanes; in the morning and in the afternoon.
In our case, we were so lucky to score a cheaper flight to Batanes from Clark. We were able to book a flight for only about Php 3000 roundtrip!
The best time to visit Batanes
The best time to visit Batanes is during the summer season which around March to June. However, if you want to experience a cold climate on the island, you may visit the island around November to February. Batanes is relatively close to the southern part of Taiwan, so their climate is pretty much the same.
We visited Batanes in February so the climate was cold especially in the morning.
Getting around the island
It is actually convenient to travel around the island. You can travel by van, tricycle, jeep, or bicycle.
The main mode of transport when touring around Batanes island is the tricycle, most especially if you are on a budget. Each tricycle is usually good for 2-3 persons.
When visiting Sabtang and Itbayat islands, you need to take a boat. It takes about 30 min to 45 min to get to Sabtang. Meanwhile, it takes around 3-4 hours to reach Itbayat. But if you have enough budget, you may also opt to take a plane to Itbayat.
Sample Itinerary for 4 days & 3 nights
This travel guide to Batanes mainly focuses on the North, South, and Sabtang Island. Each tour can be done on a half-day. It depends on you whether you start early or late.
DAY 1: North Tour
Arrive in Basco
Basco Arch
Tukon Chapel
Pag-asa Station
Fundacion Pacita
Agriculture Viewing
Japanese Tunnel
Boulder Beach
Casa Real
Naidi Lighthouse: Don't forget to give donations after using the vakul for picture-taking.
Rolling Hills
DAY 2: Sabtang Tour
Morong Beach
Sleeping Beauty Mountain
Savidug Stone Houses Village: You can wear a vakul while walking around the village. But take note that there is a rental fee of Php 20 as of writing.
St. Thomas Aquinas Chapel
Chamantad-Tinyan Viewpoint
Other Places to Visit in Sabtang
St. Ferrer Parish
Ahao Cave
Tinyan Cove
Delima Chapel
Viewing Ijang Portres
Sabtang Lighthouse
If you want to explore the entire Sabtang island, then you need to stay for a day and spend overnight on the island itself. Most of the accommodations range about Php 500 according to our tour guide.
DAY 3: South Tour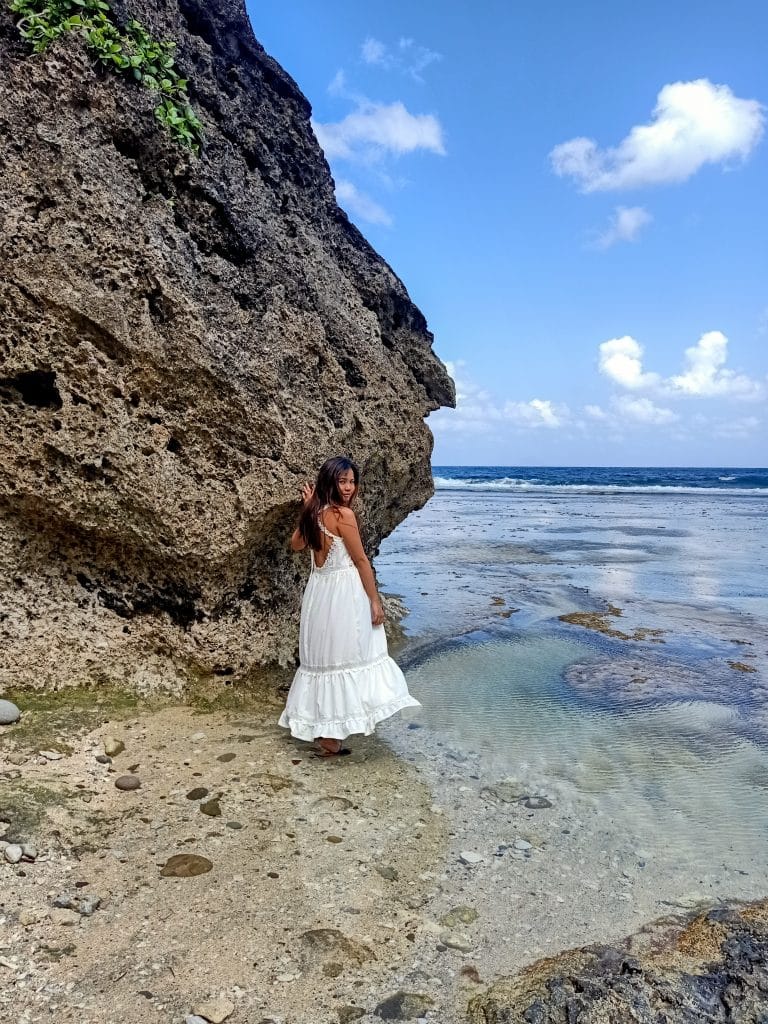 Paderest Viewpoint
Chawa Viewpoint
Tayid Lighthouse
Marlboro Country
Alapad Rock Formation: This is where you can find the famous "blow your horn" sign in Batanes.
Madangay Hills
San Lorenzo Chapel
Old Loran Station
Song Song Ruins
Honesty Coffee Shop: How honest are you? Don't forget to check out the foods to eat inside the Honesty store! You may find no storekeepers inside where you just have to put your payment at the counter. There is also a souvenir shop inside the store.
San Jose de Ivana Church
Spanish Bridge
Homoron White Beach
DAY 4: Back to Manila
Spring of Youth (This is optional. As I mentioned above, each tour can be done on half a day so you can include Spring of Youth either on the 2nd day or the 3rd day.)
Sample Budget & Expenses
I have included in this Batanes itinerary about the sample budget and expenses good for 4 days and 3 nights.
| | |
| --- | --- |
| North Tour | Php 2000/4 pax |
| South Tour | Php 3000/4 pax |
| Sabtang Tour | Php 3000/4 pax |
| Ivana Port Pick-up & Drop off Fee | Php 1000/4 pax |
| Environmental Fee at Ivana Port | Php 5 |
| Boat fare to Sabtang | Php 200/pax |
| Sabtang Environmental Fee | Php 200/pax |
| Sabtang Lunch | Php 350/pax (Required) |
| Spring of Youth Tour | Php 1000/4 pax |
| Spring of Youth Entrance Fee | Php 50/pax (w/o swimming); Php 100/pax (w/ swimming) |
Tips & Reminders
When heading to Batanes, the best seat would be on the right side window seat. You will get to see the beautiful rolling hills of the island from above.
You may fly with Philippine Airlines from Clark to Batanes. It is much cheaper than flying from Manila. Make sure to always check seat sales in order to score cheaper flights! You may take a P2P bus from NAIA Terminal 3 to Clark International Airport for less hassle commute.
You need to register at the Tourism Office before you start your tour. Then. you need to pay for the environmental fee that costs around Php 400.
It is better to contact a tour guide ahead of time before you arrive in Batanes. I have recommended some good tour guides below this article.
Batanes Island is such an ideal place for solo travelers. However, traveling to Batanes is quite expensive. I highly suggest visiting the island with a companion.
If you are really on a tight budget, you can buy some food from the market. You can also eat out at some canteens around Basco. Rice meals cost around Php 80 to Php 100. Eating out at the restaurant would be a bit pricey.
You can start your tour as early as you can. Watching the sunrise is one of the best things to do early in the morning.
Other Tips!
You must be at the Ivana port before 7 AM because the boat leaves for Sabtang at exactly 7 AM. Then, the boat leaves Ivana around 12nn. It is possible to finish the Sabtang tour before 12nn. However, you will only be able to see the highlights of Sabtang. But that's okay. That's enough for you to see the beauty of the island.
Spring of Youth is closed every Monday and Friday for cleaning.
Bring a SMART sim with you if you want to have a better data connection.
Landbank and PNB are the only banks available in Basco. It is better to bring enough cash.
Bring your best outfit because every part of Batanes is Instagram-worthy.
Where to stay in Basco, Batanes?
North Hills Inn
If you are looking for cheap accommodation, this hostel is highly recommended. If you don't want to eat out and splurge on food, you can cook your own food here. They have got a mini kitchen where you can cook without any charges. You may buy food from the market. An overnight stay costs Php 350 (USD 8) per person without an air conditioner and breakfast. Meanwhile, the room costs Php 500 (USD 11) with the use of an air conditioner and with breakfast. You may check out their Facebook page here.
Batanes Amboy Hometel
This is an accommodation in Basco. It has a garden and a terrace. This hometel offers a free wi-fi, a free parking, and a playground for children. In addition, it also offers a restaurant where you can dine in. The cost of the room ranges from Php 4000 (USD 82-USD 83) per night.
Midtown Inn Batanes
Midtown Inn Batanes is also located in the town of Basco. It provides room service, a terrace, and a restaurant! The cost of the room ranges from Php 2700 (USD 56) per night.
Batanes Seaside Lodge Annex
Batanes Seaside Lodge Annex is another property where you can stay at in Basco. It offers a terrace with an air-conditioned room and a flat screen TV in each of the rooms. It is a 3-star hotel which also offers services for hikng and cycling where you can rent a bike. In fact, the lodge's location is popular for hiking and cycling. The room costs around Php 3585 (USD 74) per night.
Villa de Babat
This offers accommodation with a free private parking, a swimming pool, and a garden. The room ranges from Php 2500 (USD 52) per night.
Baletin Hometel
This is another accommodation found in Basco, Batanes. Baletin Hometel comes with room service, free parking, a restaurant, free Wi-fi, and a shared lounge. If you want to go biking or cycling around the area, you can also rent a bike from them.
The accommodation cost ranges from Php 1620 (USD 34) per night.
Recommended Tour Guides
Take note that you need a tour guide before you can travel around the island of Batanes. It is strictly implemented on the island.
Jolito Alcantara– 09182167440
Jomar Alcantara– 09381495011
They will take care of everything for you from day 1 up to the last day of your trip to Batanes. Also, they are good at taking pictures.
You may also check Way PH for their Batanes Tour Packages. They can also give you a sample itinerary for Batanes. I have been to many island provinces of the Philippines and I could say that Batanes Island is one of the best of the best! Seeing the island made me feel really emotional.
My thoughts on visiting the island
During our trip, there were just times that I just wanted to put down my camera, silently sit alone, and look at the beautiful sceneries of the island. Everything is so mesmerizing. I couldn't exactly describe what the island looks like because it is just… simply amazing. In addition, you will meet one of the friendliest people in the country. Ivatans are so kind and very welcoming. We only stayed on the island for 4 days but we made the most of it. We had created lots of beautiful memories.
Wherever you go, you will see and appreciate the beautiful green sceneries of the island. In fact, the definition of beauty doesn't justify how amazing Batanes is. Now I wonder why the island is called Breathtaking Batanes! Haven't you been to Batanes yet? If not now, when? Book that flight! Now. This place is definitely worth visiting.
Latest Posts:
Read Next:
A half-travel blogger in the Philippines (based in Cavite) and a half-K-pop enthusiast, Ara Patria (The Adventuress) pursues her passion and love for traveling. She's been blogging for years, where she writes about her own travel experiences and promotes the wonders of the Philippines. Not only does she promote the beauty of her country, but she also focuses on promoting sustainable tourism. She dreams to travel the world and inspire other people through her own written works and captured moments with her camera.
The Adventuress is a travel blogger with a purpose. She aims to inspire other people through her personal experiences, stories, and lenses. Outside her blogging world, she is an English teacher, an SEO specialist, and TEFL/TESOL certified.
Join her adventures!