This guide is actually best for those who are visiting the island for the first time, to those who are on a tight budget, or to those who want to have an exact idea about what and how it feels like to travel around the beautiful island of Siargao.
Understanding Siargao Island
Dubbed as the "Surfing Capital of the Philippines", Siargao Island is best known for its strong waves. With that being said, Siargao has become a popular destination for surfers from all over the world. But nowadays, the island is also gaining popularity even for non-surfers due to its amazing beauty.
Siargao is an island located in the province of Surigao del Norte. It is composed of the municipalities of Burgos, Dapa, Del Carmen, General Luna, San Benito, Pilar, San Isidro, Santa Monica, and Socorro. The island is covered with lush green coconut palm trees and composed of spectacular white islands and beaches.
Not to mention the friendly and honest locals that you get to interact with and the lively vibe that the island has itself! Surely, Siargao Island is one of everyone's dream destinations in the Philippines! Why not?
How to get to Siargao?
There are direct flights from Manila to Siargao via Cebu Pacific or Skyjet. But if you will be coming from Clark, Pampanga, you may also fly with Philippine Airlines. They sometimes offer cheap flights to Siargao as well.
On the other hand, if you fail to find cheaper flights directly from Manila/Clark to Siargao, you may also book a flight to Butuan. It could be way cheaper than the other way around.
That's what we actually did. We opted to book a flight to Butuan from Manila, vice versa. The good thing was, we were able to go on a side trip to Surigao del Sur.
The best time to visit Siargao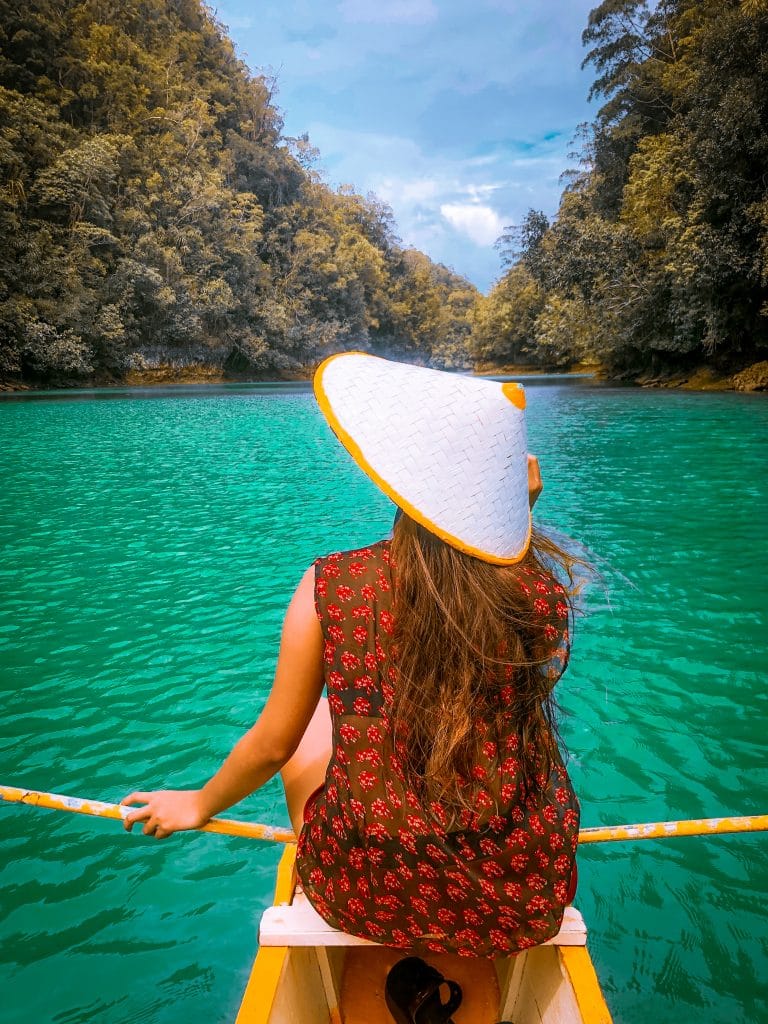 You may visit the island anytime but March to May could be the ideal months since this is summertime. But if you want to witness some of the best events on the island, you can go there around September. The Surfing Festival which is held in General Luna usually takes place in late September.
Getting around the island
There are so many options to choose from if you want to roam around the island. This Siargao travel guide recommends you choose the cheapest one which is traveling by motorcycle.
For motorcycle rental, it usually ranges from Php 350 to Php 500 per day. Be sure you have your valid driver's license in order to rent a motorcycle.
Private car: You may also rent a private car if you do have an extra budget.
Tricycle: If you can't rent any private vehicle, traveling by tricycle is also a good option.
Where to stay in Siargao?
In this Siargao diy travel guide, I also listed the recommended places where you can stay while on the island. My friends and I usually travel on a budget so we always choose the cheapest accommodation.
Yay Lodge: I must say, this is one of the cutest accommodations I ever stayed at! It's such a lovely place that you would wish to stay longer. The place is clean and the facilities are well-maintained.
Tropical Temple Siargao: It is a kind of luxurious accommodation in Siargao. But they also provide dormitory rooms in which you have to sleep with other travelers. The place is nice. Apart from accommodation, it also provides a garden, a swimming pool, and a huge lobby area.
Junsims Zenrooms: This accommodation is near Siargao Blue Resort. You can easily find it along the road. The room is simple and it is a nipa hut style room. If you are really on a tight budget, this place is highly recommended!
Where to eat?
You can find everything in General Luna. From fancy restaurants to cheaper ones, cafes, bars, and spas, there's a lot to see around this area. You can find a lot of places to eat here. Listed down below are the places where we ate during our stay in Siargao.
Kermit Siargao: This is one of the most popular restaurants in Siargao. Known for its scrumptious Italian pizzas, many people go here to dine in. So expect the crowd and the long queue especially in the evening.
Cashey's Place: This is one of the good places where you can eat especially if you are on a budget.
Mama Coco: I also recommend this pub. They mainly serve "silog" meals or rice meals. They definitely serve delicious food!
Sample Itinerary & Budget
This Siargao travel guide includes a sample itinerary and budget. This gives you an idea of how much you can bring with you when traveling to Siargao Island, most especially if you prefer to diy.
DAY 1
Siargao Island
Check-in at Yay Lodge
Lunch at Cashy's Place
Cloud 9
Dinner at Mama Coco
Nightlife
DAY 2
Sugba Lagoon
Coconut Viewing Deck
Maasin River
Dinner at Mama Coco
Nightlife at Rumbar
Check-in at Tropical Siargao
DAY 3
Sohoton Cave
Naked Island
Daku Island
Guyam Island
Dinner at Kermit Restaurant
Nightlife at Baile Restobar
Check-in at Junsims Zenrooms
DAY 4
Go surfing in the morning (optional)
Back to Surigao City – Manila
If you have extra time, you may go surfing in the morning. In our case, we were exhausted from clubbing so we weren't able to go surfing. But I really want to go back to Siargao to do this since I'm into surfing!
Breakdown of Expenses
DAY 1
| | |
| --- | --- |
| Bus from Butuan to Surigao City | Php 185 |
| Tricycle to Surigao Port | Php 100/4 |
| Environmental Fee | Php 75 |
| Terminal Fee | Php 10 |
| Montenegro Lines to Dapa Port Siargao *This ferry takes about 3-4 hours to get to Dapa port. | Php 100 (Promo fee) |
| Dapa Port to Yay Lodge | Php 100/4 |
| Motorcycle Rental *We rented it for 3 days. | Php 350/day |
| Gas for Motorcycle Php 60 per bottle | Php 60/ bottle |
| Cloud 9 Entrance Fee | Php 50 |
DAY 2 (Inland Tour)
| | |
| --- | --- |
| Parking Fee in Del Carmen | Php 60 |
| Boat to Sugba Lagoon | Php 1600/4 |
| Environmental Fee | Php 50 |
| Table at Sugba Lagoon | Php 50 |
| Maasin River Entrance | Php 40 |
| Gas for Motorcycle | Php 120 |
DAY 3
| | |
| --- | --- |
| Island Hopping (Sohoton Cave+Tri Island) | |
| Tropical Siargao | Php450/night (dormitory type) |
DAY 4
| | |
| --- | --- |
| Tricycle to Dapa Port | Php 100/4 |
| Montenegro Ferry | Php 100 (promo fare) |
| Van from Surigao City to Butuan | Php 170 |
| Cab to Airport | Php 15 |
| Surfing Lesson for 1 hour | Php 500 *This is optional. |
Other Expenses:
Food
Pasalubong
Book your room at Yay Lodge from Airbnb and Junsims from Zenrooms to get discounts.
For Island Hopping Tours, you may contact:
Kuya Doods Almacen – 09974027988
Some FAQs about Siargao Island
How cheap is it to travel?
Traveling to Siargao is relatively cheaper than any other places that you can visit around the country. In our personal experience, we were able to likely spent around Php 5000 (USD 104) to Php 6000 (USD 124).
Is it to travel?
It's really safe! A lot of people who had already been to this island would surely agree with me. In fact, Siargao is an ideal place for solo travelers.
What languages do they speak?
The locals speak a local dialect called Siargaonan which is similar to Cebuano. They also speak English and Tagalog. This way, you can easily communicate with the locals.
Do I need a tour guide?
Basically, you don't really need a tour guide when traveling around the island. As I mentioned, you can do it your own way, rent a motorcycle, and stroll around the island on your own. On the other hand, you need a tour guide for island hopping.
Siargao Island is really getting attention from local tourists and foreign tourists as well. In fact, the island is dubbed as one of the best islands in the world!
Latest Posts:
Read Next:
A half-travel blogger in the Philippines (based in Cavite) and a half-K-pop enthusiast, Ara Patria (The Adventuress) pursues her passion and love for traveling. She's been blogging for years, where she writes about her own travel experiences and promotes the wonders of the Philippines. Not only does she promote the beauty of her country, but she also focuses on promoting sustainable tourism. She dreams to travel the world and inspire other people through her own written works and captured moments with her camera.
The Adventuress is a travel blogger with a purpose. She aims to inspire other people through her personal experiences, stories, and lenses. Outside her blogging world, she is an English teacher, an SEO specialist, and TEFL/TESOL certified.
Join her adventures!