I love watching Korean dramas. Have you ever wondered what I do whenever I don't travel? It is either watch Korean dramas or go fangirling. But to be honest, I do not usually watch Korean dramas since I am very picky to watch I should be watching. It's been almost a year since I last watched a K-drama. Now that I found Her Private Life, I started watching again.
About Her Private Life
I seriously got hooked on this drama. Her Private Life is a 16-episode-drama about Sung Deok Mi (Park Min Young) who works at an art gallery and a head curator at the same time. She works with the new director of the art gallery, Ryan Gold (Kim Jae Wook) – who happens to find out her secret of being a fangirl of an idol. Outside her work, she is fansite noona of the White Ocean member, Cha Si-An (Rapper One).
Obviously, it is a story of a fangirl that I can probably relate to. I have been a fangirl for more than 10 years and the moment I started watching the first episode of the drama, I have already found it very amusing. Now that it has come to an end, I have listed the reasons why this Korean drama is definitely worth your time!
Her Private Life – A Korean Drama Review: My Thoughts on the drama
1. It shows the epitome of being a fangirl.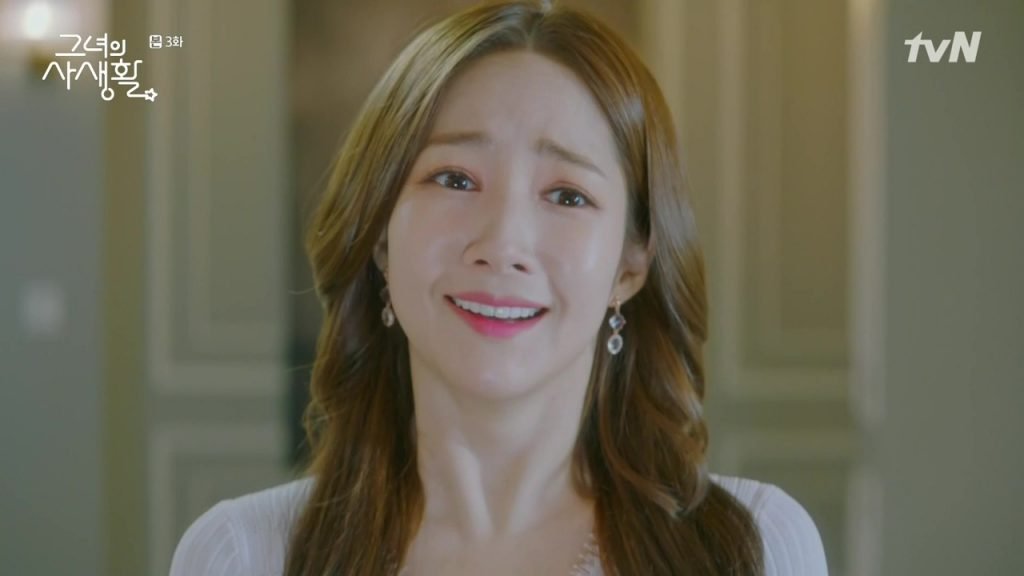 Sung Deok-Mi depicts a life of a genuine fangirl; how a fangirl devotedly supports her favorite idol or artist. As you watch the drama, Deok-Mi's apartment is full of stuff that showcases how much she supports and loves her idol, Cha Si-An. She is always updated with his schedules, follows him whenever possible, and supports him with all her heart.
These things that she does in the drama truly happen in real life. I have been a Kpop fangirl for more than 10 years. I, myself, admit that I do everything (as much as I could) for my idol. From waiting at the airport to buying different collectible stuff, to watching concerts – these are just some of the things that a fangirl does for their favorite idol. We do give everything without expecting anything from return. All we know is they give us so much happiness that no one else can.
2. It is possible to fall for an ordinary person.
Her Private Life shows that a fangirl like Sung Deok Mi is possible to fall in love with another guy no matter how crazy she is about fangirling.
I know how it is hard for a fangirl to find a man who could make her heart flutter, but is never impossible to fall in love with an ordinary man. Basically, a fangirl puts her standards that match to her idol's qualities. She sometimes looks for a person who is similar to her idol – which sometimes makes it difficult for her to fall in love in real life. But when she does, she loves deeply and truthfully. Her boyfriend becomes her idol.
3. Your co-fan girls are your friends for life.
In the drama, I am amazed by the way Deok Mi's best friend, Sun-Joo supports her all the way. I love the kind of friendship that they have.
We all have that kind of friend who will always be there for you, will support you all the way, will always understand you and ride on your craziness! Whatever your fantasies are, there is always someone like Sun-Joo who could be as crazy as you are about fangirling. Keep them like what Deok Mi does! They are rare!
4. Fangirls are naturally born, not made.
Fangirling is inevitable. Once a fangirl, always a fangirl. Her Private Life shows us that in spite of having busy schedules; if you are a fangirl, you do your best in order to do your job as a fan. Even though you cannot be as active as the way you were like before. Time flies fast and you have got busier schedules due to work and priorities, but you know within yourself that there is always a special place in your heart in terms of fangirling.
The fangirl in you is still there, waiting to be ignited by the good memories and the people who gave so much happiness. Time may be gone, but never will be the fangirl within you.
Have you watched Her Private Life yet? How do you like it so far?
Latest Posts:
Read Next:
A half-travel blogger in the Philippines (based in Cavite) and a half-K-pop enthusiast, Ara Patria (The Adventuress) pursues her passion and love for traveling. She's been blogging for years, where she writes about her own travel experiences and promotes the wonders of the Philippines. Not only does she promote the beauty of her country, but she also focuses on promoting sustainable tourism. She dreams to travel the world and inspire other people through her own written works and captured moments with her camera.
The Adventuress is a travel blogger with a purpose. She aims to inspire other people through her personal experiences, stories, and lenses. Outside her blogging world, she is an English teacher, an SEO specialist, and TEFL/TESOL certified.
Join her adventures!