Here's to another food review about the Filipino restaurant I came across at SM Bacoor – Jose Restaurant. Let me share with you my experience dining in at this restaurant.
A Short Introduction about Jose Restaurant
Jose Restaurant is a Filipino restaurant located at SM Bacoor. It was established in SM Bacoor around 2018. The name of the restaurant comes from the owner's name, Jose. Jose Restaurant offers authentic Filipino cuisine made by professional Filipino chefs in the country. They serve high-quality made foods at its most affordable price.
In addition, Jose Restaurant has three branches. Apart from SM Bacoor, Jose Restaurant also has branches in Tagaytay (Skyranch) and Alabang (Festival Mall).
Things to love about the restaurant
The Food
There are so many options to choose from the menu. There is a lot to try, a lot to order, and a lot to experience! As I mentioned above, Jose Restaurant offers authentic Filipino cuisine. Everything served on the table was so delicious that we even wanted to have some more! From its unique steamed rice to palatable kinds of seafood and meat, you will surely not be able to get over the taste of each meal. They provide big servings, too!
The Cost
What amazed the most was its affordable price. They offer high-quality, authentic Filipino foods at a low cost. For that reason, I believe everyone can have the opportunity to try Jose Restaurant's delicious cuisines. More to that, most of the meals that they offer are already good for sharing. See? You can save more while enjoying some dishes with your family, friends, or loved ones.
The Ambience
If you come across Jose Restaurant at SM Bacoor, the first thing that you will notice is its ambience. It looks aesthetic which makes someone think that it might be expensive to dine here. On the other hand, it is not! Its ambience may seemingly look elegant, but you do not need to worry about its cost like what I have mentioned above.
When you dine here, you would certainly love the ambience of the entire restaurant. The choice of music is good, it is bright and clean, and all the staff you see would smile at you. You will surely get a good feeling of dining in at Jose Restaurant and staying here for long at the same time.
The Accessibility
In my case, the restaurant's location is definitely good for me. It is near my place and easy to reach. If you live in Cavite or just around Bacoor, you can visit the restaurant easily. For instance, if you are craving for some legit Bulalo, you can just head over to this place. There is no need to go farther or visit Tagaytay.
The Staff
The staff are very accommodating. They are really approachable and easy to talk with. Whenever we needed something, they always tried their best to assist us anytime.
Some foods to try at Jose Restaurant
Listed below are the foods that my friends and I tried when we dined in.
Smoked fish
This smoked fish comes with bread and some wrappers. Its taste is perfect with bread. You can have it as your appetizer.
Baked seashells
They come with baked mussels, clams, and scallops. Everything tastes so good. They are definitely a must-try.
Gambas Al Ajillo
This is garlic shrimp. It is kind of spicy but sweet. For sure, you will enjoy the taste of this one! Definitely one of the most mouthwatering dishes at Jose Restaurant.
Lengua
It is a beef tongue with creamy mushroom gravy. I could say that this is one of the best Filipino foods that they have served to us. Its taste is truly a remarkable one for me! You must order this when you dine at Jose Restaurant.
Crispy Pata
This one is also delicious. One of the most unforgettable dishes to try here!
Bulalo
Who doesn't love bulalo? One thing I am sure of, Filipinos are crazy about bulalo! Get a chance to taste of this famous meal in Cavite at Jose Restaurant. Surely, they provide one of the most delicious bulalo meals ever!
Beef Caldereta
This beef caldereta is so tasty that you would ask for more rice!
Poqui Poqui Express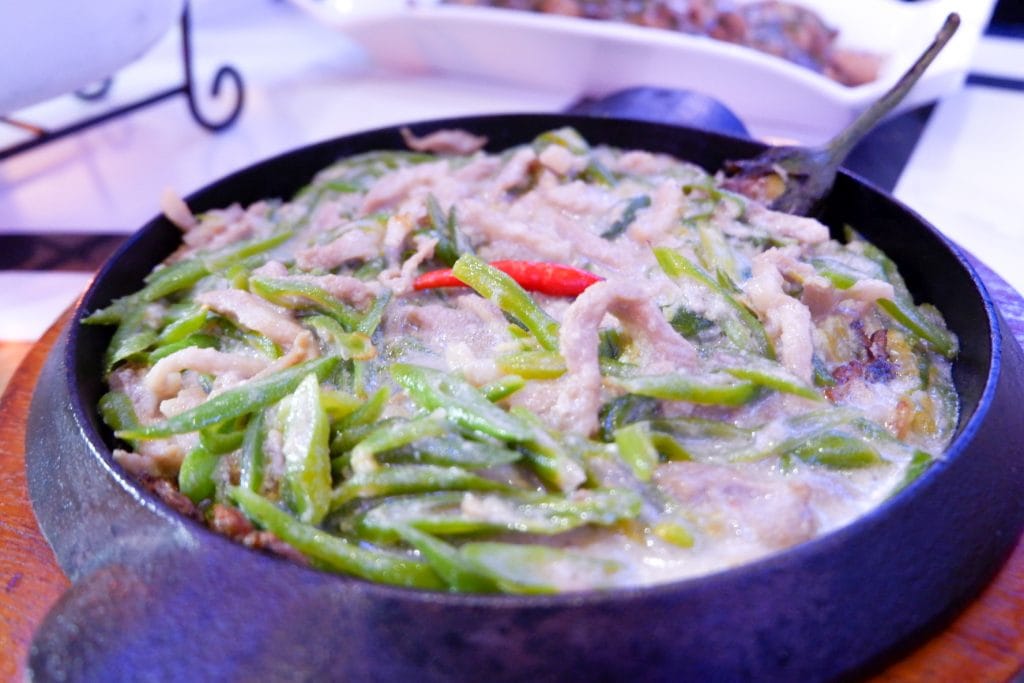 This is Jose's own version of Bicol express. Obviously, it tastes spicy. But if you don't want it to be spicy, it's okay. Poqui poqui express is actually an eggplant recipe with tomatoes and eggs. Its name may sound funny, but you can never judge its amazing taste! I believe even if you are not fond of eating vegetables, you would surely love this local food. Just like what happened to my friend. Haha!
Adobo Rice
This rice is so good that even if you don't partner it with any other meal, it would still taste great!
Also try:
Four seasons
Dessert
My experience dining at Jose Restaurant
When I dined at Jose Restaurant, I really fell in love more with Filipino food! I enjoyed everything about the food they served for us. Every meal was remarkably good. Also, I am satisfied with their service. They provide excellent service! In addition, I learned some things about Filipino cuisine. Some staff were good enough to explain to us about the other foods we ordered and how they were being cooked. I will surely go back to this place!
General Information
Open for events like weddings, birthdays, conference, etc.
They offer a buffet-style for events as mentioned above.
If you are fond of Filipino food, this restaurant is a must-visit. You will never go wrong with everything that you order from the menu.
Location
2nd floor, SM Bacoor (beside Hungry Jomo)
Operating Hours
10 AM – 9 PM daily
Contact
Facebook: Jose Restaurant
Latest Posts:
Read Next:
A travel blogger in the Philippines and a K-pop enthusiast, Ara Patria (The Adventuress) pursues her passion and love for traveling. She's been blogging for years, where she writes about her own travel experiences and promotes the wonders of the Philippines. Not only does she promote the beauty of her country, but she also focuses on promoting sustainable tourism. She dreams of traveling the world and inspiring other people through her own written works and captured moments with her camera.
The Adventuress is a travel blogger with a purpose. She aims to inspire other people through her personal experiences, stories, and lenses. Outside her blogging world, she is an education, an SEO specialist, and TEFL/TESOL certified.
Join her adventures!