Get to know about this new restaurant I found in SM Bacoor – Hungry Jomo Asian Unlimited Grill.
These days, I notice that SM Bacoor is becoming a food hang-out spot in Cavite. It is due to the rising number of restaurants and food stalls popping out inside the mall. One of the new restaurants I noticed was the Hungry Jomo Asian Unlimited Grill.
I have been a fan of Asian food; from Korean cuisine to Japanese, Thai, Vietnamese, and even Filipino foods! I enjoy going out with friends and looking for new restaurants in different places around Cavite and Metro Manila. However, most of them are more focused on Korean cuisine or Japanese cuisine. So this time, we wanted to try something different. we were so lucky to find out Hungry Jomo.
About Hungry Jomo
Hungry Jomo is a restaurant that serves Asian Unlimited Grill. From unlimited meat to seafood, side dishes, salads, desserts, and drinks. It is a type of restaurant that offers palatable food. The food they serve comes with 10 different kinds of sauces from different parts of Asia.
Apparently, Hungry Jomo is an Asian-fusion restaurant. The word "JoMo" originated from the names of the owners of the restaurants – JOey and GeroniMO. Literally speaking, that's how they came up with the name of the restaurant. But they have also come up with another definition of JoMo. Jo means "Joyful" while Mo means "Moment". That is to say that you would have a "joyful moment" if dined in at Hungry Jomo Asian Restaurant.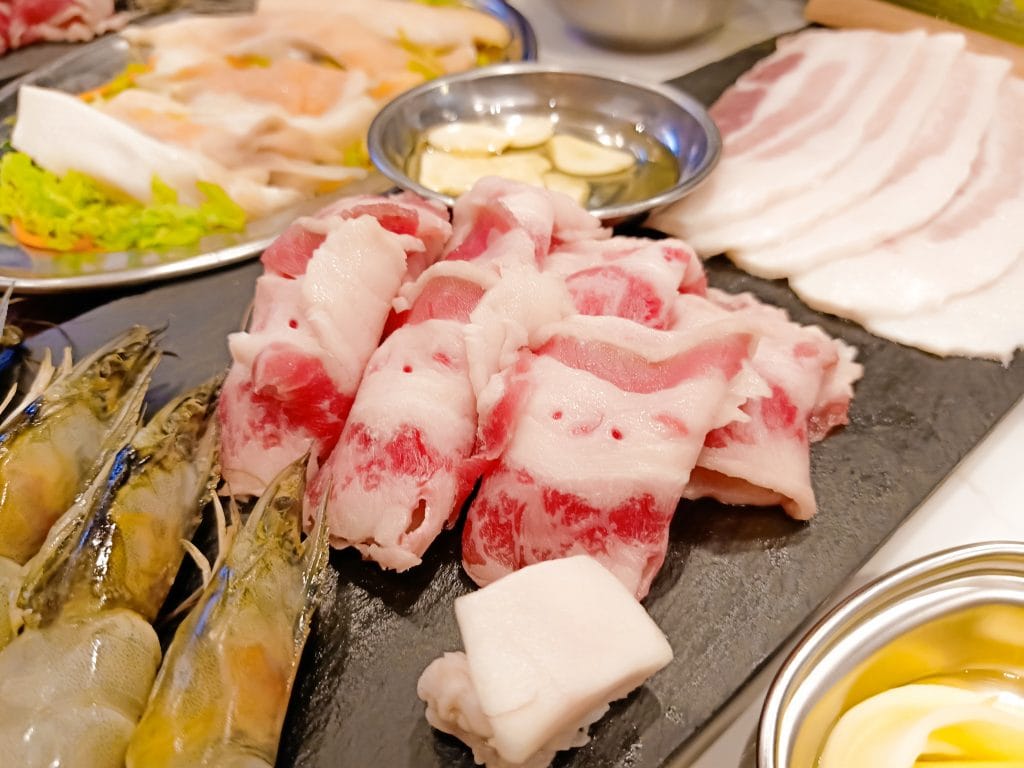 For me, I would definitely say that it's a fact because my friends and I really had a good time eating out at Hungry Jomo. We enjoyed every moment we spent while trying out the different dishes that Hungry Jomo served to us. With that being said, I listed some of the things to expect from the restaurant.
Things to Expect
The Food
There are a lot of options to choose from from their menu. They have got the usual unlimited meat such as pork, chicken, and beef. Hungry Jomo offers the normal meat as well as the marinated ones (if requested). More to that, they also offer unlimited seafood like shrimps. You may also try their wagyu beef and salmon. But in that case, you need to pay an additional fee for the wagyu beef and salmon as well.
What's so amazing is they have got twenty different kinds of sauces from different corners of Asia. This way, every meal that is served doesn't get boring. You will get to try a lot of different kinds of food. In addition, as I mentioned above, there are also a lot of options in terms of side dishes, salads, and desserts. They have 10 different kinds of sauces and 20 different kinds of side dishes. Hungry Jomo is stuffed with a variety of Asian food! Oh, did I mention that they have got their own version of a rice meal called Jomo rice? It tastes so good as well!
The Place.
Hungry Jomo is located on the second floor of SM Bacoor. It is just beside Jose Restaurant. Its place looks appealing and huge enough to accommodate a huge number of guests. The good thing is, the place is well-ventilated. This way, it is much more comfortable cooking the food. The restaurant has a buffet area for salads, sauces, and desserts.
The Cost.
The cost of the food ranges at about Php 599. With its cost, you can already have all the unlimited foods that they offer. For me, it doesn't cost a lot since Hungry Jomo is already offering more than what you are looking for.
In addition, you can dine in and experience their service for about 3 hours.
The Staff.
The staff are accommodating. They serve the food fast and they are all friendly. Expect good customer service from them.
My experience dining in at Hungry Jomo
I have been to a few Asian restaurants around Cavite, but Hungry Jomo is far by my most favorite. Everything tastes to my palate, even the sauces that I am not familiar with. I love the Thai peanut sauce most! In addition, I am fond of eating salad so I really enjoyed their salad selection. In terms of meat quality, it's totally good!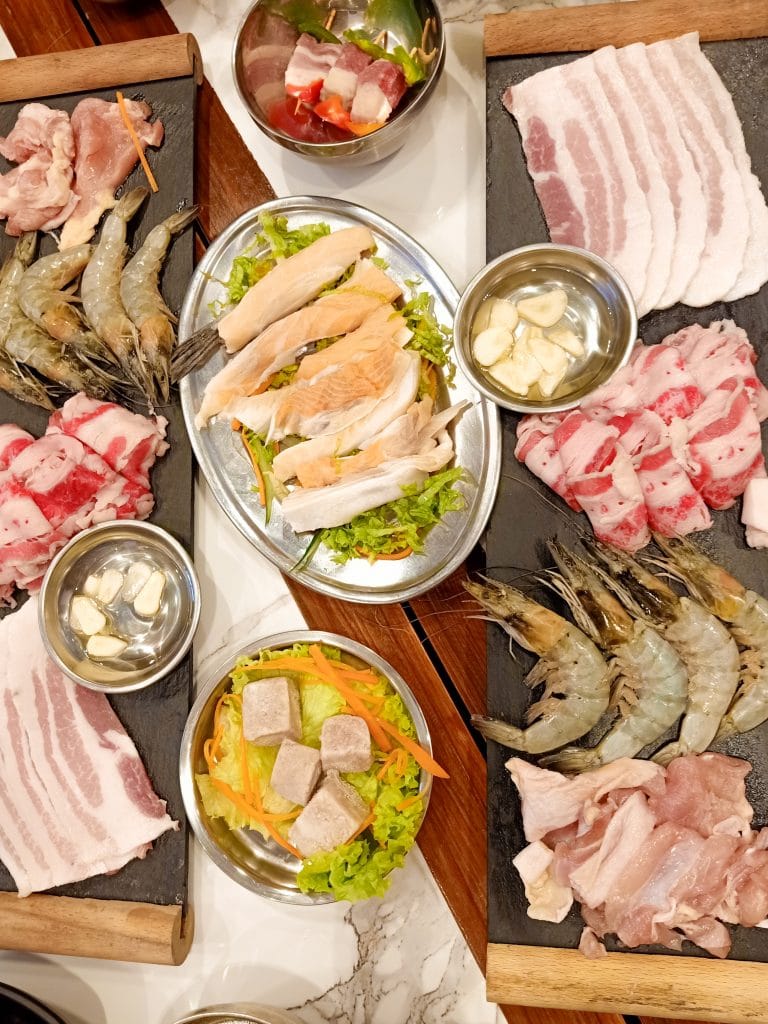 I could say that Hungry Jomo is one of the good Asian restaurants in Cavite. Not to mention the fact that is just located at SM Bacoor. It won't be much difficult for you to find it especially if you are living near the vicinity. If you are looking for something new to try, this restaurant is highly recommended!
For the additional information, they have an ongoing promo this March 2020 for graduating or graduate students. Graduating students are free. Just bring 2 paying adults. You may present a diploma or school valid ID.
Other Promos: (as of writing)
Lunch Promo (Monday to Friday) Php 499/head.
Dinner Buffet Php 599/head.
Birthday/month promo: Free! Just bring 2 paying adults.
Kids under 5 years and below are free.
Half payment for 6 to 9-year-old kids.
They also accommodate functions and bulk orders.
General Information
Cooking raw or undercooked meat is not highly encouraged. It may cause you foodborne disease.
Avoid touching the grilling surface.
No takeout.
Outside food and drinks are prohibited.
Leftovers will be charged Php 200 per person.
Location:
2nd floor, SM Bacoor, Cavite (beside Jose Restaurant)
Opening Hours:
10 AM to 9 PM daily
Contact:
Facebook: Hungry Jomo Unlimited Asian Grill
Mobile: 09178961988
Latest Posts:
Read Next:
A half-travel blogger in the Philippines (based in Cavite) and a half-K-pop enthusiast, Ara Patria (The Adventuress) pursues her passion and love for traveling. She's been blogging for years, where she writes about her own travel experiences and promotes the wonders of the Philippines. Not only does she promote the beauty of her country, but she also focuses on promoting sustainable tourism. She dreams to travel the world and inspire other people through her own written works and captured moments with her camera.
The Adventuress is a travel blogger with a purpose. She aims to inspire other people through her personal experiences, stories, and lenses. Outside her blogging world, she is an English teacher, an SEO specialist, and TEFL/TESOL certified.
Join her adventures!