How much do you love Korean food? Well, the craze for Korean food is truly undeniable. In fact, there are so many Korean restaurants that are popping out everywhere. Although they have their own unique concept, sometimes you may wonder why some of them are kind of pricey. At some moment you at least want to try them without splurging on. The good thing is Hyeong Won Restaurant will definitely suit your taste and budget!
About Hyeong Won Korean Restaurant
Hyeong Won Korean Restaurant started operating on May 2, 2018. Located in the city of Bacoor, Cavite – Hyeong Won Korean Restaurant serves authentic Korean cuisine. They mainly serve unlimited meat such as pork and beef and unlimited side dishes. Moreover, they also have ala-carte and rice bowls, 3 different sauces, and unlimited soup, and unlimited iced tea offered on the menu. What's more? They also have unlimited cheese served on the table!
How authentic is the food in Hyeong Won Restaurant?
According to Ms. Viola (one of the owners), how they make the food is really similar to what it is like in South Korea. As a matter of fact, they even studied in order to know the Korean way of cooking and making Korean cuisine. The meats are USDA!
Kinds of Meat to try in Hyeong Won Restaurant
Samgyeopsal (Thickly sliced pork belly)
Daepae Samgyeopsal (Thinly sliced pork belly)
Dwaeji Bulgogi (Spicy thick-sliced pork belly)
Spiced Samgyeopsal (Thinly sliced pork belly seasoned with salt, pepper and spring onion
Daweji Special (Thinly sliced pork belly marinated with special sauce)
Woo-samygup (Thinly sliced beef short plate)
Bulgogi (Thinly sliced beef short plate marinated with beef sauce)
Gochujang-Soy Beef (Spicy thin sliced short plate)
Chadolbaegi (Thinly sliced beef shot plate seasoned with salt, pepper, and thyme)
Woo-Samgyeop Special (Thinly sliced beef short plate marinated with special sauce)
Side Dishes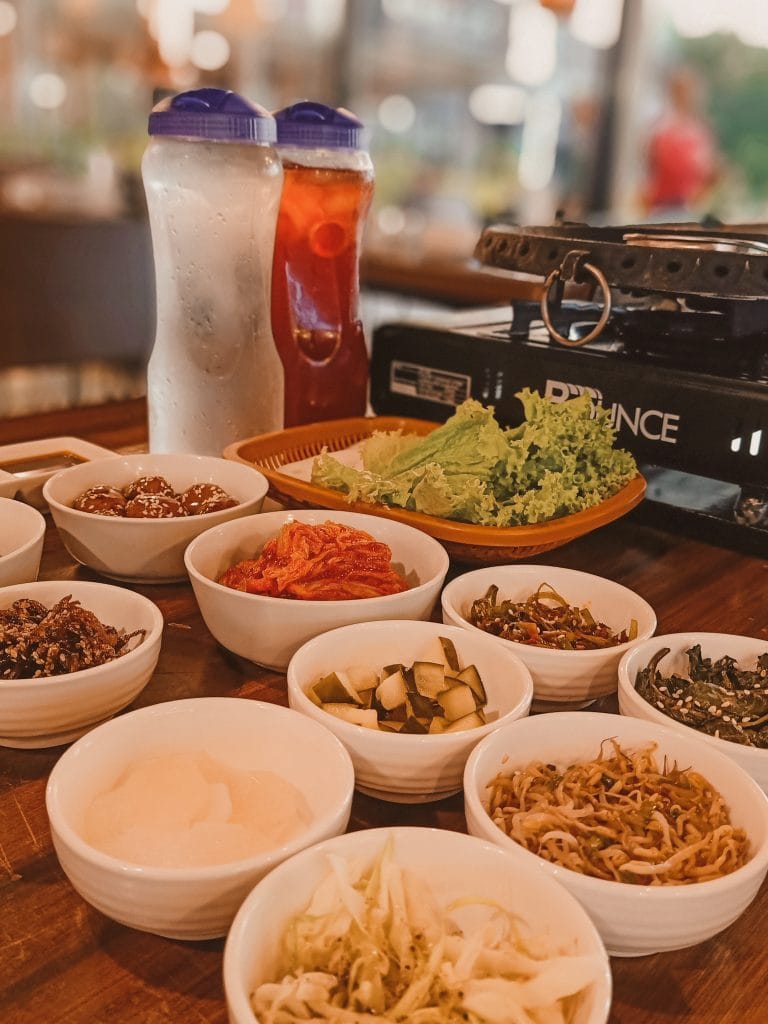 Kimchi
Bean Sprouts
Leek Salad
Marble Potatoes
Pickled Cucumber
Egg Roll
Spinach
Shredded Cabbage
Spicy Anchovies
Pickled Radish
5 Things You Will Love about Hyeong Won Restaurant
The accessibility
If you are a Southie (someone who lives in the South), you will definitely visit this place right away! The fact that the restaurant is in Bacoor, Cavite – you do not have to go further just to get a taste of your favorite Korean food! The place is definitely accessible.
The ambiance
Are you a fan of Korean pop or a Korean drama? Hyeong Won Korean Restaurant is the place for you! Personally, I really enjoyed my stay in the restaurant. I could feel the vibe of the songs they played. Most of the songs are so good that can even increase your appetite.
Authenticity
As I have mentioned above, the owners are knowledgeable about how the food is made in South Korea. In that case, that is what they definitely do. Of course, they train their staff on how they make it as well.
There are ten kinds of meat for the unlimited meat but I personally loved the spiced samgyupsal, dwaeji special, gochujang soy beef, and the woo-samgyup special. Seriously, I enjoyed every bite of it!
The Cost
Imagine having unlimited meat for only Php 299?! Doesn't it sound a good deal? It is really affordable! Hyeong Won Korean restaurant may sound a budget-friendly restaurant, but you should never doubt the taste of their food! Its taste will really suit your palate!
The Staff
This is one thing that will surely make you go back and dine again at Hyeong Won. All the staff working are friendly and approachable. Even the owners are so humble that you can even talk to them comfortably.
Hyeong Won is one of the Korean restaurants that you shouldn't miss on visiting and dining in when you are in Cavite.
If you are looking for an affordable Korean restaurant that offers authentic Korean food, Hyeong-Won got you covered!
Good news! You can get a 10% discount by using my code "ARAPAT". Valid from July 27-August 27, 2019.
Location
RFC Molino Mall, Molino 2, Bacoor, Cavite
Operating Hours
11AM-11PM, Daily
Latest Posts:
Read Next:
A travel blogger in the Philippines and a K-pop enthusiast, Ara Patria (The Adventuress) pursues her passion and love for traveling. She's been blogging for years, where she writes about her own travel experiences and promotes the wonders of the Philippines. Not only does she promote the beauty of her country, but she also focuses on promoting sustainable tourism. She dreams of traveling the world and inspiring other people through her own written works and captured moments with her camera.
The Adventuress is a travel blogger with a purpose. She aims to inspire other people through her personal experiences, stories, and lenses. Outside her blogging world, she is an education, an SEO specialist, and TEFL/TESOL certified.
Join her adventures!