Are you traveling to Singapore soon? This guide includes the places to visit around Singapore, some tips to do when you are in the city, and some history about their culture.
Understanding Singapore
Singapore is a city-state in Southeast Asia. Singapore comes from its Malay name Singapura, which is derived from Sanskrit meaning "Lion City". Definitely one of the world's most prosperous countries and boasts the world's busiest port. In spite of being a small country, it has been a multi-racial country; it has a diverse culture and has been one of the favorite destinations in the world for travelers.
It is not really difficult to enter Singapore as long as you have complete documents such as visas; but for some countries like the Philippines, you don't need to have a visa to enter the golden city of Asia because it's a visa-free country Filipino travelers. So here is a sample Singapore travel guide for first-time travelers to this beautiful country!
Is it expensive to travel to Singapore?
Many people say that it's really expensive to travel to Singapore. It is known for being one of the richest countries because of its booming economy. But I have proven myself that you really don't need to have millions of bucks to see and explore the beauty of Singapore. There are tons of things that you can actually visit for free and find a lot of discounted tickets for some activities that you can purchase online. I believe that it's just a matter of being way too practical.
I have planned to book a flight to Singapore for 3 days and 4 nights. It was actually a birthday trip for me. As a matter of fact, it was my first time visiting Singapore! It has been my dream destination ever since I was a child.
I have traveled with a friend. We were really on a tight budget going to Singapore and luckily, my friend's cousin works there so we asked him to be our host. Therefore, we did couch surfing which saved us a lot!! Big thanks to him!!!
I was awestruck at how beautiful Singapore is! It is indeed wonderful! I truly fell in love with this country. Wow, I am impressed by how people are being disciplined, how organized the place is, and how clean it is! It was really amazing! My trip was really short but I totally enjoyed everything about my trip! I seriously wanna go back here and stay for a long time!
Until then, Singapore!
So here is my travel guide to Singapore that includes the budget I spent on the entire trip!
A Sample Itinerary for Singapore 4D3N
Day 1
Day 2
Singapore River Safari
Marina Bay Sands
Marina Bay
Gardens by the Bay
Satay by the Bay
Orchard Central
Lucky Plaza
Day 3
Singapore Car Skypass
Imbiah Lookout
Sentosa Island
Universal Studios Singapore
Siloso Beach
Mount Faber
ION Orchard
Orchard Central
Lucky Plaza
Day 4
Rubinah Restaurant
Mall Hopping
Back to Manila
Places to Visit in Singapore
Singapore River Safari
The River Safari is a river-themed zoo and aquarium located in Singapore. You can get a chance to see the wildlife, different species of marine creatures, and even pandas.
Marina Bay Sands
One of the most luxurious hotels in Singapore. It's a 5-star hotel with the best city-skyline view of Singapore.
Marina Bay
Make sure not to miss out on this place because I guarantee you that this is one of the most scenic parts of the city. It feels so romantic at night!
Gardens By the Bay
It is a nature park spanning 101 hectares of reclaimed land in central Singapore, adjacent to the Marina Reservoir. The park consists of three waterfront gardens: Bay South Garden, Bay East Garden, and Bay Central Garden.
Satay by the Bay
It's a place where you can try some Singapore delight while enjoying the view of the waterfront bay.
Orchard Central
It is a shopping mall in Singapore located along the main shopping belt at Orchard Road.
Lucky Plaza
This is one of the best places where you can go shopping without breaking the bank.
Singapore Car Skypass
A must-try activity in Singapore! This is one of the best things that you can do here because you will get a chance to enjoy the majestic view of Sentosa Island!
Imbiah Lookout
Bought some good-quality souvenirs around the area. We tried the Skyline Luge & Skyride and it was really fun!
Sentosa Island
This is where you can see The Merlion as well as Universal Studios and many more!
Universal Studios Singapore
It is a theme park located within Resorts World Sentosa on Sentosa Island, Singapore. This is one of the most popular theme parks in Singapore!!
Siloso Beach
Located along the coast of Sentosa, Siloso Beach is just 30-minute away from the city. It is a long sandy beach where you can do a lot of activities during your stay. We got here in the evening and I was quite impressed that the beach was not crowded. It seemed clean and tranquil at the same time. I wish we could have stayed more during our visit!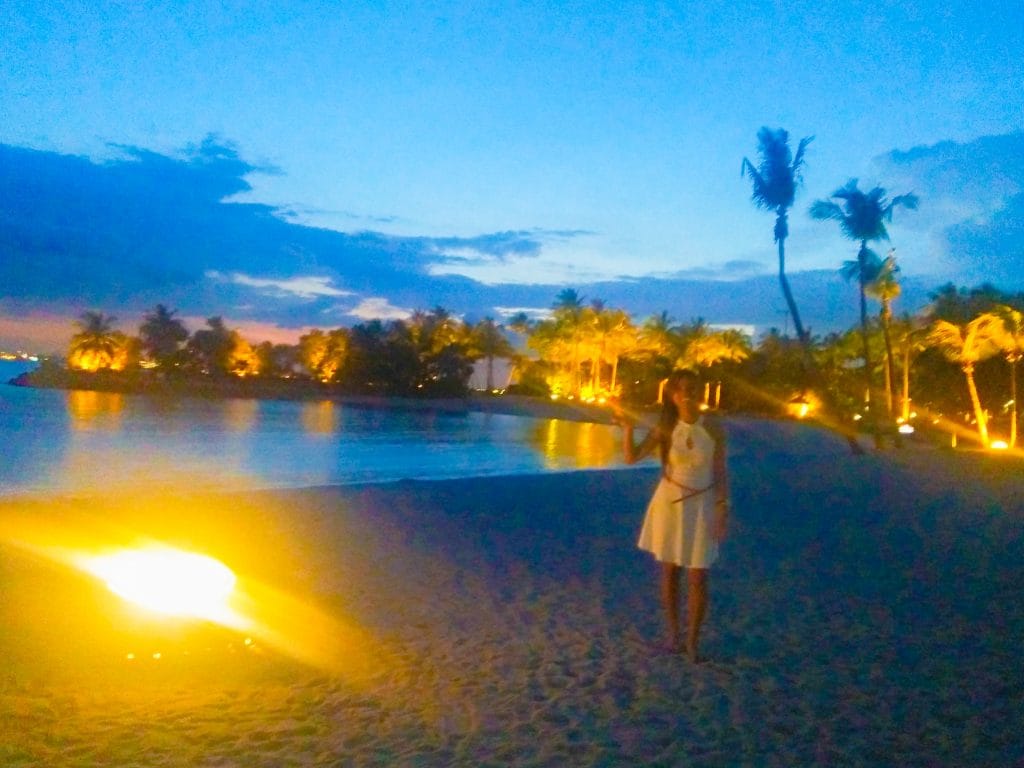 Mount Faber
It is possible to visit this hill via a Singapore cable car. This place offers the best view from atop. It has an overlooking view of the bustling city center of Singapore.
ION Orchard
If you want to splurge on buying something quite expensive, then this place is definitely what you are looking for!
Orchard Central
This is where you can find the best shopping malls in Singapore. As a matter of fact, this is a major shopping belt and tourist attraction in the city.
Lucky Plaza
Lucky Plaza is just across from the ION Orchard and nearby the Orchard Central. This is the perfect place to buy cheap souvenirs for your loved ones most especially if you are on a budget.
Eat at D' Rubinah Restaurant
There are a lot of food stalls in this area. This is near Sembawang Station. This is the closest restaurant to our apartment. Must try the local food of Singapore!!
Back to Manila
Expenses & Budget in Singapore
Singapore River Safari: PHP 829
Singapore Car Skypass: PHP 791
Gardens By the Bay: PHP 791
Universal Studios Singapore: PHP 2,192
Skyline Luge & Skyride: PHP 467
Airfare: PHP 3,744.41
Transportation: PHP 2,000 (this is too much already)
Travel Tax: PHP 1,620
Total Expenses: PHP 12,434.41
Please take note that prices are subject to change.
Exclusions
Food
Accommodation. We actually went couch surfing!
Pasalubong (Gifts and Some Stuff)
Tips & Reminders When Traveling to Singapore
Make sure to book all the activities in KLOOK. If you have booked before, you can use your credits to get more discounts! KLOOK is super legit and it really helps you to travel cheaply and save time!
When it comes to food, we usually eat at fast-food restaurants and bring some water and snacks. Despite that, we still got the chance to have Singaporean food during our last day.
We bought most of the stuff in Lucky Plaza which is located in Central. There are a lot of stores that sell cheap stuff! You can even ask for some discounts, too!
Book your flight early and wait for the promo! It's okay to wait as long as you know what that something is worth waiting for! That's gonna be for sure!
Take public transportation. MTRs and buses are very much accessible in Singapore! I'm telling you, when you've got a map and a card, you will never get lost and won't cost that much! Seriously!
More walks, more fun, and more chances of discovering a lot of things around the vicinity.
Do not hesitate to ask the locals or even other people.
I'm telling you it isn't really expensive to travel to Singapore as long as you know how to budget wisely. I hope this Singapore travel guide helps you a lot for your future trip to Singapore!
Have you ever been to Singapore? How was your experience visiting The Lion City?
Latest Posts:
Read Next:
A half-travel blogger in the Philippines (based in Cavite) and a half-K-pop enthusiast, Ara Patria (The Adventuress) pursues her passion and love for traveling. She's been blogging for years, where she writes about her own travel experiences and promotes the wonders of the Philippines. Not only does she promote the beauty of her country, but she also focuses on promoting sustainable tourism. She dreams to travel the world and inspire other people through her own written works and captured moments with her camera.
The Adventuress is a travel blogger with a purpose. She aims to inspire other people through her personal experiences, stories, and lenses. Outside her blogging world, she is an English teacher, an SEO specialist, and TEFL/TESOL certified.
Join her adventures!