Camiña Balay nga Bato, formerly known as Avancena House. It was first built in 1860 by Fernando Avancena and his wife Eulalia Abajo that lasted in 1865. Actually, the 4th generation of Melocoton-Avancena clan still lives in this house. Yet, local and foreign tourists can visit this ancient house. It's definitely open to the public.
Camiña Balay nga Bato is one of the best-preserved heritage homes. You will see how astonishing this heritage is. It showcases everything that reminds our country's dramatic history. In fact, It will take you back in time from the 19th century to the 20th century.
Things to see inside Camiña Balay nga Bato?
The Curio Shop
As you enter the ancestral house, you will see the souvenir shop. You can buy a lot of things and a variety of local products and delicacies from here. More to that, you can also call it the Curio Shop. In addition, you will also notice the office that is being operated by the owner.
Before touring the house, you need to pay Php 150 including snacks. It includes their most well-known signature drink called "tsokolate E" (hot choco). After that, one tour guide will approach you and will ask you to sit. They will show you a short video about the history of the entire house.
Escalera Principal
Right after the briefing, we went up straight to the living area of Balay Nga Bato. Those stairs were called "Escalera Principal". We have learned that the way the ladies walk during the 1860s was sideward when going up and down the stairs. Why? It was the proper way of doing it during the Spanish era.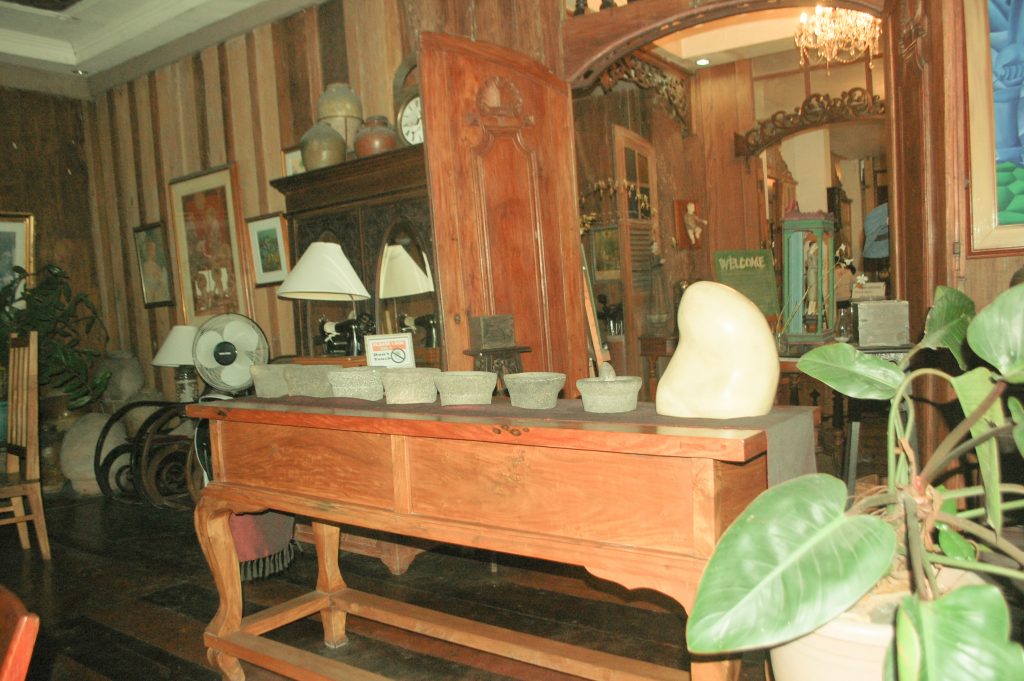 Upon reaching the living room, we had seen a lot of historical objects. As a matter of fact, they were well-arranged on every side of the room.
I saw the well-arranged collection of vases on one of the portions of the living room. I've learned that, if you had a lot of vases at home in the past generations it means that you belonged to a wealthy family. Amazing, isn't it?
Oratory Room
After the living room, our tour guide guided us to a room called Oratory or known as the "Prayer Room". It is just right next to the stairs. Furthermore, it showcases a lot of antique furniture and a variety of religious relics.
Azotea Kumedor
This the dining room. In other words, they call it "Azotea Kumedor". This is where a cup of tsokolate is being served and they say that it is best to drink it with Biscocho or biscuit/bread. More to that, they also serve a buffet but you need to pay for it and ask for a reservation three days before your visit.
I so love the lighting of the room as well as its decoration. Overall, the ambiance of the room feels so historical. There are lots of interesting antique furniture and art that you can see in the entire house.
It's really amazing every generation of the family was able to retain the house's memorabilia. Certainly, it takes you back in time.
You will feel like you really are in a different time period. Thus, this ancestral house is a perfect place for history enthusiasts.
Entrance Free
Php 150 with snacks (You'll experience the taste of their signature tsokolate E best with cookies)
Location
20 Osmena Street, Villa De Arevalo, Iloilo City, Philippines 5000
How to get there?
Take Villa Mohon jeepneys that drive along Gen. Luna Street, MH Del Pilar Street, and Molo Plaza. Or you may take OTON jeepneys from Molo Plaza or Diversion Road. Then just ask the driver to drop you off at Balay Nga Bato.
Latest Posts:
Read Next:
A half-travel blogger in the Philippines (based in Cavite) and a half-K-pop enthusiast, Ara Patria (The Adventuress) pursues her passion and love for traveling. She's been blogging for years, where she writes about her own travel experiences and promotes the wonders of the Philippines. Not only does she promote the beauty of her country, but she also focuses on promoting sustainable tourism. She dreams to travel the world and inspire other people through her own written works and captured moments with her camera.
The Adventuress is a travel blogger with a purpose. She aims to inspire other people through her personal experiences, stories, and lenses. Outside her blogging world, she is an English teacher, an SEO specialist, and TEFL/TESOL certified.
Join her adventures!