Located in the southern part of Taiwan, Kaoshiung is dubbed the country's third-largest city. The city is known for its bustling port, stunning temples, and delicious food. Furthermore, Kaohsiung is a hub for art and design, making it a must-visit destination for tourists.
It was my first time traveling to Taiwan, and I decided to head straight to Kaohsiung City. Before actually traveling to Taiwan, I'd always hear that most of the popular landmarks or tourist spots of the country are located in the north. Not to mention the well-known Jiufen, Taipei 101, Elephant Mountain, etc. That being said, I've wondered what the southern part has to offer. I wonder what to see in the city, especially since I feel like there's so much more to discover in the southern part of Taiwan.
After wandering the city for three days, I finally settled on Kaohsiung as my new favorite place. I'm not sure why, but I immediately connected with the city's energy. The scenery was beautiful, and I felt completely secure. Jia's Inn, where I stayed in Kaohsiung, was equally fantastic. Staying at Jia's Inn during my three-day visit to Kaohsiung City was one of the best decisions of my life. I had a wonderful time at Jia's Inn for said three nights. If you're looking for a place to stay in Kaohsiung, Taiwan, here are the reasons why Jia's Inn should be at the top of your list.
Top Reasons to Stay at Jia's Inn, Kaohsiung
The room is spacious and cozy.
Definitely one of my favorite things about Jia's Inn is that they offer the best room service and are spacious and cozy. As you enter the room, you will likely see a sofa, a television, a desk, and a king-sized bed (which I adored). The room looks so tidy, and it feels so comfortable staying here. In addition, one of my favorites would be the outlets; I loved how the room has a lot of outlets for my gadgets (haha!).
It's a perfect place for digital nomads.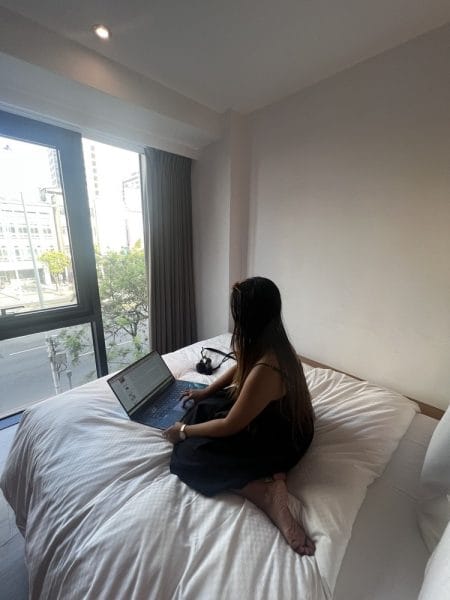 As a digital nomad, I need to find a place where there's a good connection. That's one of the things that I consider when choosing a place to stay. One good thing about Jia's Inn is that they have a good Wi-Fi connection, and there's actually a place where I can work comfortably.
As I mentioned earlier, the room has a desk and a chair, so I didn't really have a hard time working at night. In that case, if you're traveling with your laptop and looking for a good spot to work, staying at Jia's Inn would be an ideal place for you.
The hotel is very accessible.
Another good thing about Jia's Inn is that it's very accessible to almost everything. In fact, the hotel is very close to Liouhe Night Market (which is one of the most popular night markets in Kaohsiung) and the MRT station (the closest would be the Formosa, which is a 3-minute walk), as well as Kaohsiung Station, which is a 9-minute walk, which is a 3-minute walk), as well as Kaohsiung Station, which is a 9-minute walk.
Also, it's so close to the 7-11 convenience store. So if you get hungry during the wee hours, it wouldn't be a problem for you!
Their staff is very accommodating.
Personally, I loved how their staff was very accommodating throughout my stay. They helped me a lot and responded to all my queries. Not to mention the fact that they guided me on where to go and what to see around the city. I really loved how friendly their staff was! I don't really mind being friends with them!
They have an amazing restaurant.
Jia's Inn doesn't only provide great room service; they also have a nice restaurant where you can dine for breakfast, lunch, or dinner. Not only that, but you can also enjoy drinking beer here, as they have a minibar for their guests. Their restaurant's interior is really fascinating. Every corner of it is Insta-worthy. More to that, their food tastes really good. I really enjoyed their food, and this is probably something that I'm going to miss about Jia's Inn!
So if you're traveling to Kaohsiung, Taiwan soon, make the most of it while staying at Jia's Inn! Book your room with them!
More Photos to Check From Jia's Inn
Location
No. 257 Zhongshan 1st Road Kaohsiung, Taiwan 800
Contact
Facebook: Jia's Inn
Instagram: @jias_inn
Phone: +886 7 288 2111
Website: https://www.riverhotel.com.tw/station/
A half-travel blogger in the Philippines (based in Cavite) and a half-K-pop enthusiast, Ara Patria (The Adventuress) pursues her passion and love for traveling. She's been blogging for years, where she writes about her own travel experiences and promotes the wonders of the Philippines. Not only does she promote the beauty of her country, but she also focuses on promoting sustainable tourism. She dreams to travel the world and inspire other people through her own written works and captured moments with her camera.
The Adventuress is a travel blogger with a purpose. She aims to inspire other people through her personal experiences, stories, and lenses. Outside her blogging world, she is an English teacher, an SEO specialist, and TEFL/TESOL certified.
Join her adventures!