If you are looking for a place to relax without breaking a bank or even getting yourself exhausted, I would highly recommend SEA and LEAF Tagaytay for you! It is only in heart of Tagaytay City, Cavite.
In an enclosed air-conditioned room where green leaves are painted on the wall, designed with a green motif; where you can see most of the things are green such as plants on the shelf, cups, blankets, and placemats, etc. Decorated with green, it makes the ambiance feels so relaxing, refreshing and makes you want to stay in the room all day.
About SEA and LEAF Tagaytay
SEA and LEAF Tagaytay owned by Ms. Chagn and Aiks is a great place where you can make the most of your stay-cation. This is an ideal place to unwind and escape the hustle and bustle of the city.
We stayed in the LEAF unit and from the name itself, its motif is all about green and leaves. If you are a nature lover then this place perfectly suits your preference.
Things to Know about SEA and LEAF Tagaytay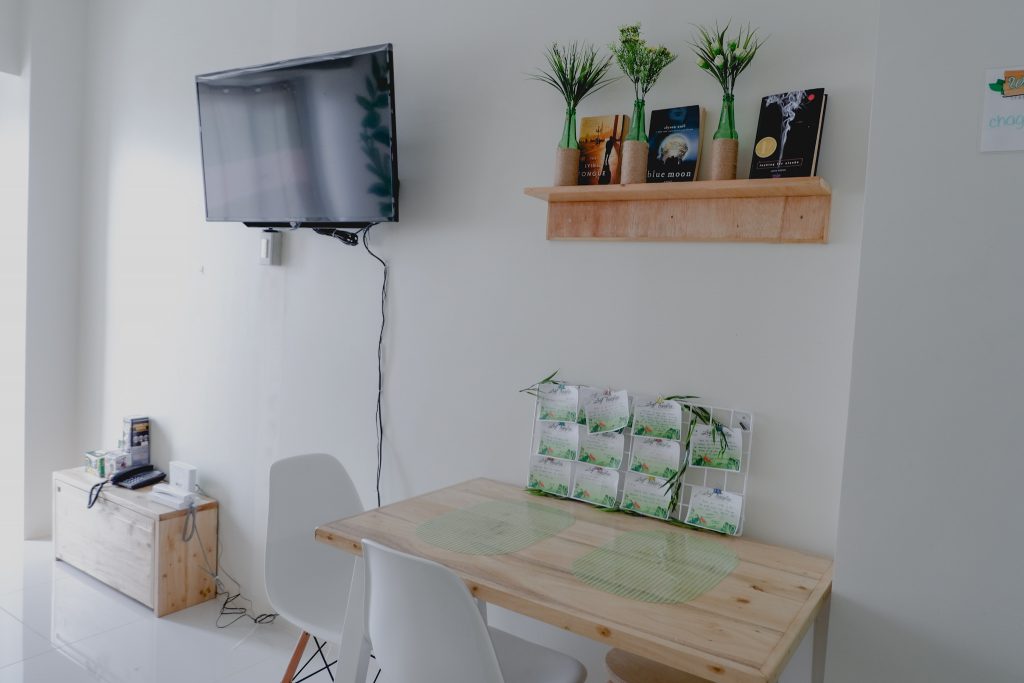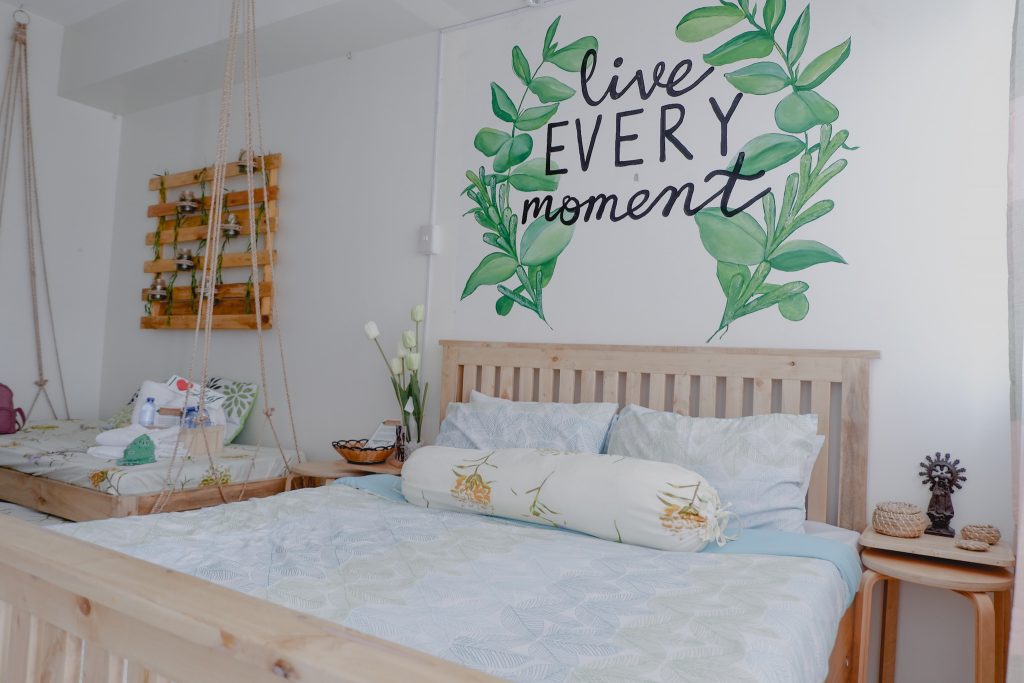 The room is good for 2-4 persons. Inside the room, you will first see the kitchen as well as the dining area and from there, you will see a tiny fridge.
On top of the fridge, there is called an "Honesty Store" consisting of various snacks, soap, shampoo, a toothbrush that you can buy from there. What I like about Honesty Store is it provides and sells cheaply and it is very convenient because you don't need to go out anymore if there is something that you need to buy.
THE BATHROOM
On the right side, there is a bathroom. It's totally clean and it smells really good. It looks so modern and luxurious.
After that, you will see a big TV that is mounted on a wall facing the queen-sized bed. It is really comfortable to lay down the bed because its blanket is so fluffy which makes you want to sleep right away!
THE BEDROOM AREA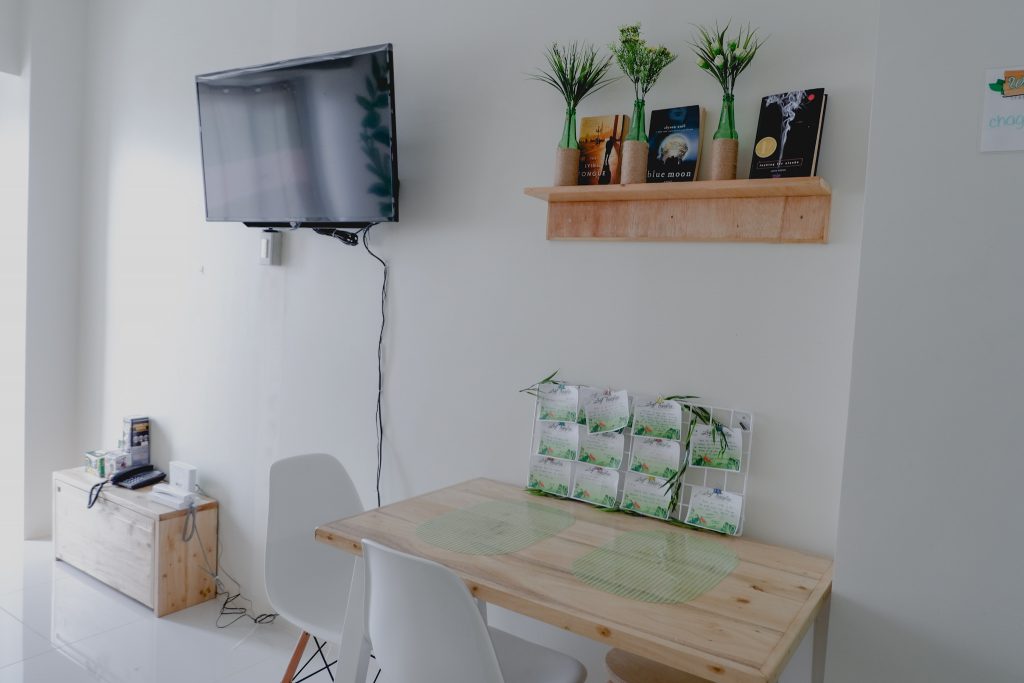 Beside the queen-sized bed is a single bed with under bed which is good for two people. You can not only watch TV but you can also play some board games that are placed on a tiny shelf under the television. There are also some books that you can read while staying in the unit.
From the bedroom area, you will see the sliding door that leads you to the balcony which shows you the scenic view of Tagaytay City.
THE STAFF
More to that, the staff is accommodating. They are very friendly and welcoming. The host is really nice to talk with. I can definitely say that they can provide excellent service!
In addition, they offer some packages so if you want the room to be arranged for special occasions like birthdays or anniversaries, just inform them via facebook. The host, Ms. Chagn is really accommodating. She replies to inquires at once.
It's my first time going on staycation and I'm glad that I chose a very good spot to stay at. I really had fun staying here!
Check-in Time
2:00 PM
Check-out Time
12:00 PM (the next day)
Location
SMDC Wind Residences Tower 5
Along Emilio Aguinaldo Highway, Brgy. Maharlika West, Tagaytay
Contact
Email: seatagaytay@gmail.com
Facebook: S.E.A and LEAF Tagaytay
Latest Posts:
Read Next:
A half-travel blogger in the Philippines (based in Cavite) and a half-K-pop enthusiast, Ara Patria (The Adventuress) pursues her passion and love for traveling. She's been blogging for years, where she writes about her own travel experiences and promotes the wonders of the Philippines. Not only does she promote the beauty of her country, but she also focuses on promoting sustainable tourism. She dreams to travel the world and inspire other people through her own written works and captured moments with her camera.
The Adventuress is a travel blogger with a purpose. She aims to inspire other people through her personal experiences, stories, and lenses. Outside her blogging world, she is an English teacher, an SEO specialist, and TEFL/TESOL certified.
Join her adventures!