Palawan has been hailed as one of the best islands in the world for over the years. With this fact, Coron is one of the most visited islands in Palawan. Home to the Coron Island Natural Biotic Area, the island itself is listed in the natural category of the UNESCO World Heritage Tentative List. Coron, Palawan is dreamy with its impressive limestone cliffs, world-class WWII-era shipwrecks, cleanest lakes, and beautiful coral reefs.
This blog post will guide you on where to stay in Coron, especially if you are on a budget or just looking for a cheaper place to stay. This blog will solely focus on some budget-friendly accommodations in Coron, Palawan. So if you are traveling on a budget, this is the guide you are looking for. 
Where to Stay in Coron, Palawan?
If you are traveling on a budget, here is a list of budget-friendly accommodations in Coron, Palawan. All included in the list are DOT-accredited, so you won't have difficulty finding accommodation that best suits you.
Acacia Garden Inn
Address: Felicidad St. Brgy. 1
Phone number: 0917 965 7811
Email: acaciagardeninn@yahoo.com
Angel Gabriel Homestay
Address: Deguiboy, Brgy. 6
Phone number: 0950 846 2596
Email: angelgabrielhomestay2019@gmail.com
Argaosa Bayside Inn
Address: 186 Brgy. Poblacion 5
Phone number: 0961 000 7568
Email: info@argamosabayside.com
Bella Vita Guest House
Address: National Highway, Sitio Dipulao
Phone number: 0917 129 0824
Email: bellavitaguesthouse@yahoo.com
Blue Waters Inn
Address: Calle Real, Brgy. 3
Phone number: 0917 552 8678
Email: bluewatersinncoronpalawan@yahoo.com
Darayonan Lodge
Address: 132 National Highway, Brgy. Poblacion 1
Phone number: 0977 807 9353
Email: darayonanlodge@yahoo.com
Dayon Hostel
Address: 121 National Highway Barangay 1
Phone number: 0917 553 2966
Email: dayonhostel@yahoo.com
Filcan Hostel Coron
Address: #223 National Highway, Barangay Poblacion 5
Phone number: 0927 067 0433
Email address: filcanhostel@gmail.com
Kalaw Lodging Homes
Address: Sitio Digiboy Brgy. 6
Luis Bay Travellers Lodge
Address: Brgy Poblacion 3, Caltex Compound
Email: luisbaytravellerslodge@rocketmail.com
Mackys Hidden Inn
Address: Poblacion 3
Phone number: 0998 296 9660
Email: mackyshiddeninn@gmail.com
Nanay Vacation Home
Address: Nueva St. Brgy. Poblacion
R2R Bayview Inn
Address: National Rd., Brgy, Pobla
Phone number: 0961 296 6907
Email: r2rbayviewinn.coron@gmail.com
Jazmine's Place
Address: Don Pedro Street, Barangay 2, Poblacion
Phone number: 0977 279 3140
Email: jazmines_place@yahoo.com
Joval Homestay
Address: Brgy 1, Enriquez Subdivision
Phone number: 0915 983 2989
Email: jovalguesthouse@yahoo.com
Where to book accommodation in Coron, Palawan?
If you have no idea where to book accommodation (or the suggested hostels mentioned above) in Coron, here's a list where you find book a place to stay with cheaper costs:
Things to do in Coron
Here are some things that you can enjoy doing while staying on the island.
Catch sunrise or sunset at Mt. Tapyas.
Relax in Maquinit Hot Spring.
Visit white-sand beaches and lagoons.
Walk around downtown and find the best restaurants.
Go scuba diving or freediving.
Visit the Calauit Safari Park.
Check out this 5D4N Coron itinerary for reference!
Common Coron Tour Packages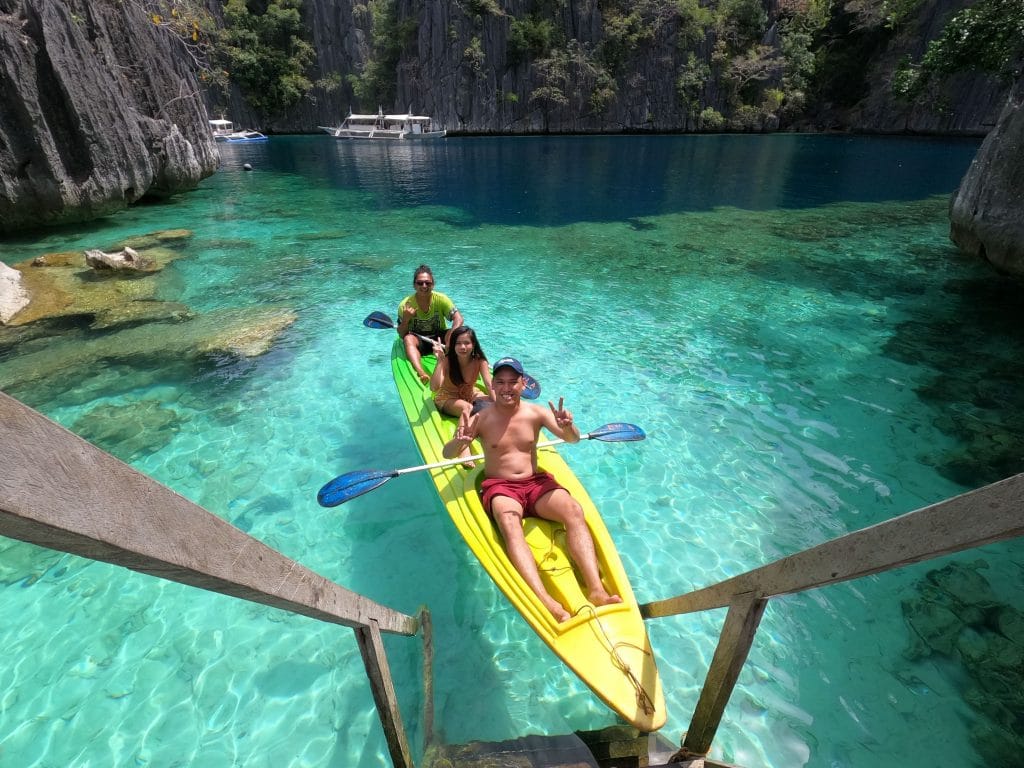 Tour A
Kayangan Lake
Twin Peaks
CYC Beach
Coral Garden
Quin Reef
Green Lagoon
Tour B
Barracuda Lake
Twin Lagoon
Coral Garden
Skeleton Wreck
White Sand Beach
Super Ultimate Tour C
Kayangan Lake
Twin Lagoon
Siete Picados / Twin Peaks
White Sand Beach
Skeleton Wreck
Barracuda Lake (Option to Add + Php 200)
Reefs and Wrecks Tour D
Pass Island
Lusong Coral Garden
East Tangat Wreck
Lusong Gun Boat & Shipwreck
Culion Island Escapade Tour E
Malcapuya Island
Ditaytayan Sandbar
Coco Beach
Busuanga Wildlife Safari Tour F
Calauit Safari
Busuanga Town
Buluang Fish Pond / Palapat Beach
Conception Falls
Malbato Church
Black Island (Option to add)
Coron Town Tour
Mt. Tapyas
Church
Lualhati Park
Cashew Store
Souvenir Shop
Maquinit Hot Spring
If you are looking for a travel agency to assist you with your future Coron trip, you may contact Tripido Travel on their Facebook page. That's where we availed our Coron package tour.
Travel Requirements and Guidelines to Coron, Palawan
Since we are traveling with the new normal (due to the COVID-19 pandemic), please be mindful of the following requirements and guidelines before traveling to Coron. 
For fully vaccinated tourists
Approved SPass upon submission of:
Identification Card
Vaccination Card
Confirmed Hotel and Tour/Diving Bookings
Round Trip Tickets
For partial and unvaccinated tourists
Approved SPass upon submission of:
Identification Card
Negative RT PCR test result conducted within 48 hours by any DOH accredited laboratories
Confirmed Hotel and Tour/Diving Bookings
Round Trip Tickets
For children below five years old
Approved SPass upon submission of:
Birth Certificate or Passport
Confirmed Hotel and Tour/Diving Bookings
Round Trip Tickets
Don't forget to wear your face masks all the time. Always follow the guidelines.
Latest Post
Read Next
A half-travel blogger in the Philippines (based in Cavite) and a half-K-pop enthusiast, Ara Patria (The Adventuress) pursues her passion and love for traveling. She's been blogging for years, where she writes about her own travel experiences and promotes the wonders of the Philippines. Not only does she promote the beauty of her country, but she also focuses on promoting sustainable tourism. She dreams to travel the world and inspire other people through her own written works and captured moments with her camera.
The Adventuress is a travel blogger with a purpose. She aims to inspire other people through her personal experiences, stories, and lenses. Outside her blogging world, she is an English teacher, an SEO specialist, and TEFL/TESOL certified.
Join her adventures!