Why not visit Atok, Benguet? It is just two hours away from Baguio City!!! Atok is a small town near Baguio City; only 2 hours away from it. If you adore mountain range views, cold climate, and off-the-beaten-path destination; you will definitely fall in love with this town!!!
Top Places to Visit
In this guide, I listed down some of the places to visit around Atok, Benguet. Not to mention the fact that you can visit all these places in one day!
Grotto
For Filipinos, when they hear the word "Grotto", they can instantly view it as a sacred place with its religious displays such as the sculpture of Mama Mary or Jesus Christ and a chapel as well.
Well, it is definitely true. In the town of Atok, once you visit the Grotto, you'll surely see the sculpture of Jesus Christ and a chapel. Surprisingly, the chapel is inside a small cave. According to our tour guide, it is cold inside the chapel since it is inside a cave. Unfortunately, we couldn't get inside since it was closed during our visit.
But before you reach the Grotto, you will pass by the vegetable fields owned by the locals. Here, you can see some rose cabbage and other vegetable plants and flowers along the way.
What's more interesting about the Grotto? There is a huge rock behind the chapel that you can hike up. It isn't that difficult to climb up the rock yet you still need to be cautious. Once you reach the top, you will surely fall in love with the views of the mountain ranges. How ravishing! It feels like you are in a postcard with nature because it looks surreal!
Sakura Farm
There's nothing more interesting here since the cherry blossom trees aren't fully grown yet. But you can see the farm first when visiting the Grotto.
Philippine Highest System Highest Point
Considered the second highest point in the Philippines, with an elevation of 7,400 feet above sea level.
You will see a waiting shed in the area where you can witness the breathtaking view of the mountains. You can also view here the Mt. Pulag. In addition to that, you can take pictures here with their traditional clothes on for only Php 20 (as of 2018)!!!
Mt. Timbak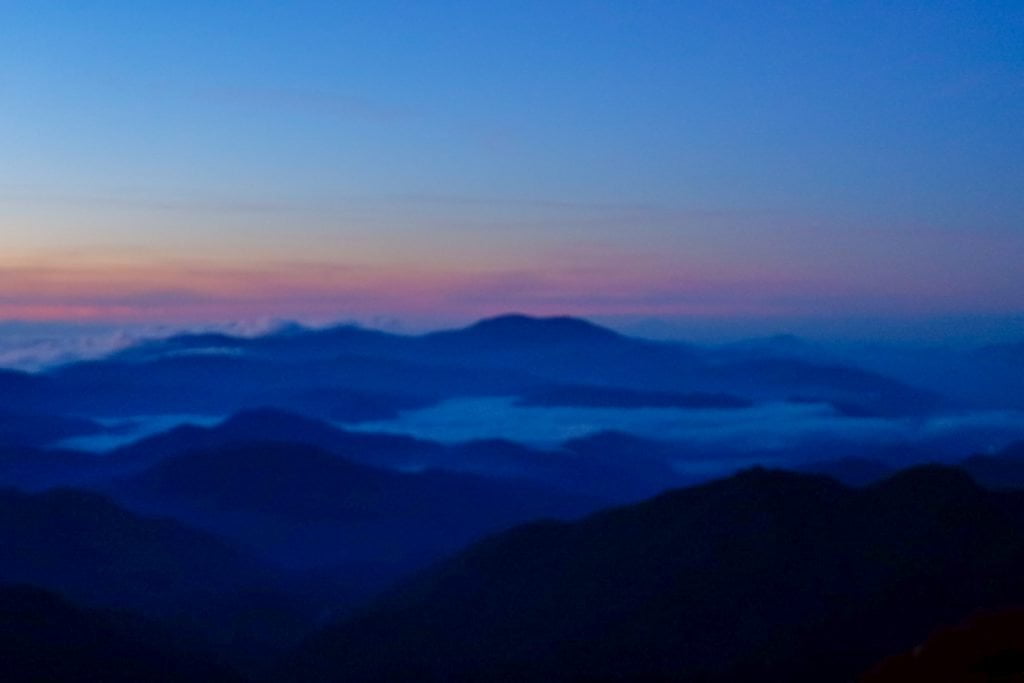 This is known as the 3rd highest mountain and 9th highest mountain in the Philippines; Mt. Timbak surely it offers an undeniably breathtaking view. The warmth of the sun's rays as it rises, the cool breeze that touches the warmth of your skin, and the spiritual connection that you get from nature. It makes you appreciate more how amazing God's creation is.
Northern Blossom Farm
Regarding Northern Blossom Farm, it is private so it isn't included in Atok Tour. You can go to the farm directly and just pay the entrance fee. I think the entrance fee varies depending on the season. When we asked the locals, the flowers weren't fully bloomed yet. The entrance at that time was Php 150! However, its entrance fee rises during peak season (usually from February to April).
Registration Fee at barangay
Take note, the entrance fee is much higher during the bloom season which is around March-April. The registration fee is Php 20.
Tour Packages
The municipality of Atok strongly requires tourists to get a package tour when traveling around the town. They offer two types of packages that are mostly likely ideal for group tours.
Climax A
PHP 1500 (w/o Mt. Timbak)
Climax B
PHP 1600 (with Mt. Timbak)
Northern Blossom Farm
Entrance Fee: PHP 150-PHP 200 (It depends on the season. It usually gets more expensive around February to March.)
If you will sleep overnight at Mt. Timbak (especially if you are planning to catch the sunrise on the mountain, you can go for an overnight at Ate Josie's house.)
LIVING ROOM STAY: It costs PHP 200 per head. YES! You can sleep in their living room. They can provide you with a blanket and a pillow as well. In addition, if you don't have socks, you can also buy from them.
BEDROOM STAY: PHP 350 per head. If you want to feel more comfortable, you may choose to stay in the bedroom.
CAMPING TENT: PHP 100 per head. However, if you are really on a budget, you can set up a tent in front of Ate Josie's house. But you have to take note that it is really cold there especially at night and early in the morning. So make sure you've got everything to make yourself warm.
Also, Ate Josie can help you cook for breakfast. Just add extra payment for the food and the service. She's really nice and friendly!
Ate Josie's contact number is 09207478558 (She also will guide you to reach the peak of Mt. Timbak.)
Tour Guides
They are really nice and accommodating! If you also want them to be your guides, just look for them at the barangay.
For additional information, it is highly suggested to get a tour guide if you really want to travel to Atok, Benguet. It is due to the fact that each of the tourist spots is quite far from each other. I personally do not recommend you to do DIY (Do-It-Yourself). Why? According to our tour guide, when the other tourists do that, unfortunately, they couldn't follow the rules properly. I hope that this travel guide to Atok, Benguet helps a lot as your future reference.
LEAVE NO TRACE. Please do not throw trash everywhere.
Where to stay in Atok?
Note that each accommodation I listed here is located within the vicinity of Atok or near the town. You can mostly find them on Airbnb. You can also stay in these places when touring around Baguio City.
La Trinidad Hikers Nook
Location: La Trinidad, Benguet
This is a small house located in the middle of the hill. One short ride or a walking distance from La Trinidad Strawberry Farm. The place is 7 kilometers away from Baguio.
Forest Lodge
Location: Camp John Hay, Baguio City
This accommodation is located in Camp John Hay, one of the most popular destinations in Baguio City; where you can do a lot of recreational activities inside the area.
Modern Ifugao Glass Hut
Location: La Trinidad, Benguet
This is a type of accommodation that is made of wood and glass with an overlooking view of the mountains.
Start booking at Airbnb to get up to a Php 3,100 discount on your first booking!
Latest Posts:
Read Next:
A half-travel blogger in the Philippines (based in Cavite) and a half-K-pop enthusiast, Ara Patria (The Adventuress) pursues her passion and love for traveling. She's been blogging for years, where she writes about her own travel experiences and promotes the wonders of the Philippines. Not only does she promote the beauty of her country, but she also focuses on promoting sustainable tourism. She dreams to travel the world and inspire other people through her own written works and captured moments with her camera.
The Adventuress is a travel blogger with a purpose. She aims to inspire other people through her personal experiences, stories, and lenses. Outside her blogging world, she is an English teacher, an SEO specialist, and TEFL/TESOL certified.
Join her adventures!