If you are heading to Tagaytay and looking for a new place to chill out while sipping your favorite drinks, you must check out this latest Instagrammable coffee shop. Nowadays, people are keen on hopping from one cafe to a different cafe, and we have become more fond of going to that place, especially if we find it aesthetically pleasing!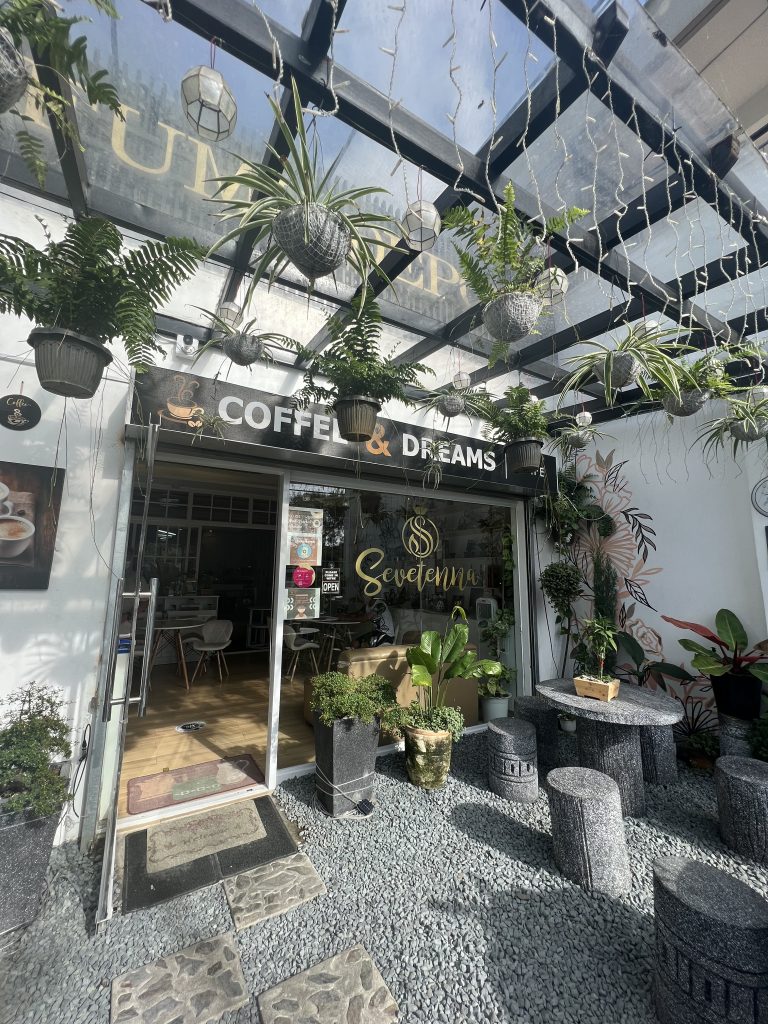 From being Insta-worthy to having that kind of aesthetic look, cafe-goers surely love to be in this kind of place. Who wouldn't, anyway? With that, I am so thrilled to share with you this cafe in Tagaytay that my friend and I discovered. This cafe has everything you want – aesthetic space, great food, awesome drinks, and a good ambiance.
About Coffee and Dreams Tagaytay
Where coffee and dreams meet is the cafe's tagline that caught my attention. This quotation puts a lot of wonderful thoughts on my mind. I love the idea of their tagline. The owners have always dreamed of having a coffee shop, and that's how they came up with the coffee shop name – Coffee and Dreams!
Why Should You Visit the Cafe?
Based on my own experience, I enjoyed staying in this cafe. With that, I would love to share with you why you should visit Coffee and Dreams in Tagaytay!
The interior has that classy-look vibe.
You will surely love how this cute little cafe has its very nice interiors as you enter the cafe. With this, it makes you want to stay longer while sipping your favorite coffee. You will surely love taking lots of pictures inside and fall in love with its chic design. I loved how the owners had come up with its interiors. It looks so stylish and classy at the same time. Every corner is picture-perfect! Personally, it makes me dream of having this kind of look in my space, even if it is not a coffee shop.
Coffee and pizza taste good together.
There are many options to order from their menu, from breakfast to lunch and dinner. We got coffee, pizza, chicken wings, baked macaroni, and drinks in our case. Our favorite one is the pizza with our own choice of cold coffee! Oh, and they also offer unlimited brewed coffee available at 10:30 AM to 12nn and 4 PM to 6 PM during weekdays, while it is available around 7 AM to 9 AM and 4 PM to 6 PM during the weekends. Overall, their food tastes great that comes at a reasonable price.
An ideal working space.
Whether you are a freelancer or working from home, this coffee shop in Tagaytay is such an ideal place to work in! A place to destress even while you are still hitting the deadlines at work! If you are tired of working from home and just living nearby this cafe, you should head over to this place right away.
FAQs
How to get there?
From PITX, take a bus heading to Tagaytay and simply tell the driver to drop you off at Olivarez Chinabank. Then cross the road and see the cafe just right beside the bank.
Is there a restroom in the cafe?
Of course. They provide one small restroom for their customers.
Is the cafe pet-friendly?
For pet lovers out there, yes, the cafe is pet-friendly. You can bring your pet if you plan on visiting the cafe.
Is there parking space available?
If you take a car with you, you can park your car just in front of the cafe. The only downside is that it doesn't have much space for everybody so it is limited.
Location
1315 Emilio Aguinaldo Highway Olivarez Plaza, Silang Junction South 4120 Tagaytay City (Beside China Bank)
Opening Hours
Tuesdays to Fridays – 10:30 AM to 8 PM
Saturdays to Sundays – 7 AM to 7 PM
Contact
Phone: 0927-5407163
Email: hello@coffeeanddreams.ph
Latest Posts
A half-travel blogger in the Philippines (based in Cavite) and a half-K-pop enthusiast, Ara Patria (The Adventuress) pursues her passion and love for traveling. She's been blogging for years, where she writes about her own travel experiences and promotes the wonders of the Philippines. Not only does she promote the beauty of her country, but she also focuses on promoting sustainable tourism. She dreams to travel the world and inspire other people through her own written works and captured moments with her camera.
The Adventuress is a travel blogger with a purpose. She aims to inspire other people through her personal experiences, stories, and lenses. Outside her blogging world, she is an English teacher, an SEO specialist, and TEFL/TESOL certified.
Join her adventures!