Suppose you are writing to your special someone while sipping your favorite drink of coffee. Doesn't that sound great? In my case, it sounds fantastic to me! Why not? Having our favorite food or beverages makes us feel better, and it even helps us clear our minds. It helps us think more deeply and more reasonably. 
Not to mention the fact that you are in a kind of setup where it gives you peace and a sense of relaxation. Good food, good drinks, good music, relaxing ambiance, and serenity – everything seems to be perfect! The place must have been lovable, and it perhaps becomes an ideal place to relieve our stress. 
Who wouldn't love to be in this type of place, right? Does this sound like a coffee shop? Indeed! Most of us are fond of coffee and visiting coffee shops! There are tons of coffee shops wherever we go. Whether it is in the city or a small town, you can find a coffee shop everywhere! So yes, if you are searching for such amazing coffee shops in the Philippines, especially in the province of Cavite, I have got something to recommend to you.
About Dear Joe Cafe
Dear Joe Cafe is a coffee shop located in Dasmarinas, Cavite. It is considered the first writing letter cafe in the Philippines! They provide great food and drinks and an interesting activity where you can write a letter to your special someone. 
If you are staying in the cafe, you can write anything you want on a cute piece sheet of paper for your loved one. What's more interesting is that Dear Joe Cafe will send out those love letters to the doorstep of your loved one's house. All you have to do is to pay Php 50 for the delivery of your mail letters. That sounds like a good deal. However, this type of service that they offer is only available within the country.
Why Visit Dear Joe Cafe? 
The cafe has captivating interiors.
When you get inside the cafe, you will see many different types of plants, paintings, and murals. This makes the cafe look fancier and cozier at the same time. If you are fond of plants or like being close to lush greeneries, you would definitely love being in this cafe. Every corner of this cafe is picture-worthy.
It provides amazing food and drinks.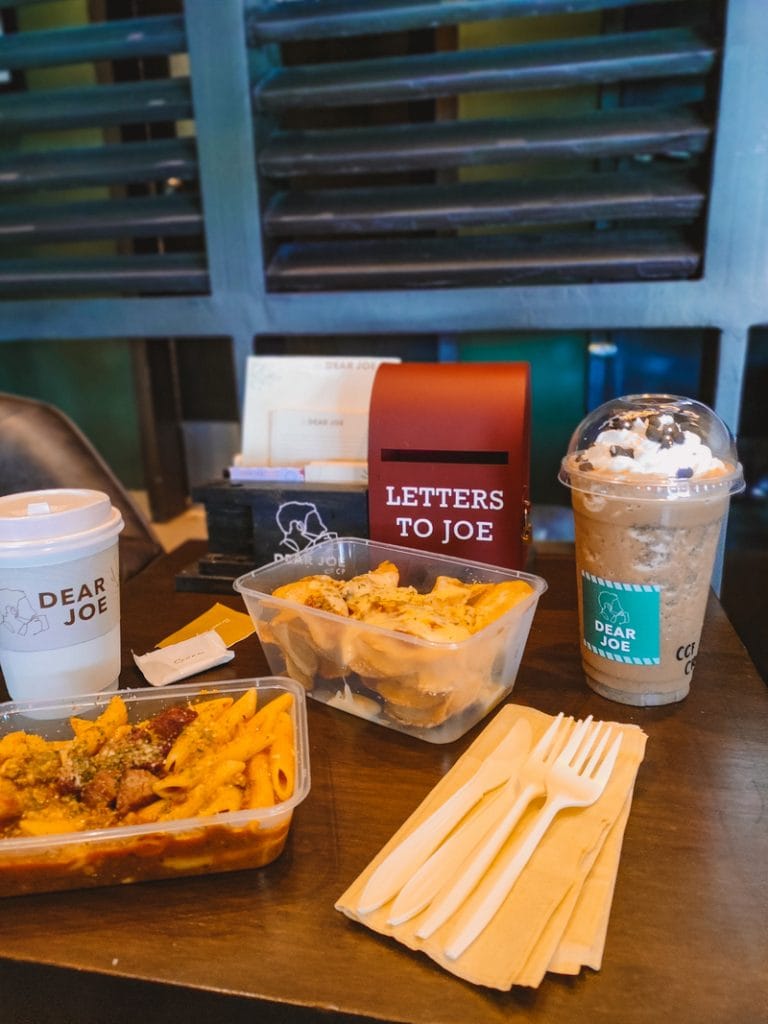 Dear Joe Cafe gives you satisfaction when it comes to the food and drinks that they serve. Based on my experience, the cost of their food that they serve might be a little more expensive than other cafes, but I believe that is reasonable enough. My most favorite type of coffee that they got is Vietnamese coffee. It tastes so good!! I'm so in love with its taste!
They got super-friendly staff.
Hands down to all the staff of this cafe for being super-friendly to their customers. They are all accommodating and very welcoming at the same time. They ensure to provide great customer service to everybody who's coming into the cafe.
It gives you peace inside the cafe.
I love the entire ambiance of the cafe. It's just so peaceful that it makes me want to stay all day! I think I can include this place to be my go-to place whenever I'm feeling stressed. One good thing is that it is just one ride away from our residence.
If you are tired of being at home or you just want to relax and chill, you may visit Dear Joe Cafe! This could become your newest favorite go-to cafe!
Location
Ground Floor of Vista Mall Daang Hari, Bacoor, Cavite
Opening Hours
Monday-Thursday, 7 AM to 9 PM
Fri-Sun, 7 AM to 11 PM
Latest Posts
Read Next
A half-travel blogger in the Philippines (based in Cavite) and a half-K-pop enthusiast, Ara Patria (The Adventuress) pursues her passion and love for traveling. She's been blogging for years, where she writes about her own travel experiences and promotes the wonders of the Philippines. Not only does she promote the beauty of her country, but she also focuses on promoting sustainable tourism. She dreams to travel the world and inspire other people through her own written works and captured moments with her camera.
The Adventuress is a travel blogger with a purpose. She aims to inspire other people through her personal experiences, stories, and lenses. Outside her blogging world, she is an English teacher, an SEO specialist, and TEFL/TESOL certified.
Join her adventures!