If you are a huge fan of watching Korean dramas, you have probably noticed that some scenes are even taken in their public sauna. Being said, we've learned that going to a public sauna is such a common thing to do in South Korea. This traditional Korean sauna is called jjimjilbang or known as a large, sex-segregated public bathhouse. Going to a spa or sauna is undeniably one of the most relaxing things you can do, especially if you want to de-stress! If you have been wondering what it feels like to be in a traditional Korean sauna, then you must head over to New Lasema Spa located in Makati!
Introducing New Lasema Spa
New Lasema Spa is the first Korean traditional spa in the Philippines. A large public bathhouse can be compared to what we have seen in our favorite K-dramas. This Korean spa lets you have a jjimjilbang experience and will make you feel like you are in South Korea. They have got different rooms for a spa, hot and cold sauna which are perfect for relaxation! They have provided Far Infrared Room (or dry sauna room), Himalayan Salt and Oak Charcoal, Iced Room, Yellow Soil with Amethyst, Ochre Pine Tree, and Ochre Hot Kiln. Not to mention that these sauna rooms are at different temperatures, which offer a lot of good health benefits for your body.
Things to Expect
These are the following common rooms that you can use while staying in New Lasema Spa. They offer lots of amenities to use, but the following are the ones that you would most probably use when you get to visit this spa.
The Locker Room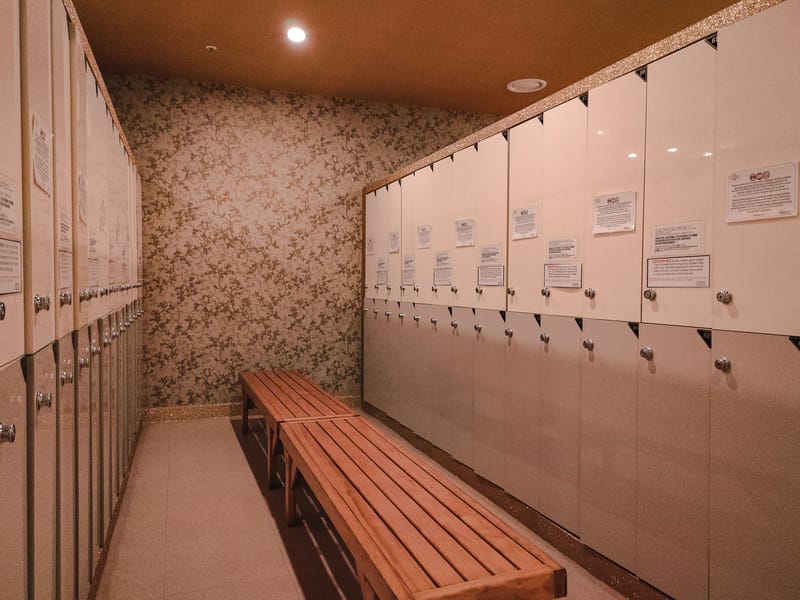 The locker room is obviously where you keep your things with your locker key bracelet, which you can also use for ordering foods from their snack bar area! Also, this is where you change your clothes to a matching pink shirt and shorts pair, with a towel, take showers, and fix your stuff.
Massage Room
Located on the second floor, this is where you can experience a relaxing massage spa. But take note that you can only have a massage depending on what type of package you have purchased.
Amethyst Room
This is a hot sauna room that has a hot temperature ranging from 70 to 73 degrees celsius. When you get to stay here, you can get the following benefits:
It can help you relieve stress.
There is a therapeutic effect of skincare and inflammation.
It has a blow-out effect.
There is a body rhythm correction and recovery effect.
Himalayan Salt & Oak Room
The Himalayan Salt and Oak Charcoal Room is also a hot sauna room with a temperature of 51 degrees Celsius. Based on our experience, I could say that this room has the lowest hot temperature among hot sauna rooms. Staying in this room has the effects of the following:
It helps with atopy and improves dull and rough skin.
It aids digestion and cleanses the blood.
Helps in the secretion and excretion of hormones in the body.
It has an anti-cancer effect.
Oak and Red Clay Room
This hot sauna room has a temperature of 57 degrees Celsius, which has good effects on our bodies. These are the following:
It is anti-aging.
It has a detoxification effect.
Can relieve stress.
It has a bacterial action.
Ochre Hot Kiln
The Ochre Hot Kiln room has a temperature of 88 degrees Celsius. I can say that this is the hottest sauna room!
The Ice Room
After spending much time in hot sauna rooms, it's best to head over to the ice room to feel more relaxed! The temperature here is at zero degrees!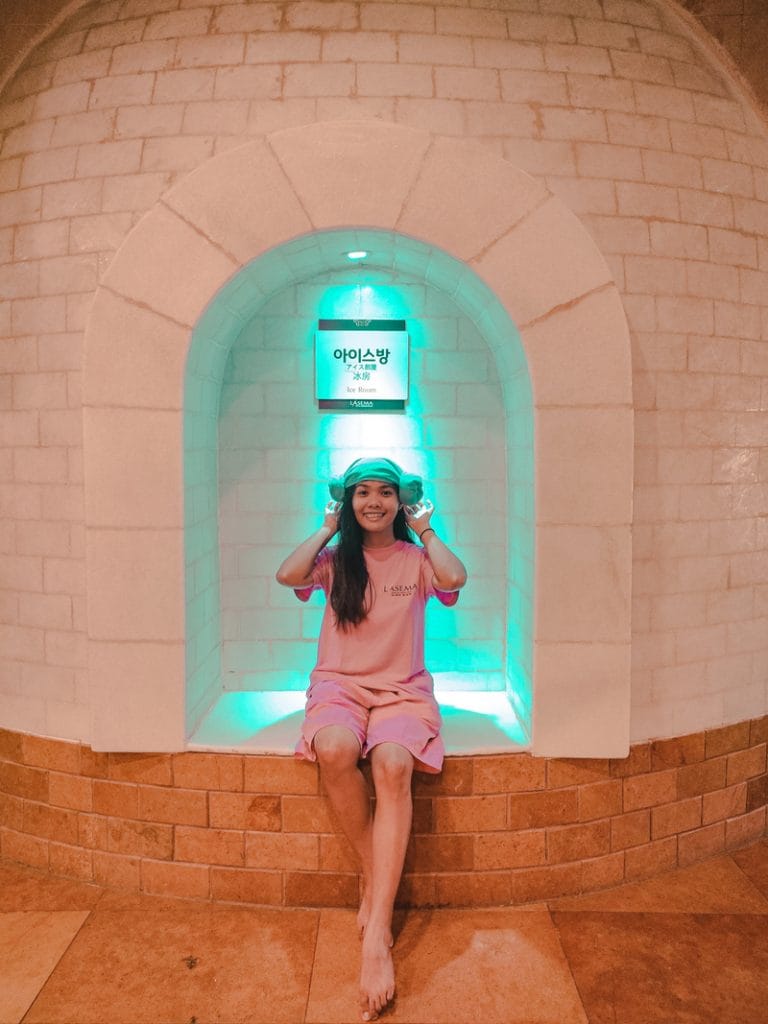 Sleeping Room
New Lasema Spa offers a sleeping area where you can stay and sleep for hours after enjoying hot and cold sauna rooms. They have a cute sleeping area near sauna rooms, but they also have a sleeping area located on the fourth floor.
The Snack Bar Area
If you ever get hungry during your stay, you can grab a bite and try some of their Korean foods, snacks, and drinks!
Amenities
If you are heading to New Lasema Spa, they have got over 20 amenities that you can enjoy. These are the following:
Wet Sauna
Dry Sauna
Jacuzzi
Pool
Hot Showers
Massage Room
Ice Room
Infrared Room
Sleeping Room
Himalayan Salt Room
Salt and Oak Room
Pine Tree Kiln
Sleeping Cave
Ochre Hot Kiln
Amethyst Room
Gym
Korean Gate
Steam Room
Playing Room
Shower Room
Powder Room
KTV Room
Snack Bar
Common Area
Locker Room
Smoking Area
FAQs about New Lasema Spa
What are the operating hours?
New Lasema Spa is open from 5 AM to 12 AM now, but once the curfew hours are lifted, they will get to their 24/7 operations. They are available from Mondays to Sundays, and even on holidays!
What are the rates?
Rates are from 500 to 1,488 PHP, depending on the package that you get. I highly recommend the PHP 880 package. This includes a jjimjilbang experience but without a massage. That will do, especially if you only want to try jjimjilbang.
Is there a parking space?
Yes. There is a parking space located in the basement.
Do you accept cards as a mode of payment?
No. They only accept cash as of now.
Where is it located?
New Lasema Spa is located at #8846 Sampaloc St., Cor. Estrella St., San Antonio Village, Makati.
Based on my experience, this is worth visiting. I can personally say that its cost is reasonable enough to experience jjimjilbang in the Philippines. If you can't visit South Korea yet like me then you may visit this spa-sauna first which is just located in the metro!
Latest Posts
Read Next
A half-travel blogger in the Philippines (based in Cavite) and a half-K-pop enthusiast, Ara Patria (The Adventuress) pursues her passion and love for traveling. She's been blogging for years, where she writes about her own travel experiences and promotes the wonders of the Philippines. Not only does she promote the beauty of her country, but she also focuses on promoting sustainable tourism. She dreams to travel the world and inspire other people through her own written works and captured moments with her camera.
The Adventuress is a travel blogger with a purpose. She aims to inspire other people through her personal experiences, stories, and lenses. Outside her blogging world, she is an English teacher, an SEO specialist, and TEFL/TESOL certified.
Join her adventures!